Day 2
26 July 2003
Nashua, NH to Sturbridge, MA
81.6 miles, 6h25m, 12.5 mph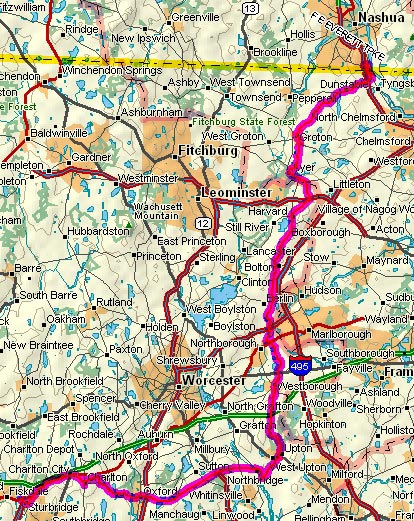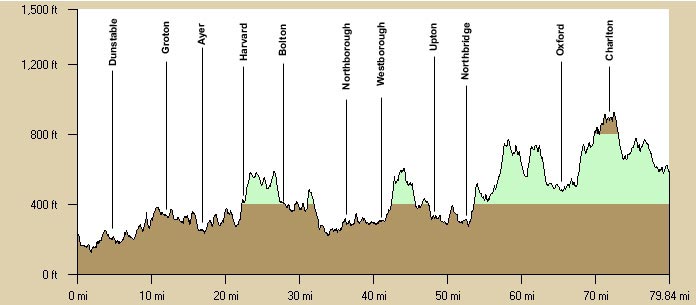 ---
The second day of the trip would take us almost completely across the state of Massachusetts from north to south. We followed the Adventure Cycling route for most of the way, leaving it only for the last 15 miles from Oxford to Sturbridge. The weather was just about perfect--sunny with temperatures in the mid-80s. The only potential problem was a strong, gusty west wind.
We stopped at a 7-11 in Nashua to load up on fluids and then headed south down busy Route 3. We crossed into Massachusetts without noticing and turned right onto Locust Road, which took us into the country and to the Adventure Cycling route. The roads through Dunstable (pretty town) and Groton (unmemorable) were "choppy"--lots of short little climbs and descents. The wind wasn't a factor because the roads were sheltered by trees.
It was somewhere around here that we passed a guy riding a mountain bike in a tee shirt and shorts. He pulled in behind me and followed for a while...apparently not seeing JT behind me. Then he pulled up and asked me what size my tires were. It just seemed strange.
We took our first rest stop at Ayer, and then continued on, climbing through Harvard (where there were a few cyclists that we didn't stop and talk to) and taking another break at the town park in Bolton. It was there that we discovered the most luxurious Porta-John ever. It's no secret that the "little blue shacks" are the best friend of the touring cyclist. It's also no secret that sometimes the shacks are not very pleasant places to pee...I mean be. But cyclists can't be choosers. The one in the Bolton park was like nothing in our previous experiences. It was clean. It had a mirror. It had a paper toilet seat cover dispenser. It had liquid hand cleaner. The only thing it didn't have was running water..oh, and there was no guy to hand you a towel. A far cry from the worst Porta-John ever, which, by the way, is in Galesville, MD...but I digress.
We tore ourselves away from Bolton and continued south. We were near Berlin on Sawyers Hill Road when we had the first person stop us and ask for directions. There was a wreck on the highway and a truck driver was told to use this back road and he wanted to make sure he was on the right track. I don't know what it is about cyclists that makes people assume they know the area no matter where they are. Naturally, anyone on a bicycle must know where they are going...it's too much work to make a wrong turn. But I think it's more likely that people ask cyclists for directions because they can. It's easy to flag one down. They would ask a pedestrian if they could find one.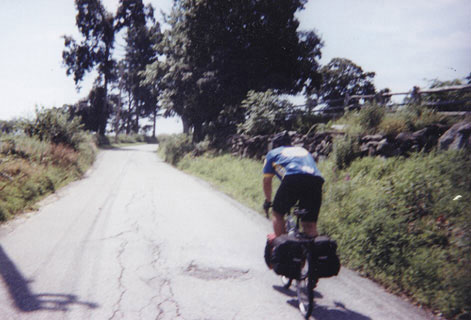 BC climbing on Sawyers Hill Road
The traffic increased as we approached the interchange at Northborough. Another guy yelled and asked which way to Berlin. I pointed back over my shoulder. By now I am an authority on central Massachusetts. Soon thereafter we returned to lightly traveled roads and saw a cool stone bridge. We stopped for lunch at a deli on the outskirts of Northborough, where we crossed US20. We both had turkey subs, mine with lettuce and mayo, JT's with lettuce and Swiss--this became the standard lunch of the trip.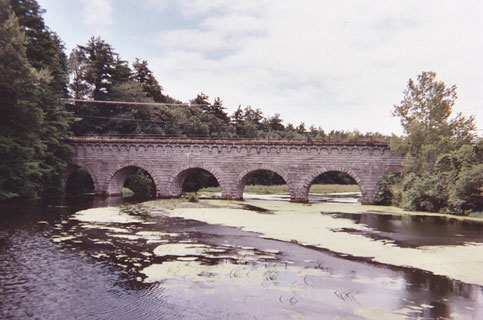 Cool stone bridge in Northborough.
We left Northborough and passed through Westborough (which is south and slightly east of Northborough). Westborough was a busy town and we had to be on our toes, but we got through without incident. After leaving town we climbed up what seemed like a huge hill in the deep woods. When we got to the top we found ourselves on a bridge over I-90. JT took the rare opportunity to coax some horn activity from bored passing motorists.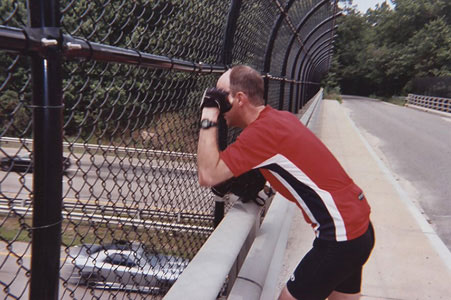 The descent into Upton was exhilarating. The road was steep, narrow, and in poor condition. I even had to use my brakes (I hate to use my brakes on a descent). We rode straight through Upton and stopped at the next town: Northbridge. The woman at the convenience store was pleased when I pulled my money out of a plastic bag. She said, "I wish the construction workers would keep their money in a bag. It gets all gross!" These are the things I remember.
At Northbridge our route turned to the west. The next 10 miles were straight into the wind and mostly up hill. The traffic was moderately heavy and there were no shoulders on the road. It was the worst part of a generally very good day. I wouldn't want to ride this part of the route on a weekday.
We were worn out when we finally descended into Oxford. We stopped at the McDonalds and I drank a couple of massive cups of sports drink. When we resumed riding we passed through town and veered off the Adventure Cycling route toward Charlton. I wanted to visit Charlton because I may have had some ancestors who lived there in the 18th century and earlier. It became convenient to visit Charlton when I couldn't find an acceptable motel in the Worcester area, so we re-routed to Sturbridge, just a few miles past Charlton.
Charlton was right on top of a hill. There was no way to avoid climbing, but by careful route selection we were able to avoid climbing the hill more than once. It was on the road to Charlton that we had our only run-in with a dog. It was one of those butt-ugly little runt dogs and we could have easily outrun it if we felt like it. But we were tired and on a slight incline, so I just gave it a dose of pepper spray. The dog stopped and sniffed it.
We headed straight for the cemetery when we got to Charlton. There were a couple of graves of people that might have been related to me. As a special bonus we encountered the grave of the famous mountain man "Grizzly" Adams. I guess he was from around here.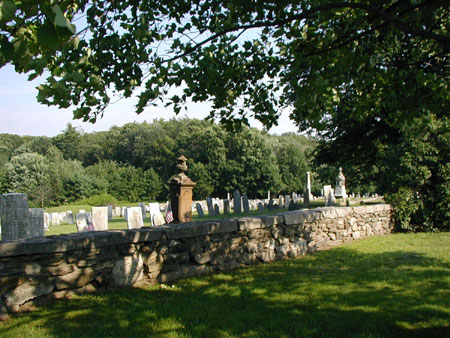 Charlton Cemetery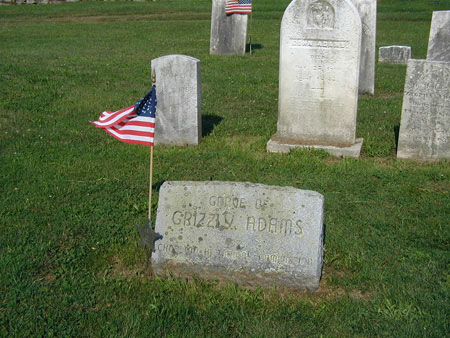 "Griz"
We still had about 8 miles to go to get to Sturbridge. We were pretty tired by then so we decided to take the most direct route: straight down US20. This was not the best idea. Between Charlton City and Sturbridge Route 20 is a 4-lane highway with at-grade intersections and no real shoulder. Fortunately, traffic was fairly light because it was late Saturday afternoon. Still it was fairly unpleasant and would have been unthinkable on a weekday--especially since there are alternatives.
At Sturbridge we checked into the Super 8 and walked to a nearby Italian resturant for dinner. Naturally, we wolfed down large portions of pasta. We were pretty beat, but the next day would be short.
---
Intro | Day 1 | Day 2 | Day 3 | Day 4 | Day 5 | Day 6 | Day 7 | Day 8 | Day 9 | Day 10 | Summary