JT and BC's 2003 East Coast Ride
Manchester, NH to Millersville, MD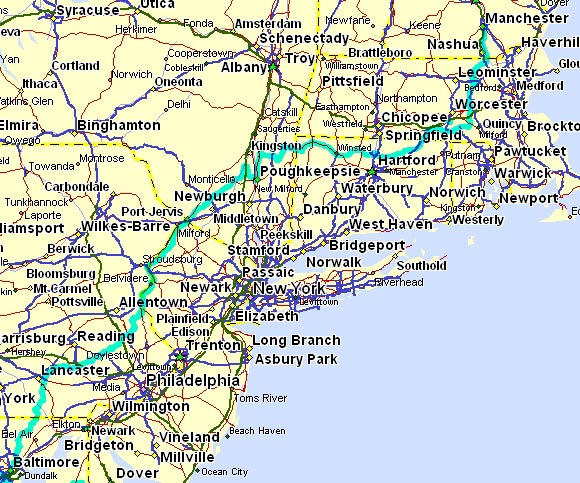 ---
Before our 2003 East Coast Ride, the longest bicycle trip that JT and I had taken was our 5-day ride from Washington, DC to Nags Head, NC in 2002. The purpose of this 10-day ride was to see if we could carry more gear for a longer distance. Our ultimate goal is to ride across the United States in 2004: the Big Ride.
But this ride was not to be a dress rehearsal for the Big Ride. We planned to stay in motels on this trip, while we would certainly have to camp a good bit of the time on the Big Ride. JT wasn't even riding a touring bike. He had a late-model Novara Strada that was built out of stray parts by our friend Pat. He had fitted a rear rack to the Novara and had gigantic rear panniers. He bought a cheap front rack but didn't have any bags that would fit on it, so he left the front rack at home. For the Big Ride, we will both need touring bikes with all the crap we can carry.
Another important difference between the East Coast ride and the prospective Big Ride would be that this ride would follow a schedule. We had to ride every day regardless of weather so that we could cover the distance in 10 days. The end points of our first three days were predetermined, but after that we would play it by ear. For the Big Ride, we hope to have no schedule.
The original plan for this trip was to ride from Boston to Baltimore. We were going to ride to Union Station in Washington, DC on a Friday night and take the overnight train to Boston's South Street Station, and we would begin our return ride that day. But when I called Amtrak to buy tickets I was told that baggage service had been discontinued on all trains in the northeast corridor. They would be happy to take us to Boston, but we couldn't take our bikes.
Rejected by the rail system, we turned to air travel. We decided to fly to Manchester, New Hampshire because Southwest had a number of flights from BWI to Manchester every day. We also decided to fly up on a Friday and ride a short distance that day to make sure the bikes were okay.
We didn't want to trust the bikes to Southwest Airlines, so we had them packed up by our favorite local bike shop, the Bike Doctor in Annapolis, and shipped to Naults Cyclery in Manchester, which I picked based on their web site. The bikes arrived in plenty of time and were reassembled for us when we arrived.
My wife Linda flew up with us and drove us to the bike shop in Manchester in a rental car. She stayed the first night in Nashua in case we needed to run out to a bike shop after our short Friday ride. Then on Saturday she visited her sister in Hanover and flew home later that day. Having her around turned out to be a good idea.
---
Intro | Day 1 | Day 2 | Day 3 | Day 4 | Day 5 | Day 6 | Day 7 | Day 8 | Day 9 | Day 10 | Summary