Day 4
28 July 2003
Windsor Locks, CT to Lakeville, CT
56.1m, 4h54m, 11.4mph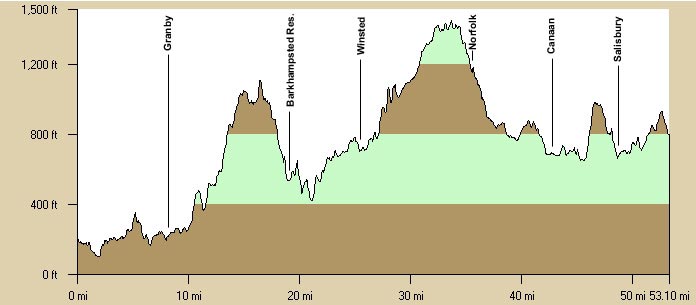 ---
We left the Days Inn at about 8am as usual and stopped at a gas station for some Gatorade. The guy who ran the place seemed to be agitated by our presence and watched us park our bikes while other customers patiently waited inside. He wanted JT to move his bike from the narrow sidewalk around the gas station island. JT told him he would only be there for a minute and the guy went back inside. When we tried to pay for our drinks it became clear that the guy had no idea what he was doing. He seemed to be making up the prices at random. After charging BC $2 for a Gatorade he tried to charge JT $3 for a smaller Gatorade (yes, all the prices were round dollar amounts). Strange.
We took a short break at the town square in Granby so I could check over my bike, and then we started climbing. It was another beautiful day, but we still had a headwind and the climb was fairly long (about 5 miles). JT started pulling away from me at the start of the climb and then waited for me at the top. This was the normal situation on the long climbs throughout the week--JT spinning, BC grinding. We went over the top of the climb and then screamed down to the Barkhampsted Resevoir. This may have been where I recorded my top speed of 43.5mph. This time I waited. My waits at the bottoms of hills, however, were never as long as JT's waits at the tops.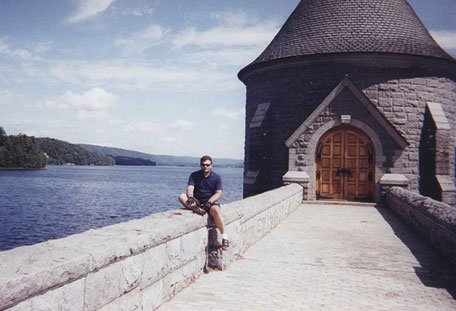 BC at Barkhampsted Resevoir
We took a break at the Resevoir and soaked up the scenery. A few miles on there was a store at Pleasant Valley and we stopped there for drinks and a snack. Immediately after leaving the store there was a short, but steep climb to get to US44. The road had no shoulder and was crowded with big trucks, who apparently use this road as a shortcut from Route 44.
We survived the shortcut and turned onto US44. It was a gradual 3 or 4 mile climb into Winsted where we stopped at the McDonalds for lunch. I made the mistake of ordering only a grilled chicken sandwich, while JT supplemented his sandwich with a frozen yogurt dessert. On our way out of town we passed three touring cyclists going the other way. One of them waved but they didn't seem interested in stopping to chat. It could be that they didn't see us (except the one guy) because they were concentrating on traffic. At the time we didn't know that they were just coming off a 10+ mile descent with a tailwind. They probably couldn't peel their hands off the handlebars.
Soon we were on a 10+ mile climb into a headwind. The climb was long, but not terribly steep. The top of the climb just outside of Norfolk was the highest elevation we reached on the entire tour: about 1450 feet.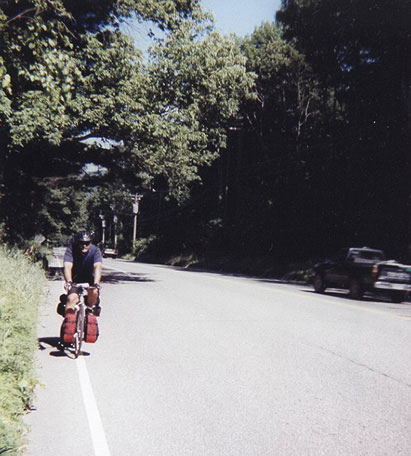 BC reaches the high point of the trip
The route descends rather steeply through Norfolk. We didn't see any stores but we were pretty thristy and we flew past a pizza joint. When it looked like we were leaving town we turned around and climbed back to the pizza joint to get some drinks.
We continued to descend out of Norfolk until the land flattened out around Canaan. In Canaan we stopped for drinks and I grabbed a pre-made sandwich. I had used up my lunch and was feeling weak (and hungry). We asked directions to the town park and rested there for a while.
For a while it looked like we'd have an easy ride the rest of the way to Lakeville. The route followed the Housatonic River valley for a short distance, but then it turned sharply and headed straight up a nasty climb--the toughest one so far. Fortunately it was only about a mile long. After that it was downhill into Salisbury, which is a pretty little tourist town. We stopped at a small sporting goods store to buy swimsuits. We were looking forward to relaxing in the pool at the Interlaken Inn.
A few miles later we were there. While checking in I casually asked how late the pool was open and the clerk said that the pool was closed because of some sort of chemical imbalance. The lake, however, was always open. Having purchased swimsuits we felt compelled to use them, so we walked down to the lake and swam a few strokes in the cool, refreshing water.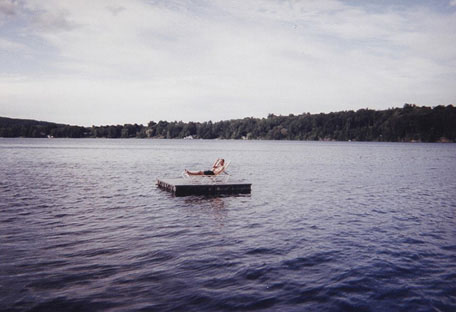 JT on Wononskopomuc Lake
The Interlaken Inn is fairly isolated if you don't have a car so we ate dinner at the hotel. For what it's worth, the place was nice, but probably not as nice as Linda thinks it is. I think it falls short of elegant. Most of the guests seem to be young men who are taking courses at the nearby Skip Barber Racing School.
---
Intro | Day 1 | Day 2 | Day 3 | Day 4 | Day 5 | Day 6 | Day 7 | Day 8 | Day 9 | Day 10 | Summary