Day 3
27 July 2003
Sturbridge, MA to Windsor Locks, CT
43.3 miles, 3h38m, 11.9 mph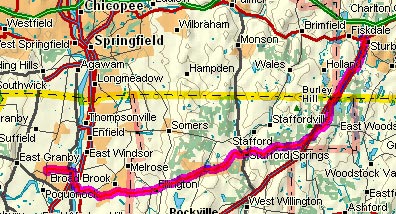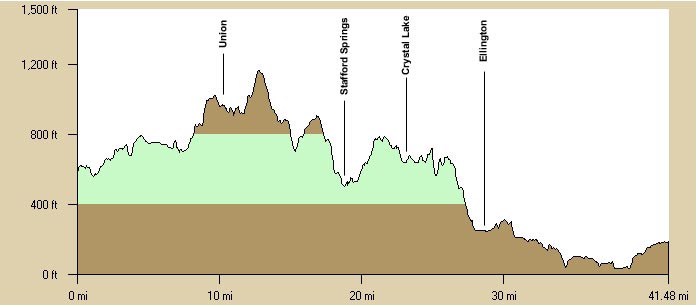 ---
Because of the route change that extended Day 2 to Sturbridge, Day 3 would be fairly short: only 43 miles. One thing we learned from the previous day was that we rode too fast. Today we would take it easy. After all, we had all day to travel a very short distance. Also, we would be fighting a headwind again, although the weather was otherwise perfect.
We grabbed breakfast at the motel and rolled out at about 8am. In the center of town we turned south on Haynes Road, which runs parallel to I-84. We passed some local cyclists a few miles down the road but foolishly didn't stop and talk to them. The map showed that Haynes Road approached I-84, but it wasn't clear whether we could get through to our turn or whether we would have to ride down the interstate for a short distance. The local cyclists probably would have known. The alternative was to take a detour of several miles. In the end we decided to just ride down the interstate for about 1/2 mile. Here is photographic evidence of our crime. That's the Connecticut border up ahead where the pavement changes color.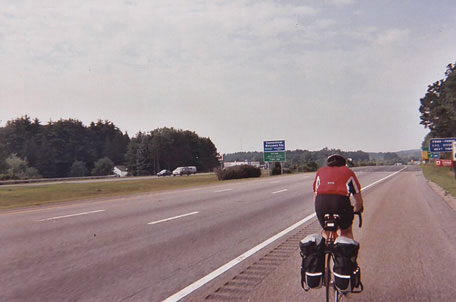 Crossing the CT line on I-84
A few miles later we rejoined the Adventure Cycling route in the town of Union and we turned west--into the wind. We had been gradually climbing all morning and we continued to climb until we reached almost 1200 feet in elevation, and then plunged down into Stafford Springs where we took our first break of the day. We grabbed some fluids and snacks at a gas station mini-mart and retired to the town park to inspect the facilities.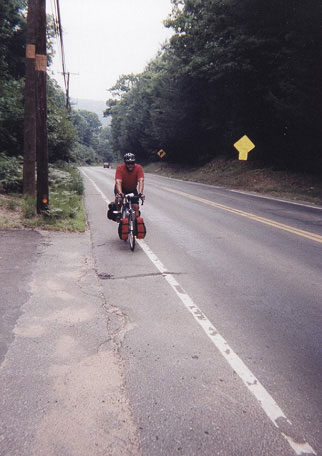 Climbing near Stafford Springs
We climbed out of Stafford Springs and then the road got easier. We stopped at a store in Crystal Lake for more fluids and then descended into Ellington. The road flattened out after that...and there was even some surprising scenery. At one point we rode into a cluster of trees expecting more of the same...but when we emerged from the trees we were on a hill overlooking a big, wide-open plain. Of course, then we really had to fight the wind, but it was a nice change.
We crossed the Connecticut River into Windsor Locks and made the long, slow climb through town to the Days Inn by the airport (Bradley Int'l Airport, the airport that serves Hartford). It wasn't even 1pm yet, so we grabbed some lunch at a nearby McDonalds and an adjacent Baskin Robbins, and then rested until dinner, which was at a neighboring steakhouse. We tried to find laundry facilities, but were told that the motel didn't have any and that the laundrimat was all the way across town. We still had two more days worth of bike clothes before washing would be absolutely necessary, so we didn't pursue it any further.
One of the scenarios for getting from Manchester to Baltimore in 10 days called for a 100 mile ride on Day 4. After Day 2 it was clear to us that 100 miles in one day was out of the question. Looking ahead, it would still be easily possible to make it in 10 days by only riding about 50 miles on Day 4 and adjusting some other stops. It would be cheaper too..now we would be able to sponge off relatives!
We started the trip with the first three nights predetermined. Now it was time to plan the next few destinations. First I called Linda and asked her to look into getting us lodging for the next night in the neighborhood of Salisbury or Lakeville, CT. She called back later with several options and we chose the Interlaken Inn (pronounced "Inter-Lake-En") near Lakeville. It would cost $110 for our room but it looked like a nice place and there was a pool and a lake. Later Linda called her mother in PA and told her to expect us on Thursday. I called my dad in NY and told him that he'd be seeing us on Tuesday. We would probably stay in a motel in the Port Jervis, NY area on Wednesday. Things were coming together nicely, except that Linda was a bit miffed. "When you and I travel we stay at the Red Roof Inn. When you and JT travel you stay at nice resorts! And I have to book the rooms for you." She has a point. Hopefully, the Interlaken Inn won't be that nice.
---
Intro | Day 1 | Day 2 | Day 3 | Day 4 | Day 5 | Day 6 | Day 7 | Day 8 | Day 9 | Day 10 | Summary