Day 8
1 August 2003
Easton, Pa to Pottstown, PA
49.6m, 3h54m, 12.7mph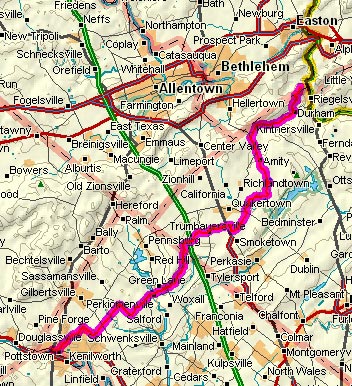 ---
Day 8 started with light rain and fog. After seven perfect days we weren't complaining. We ate a hearty breakfast, posed for a photo and were on our way.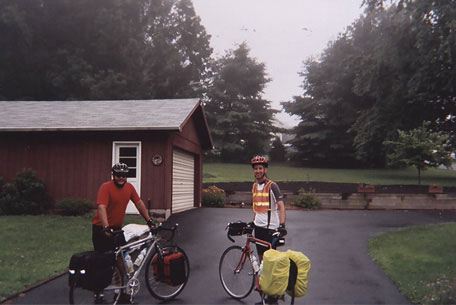 Starting Day 8 in the Rain
This would be the only day on the tour where we never touched the Adventure Cycling route. After dropping quickly back down into the Delaware Valley, we spent the next ten miles slowly climbing out again. We stopped at a small store in Amity and joined the route of an organized ride I had done the previous year. This took us past Lake Towhee County Park (where we took a break) and around the south side of Quakertown to Trumbauerville. The weather was okay, but the traffic was a little heaver than I had expected.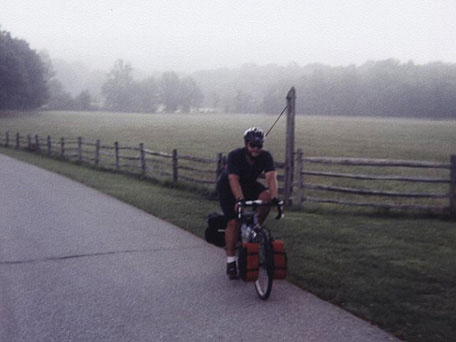 Somewhere near Quakertown
Eventually we joined Swamp Creek Road, which follows Unami Creek (naturally) down into Perkiomenville.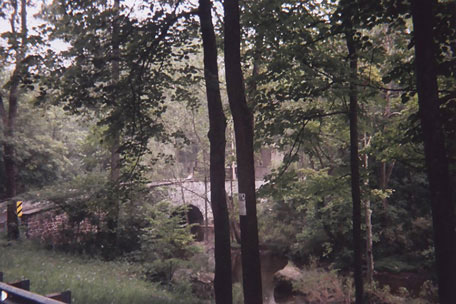 Crossing Unami Creek near Perkiomenville
It should have been almost a straight shot from Perkiomenville to Pottstown, but there was a bridge out which caused us to run well to the northwest. Eventually we were able to cross the creek and get into the Pottstown suburbs. It started raining harder as we approached the town, but it stopped before the screaming descent into the business district. We rode all the way through town and turned down King Street, approaching Route 100 from the east. We almost rode right by the place--it was on the east side of Route 100.
Our rooms turned out to be smoking rooms, so they smelled pretty bad. There was a family living in the room next door. They seemed to spend most of their time sitting in lawn chairs out in from of their room. I can't imagine anyone going to Pottstown for a vacation and spending it at the Travelodge, so they must have been staying there because their house burned down or something. They seemed like nice people.
We ate lunch in the family restaurant next door and later ordered dinner from the Chinese place attached to the bar in the motel. There didn't seem to be much else to do that was within walking distance, so we just relaxed in our smelly rooms.
---
Intro | Day 1 | Day 2 | Day 3 | Day 4 | Day 5 | Day 6 | Day 7 | Day 8 | Day 9 | Day 10 | Summary