Day 6
30 July 2003
Tillson, NY to Matamoras, PA
55.6m, 4h13m, 13.2mph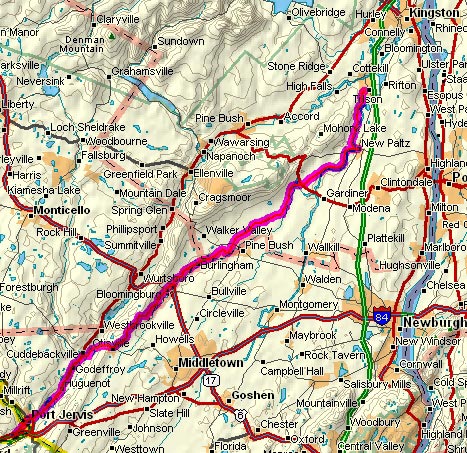 ---
Day 6 dawned bright and sunny--our 6th consecutive day of beautiful weather. The day's route ran down the Wallkill River and over the Shawangunk (Shon-gum) at Otisville and into Port Jervis and Matamoras, PA. We were to spend the night at the Best Western, which is legendary for its weekend all-you-can-eat seafood buffet (including lobster). Unfortunately for us, it was Wednesday.
We got our typical early-but-not-as-early-as-I-would-have-liked start and rode down to New Paltz to stock up on Gatorade. The route from there was mostly flat and easy. We kept the Shawangunk to our right and the river on our left. I experienced a brief moment of nostalgia when we passed by the Ulster County fairgrounds, which was just coming to life for the day.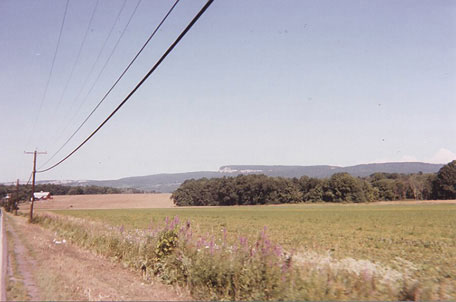 The Shawangunk
We stopped at the store in Burlingham and met a local cyclist riding a touring bike. He gave us some good route information on how to get to Otisville. The Adventure Cycling route would have taken us far out of the way to Middletown. We rode on to Bloomingburg, where we ate a lunch of turkey subs at a deli and then we climbed up to Otisville. There, we sat out front of the local store and talked to the owner. He suggested that we ride down Mountain View Road and then cross the ridge further south on Route 6, which would drop us right down into Port Jervis. It would be considerably less hectic than crossing at Otisville and riding down US209 to Port Jervis. On the other hand, we had already climbed up to Otisville and we didn't want to climb again. We decided that we would see how far it was to the top and if there was still a big climb, we would do the Mountain View Road. It turned out that we were already almost all the way up, so we rode over the hill and descended into Cuddebackville. From there we rode straight down 209, through Port Jervis, across the Delaware River into Matamoras and to the Best Western (JT actually rode right into the lobby--the door was open).
---
Intro | Day 1 | Day 2 | Day 3 | Day 4 | Day 5 | Day 6 | Day 7 | Day 8 | Day 9 | Day 10 | Summary