Day 1
25 July 2003
Manchester, NH to Nashua, NH
24.3 miles, 1h46m, 13.8 mph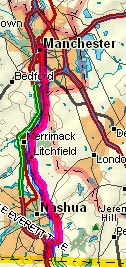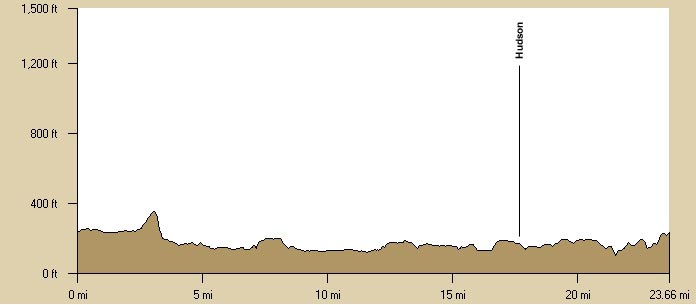 ---
We landed in Manchester at about 10:45am and were at Naults Cyclery by 11:30. Our bikes were ready but I (BC) wanted them to install my front rack (I had ordered a low-ride front rack and panniers from Bruce Gordon Bicycles but it hadn't arrived by the time we had to ship the bikes). That took a bit longer than it should have because the first guy had it all wrong and the second guy took two tries to get it right. I discussed possible routes to Nashua with the guy in the shop while JT and Linda walked to a nearby 7-11 for Gatorade. It was close to 1pm before we were suited up and ready to go. We had to stop again after about a quarter mile to tighten JT's handlebars, but after that everything went well.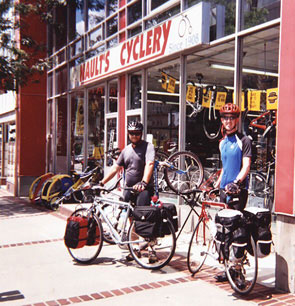 Ready to go in Manchester.
This was the first time either of us had ridden with this much gear. My bike was a brand new Cannondale T-800 touring bike with front and rear panniers. I had upgraded the bottom bracket and cranks, and had new wheels built (I weigh about 240 lbs and regularly destroy all but the strongest wheels). Before this trip I had ridden the bike for a total of about 45 miles. I was carrying about 25 lbs of gear--mostly clothing and tools. As we started riding through the streets of Manchester I was surprised how stable the bike was with the load. I had never ridden with front panniers before but I found it much more comfortable than riding with only rear bags. I think it also helped to have the relaxed geometry of a touring frame and big, cushy 37mm tires inflated to 70psi.
JT had his Novara with only his gigantic rear panniers filled with clothing and Cliff Shots. He was riding skinny, 23mm tires inflated to 100psi. He noticed right away that his bike was extremely unstable. There was simply way too much weight on the back and not enough on the front. Fortunately, the plan was only to ride a short distance this day, and Linda would be at the end with the rental car. Maybe we could find him some front bags.
We rode south through Manchester and onto route 3A down the east bank of the Merrimack River. The only significant hill came about 3 miles into the ride--still within the city limits. Our first brake check was on the descent of that hill when we encountered a traffic light. The brakes worked.
The weather was beautiful and traffic on 3A was fairly light, except around the Manchester airport and in Hudson, the town directly across the river from Nashua. The most exciting incident on this short day was our crossing of the Merrimack River. We planned to cross on a road called Circumferential Highway, which looked on the map like a fairly small road. When we got there we found ourselves on an entrance ramp to a four-lane highway. There was a bike route sign pointing to the right, but it wasn't clear whether or not the bike route went over the bridge, so we got on the highway. As we neared the bridge we could see that the bike path shared the highway bridge and that we really wanted to be on the bike path. The was a fence separating the bike path from the highway, but apparently we weren't the first riders to make this mistake. In one place the fence had been twisted off its posts so we could lift it and squeeze under. A few minutes later we were at the South Nashua Ramada Inn.
Linda was waiting at the Ramada and had already checked us in. After showering, we got in the car and visited the two largest bike shops in Nashua looking for a solution to JT's balance problem. But just like everywhere else, nobody in Nashua carries front racks or panniers. As we were shopping, both JT and I started getting woozy and light-headed. Since the ride was so short, we had never stopped for lunch and were now paying the price. We headed downtown and ate an early dinner at Martha's Exchange Brewing Company, which had been recommended by the guy at the bike shop in Manchester. Eventually, JT decided on a sturdy handlebar bag, which, when loaded with Cliff Shots and Gu packs, seemed to improve the handling of his bike quite a bit.
---
Intro | Day 1 | Day 2 | Day 3 | Day 4 | Day 5 | Day 6 | Day 7 | Day 8 | Day 9 | Day 10 | Summary