Day 10
3 August 2003
Lancaster, PA to Millersville, MD
95.3m, 8h22m, 11.3mph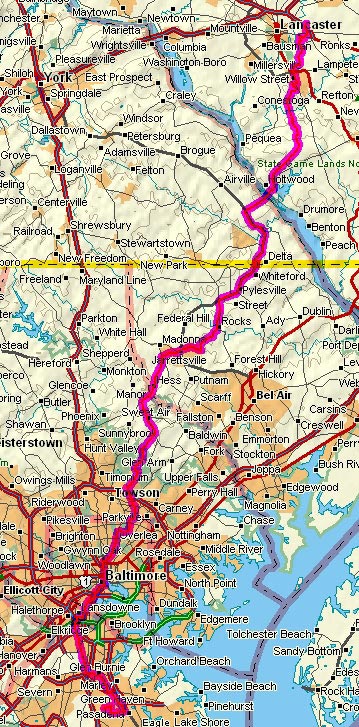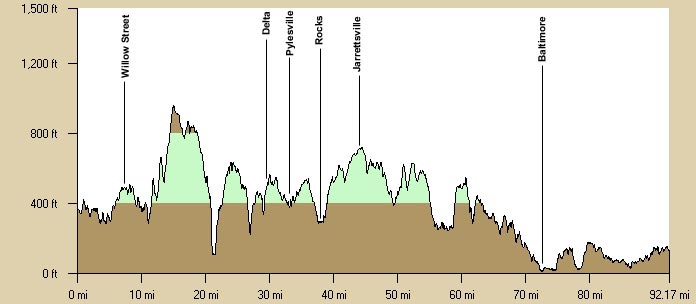 ---
The last day was the longest day. It was also the worst day. The weather was overcast, and there was little hope that we would get home without getting wet. But at least it wasn't cold.
We got off to an inauspicious start when we tried to cut through a residential neighborhood and missed our turn. Naturally the correction involved a couple of extra climbs. Finally, we cleared Lancaster and passed through the small town of Willow Street, where we took a short break. After that we had about 5 miles of climbing, including a couple of steep ups and downs. Eventually, we got out of the tight hills and into more open territory near Rawlinsville. The area would have been moderately scenic if the weather had been better. There was a small public park in Holtwood, so we stopped there for another "rest." There was a water fountain and we refilled our bottles. Then we screamed down to the Norman Wood bridge over the Susquehanna River.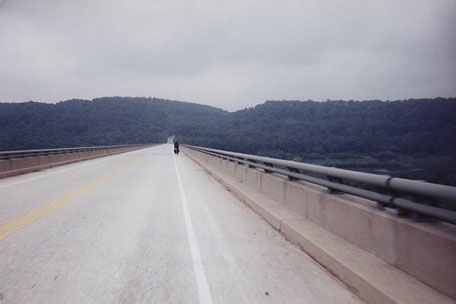 On the Norman Wood Bridge...uh oh...looks like rain
The Norman Wood bridge is a boring highway bridge, but it's a good crossing for cyclists--little traffic and big shoulders. The only crossing south of here where bicycles are allowed is the Conowingo Dam, which has moderate traffic and practically no shoulder--but it's shorter. Anyway, we climbed out of the valley on the other side and rejoined the Adventure Cycling route southward. After a few miles we stopped at a store in Delta for our first real rest of the day. Another customer in the store told us that he had passed us while we were crossing the Wood bridge. It seemed like a long time ago.
It wasn't long after that that we crossed into Maryland. At the time it seemed like a good thing.

Those clouds don't look so good.
The road widened out nicely when we crossed into Maryland. One thing about the Old Line State, the new roads are all built with nice wide, smooth shoulders. We followed the Adventure Cycling route down into Rocks, formerly a mill community, now a state park. It wasn't all that scenic, there were no services (except for a locked restroom), and then we had to climb out. We should have stayed on route 165, which would have gotten us to Jarrettsville more quickly and with less effort.

Anyway, we stopped in Jarrettsville and ate a hearty lunch at a family restaurant at the main crossroads. I called Linda and told her where we were so she would expect us to turn up sooner or later. A short way out of town we decided to take a shortcut, as the AC route went diving after mills again. We sprinted down MD146, which does not have a shoulder and had a little more traffic than I would have liked. If it hadn't been Sunday it would have been unpleasant. After a few miles we picked up the AC route at Manor Road. We had just passed Sweet Air when it started to rain. Then it started to rain hard.

The 2-mile descent to the Loch Raven Resevoir was made in a driving rain. I had to take off my sunglasses so that I could see. That little visor on my helmet really seemed to help keep the water out of my eyes. As we rode along the resevoir we came across little knots of soggy people who had been caught away from their cars when the storm broke (The road was closed to traffic--probably for the weekend). Soon it stopped raining, but the sun did not come out.

When we reached Providence Road we were confronted by a detour sign directing us away from the Loch Raven Dam. Normally cyclists can ignore detours, but this one promised us all kinds of legal difficulties if we insisted on proceeding. So we turned up Providence Road and climbed out of the valley. On the way out I noticed that my cyclocomputer had stopped functioning. I took the unit off and saw that a puddle of water had formed in the mounting bracket. I sponged it out as best I could with my soaking-wet gloves and slammed it back in. It started working again, but I didn't know how many miles I had missed. To make matters worse, it now showed that I had reached a top speed of 131.5mph today. I think I would have remembered that.

I had carefully mapped out a route through Baltimore, and we were soon able to recover from the detour and rejoin it. There was a 7-11 just inside the beltway so we stopped there to wait out another shower. We were just barely inside the city limits when we encountered our first and only asshole prick motorist of the trip. This guy in a black SUV pulled up and started yelling profanities over the noise of his sound system. It seems that he had taken offense to some moves we had made to avoid a steel plate in the road. I didn't get the idea that he had had to take evasive action to avoid us, but he seemed to think we were stupid to have (as he saw it) swerved without looking. Words were exchanged. Then we ignored him and he drove away when the light turned green. He might have been one of those people who like to "draw the foul"--put themselves into positions where someone will unintentionally do something that they can be mad and indignant about.

A little further on our route joined Loch Raven Blvd. The traffic was much heaver than I had expected on a Sunday, and then it started to rain again. We stuck to the street for a while, but finally I gave in and rode onto the sidewalk. I generally refuse to ride on sidewalks (even where it's legal) because they are generally in poor condition and it's hard to get through intersections, but I was very uncomfortable in the heavy traffic with the rain. On the next block we encountered a car which had skid out of control and hit a light post, knocking it down across the sidewalk. It didn't look like anybody was hurt, but it just goes to show--the sidewalk isn't really any safer than the street.

We returned to the street when the sidewalk deteriorated and the rain stopped. My map had deceived me and now we were in a bad neighborhood, so we cut over a couple of blocks to St. Paul Street, which would take us through downtown Baltimore.

We were passing a park in the center of town (and it was raining again) when my back tire suddenly went flat. All things considered, it could have happened at many worse places. There was a little wall we could sit on, and it was a nice area. Still, my tire made it 600 miles and couldn't hold out for 15 more.

I changed the tube and we continued toward the Inner Harbor. The Orioles were playing the Red Sox at Camden Yards and we passed some fans walking back to their cars. I asked them if the game was rained out and they said that the Sox were winning in the 9th but the game was in a rain delay. I had two reasons for asking: I'm a Red Sox fan so I wanted to know the score, and we would be passing near the stadium and I wanted to know whether to expect heavy traffic.

As we worked our way through the warehouse district near the stadiums, we started to encounter traffic as the parking lots emptied. At one point we were riding along a set of railroad tracks that ran down the right side of the street. We would eventually have to cross them but I decided to wait because they looked dangerous. JT went for it. The result was a loud noise and some oaths. He fell right in front of a line of cars, but they were moving slowly and didn't come close to hitting him. He made it 605 miles without falling and couldn't stay on for another 10 miles.

Before we left the city we stopped at a Taco Bell so I could have a small snack (I was pretty tapped). This is the first fast food restaurant that I've ever been in that had bullet-proof glass between the employees and the customers. Very unsettling.

The last few miles were uneventful. JT wanted to sprint for the finish but I didn't have it in me. I wasn't ready to sprint until I could see the house.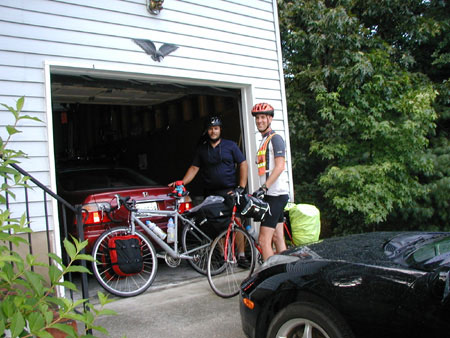 Home at Last
---
Intro | Day 1 | Day 2 | Day 3 | Day 4 | Day 5 | Day 6 | Day 7 | Day 8 | Day 9 | Day 10 | Summary