Day 9
2 August 2003
Pottstown, PA to Lancaster, PA
47.5m, 3h53m, 12.2mph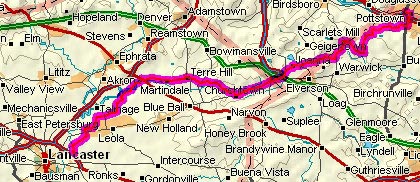 ---
The weather was better than yesterday, but still overcast with a chance of showers. We fueled up at a convenience store in Pottstown and headed south out of town. On our way out of town we were pleasantly surprised to see that Pottstown had bike lanes on some of its main streets.
A few miles outside of town we met up with a large and unpleasant climb of about 500 feet. When we descended the other side we rejoined the Adventure Cycling route for the run to Hopewell Furnace National Historic Site. We spent about a half hour there, talking to the park volunteers and watching the film. They seemed very much impressed with our journey.
A few miles after leaving Hopewell Furnace we once again deviated from the Adventure Cycling route and visited Morgantown, where we sat outside at a table and ate lunch on the main street (turkey subs, of course). At Morgantown we left the hills behind us and entered the Amish Country. A short run down route 23 took us to Churchtown, where there seemed to be some kind of town-wide yard sale going on. At Churchtown we turned north and dropped down into the Conestoga Valley.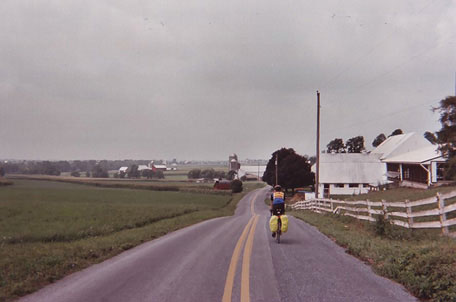 Riding in Lancaster County
Now we were getting into familiar territory. Lancaster County is one of the nicest places for road cycling in the Mid-Atlantic and we'd ridden here many times. We followed the familiar roads into the Lancaster area. We spent the last night of the trip at a Hampton Inn and ate a delicious (and expensive) meal at a nearby restaurant.
---
Intro | Day 1 | Day 2 | Day 3 | Day 4 | Day 5 | Day 6 | Day 7 | Day 8 | Day 9 | Day 10 | Summary