Nags Head Tour 2002
Washington, DC to Nags Head, NC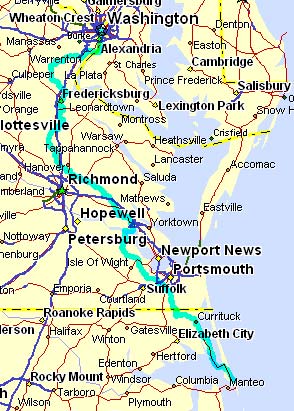 ---
In 2001, I attempted to ride from Washington, DC to Nags Head, NC, where a week-long vacation awaited me. After two days I was physically and mentally exhausted and I quit. My wife picked me up in Richmond and drove me the rest of the way.
In 2002, I was determined to try again. This time I made two major changes: 1) I extended the trip from 4 days to 5 days and reduced the daily mileage, 2) I wasn't riding alone, this time JT was coming along. Also, having completed the Bicycle Tour of Colorado earlier in the summer, I was in much better riding condition.
Our route would follow Interstate Bicycle Route 1 from Washington,DC to Ashland, VA. From there we would strike out on a route I planned myself. Early in the spring I had driven most of the route, so I knew what to expect roadwise.
---
Intro | Day 1 | Day 2 | Day 3 | Day 4 | Day 5