Day 4
31 August 2002
Williamsburg, VA to Chesapeake, VA
62.4m, xhxxm, xx.xmph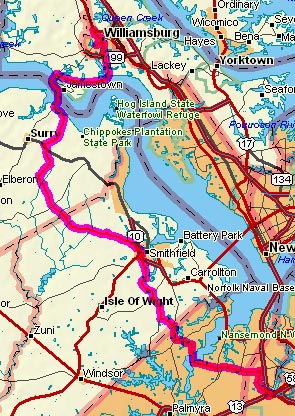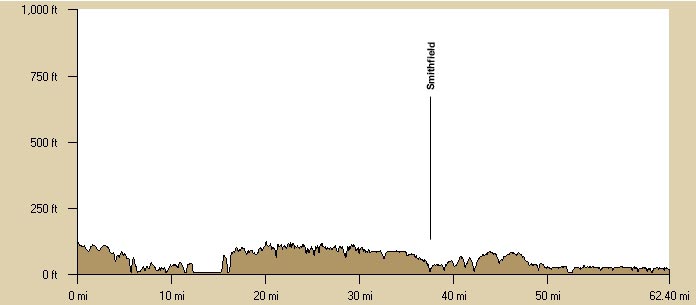 ---
It was spitting rain in the morning when we rolled out of Williamsburg. We stopped at the Wal-Mart so JT could pick up some kind of knee bandage, then we rode for a couple of miles in the wrong direction until we got straightened out and jumped on the Colonial Parkway.
The Colonial Parkway is a low-speed, low-traffic road that runs between Yorktown and Jamestown. It's run by the National Park Service and is beautiful bike route--except that the road surface is very rough. There were a few others out riding in the morning rain, including a couple on a tandem. They were the last cyclists we were to see until we reached the Outer Banks.
At Jamestown we rolled onto the ferry and called my wife on the cell phone. She was driving down to Nags Head on this day and we were planning to meet for a supply drop. At this point in time she was still north of Richmond so we decided to reestablish communications when we got to Smithfield.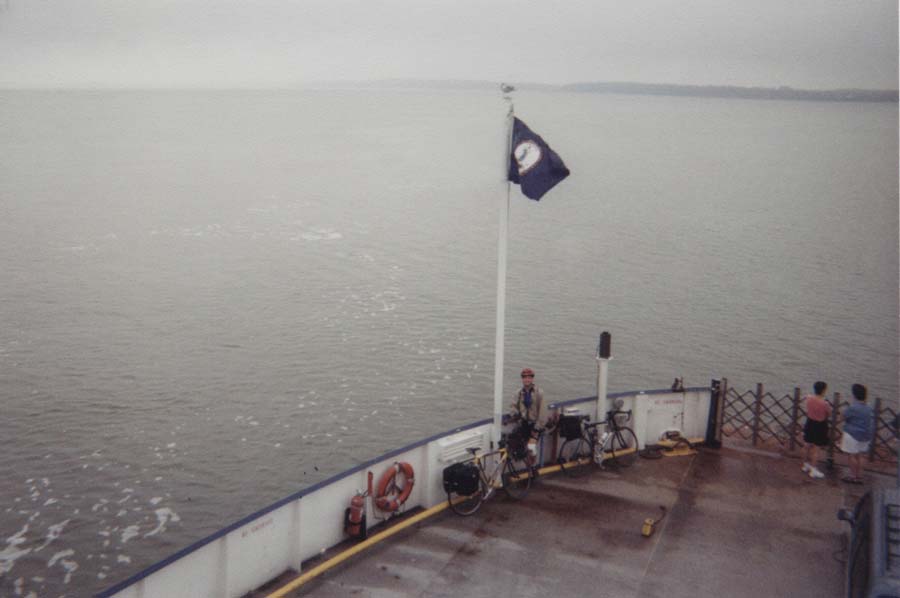 It rained off and on during the long, flat cruise to Smithfield, where we were greeted with the pleasant odor of cooking ham. We stopped at a convenience store and grabbed some ham sandwiches, which weren't made with Smithfield ham, and weren't very good. I couldn't get a cell signal so I called my wife from a pay phone and we agreed that she would start driving back up our route until she met us.
She passed us going the other way just about where we crossed the Suffolk City line. We stopped a little ways down the road and we gave up a few pounds of dirty clothes and picked up supplies for tomorrow, the last day of our ride. We stopped again at the small crossroads town of Driver, where someone asked us how to get to the tax office. we must look like locals.
The stretch of road between Driver and I-664 was terrible. It was 2 lanes with no shoulder and lots of traffic--and it was raining. People seemed to be in a hurry to get somewhere, even though it was Saturday. One pickup truck creeped up behind us and layed on the horn. I don't know what he expected us to do.
Finally we reached Rte 191, which took us away from the traffic and down to Bowers Hill and our motel. On maps the Bowers Hill area looks very busy, with an interstate interchange and US13. In fact there is no traffic at all.
We reached our motel too early to get our room so we rode to the nearby DQ and indulged in our favorite confections. Later, we walked from our motel to the neighboring truck stop for dinner. By then it was raining again.
---
Intro | Day 1 | Day 2 | Day 3 | Day 4 | Day 5