Day 1
28 August 2002
Washington, DC to Fredericksburg, VA
83.4 miles, xhxxm, xx.x mph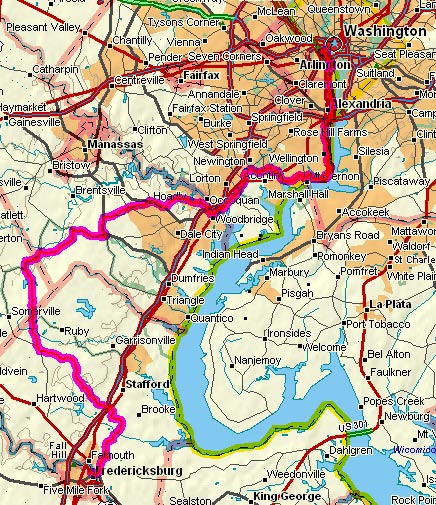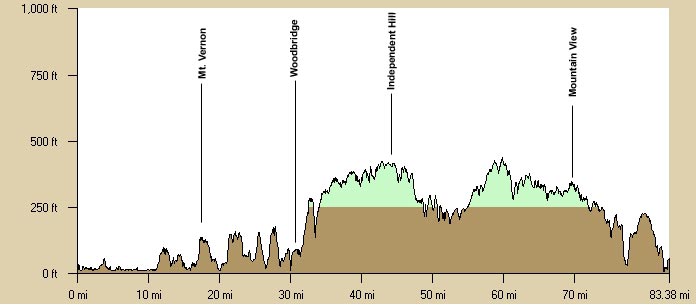 ---
It started raining at 5am the morning that our trip was supposed to begin. Needless to say, this was something of a disappointment. The summer of 2002 had been one of the dryest on record in the eastern states. All I had to do to end the drought was plan a bicycle tour. The forecast called for a chance of rain every day of our trip. There was no postponing--the motel reservations were all made and probably could not be changed with the Labor Day weekend coming up. Besides delaying our start would cost us valuable relaxation time at Nags Head.
At about 7am, me and my wife--who's name may or may not be "Moxie"--drove over to JT's house and picked him up. Then we drove down to Bowie, MD and ate a hearty breakfast. It was still raining.
By 9am we were in West Potomac Park in Washington, DC, near the FDR Memorial. We loaded up our bikes and got ready to go. Just as we started riding, the rain stopped.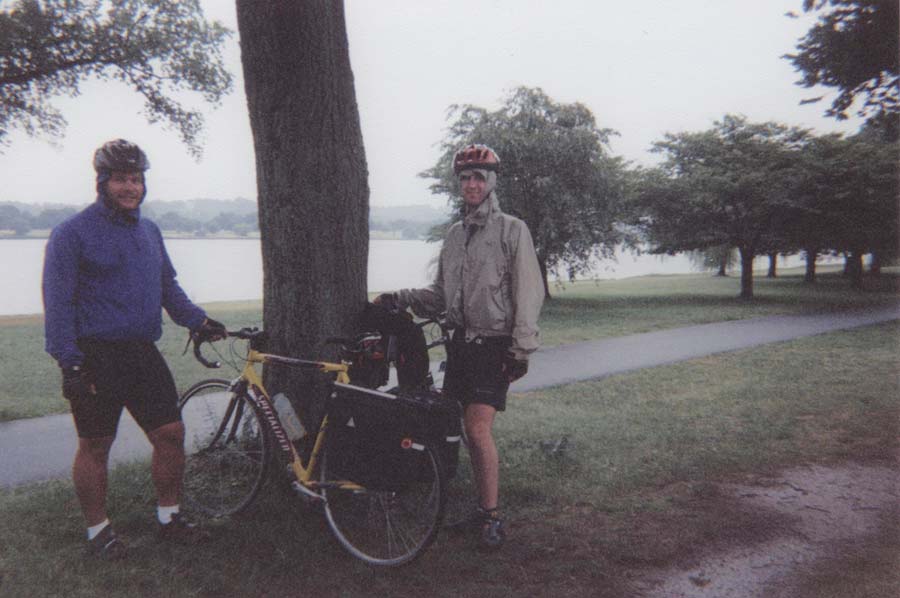 A Beautiful Morning for a Ride
We rode over to the Lincoln Memorial, across the Arlington Memorial Bridge, and picked up the Mt. Vernon Trail heading south. At Gravelly Point, just north of National Airport, we stopped and took off our rain gear. The sky was threatening, but it was too warm to wear the gear if it wasn't raining.
About five miles later, while we were riding through Alexandria, VA, the skies opened and it started pouring. We donned our rain gear and continued on down the trail. It rained hard all day.
The trail had been recently paved and it was in much better condition than it had been the year before. I was a little concerned when I saw signs warning that parts of the trail ahead would be closed "for three weeks" for maintenance. The sign was not dated so there was no way to know when the three weeks were up. I decided not to worry about it. If necessary, we could jump out on to the George Washington Memorial Parkway, which runs parallel to the Trail.
We took a break when we reached Fort Hunt Park. Some unlucky organization had chosen this day for their office picnic, and they occupied the pavilion with an awards ceremony. They had a nice spread, but we didn't crash the party. Back out into the rain and on to Mount Vernon.
Shortly after Mount Vernon we crossed US1 for the first time (we crossed it 6 times on the trip). At this point the bicycle route was supposed to briefly enter Fort Belvoir, but the road was closed and gated. There was a bike path parallel to the road, but it had a Jersey barrier across it. There was no way to go around without a great deal of backtracking (or riding down Rte 1) so we went around the barrier and rode on to the base.
As we approached the base exit we started seeing signs stating the requirements for getting on to the base. I thought we were almost across, but maybe we still had to go through a check point. We turned aside and stood for a while in the rain, discussing the situation. In the end, we decided to just go and see what happened. As it turned out, we were inside and nobody bothered us as we rode past the armed guards out onto the Fairfax Parkway.
Rather than ride up Lorton Road, which is a two-lane road with no shoulder and all uphill in our direction, we decided to stay closer to sea level and cross the Occoquan on US1 at Woodbridge. We stopped for a break at a gas station in Woodbridge and grabbed a snack and some fluids. I probably wasn't drinking enough Gatorade, but I was sucking up plenty of rain water. By this time we were totally soaked, but fortunately the temperature remained in the upper 70s so we weren't cold.
Next we worked our way through Woodbridge, passing under I-95 on Occoquan Road to Old Bridge Road. Old Bridge Road is quite busy and all uphill, but with three lanes in each direction there was plenty of room for us and all the traffic. At some point we rejoined the bike route, but chose to abandon it when it turned left on Minnieville Road, which is a terrible cycling road. At this point Old Bridge Road is reduced to two lanes in each direction and traffic becomes more of a menace. JT had a driver make a right turn in front of him--a particularly dangerous move in the rain when bicycle brakes are not at full strength.
Eventually we reached the Prince William Parkway, which has an adjacent bike path. Soon after that we turned onto Hoadley Road and rode to the intersection of VA234 where we stopped for lunch at a 7-11. It was already about 2pm, but because of our hearty breakfast we were still doing okay. I called my wife at work and got a weather report. It was supposed to keep raining. We really needed the rain.
After lunch we pedaled down 234 through a construction zone and turned west onto Aden Road. There we had our first encounter with an angry motorist. A guy driving in the other direction rolled down his window and yelled something at us. I thought it was strange that someone would bother rolling down his window while it was raining just so he could yell at us, when we're not affecting him at all. I suppose it has something to do with the irrepressable compulsion of the American Asshole to make himself noticed. A hundred nice people can pass you and you might never know it, but the asshole can't resist revealing himself.
Anyway, by now we were back on the bike route, but then we left it again to cut across part of the Quantico Marine Corps Base (this part was legal). The rain started coming down even harder as we traveled through the wooded military facility. This area is characterized by false flats that seemed even longer in the wet. Finally, we turned back to the east on Route 627, which ran along a ridge (it was probably an old tobacco road) until we reached the store at Mountain View.
We stirred up a little interest with the store patrons as we sat out front nibbling on our snacks. One guy said he would rather ride in the rain all day than in the 110 degree heat. He was probably right but we'd been riding in the rain all day and we thought it might be nice to try something different. Another guy talked to us for quite a while about mountain biking.
We continued on Route 628, crossing both I-95 and US 1, and then turning south toward Fredericksburg. The traffic picked up considerably as we approached town (it was now afternoon rush hour). Fortunately, the traffic was moving fairly slowly because of construction so we were able to easily move along with them. We crossed the Rappahannock and found our hotel--the Fredericksburg Colonial Inn.
The place is really nice and they wouldn't let us take the bikes into the room, but we could kind of hide them out of sight in the foyer. The foyer was locked, so in theory, only the other people with rooms on our hallway could steal our bikes. We cleaned up and hung all our cycling gear to dry, although it seemed likely that it would rain again the next day. We ordered spaghetti dinners and a pizza from Dominos and settled in for the night. There was a steakhouse next door but we weren't interested in going back out into the rain.
---
Intro | Day 1 | Day 2 | Day 3 | Day 4 | Day 5