Day 2
29 August 2002
Fredericksburg, VA to Ashland, VA
58.8 miles, xhxxm, xx.x mph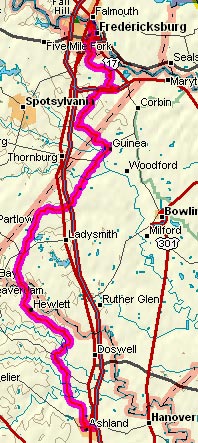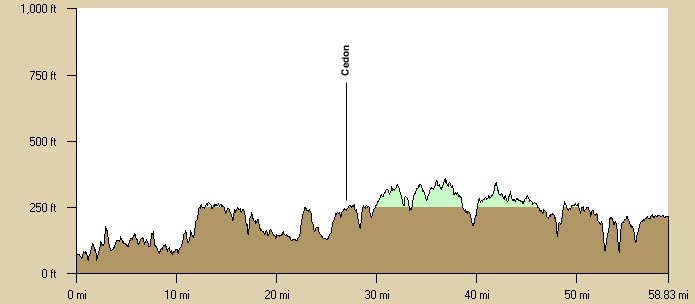 ---
Amazingly it was not raining in the morning. We got up and ate breakfast at the hotel's dining room. A last minute check of the weather channel indicated that we might just make it to Ashland without getting wet.
We rode a few blocks through town and stopped at a convenience store. There would only be one store out on the route today so we made sure we had some snacks and enough to drink. The weather was overcast and it was a little bit cooler than yesterday.
After leaving the store, we cut through town and rode the Sunken Lane along which the Confederate troops defended themselves in the battle of December 1862. We left town on the Lee Road, which ran for several miles along the confederate lines outside of town. The road ended after a while and we had to walk our bikes for about a quarter mile before we reacquired pavement.
About 10 miles out of town we entered a neighborhood where I had problems with dogs last year when I rode this route. This time what do we see but an Animal Control van passing us. Later he came back from the other way. We had no dog problems...yet.
At Guinea station we stopped at the Jackson Shrine and used the facilities. We experienced the first of the day's 6 dog "incidents" shortly before we reached the I-95 crossing. You always expect the dogs to jump off the beat-up trailers and dumpy, redneck-looking houses. This time there was a nice house with two kids playing in the bed of a nice, clean pickup truck. They yelled to us and waved. We waved back. Then two dogs came racing out from behind the truck and charged after us. There was no chance that we could get away so JT gave one of them a dose of pepper spray and they gave up. There were other incidents on this stretch of road, but I can't remember them all.
It is interesting to note that five of the six dog attacks on this day took place in Caroline County, while only half of the distance traveled was in that county. The other attack was a few yards across the border in Hanover County. There were 12 dog incidents for the entire 5-day trip, so Caroline County dog owners seem to be the least responsible, and leash law enforcement seems to be the most lax.
The route crossed US1 at Cedon, where we stopped at a small store and grabbed some lunch. The store owner had the Weather Channel on and the green was all over the Doppler, but it looked like we'd be able to make it to Ashland before anything happened. There was a slight breeze out of the north, which was good because it would be a tailwind. But it was bad because it was cold sitting outside, so we mounted up and moved on.
Our last dog incident of the day was just after we crossed the line into Hanover County and had climbed out of a small valley. We passed a driveway just as a woman in an SUV was pulling out to go somewhere. Her dog Rusty had followed her to the end of the driveway. When he saw us he took off after us. The woman yelled for Rusty to come back, but he was not to be denied. He chased us for about 200 yards before I got tired of it (after all this was the 6th attack of the day), stopped and unleashed a dose of pepper stray. Old Rusty stopped on a dime when he saw the spray coming toward him. He turned around and started running back. The woman yelled, "Thank you!"
JT said that Rusty was a friendly dog and he wouldn't have hurt us. He said I just wanted to use the spray. Actually, I was sick and tired of being chased by dogs. JT and I would ride in silence whenever we neared a house and soft pedal as silently as possible lest we wake a sleeping dog. If one of us saw a dog we would signal each other very quietly "bogey 10 o'clock." Still sometimes we would ride right past a dog that was standing along the road and I wouldn't notice. It got so that it became second nature to scan the roadsides and porches--I probably would have hit a dog that was standing in the middle of the road. It's a stressful way to ride, or it would be if you didn't make it into a game.
Anyway, there were a few steep downs and ups just before we got into Ashland. Ashland is a small city dominated by Randolph-Macon College and the railroad, which runs right through the middle of town and is quite active. Suprisingly, no trains passed as we rode through. At the railroad crossing an old drunk guy asked us if we knew there was a restroom. Apparently, we looked like we were from around there.
We road through town on College Avenue and crossed US1 for the last time. The Days Inn was just across the plaza. We checked in and cleaned up before heading out for ice cream at the nearby Dairy Queen. After that it was dinner at a steakhouse and then back to the DQ for dessert. Later, it started raining.

---
Intro | Day 1 | Day 2 | Day 3 | Day 4 | Day 5