Day 3
30 August 2002
Ashland, VA to Williamsburg, VA
65.9 miles, xhxxm, xx.x mph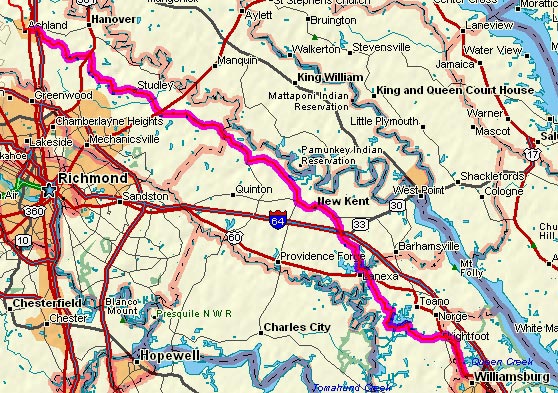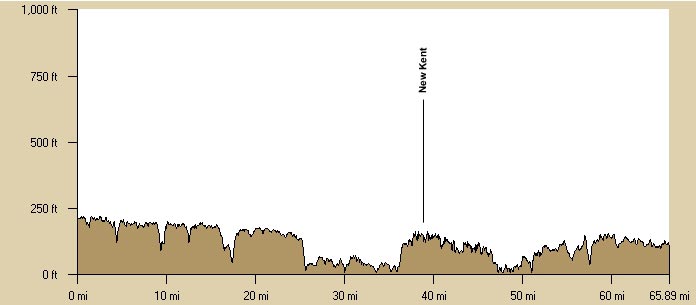 ---
Interstate Bike Route 1 joins the TransAmerica Trail just north of Ashland. The TransAmerica Trail can take you around Richmond, through several Civil War battlefields, and down Viriginia Route 5 to Williamsburg. We didn't do any of that. We took the most direct route to Williamsburg and avoided all the tourist stuff.
Our first dog incident occurred soon after we started. We were riding through a nice residential neighborhood when we came upon a mother and two children riding bicycles. They had their really big dog with them. The dog took off after JT, who happened to be riding in the front. JT must have felt threatened because he sprayed the dog even with the owner was yelling a few yards away. I stopped and only rode on once the dog had backed off. The woman didn't apologize to us. I felt like giving her an earful but I didn't want to use profanity in front of children.
We stopped at a store on US360 near Studley and then moved on to the rural areas near the York River. Eventually we reached Tunstall, where there was a little country store. The woman running the place was occupied with cooking up something, probably lunch for the fishermen who would be coming up from the river, and she ignored us except to take our money. The snacks we bought in Tunstall turned out to be our lunch, as we didn't see another store until we were quite close to Williamsburg. As we started out again, the dog next door to the store came after us, but we were able to easily outpace him.
We were in for a pleasant surprise when we turned onto Rt 608. When I had driven this part of the route in March, parts of the road were gravel, but now the entire road was paved. Soon we were passing through New Kent and into the pine-scented lands the border I-64. At the gates of the Colonial Country Club, we stopped and tightened one of JT's front spokes, which had almost backed itself entirely out.
JT was starting to lag because of knee pain as we approached the Williamsburg area. The skies looked threatening, so I wanted to get in as quickly as possible. We didn't make it. It started raining when we had about 5 miles to go and we were soaked when we pulled into the LaQuinta Inn. But there was a Dairy Queen next door so everything was okay.

---
Intro | Day 1 | Day 2 | Day 3 | Day 4 | Day 5