2002 Bicycle Tour of Colorado
Loop starting and ending at Gunnison, CO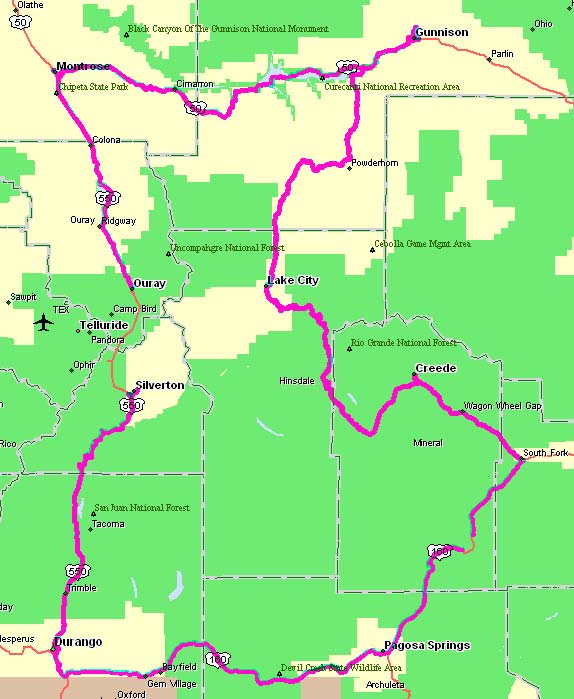 ---
The Bicycle Tour of Colorado is a week-long, fully-supported tour with about 1600 participants. JT and I applied for the 2002 Ride the Rockies but couldn't get in, so we decided to do the BTC, which that year was using almost the same route as RTR. The summer of 2002 was very dry both in the East and in the West. Forest fires ravaged parts of Colorado. Of particular concern to us were the fires around Durango and South Fork. But by the time the ride came around the fires were under control and we wouldn't be getting in the way of any firefighters.
There were several options for getting from Maryland to Colorado with our bikes, but we decided to drive because it was simple. We purchased large duffle bags and filled them with everything we thought we would need and loaded the car with everything we might want.
We rolled out of town after work on the Wednesday before the ride. The first night we reached Wheeling, WV, the next night it was Kansas City. On Friday we crossed Kansas, stopping at Topeka to see the State House and Abilene to see the Eisenhower Center (but not to see the World's Largest Prairie Dog). We arrived in Colorado Springs in the late afternoon. On Saturday we drove across half of Colorado to the BTC's starting point at Gunnison, CO. We set up our tents on a sports field at Western State College along with several hundred others. I went for a short spin around town on my bike and JT and I hit the local Subway for dinner. I was feeling fine but JT felt lousy. He seemed to be having some trouble acclimatizing (Gunnison is at about 7500 feet). But there was nothing to do but drink fluids and hope he felt better in the morning.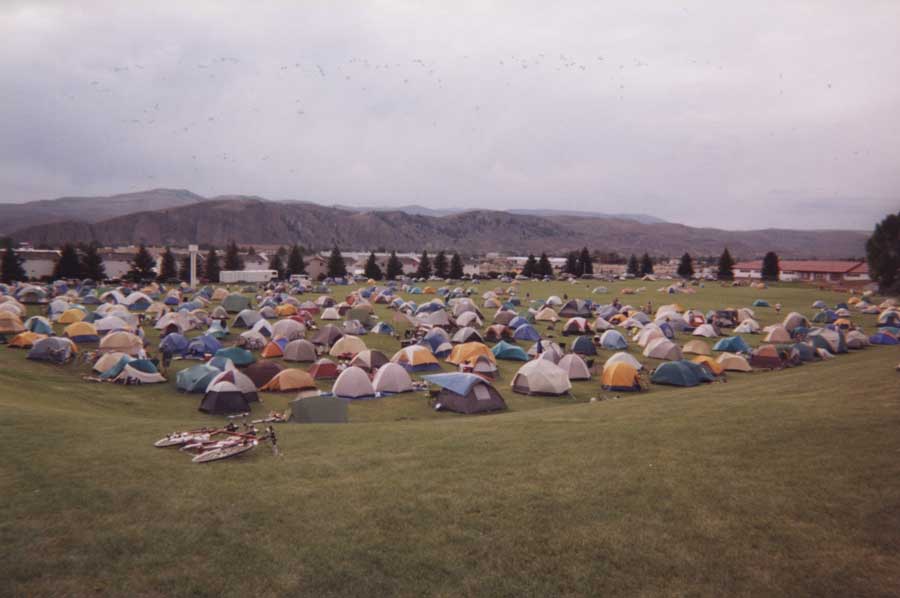 The tent city at Gunnison
---
Intro | Day 1 | Day 2 | Day 3 | Day 4 | Day 5 | Day 6 | Day 7 | Summary