Day 12
Wednesday, 22 June 2005
Belfast, ME to Bar Harbor, ME
62.7 miles, 5h01m, 12.5 mph
Elapsed Time: 7h04m, Max speed: 41.2mph
Total Climbing: 3085ft, Max elevation: 460ft
Total mileage: 755.1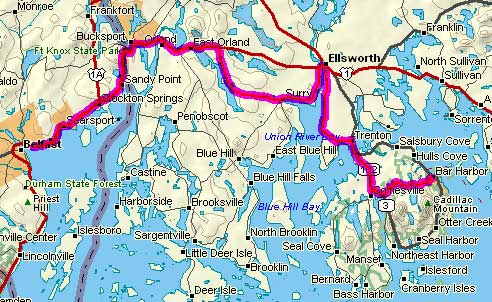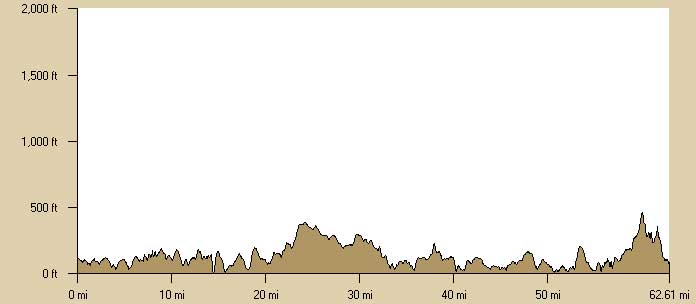 ---

We finally got the chance to ride in the rain today. Woo-hoo.

The weather predictions had been calling for rain in Maine on Wednesday for some time, but I didn't think they could be right. It was raining lightly at 6:30 when we got up so we waited a while before we started riding. By 8:30 is was raining a little harder, so we started.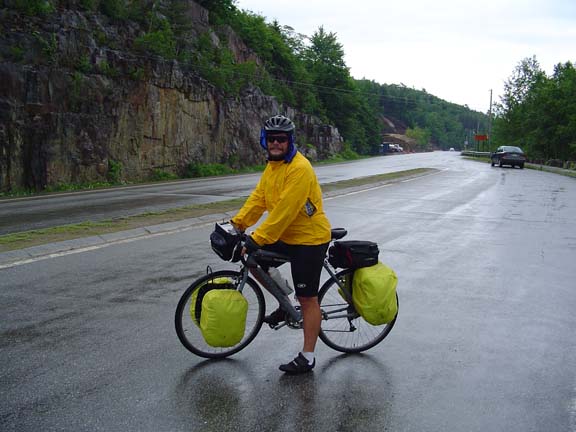 Bob in rain trim. Note the blue hood under the helmet.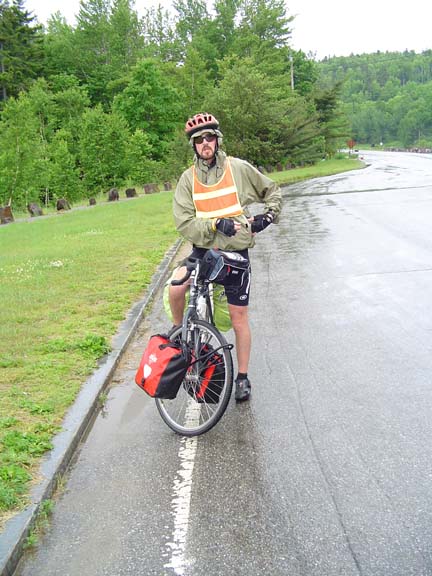 JT in rain trim. Note the brown hood.


We started off riding down the shoulder of US1. Lots of trucks went by, spraying us with a deisel-tinted mist of water vapor and grime. Then cars would go by, spraying us with a carbon monoxide-tinted mist of water vapor and grime. It was really swell.

We've reached a few conclusions about Maine roads. If there's a nice shoulder on the road, it disappears or turns to crap when you enter a town. If the road has too little traffic to need a wide shoulder, the edge of the road is all crumbly, rutted, and potholed. You want to ride as far to the right as you can, but you end up swerving all over the place to find the smoothest path.

Anyway, we rode through Searsport (which has a garbage shoulder) and Stockton Springs before we took our first break at Bucksport. It stopped raining at about this time. We reached the top of a big climb near Orland when a kid riding the other way made one of those hand gestures that I don't understand and said, "Big downhill coming, Dudes!" Something like that.

But before we reached the big downhill we turned off onto ME176 toward Surry. This is one of those less traveled roads that really needs to be repaved. There is a store in Surry so we stopped for a snack and JT took some pictures.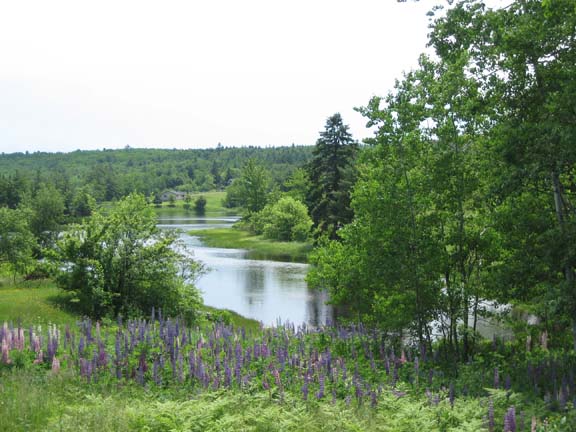 This is somewhere in Surry.


Five miles later we were in Ellsworth having lunch at a strange little cafe on the corner. Then we headed south toward Mount Desert Island.

In Trenton, we stopped at an information center where I quizzed the guy about the cycling friendliness of various roads on the island. He seemed to be a cyclist himself so I felt pretty good about his descriptions. I got quite a few ideas about what to do tomorrow to maximize sightseeing while minimizing painful climbing and riding alongside RVs. Of course, we are planning on riding up Cadillac Mountain tomorrow, so there will be a certain amount of pain.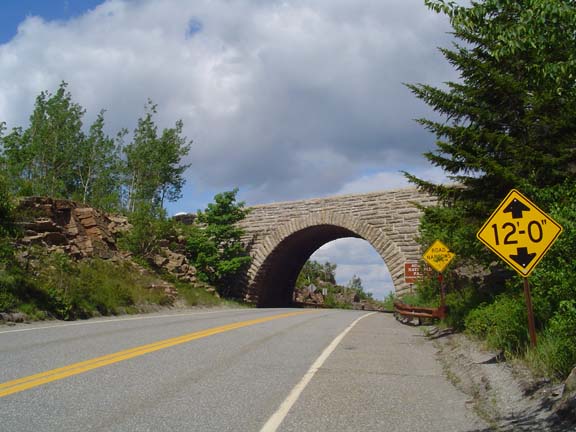 About to pass under the park road.


Eventually we worked our way across the island and to our motel in Bar Harbor. Then we walked downtown and took some pictures.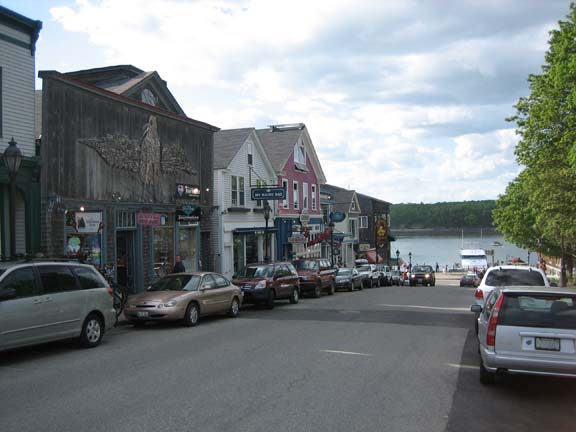 Here's downtown.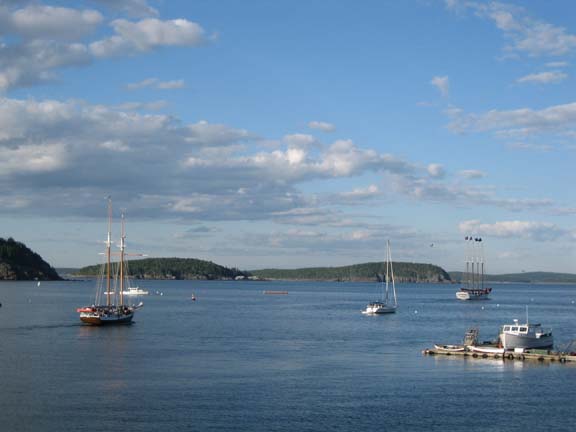 Here's the harbor.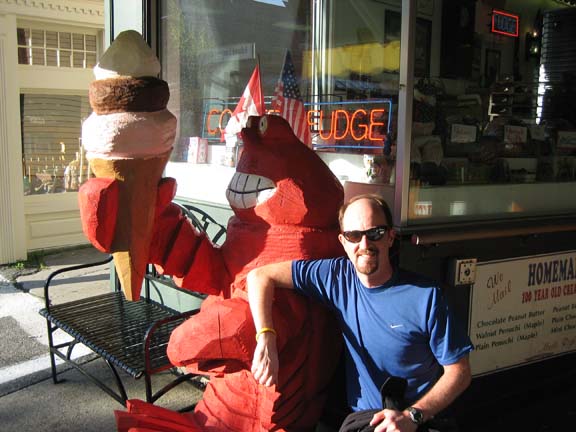 Here's JT and a lobster holding an ice cream cone.


Then we walked back to the room (stopping for ice cream along the way) and settled in to watch our favorite show.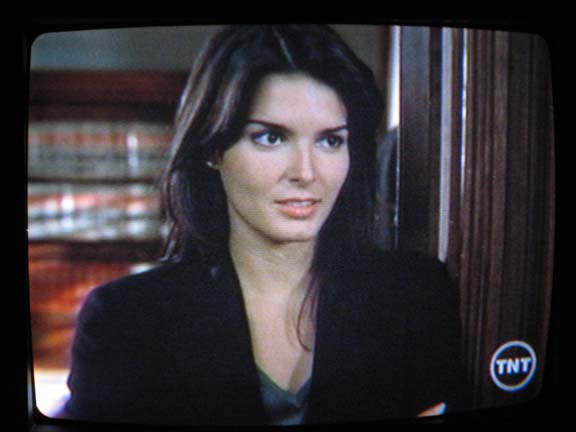 ---
Previous | Next

---
"JT and BC's 2005 New England Ride" Copyright © 2005 By Bob Clemons. All rights reserved.