Day 13
Thursday, 23 June 2005
Bar Harbor, ME to Ellsworth, ME
47.0 miles, 4h06m, 11.4 mph
Elapsed Time: 7h51m, Max speed: 38.0mph
Total Climbing: 3201ft, Max elevation: 1500ft
Total mileage: 802.1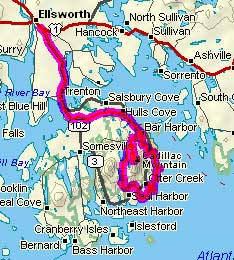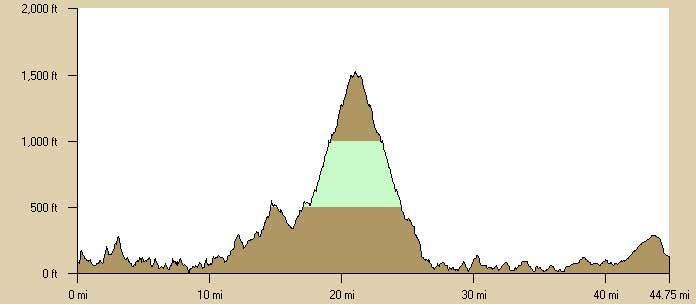 ---

Today was Acadia National Park day, and a fine day it was. The first thing we did (after breakfast) was drop off our bags at the hotel front desk so we wouldn't have to haul them around the park and up Cadillac Mountain. Then we jumped on the park's loop road and started the tour. I don't have much to say about it, so I'll let the pictures do the talking.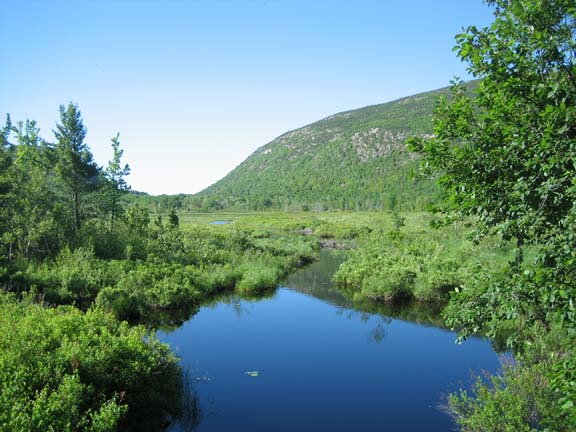 The Great Meadow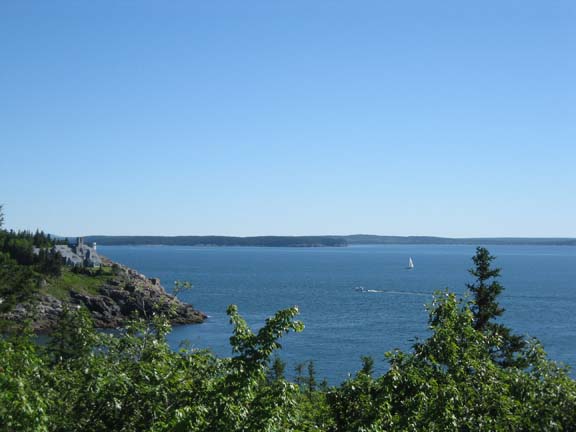 Frenchman Bay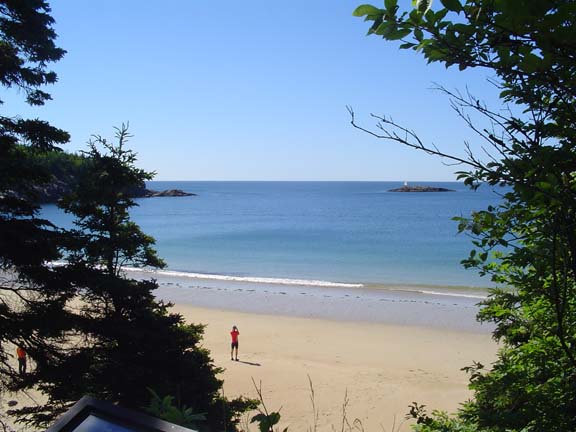 JT at the Sandy Beach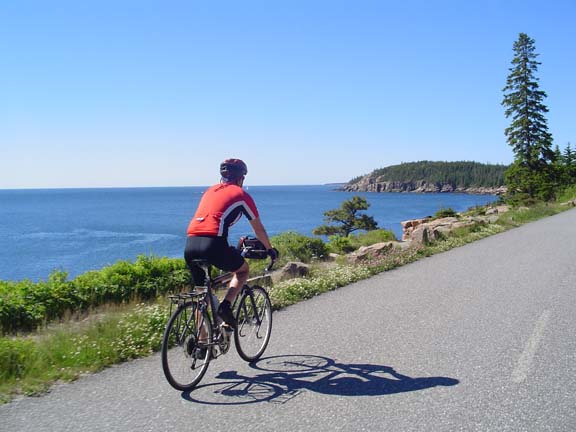 JT not at the Sandy Beach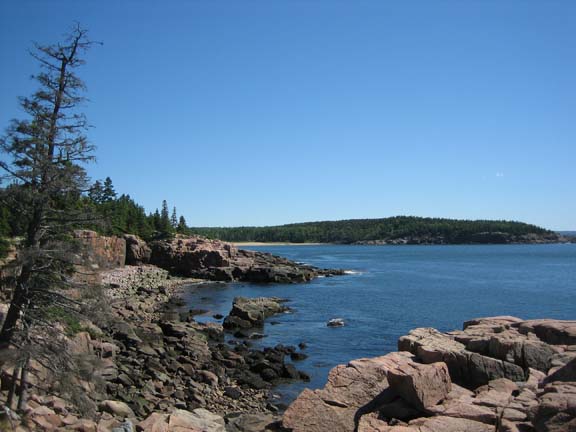 Some place else around there.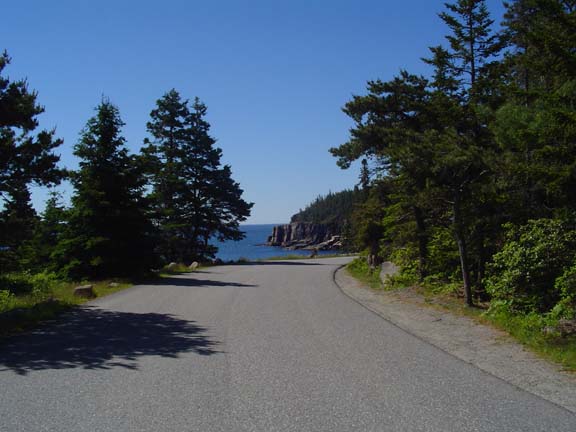 Great road, eh?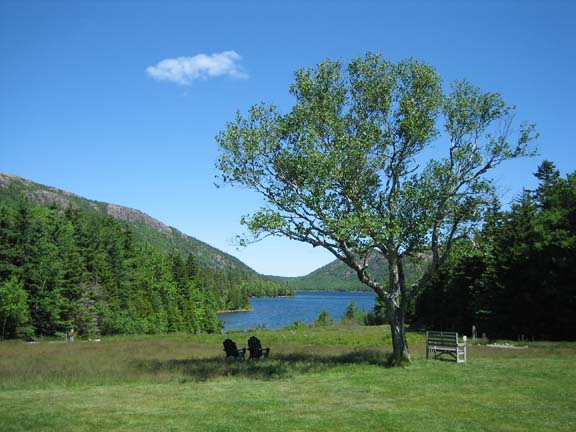 Don't remember this place. Looks nice though.


After we finished our loop around the park we headed up Cadillac Mountain. It was a 3 1/2 mile climb, but it really wasn't that bad. It only got steep near the top and then it was only about a six-percent grade.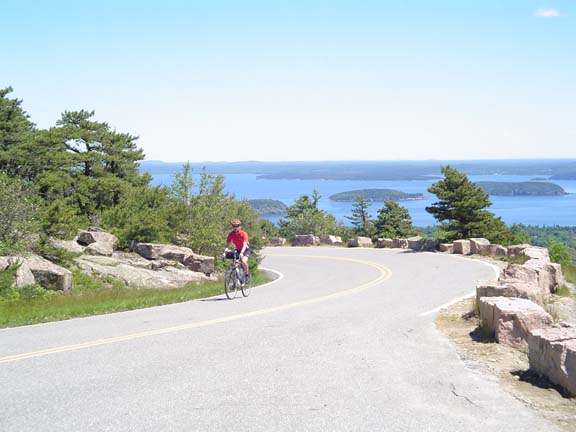 JT on the climb.
A view.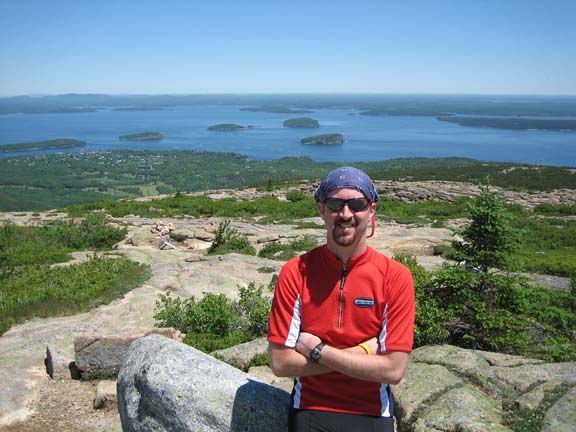 JT at the summit.


After we took a whole bunch of pictures at the summit we turned around and went screaming back down the hill. We both passed a car on the way down. I caught up with another one but I was close enough to the bottom so I let him stay ahead. The speed limit on the road is 25mph, but you can't expect me to go that slow coming down when I had to work hard to get up there.

The other big happening today is the return of Linda. That means no more carrying the bags! Woo-hoo! She flew into Manchester, NH this morning and was driving north to Maine with a big SUV to haul us and our gear back to New Hampshire after the ride is over.

We coasted pretty much all the way to the hotel and retrieved our bags. Then we rode about a mile until we came across a brew pub where we ate (and drank) lunch. By this time Linda had reached Bangor. We finally got back on the road and off Mount Desert Island headed north for Ellsworth. About 4 miles from town we met up with Linda coming the other way and we gave up our bags.

Tomorrow we ride to Machias.

---
Previous | Next

---
"JT and BC's 2005 New England Ride" Copyright © 2005 By Bob Clemons. All rights reserved.