Day 2
Sunday, 12 June 2005
North Adams, MA to Brattleboro, VT
59.3 miles, 5h18m, 11.2 mph
Elapsed Time: 7h09m, Max speed: 46.4mph
Total Climbing: 3374ft, Max elevation: 2070ft
Total mileage: 115.1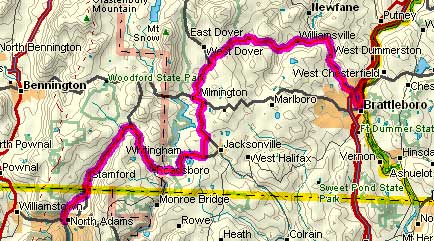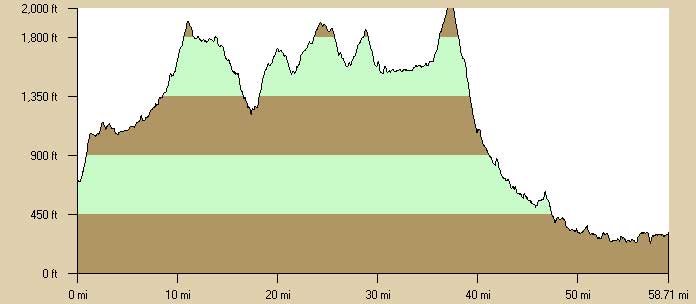 ---

The second day was probably a little harder than the first day. There was more climbing and more traffic. The good thing about this day was that the clouds blocked the sun most of the day. Although it was very humid, it was not as hot most of the time.

We ate breakfast at the hotel's $6.95 buffet and were on the road by 7:45. The climbing began immediately and continued for about 12 miles. The only flat part was the first few miles in Vermont. I took a picture of the state line sign, but camera lens was fogged up so I had to do some magic to salvage this image.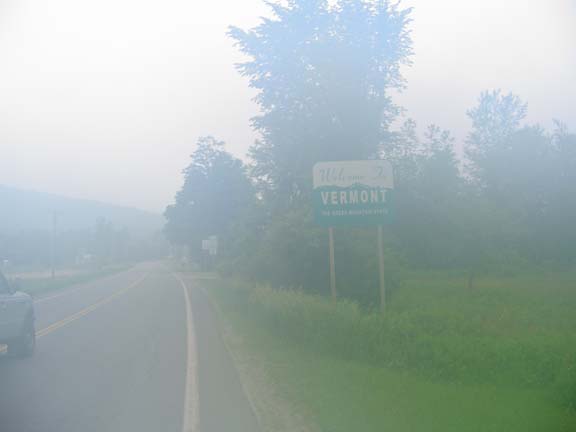 You can't leave out the state lines, even when the

pictures are garbage.


There really aren't many roads in Vermont so most of them have plenty of traffic. Scenic Route 100 was no exception, although this segment had plenty of shoulder. Eventually we reached the top of the first big climb and coasted for about 5 miles to Readsboro, where we stopped at the store for fluids. Then we had another 8 miles of climbing through Whittingham (birthplace of Brigham Young), through a shortcut that avoided Jacksonville, and back down to Route 100. There was one more climb before we reached Wilmington and our lunch stop.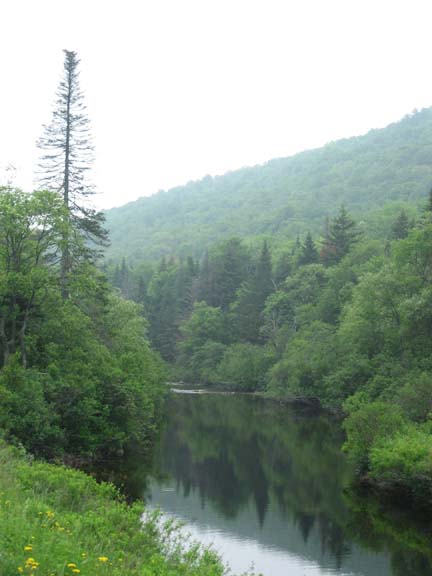 Vermont scenery.

By this time I had decided to take off my helmet and glasses when climbing. Every time I looked down at my map I would dump about ten drops of sweat on it. It wasn't terribly hot, but it was very humid. JT also went hatless on the climbs.

We reached the top of the final climb in the Town of Dover at about mile 38. We stopped and strapped on our helmets.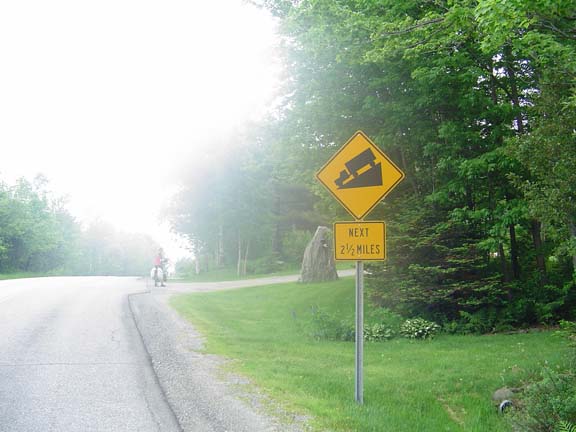 This is how we knew we were at the top.


From there on in things were easier. We screamed down at first, giving up 1000 feet of elevation in those 2 1/2 miles, and then we just cruised. Near South Newfane we crossed our first covered bridge.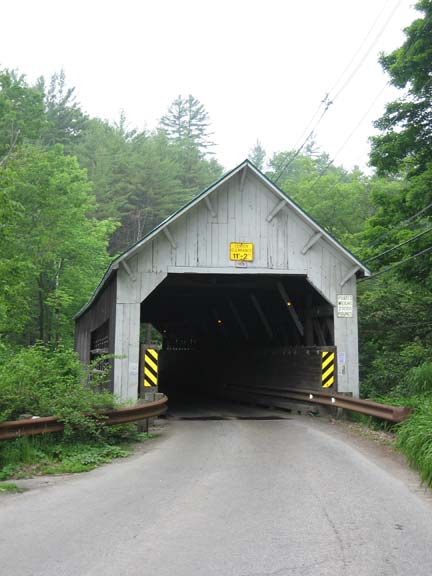 It looked like this.


Eventually we were dumped out onto route 30, which is a high-speed 2-lane with nice wide shoulders. It followed the West River right down into Brattleboro. On the way, we passed the Dummerston Covered Bridge and took about a dozen pictures.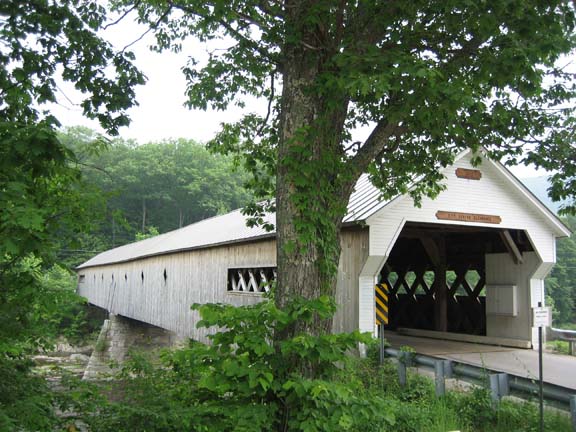 Dummerston. Hmm.


When we got to Brattleboro, we turned north on US 5 and rode a couple of miles on the busy (and poor-quality) road until we reached the Quality Inn. We had had enough of outdoors so we ordered out for spaghetti and salads. The food arrived without forks or napkins. It's hard to find good help these days.


---
Previous | Next

---
"JT and BC's 2005 New England Ride" Copyright © 2005 By Bob Clemons. All rights reserved.