Day 1
Saturday, 11 June 2005
Albany, NY to North Adams, MA
55.8 miles, 4h56m, 11.3 mph
Elapsed Time: 6h47m, Max speed: 40.5mph
Total Climbing: 3177ft, Max elevation: 1510ft
Total mileage: 55.8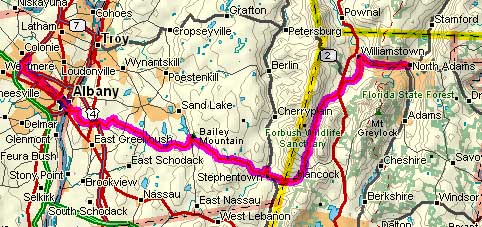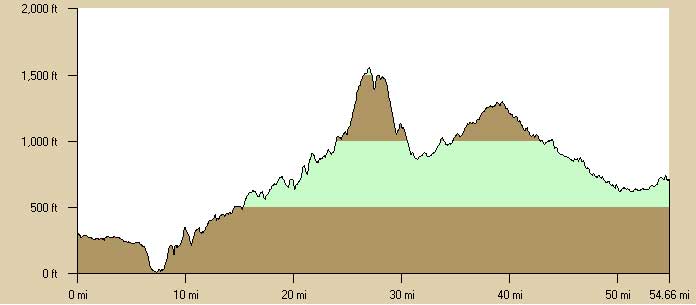 ---

Our first day on the road was very hard. Very, very hard. It was very hot. Very, very hot. We were out of shape. Very, very out of shape. I like to blame the continental breakfast at the Days Inn. It was barely adequate.

When we went outside at about 7:30am it was already 75 degrees and muggy. We took the standard departure photo and headed for downtown Albany. But before we could even get out of the parking lot I was stopped and asked for directions.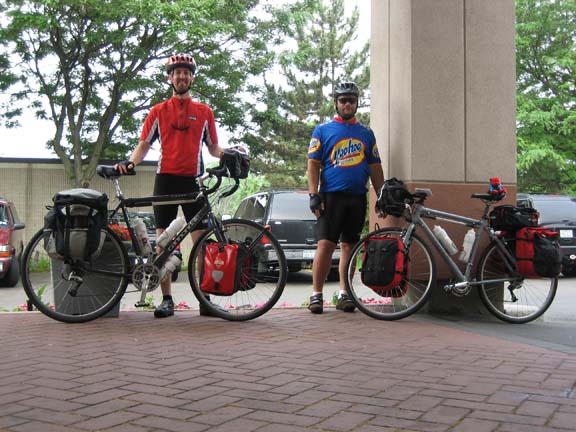 Little did I know that mere seconds later I would

be asked for directions.


On the way downtown we stopped at a Stewarts so I could buy new batteries for my camera. I could have done this anytime yesterday, but I had to wait for the camera to actually fail.

When we got downtown to the State Capitol we had to take another departure photo. This would be the "official" one. JT got to work trying to balance his cigarette-pack-sized camera on a park bench. After several minutes of frustration, we just used mine.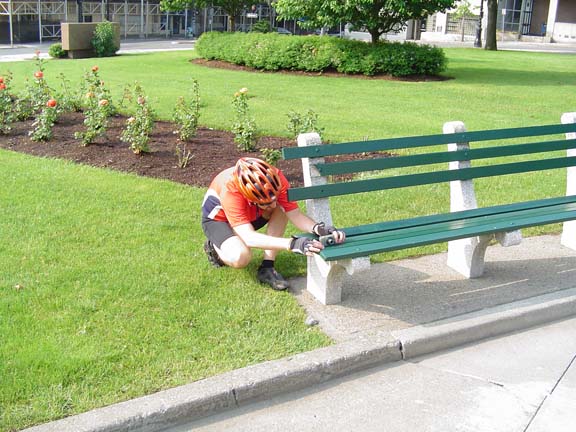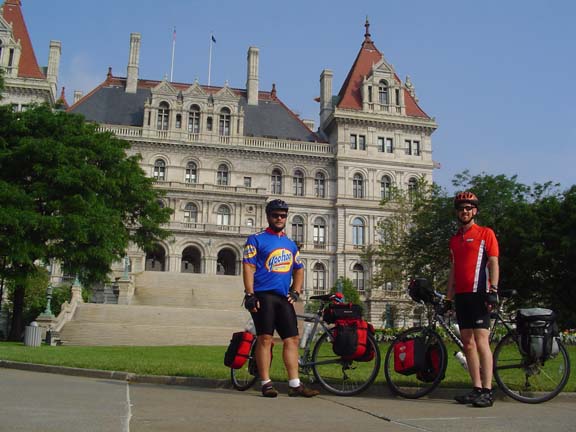 "Official" departure photo


After the opening ceremonies we quickly found the bike path over the Hudson River and started climbing out of the valley. At one point we followed a road that Street Atlas USA identified as Rensselaer County Route 20. I don't think so.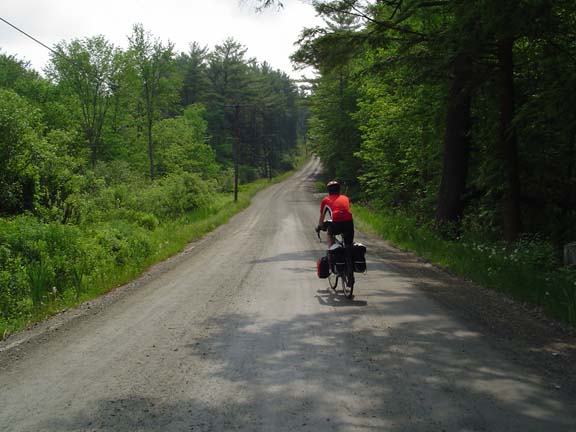 JT on Route 20


Fortunately the dirt road was only about 2 miles long. My big worry was that the road would dead-end in some guy's yard, but it eventually reached state route 66. Then we turned on to route 43 which would take us all the way to Massachusetts and beyond. The early portents looked discouraging.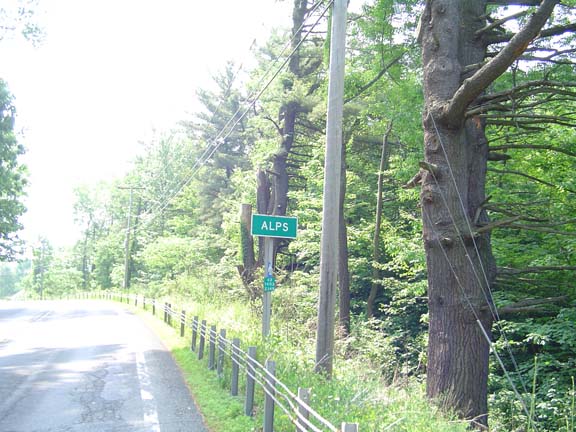 A bad sign


And, yes, there was climbing. We basically climbed for about 20 miles from the Hudson River to West Stephentown. Then we decended for a couple of miles through Stephentown Center and on to Stephentown. By the way, according to the sign at the town line, this is the

only

Stephentown in the world.

By the time we got to Stephentown we were hungry and I was almost out of water. Then when the restaurant was in sight we were detoured around town. But on the detour we came across a spring with some guy filling a big jug. There was a cyclist there and he recommended a deli just outside of town for lunch. We filled our bottles and rode one more mile.

Lunch was at a place called Dave's Supermarket and Liquor Store. We had turkey sandwiches and no liquor. Then we remounted and were soon in Massachusetts.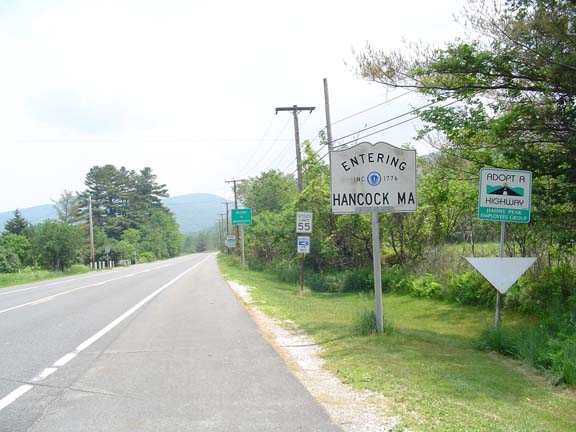 The New England Tour enters New England


We started climbing again but this time the grade was not as steep and only went on for about 8 miles. We saw a bunch of riders who were involved in something called the Tour de Wagner, or something like that.

The route took us up a valley until we reached the end and spilled over into the next valley. If you were in a car you would think it was just one valley, but on a bike you know otherwise. After we crossed into the other valley everything got easier.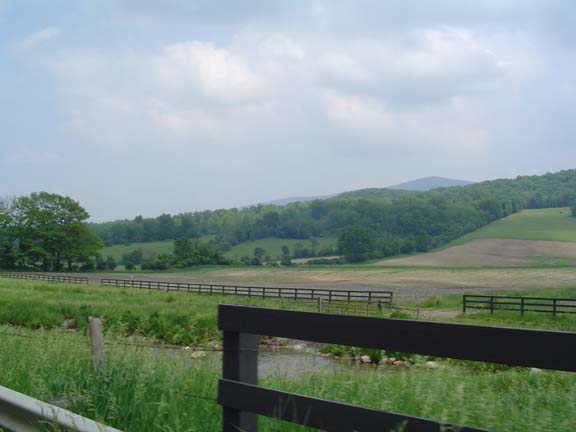 One of the valleys.


We stopped at the Five Corners Store in South Williamstown and grabbed some more drinks. I didn't want to come close to running out again. I also checked my wheel and confirmed that I had broken a spoke earlier when I heard a bang. My map told me that there was a bike shop right on the route in Williamstown and another one right near the hotel in North Adams. The one in Williamstown was called The Spoke, so I figured that would be a good one for my needs. But when we got there, the shop was closed and there were signs announcing an auction sale. So we continued on to North Adams. The last few miles dragged on forever but finally we reached the Holiday Inn. Then I rode across the street to The Sports Corner and had my spoke fixed. The guy did it for free because I brought my own spoke. Woo-hoo!

Then we ate.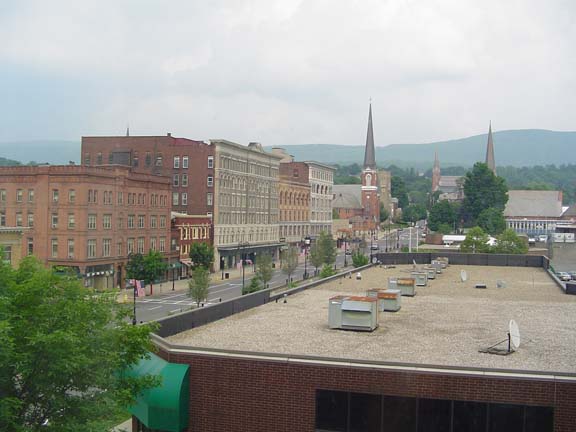 Downtown North Adams from the room.
---
Previous | Next

---
"JT and BC's 2005 New England Ride" Copyright © 2005 By Bob Clemons. All rights reserved.