Day 13
Thursday, 6 July 2006
Hancock, MD to Frederick, MD
65.8 miles, 5h41m, 11.5 mph
Elapsed Time: 7h37m, Max speed: 46.5mph
Total Climbing: 3745ft, Max elevation: 954ft
Total mileage: 928.8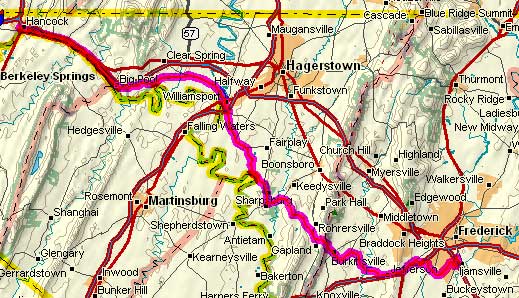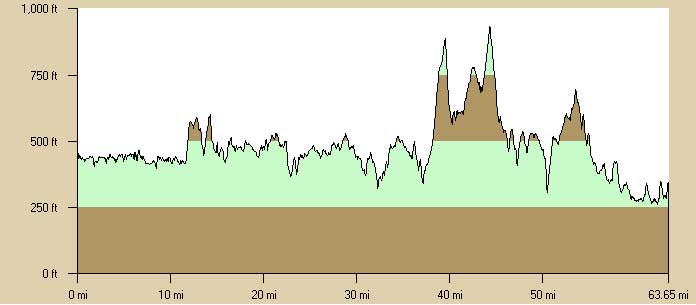 ---

The weather was supposed to be better today, and it was. The guys from PA decided to get away from the mud and do some road riding today so they would be riding the same route as me for much of the day.

I started riding at about 8am on the Western Maryland Rail Trail. A nice easy 12 miles to Big Pool. I took a break at Big Pool and the PA guys rolled up. We continued along together. I took some pictures of them but my camera started freaking out and none of the pictures were in the camera at the end of the day. D'oh! I replaced the batteries, but I'm not sure that solved anything. It might just be the moisture getting to it, or it could be time to get a new camera. All of my later pictures that did come out had a big smudge in the middle of it. At the risk of repeating myself. D'oh!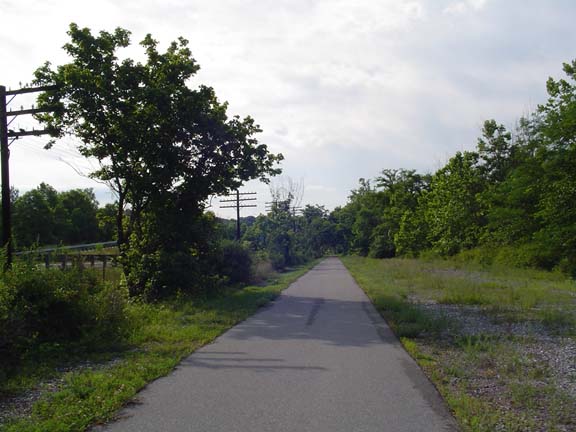 Here's a picture of the Western Maryland Rail Trail that did come out.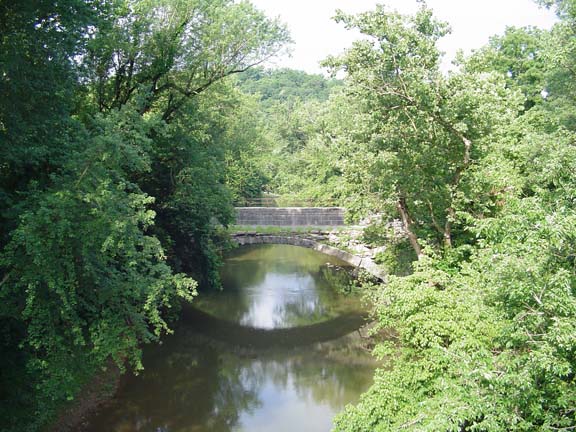 This is a picture of the Licking Creek Aqueduct from the WMRT.


We all rode past Fort Frederick and eventually into Williamsport, where we stopped for snacks. A few miles later we were down on the C&O Canal at Taylors Landing. The PA crew got back on the towpath for 20 more miles of muddy fun (they were headed for Harpers Ferry). I followed the road back up to the Antietam Battlefield.

I rode through the battlefield without stopping, but I did stop at the Battleview Store in Sharpsburg for some lunch and to prepare for my big climb up South Mountain at Crampton's Gap. I decided to alter my route slightly to avoid Burnside Bridge Road, which I remembered as being mostly uphill. So instead I took Potterstown Road, which was totally uphill. In fact, it turned out to be a bigger climb than Crampton's Gap. D'oh!

Still, Crampton's Gap wasn't easy. I rested for a while at the top. There is a monument there to War Correspondants. It was also the site of the Battle of South Mountain. I took pictures but they all have big smudges in them. Like this.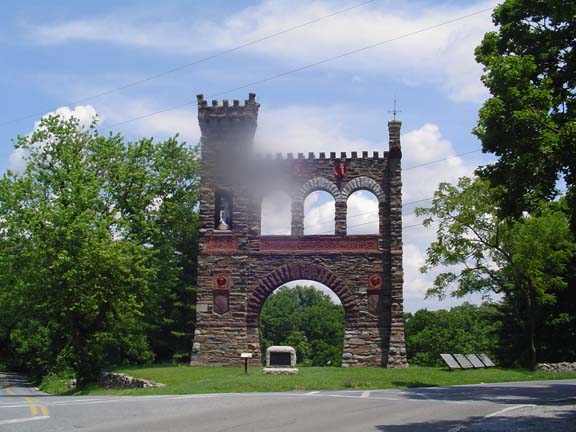 A smudgy monument to War Correspondants.
Then there was a screaming descent into Burkittsville and a detour (bridge out) on the way to Jefferson. Unlike most of the other detours I've taken on this trip, nothing particularly interesting happened on this one. I crossed the Catoctin Ridge through the gap at Jefferson and entered the Frederick suburbs.

As I neared the hotel, I passed a couple of youths who apparently admired my ride (or "hoopty"). One of them said, "Yo, that's friggin' pimp, dawg." Or something to that effect. Maybe he was referring to my Oscar the Grouch jersey. Anyway, I took it as a compliment.

I got into the Holiday Inn Express at about 4pm, after first trying to check-in to the regular Holiday Inn (which I guess would be the Holiday Inn Local). Fortunately, the two hotels were very near each other (in fact, I rode past the Express to get to the Local--D'oh!).

Tomorrow I ride home. It should be a long day in the saddle. I think I may break 1000 miles for this trip.


---
Previous | Next

---
"Erie Canal (and more!) Tour 2006" Copyright © 2006 By Bob Clemons. All rights reserved.