Day 1
Saturday, 24 June 2006
Albany, NY to Amsterdam, NY
60.0 miles, 5h09m, 11.6 mph
Elapsed Time: 6h54m, Max speed: 29.0mph
Total Climbing: 1386ft, Max elevation: 496ft
Total mileage: 60.0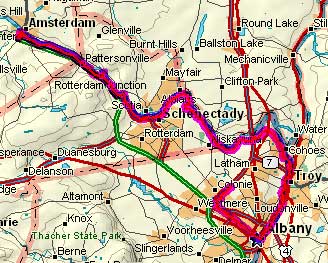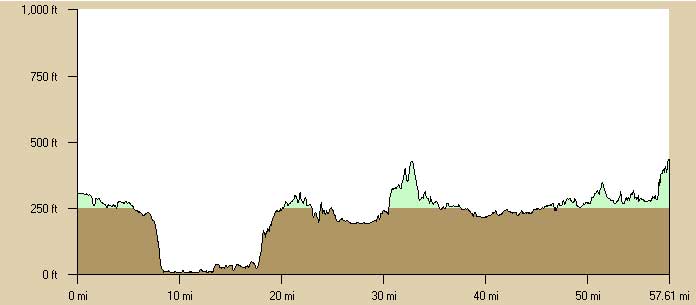 ---

My karma reset from yesterday must have helped today. It was supposed to rain all day, but it turned out to be beautiful. It was wet in the morning but before noon the sun was shining, and I think we even had a tailwind.

We had a lot of things to do in the morning so we didn't hit the road until almost 9am. Then we forgot to take a departure photo, so we rode eight miles to the state capitol and declared that to be the "official" start of the ride.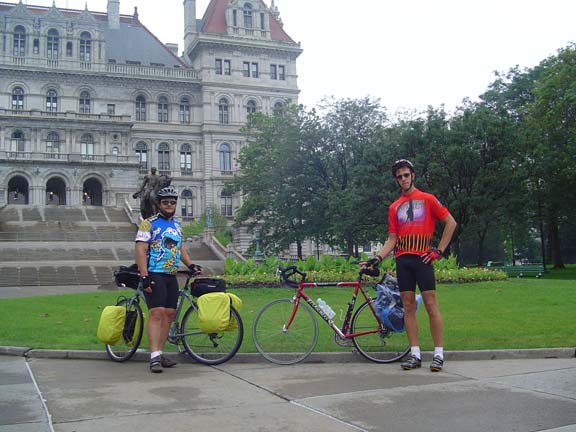 "Official" Start Photo

Notice that Kevin has gigantic ziplock bags covering his panniers.

That may also have helped with our weather karma.


Once the opening ceremonies were over, we worked our way down to the river (it involved an elevator and a parking garage). Down there we discovered that there was some kind of charity walk going on on our route. We fought our way through the walkers by riding on the grass, weaving through the people, trying to get them to move to the right....it was brutal. We were about halfway through the crowd when we reached the historical marker for the start of the old Erie Canal. It would have been nice to have a picture, but then we would have had to pass all the same people again. I guess now the pressure's off to get a picture at the other end of the canal.

Walkers Walking Wide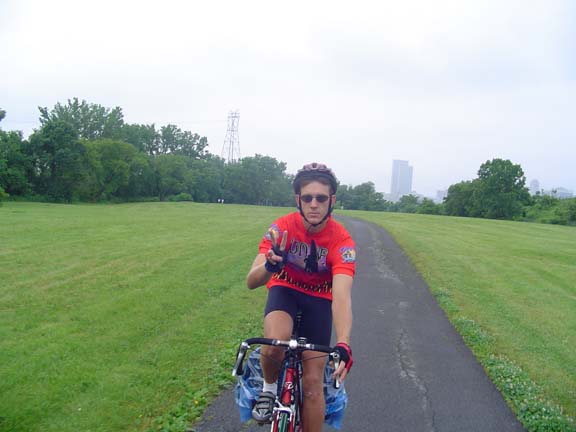 Kevin, with the Albany skyline in the distance.


The bike path ended at one of my favorite places: Waterveliet. Why do I like Waterveliet? Because it's the only place in the world where I can get a fish fry. In my childhood there were two fish fry places within a half mile of each other in Waterveliet: Ted's and Gallagher's. We always preferred Gallagher's, but a few years ago they turned it into a bar, so now it's just Ted. It was too early for lunch so I had to settle for a picture. (We later saw a sign for a fish fry place in Cohoes, so things may be looking up).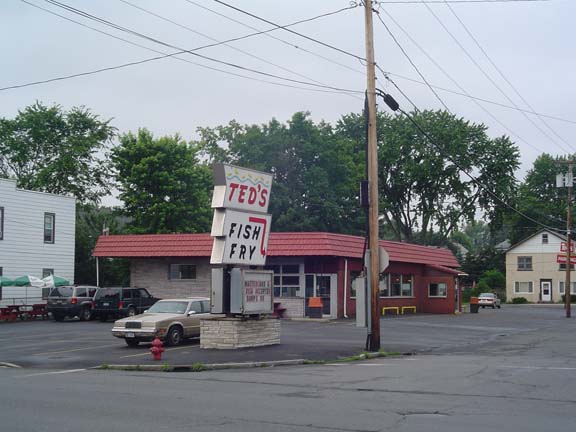 Ted's


Soon after that, we saw what might have been lock 1 of the New York State Barge Canal. The Barge Canal is the modern version of the Erie Canal. The Erie Canal is the old, defunct version of the Barge Canal. I'm glad we've cleared that up.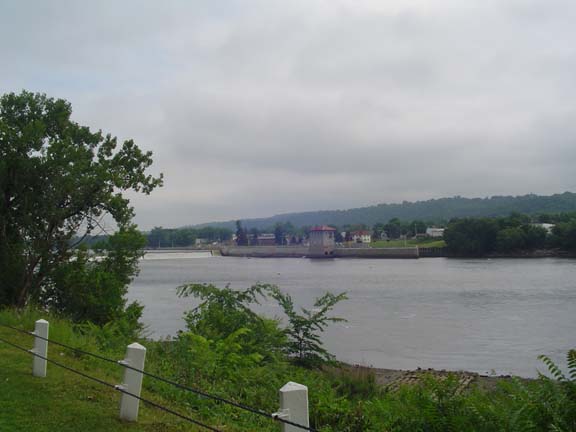 This might be lock 1.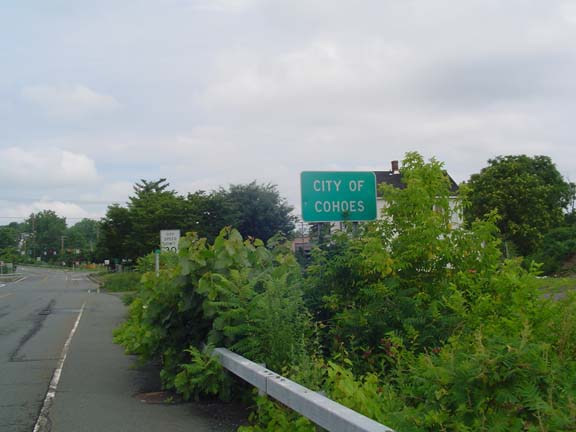 My lawschool collegues appreciate the significance of Cohoes (or at least of Cohoes Pipe).

We climbed up through the streets of Cohoes to reach the Mohawk-Hudson Bikeway. The bikeway would pretty much carry us for the rest of the day. In some places the trail was really nice, in other places it was lousy.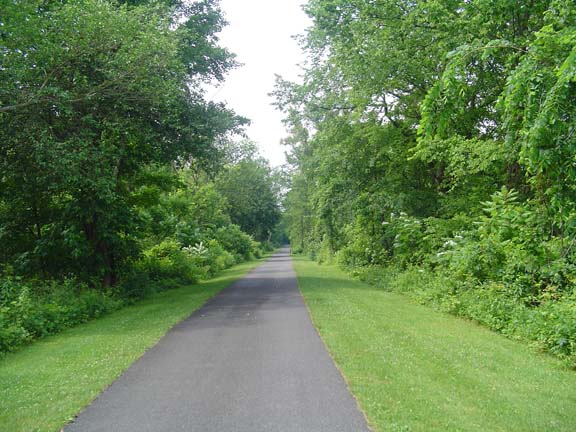 Here it was nice.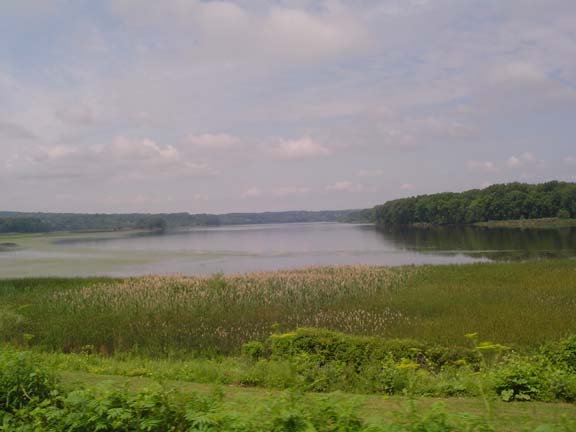 Here there was a nice view of the Mohawk River.


Outside of Schenectady we encountered a fork in the trail. The good trail went up a hill and the bad trail stayed down by the river. So naturally we stayed down by the river. After a half mile the trail reached a fence and we had to climb back up to the good trail on an abandoned road. Always follow the good trail.

We stopped at Lock 8 to watch a sailboat go through. The couple on board was from Toronto. They had their boat shipped to the Florida Keys and have been sailing and motoring back. They are just a couple of days from reaching Lake Ontario so they can raise the mast and sail the rest of the way home. We may see them again, although we travel at about twice the speed, and we can skip the locks.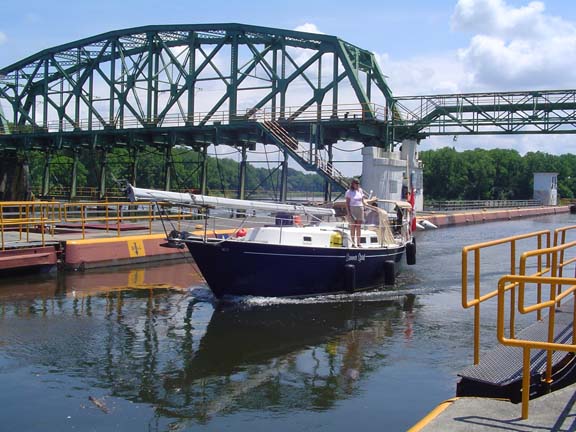 A slow boat to Canada (leaving Lock 8).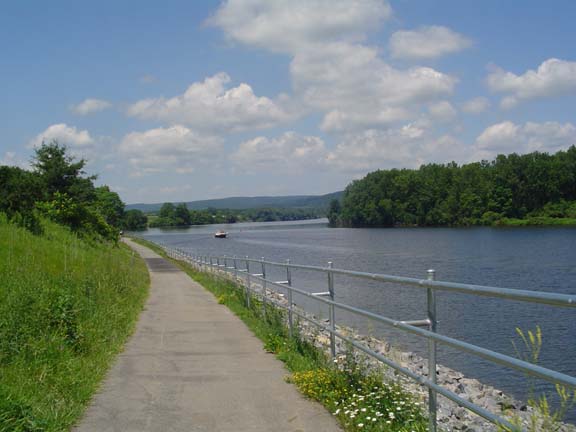 A particularly nice stretch of trail.


There was a trail detour at Rotterdam Junction and we were rerouted on to NY route 5S, which happens to be NY Bike Route 5. We took the crossroad back toward the canal and ate a late lunch at a place called Anthony's. We had fish fries. They were okay but there were a couple of things wrong. First, there was no chili sauce, only tartar sauce. For those who are not familiar with chili sauce, it is essentially ketchup with sweet relish mixed in. Tastes great on a fish fry. Second, the thing was only about 8 inches long and served on a sub roll. Fish fries should be about a foot long and should be served on crappy little hot dog rolls so the ends stick out an absurd amount. You shouldn't be able to pick up a fish fry without a scalding hot piece of fish breaking off and burning your hand. Third, they should be so hot that you can't eat them without burning yourself. These were a reasonable temperature and were quite edible. I am encouraged that fish fries are available though. Hopefully, we can find more tomorrow.

We returned to the trail for a little while, but then it ended--without fanfare--and dumped us back on 5S. The trail suddenly reappeared as we approached Amsterdam, so we jumped back over.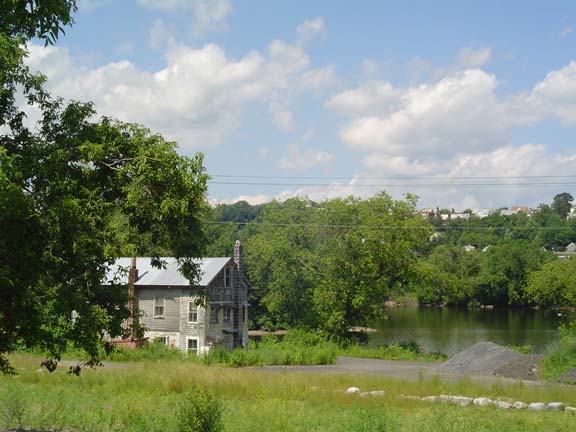 Some low-grade industrial decay near Amsterdam.


Eventually we climbed up to the Thruway and found our motel: the Super 8. High price. No Internet. No nearby restaurants. We ordered our food from a pizza joint. We're waiting patiently.

Tomorrow we ride to Utica.

---
Previous | Next

---
"Erie Canal (and more!) Tour 2006" Copyright © 2006 By Bob Clemons. All rights reserved.