Day 1
Friday, 14 August 2015
Cumberland, MD to North Mountain Campsite, MD
78.5 miles, 6h45m, 11.6 mph
Elapsed Time: 9h22m, Max speed: 24.9mph
Total mileage: 78.5

---
We met for breakfast at 7am. For Tony it was his second breakfast since already he'd been up for a while. I had hoped to be riding by 9am. But with there only being three of us we had no problem getting started at about 8.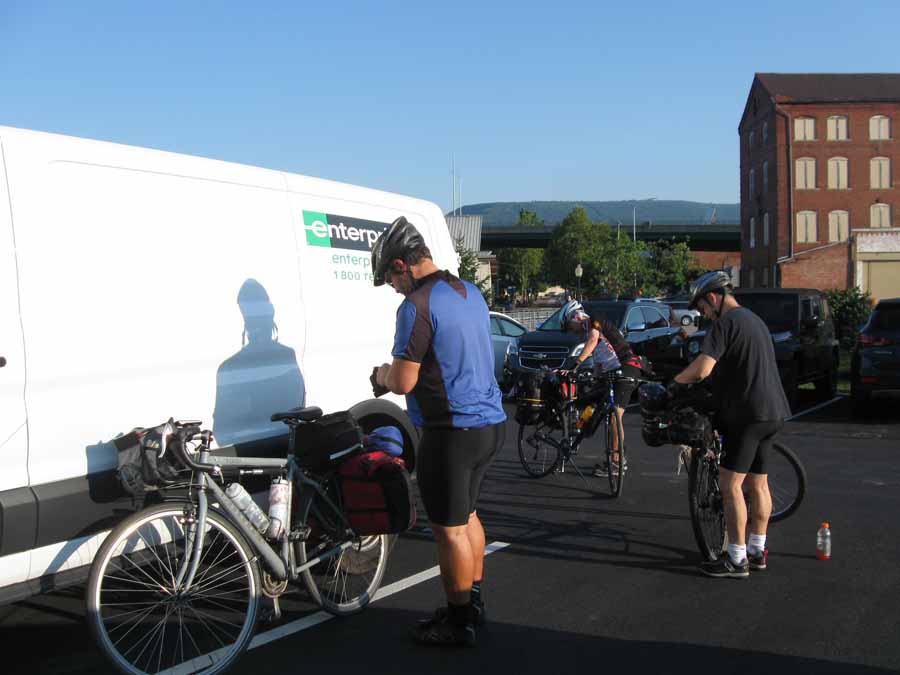 Getting our gear together in the parking lot of the Fairfield Inn. After this we'd be sleeping on the ground.
Pre-ride preparation brought to you by Enterprise Truck Rental.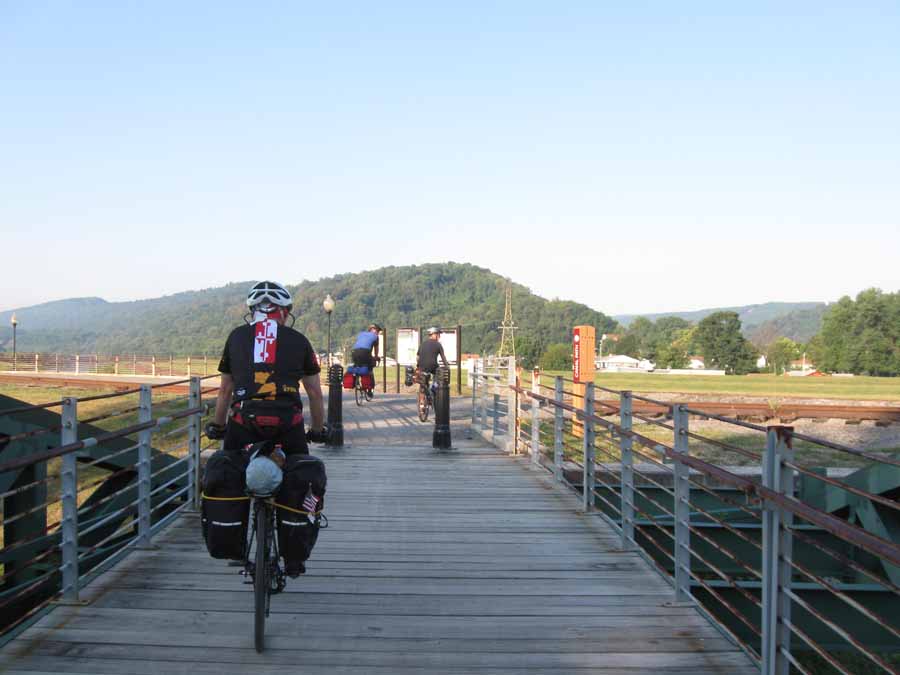 The pre-ride ceremonies involved riding over to the official starting point of the canal.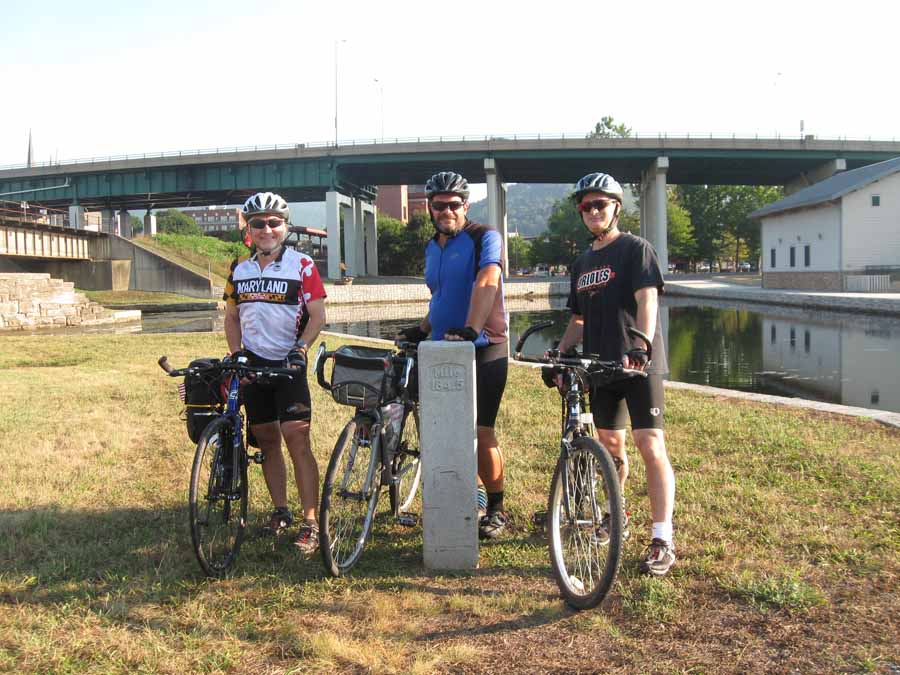 Milepost 184.5. Official start photo.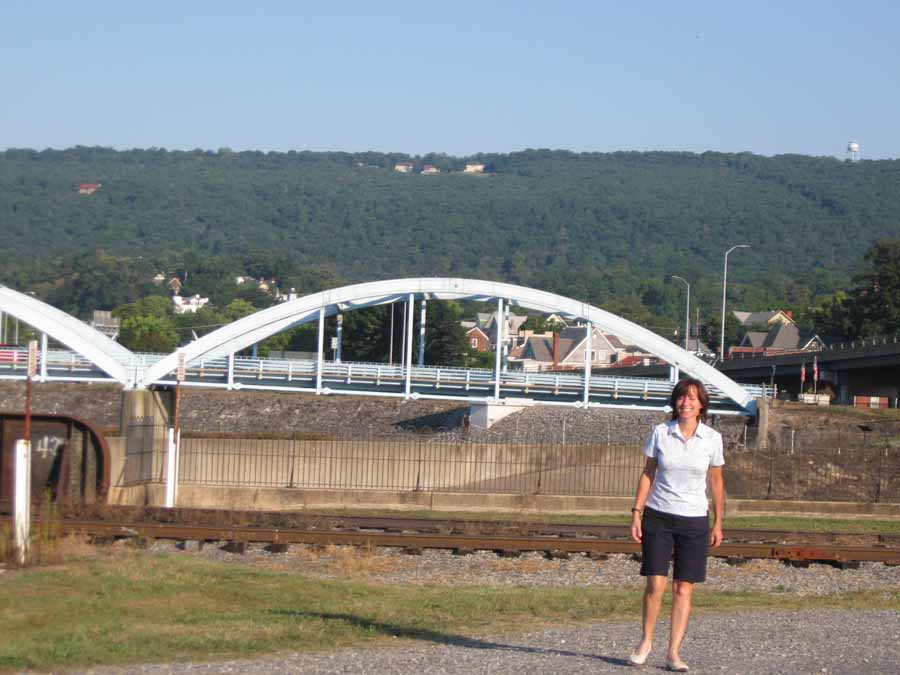 The official van driver and start photo photographer.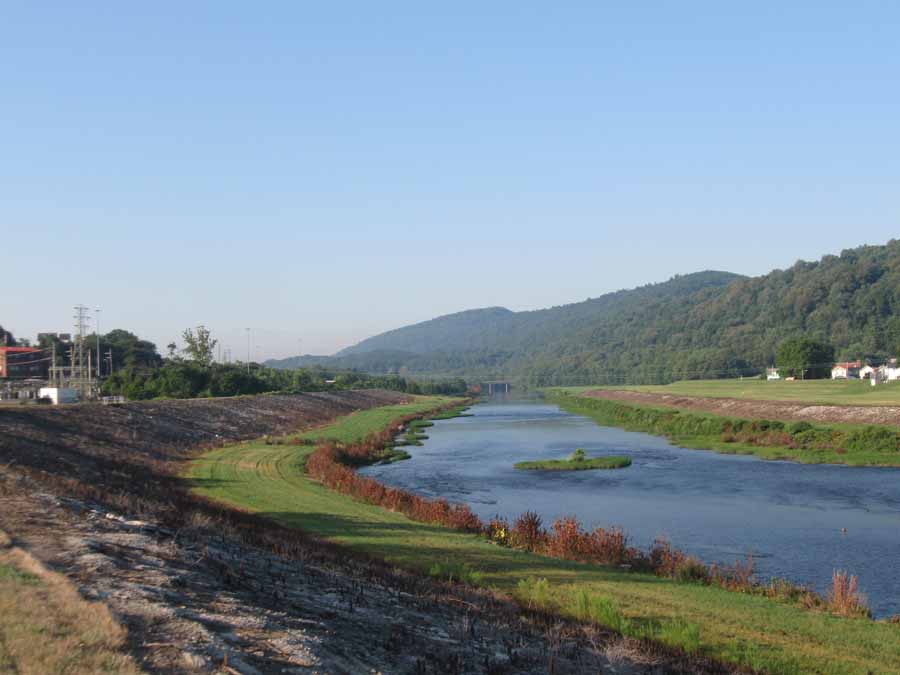 I take this same photo pretty much every time.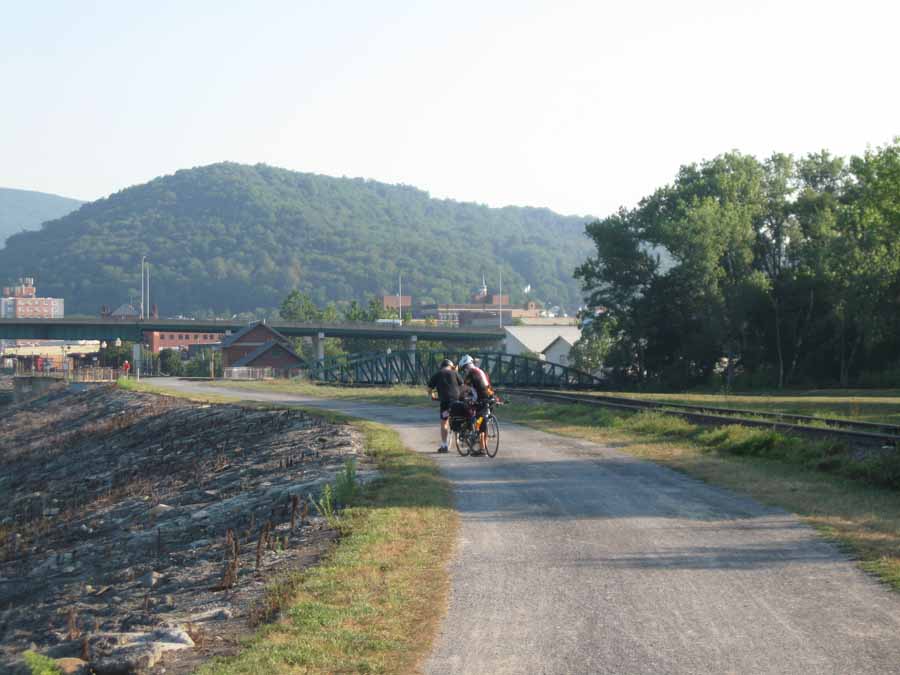 Not even out of sight of the start and the first mechanical problem. Todd loses a piece of gear. New record for earliest problem ever.
I'm surprised you can't see Linda walking back to the hotel in the background.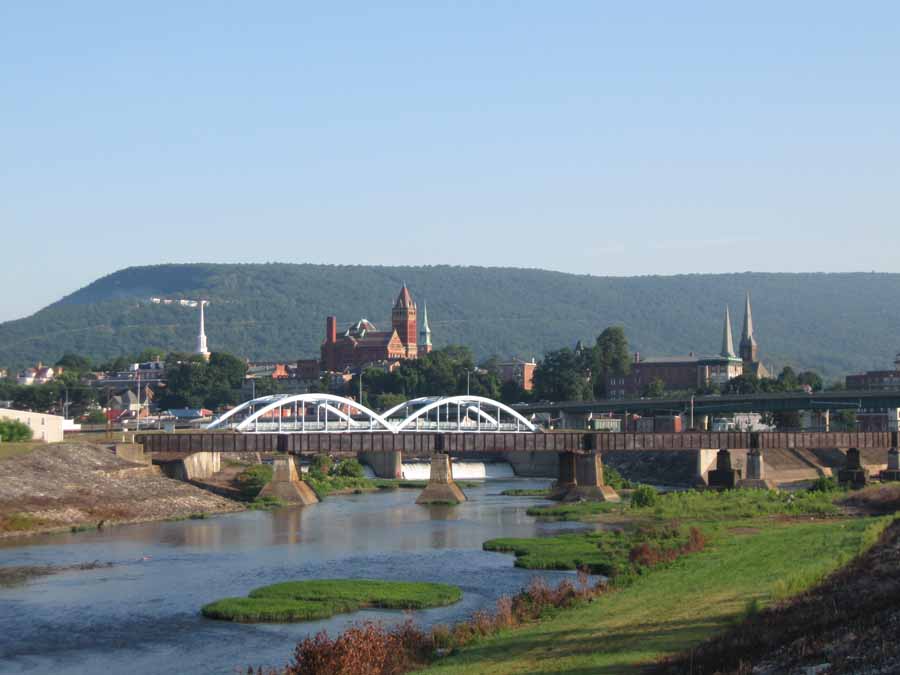 And we leave Cumberland none the worse for wear.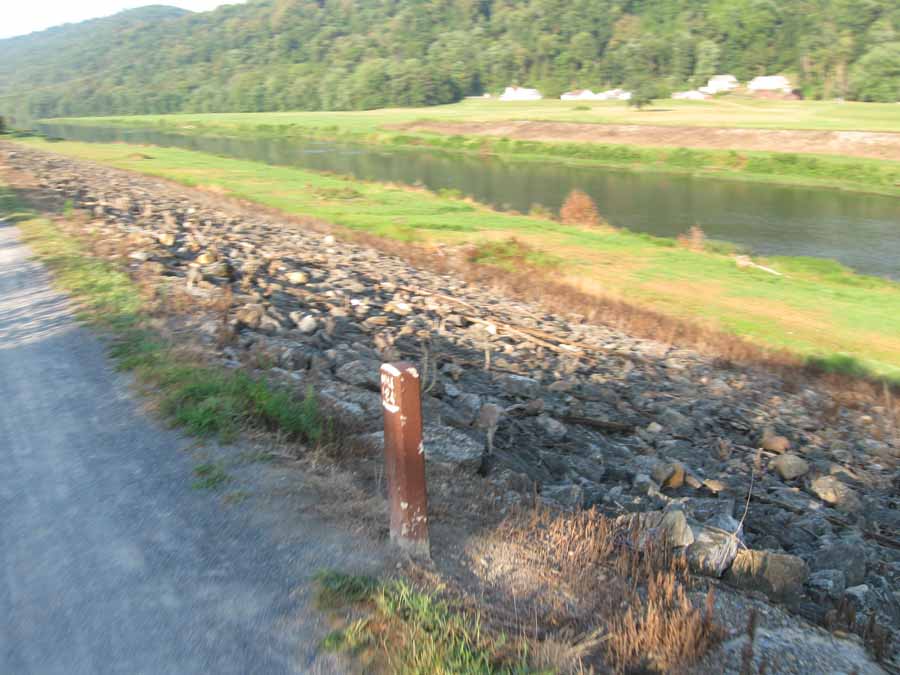 I had an idea that I would photograph all the mileposts. I managed to get the first one. I missed the next one and that was the end of that.
I recall having the same idea last time too. Nothing ever came of it then either.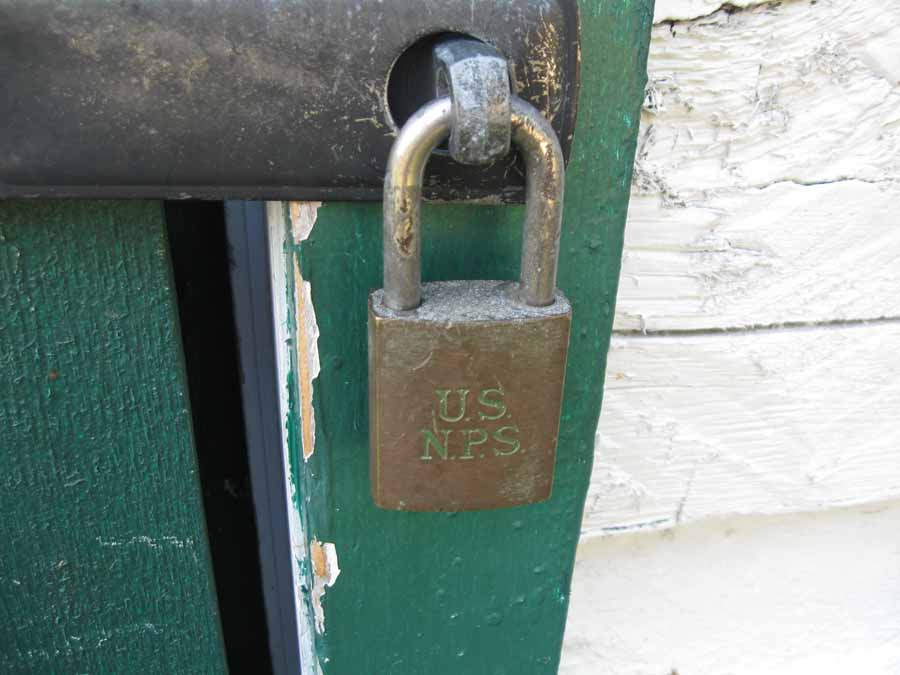 You can rent some of the lock keeper houses for the night. But not this one.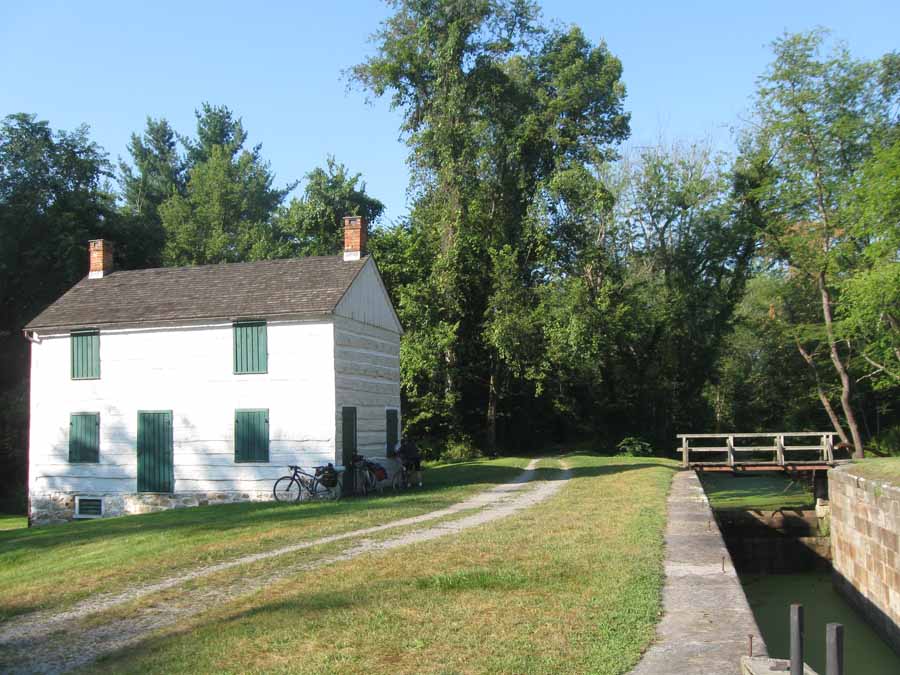 The site of our first government-mandated rest stop. We decided the government would require us to stop
and take a break every 10 miles whether we needed it or not. Usually we needed it.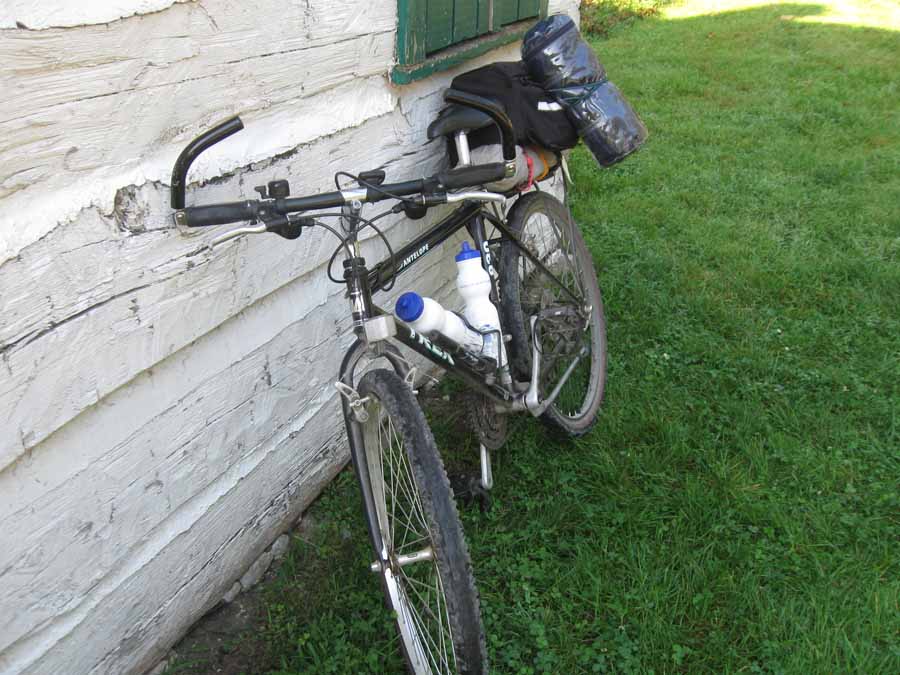 Todd's bike is the only one of the three that did the original C&O Canal ride in 1995. In another century. Another millennium.
Todd and Tony working out some load-shifting problems Todd was experiencing. Ultimately, the solution was for Tony to carry that little bedroll thing.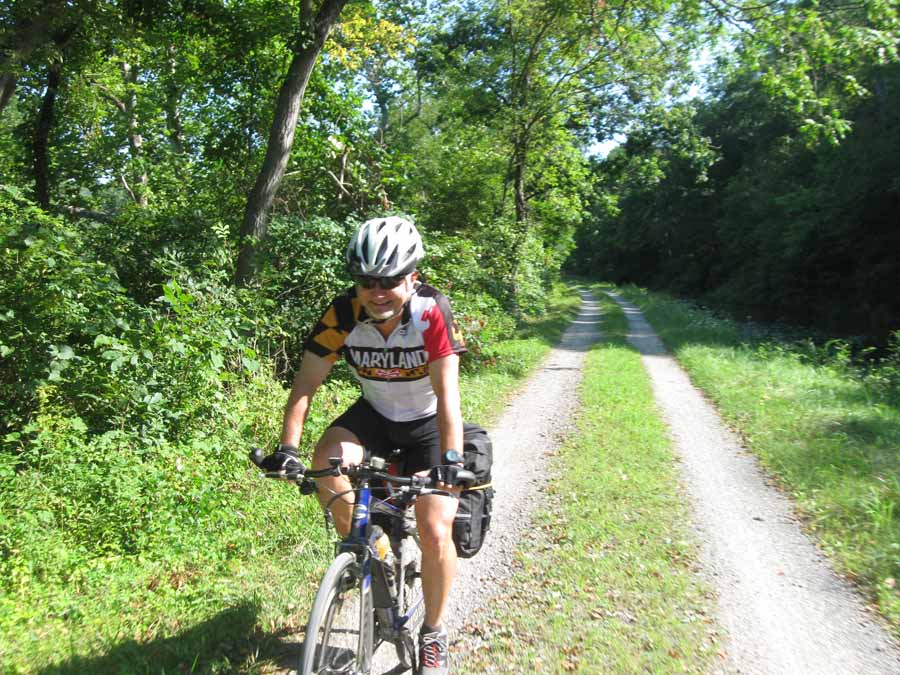 The normal riding order was me, Todd, Tony. Tony's job was to notice when things fell off Todd's bike. Todd's job was to notice when things
fell off my bike. My job was to kick up dust and grime.
Love that dirty water. They don't have to tell you not to swim in the canal. That spectacular green scum on the surface is warning enough.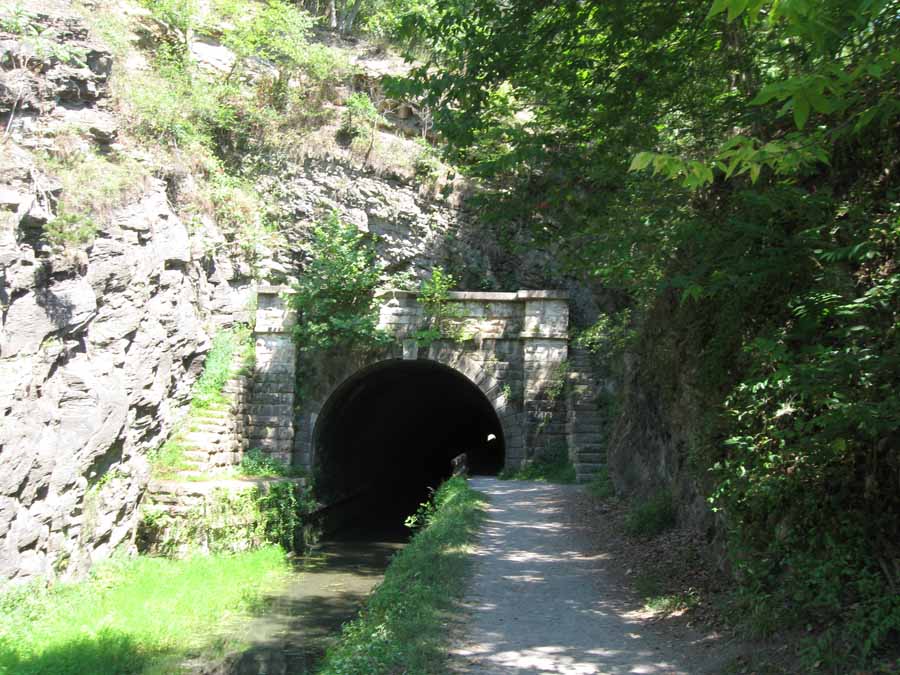 We grabbed lunch at Paw Paw as usual. Except that the usual place was closed. So we got sandwiches from the store across the street.
Five years ago there was no cell service in Paw Paw. There is still no cell service in Paw Paw. It's good to know there are still places like that.
And that those places have long, dark, scary tunnels full or murky water and untold horrors.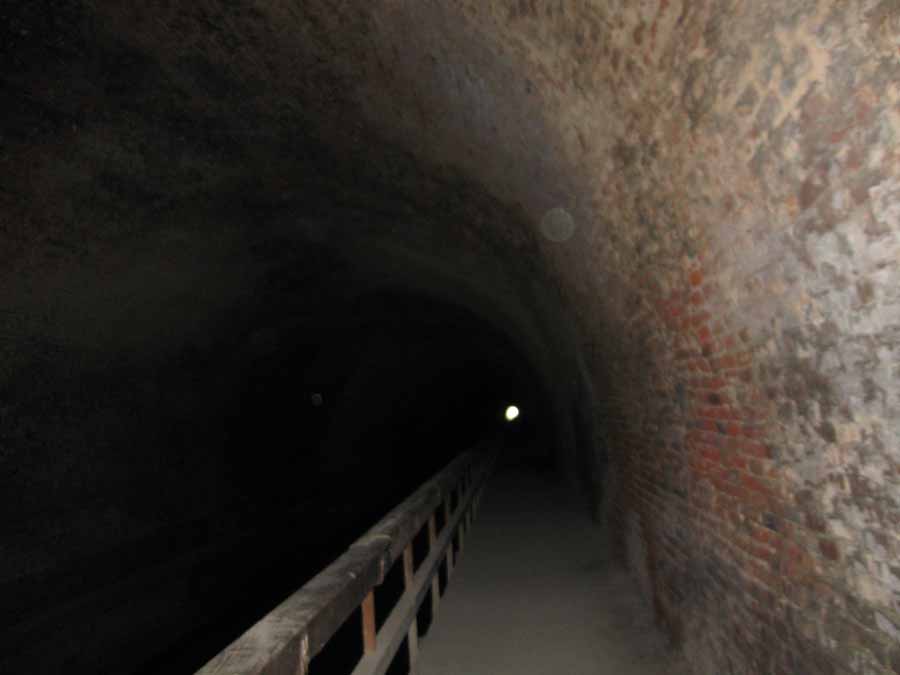 The tunnel was a lot scarier back before I had a light. Still, the path is pretty rough and I managed to smash my shoulder into the wall
when I met a bunch of people on foot coming through the other way.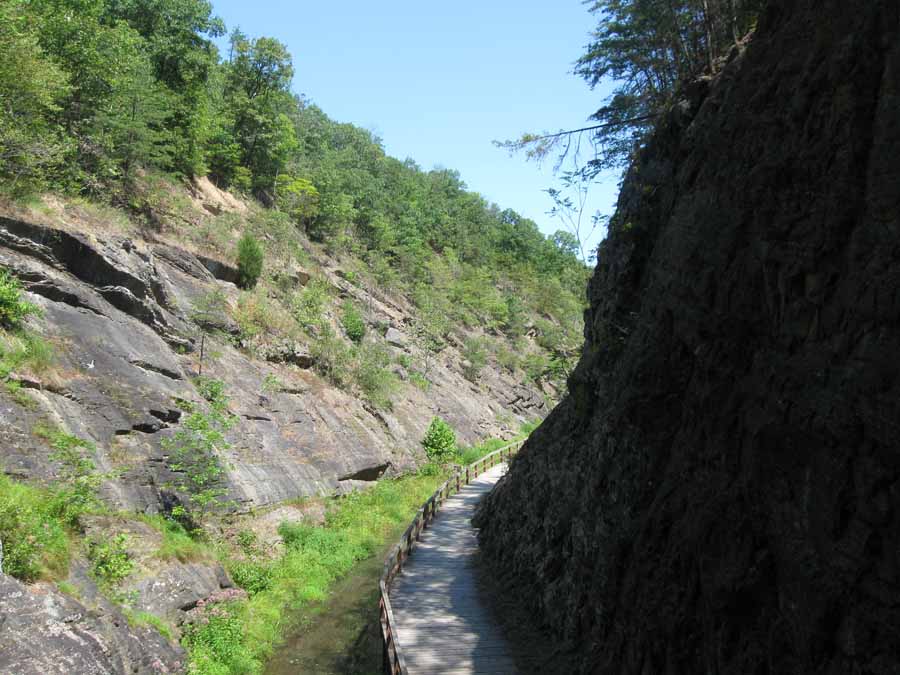 The Paw Paw Cut is impressive itself. I'm sure a lot of people were paid not a lot of money to dig it.
I climbed up on top of the tunnel entrance to take this picture.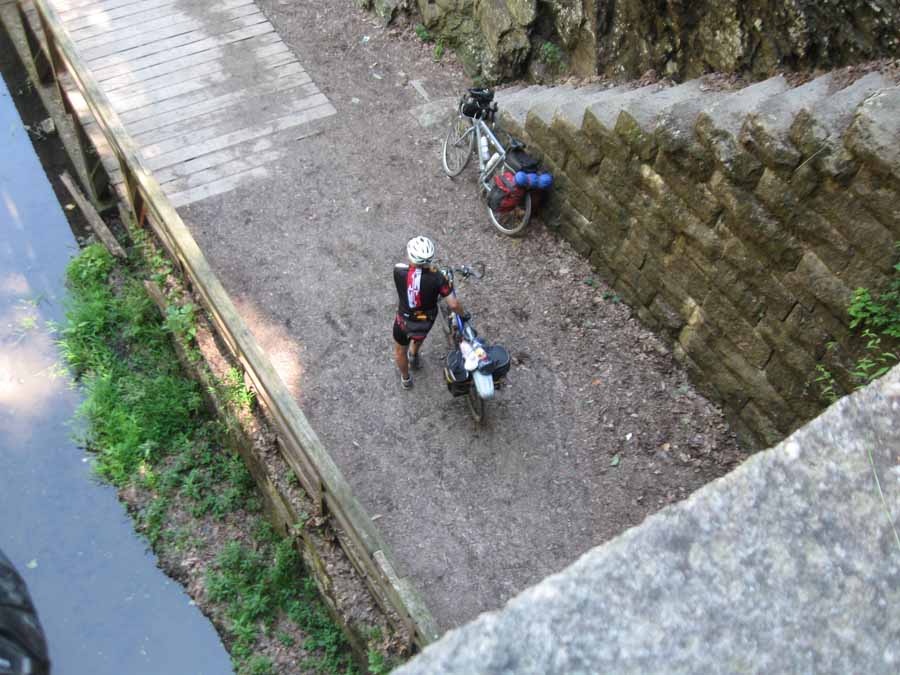 And then Tony came out.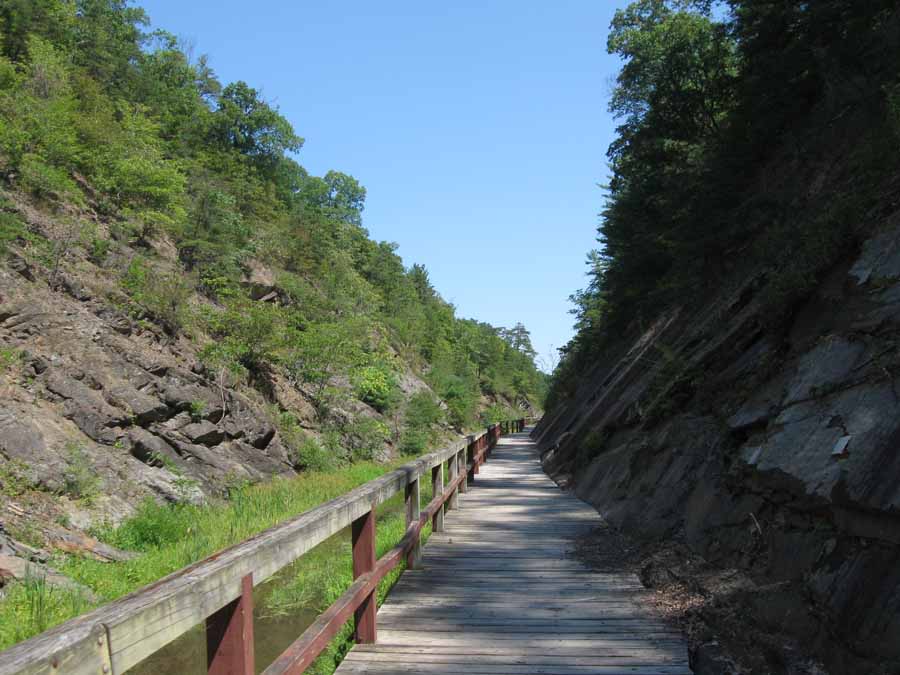 Most of the towpath is way less interesting than this.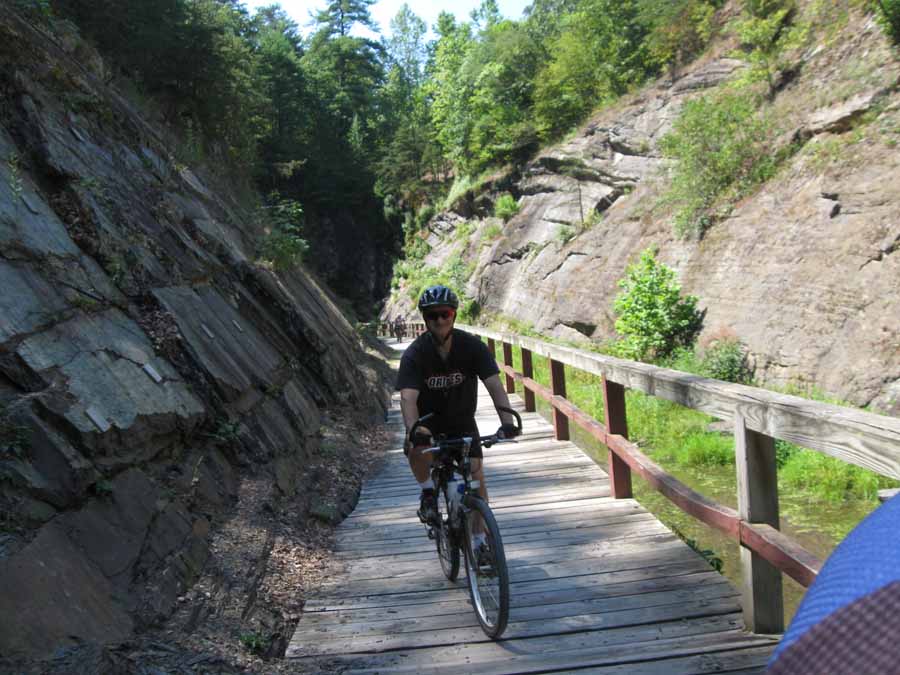 You'll notice I took a lot of picture in the first 30 miles. Then not as many.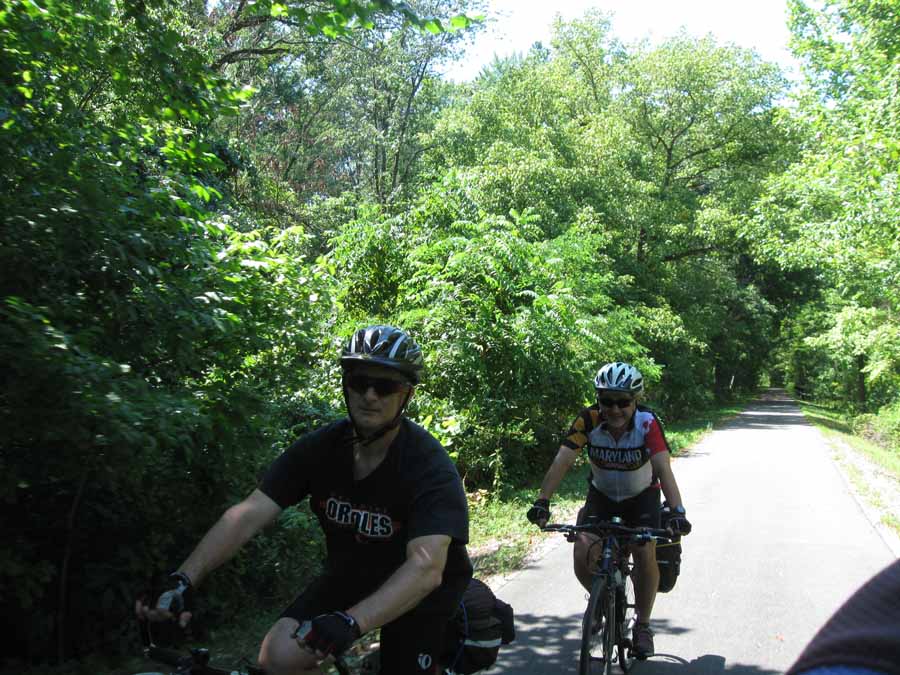 Many miles later we jumped on the Western Maryland Rail Trail for some asphalt comfort. Emphasis on "ass."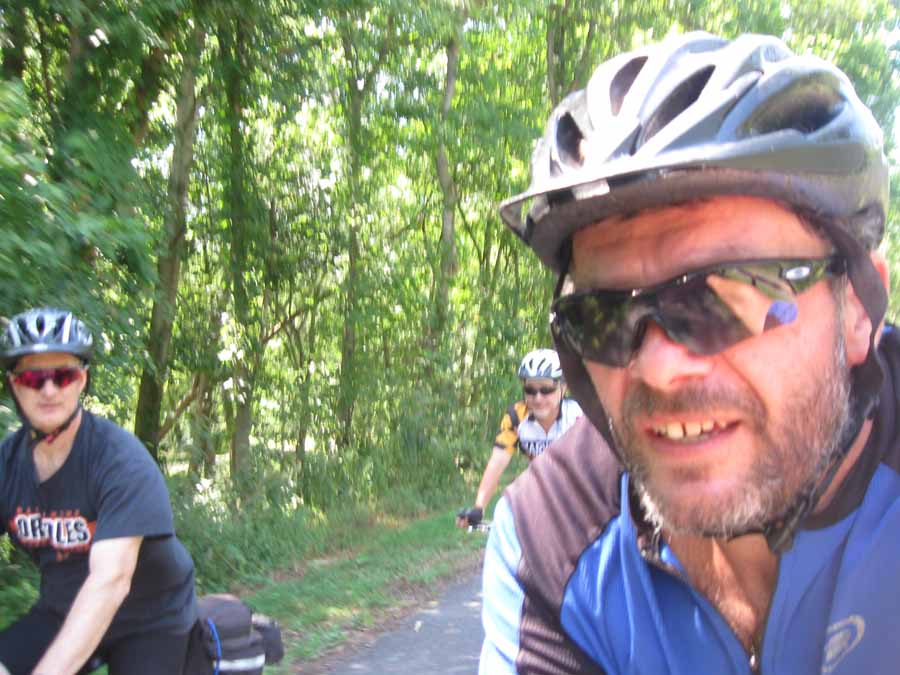 This is the best I could do for a rolling selfie of all three of us.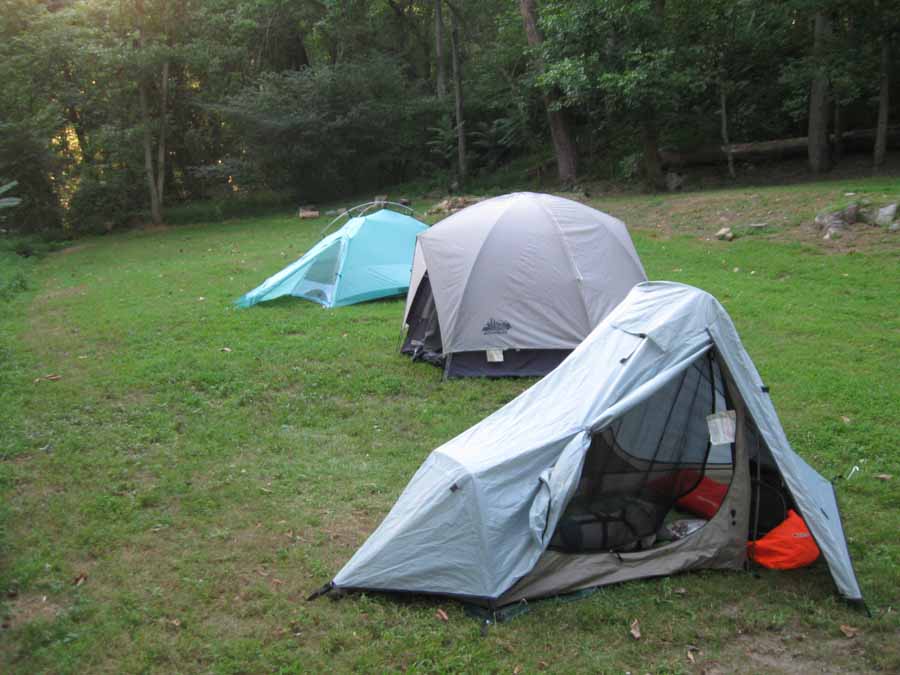 We ate an early dinner in Hancock at Buddylou's Eats, Drinks & Antiques, then picked up supplies for the night at the Sheetz.
We camped at the same place we did five years ago. We had it all to ourselves until one other guy showed up. He was also
doing the who towpath so it was cool. We regretted not buying beer in Hancock. It was hot at bedtime and cold in the middle
of the night. I slept poorly and woke sore and exhausted. Turns out my sleeping pad no longer holds air.
---
Previous | Next

---
"2015 C&O Canal Ride" Copyright © 2015 By Bob Clemons. All rights reserved.