2015 C&O Canal Ride
Cumberland, MD to Washington, DC
14-16 August 2015

---
I needn't say it's a year evenly divisible by five.

The Riders
This year we had a record low three riders. We had seven riders two weeks before the ride. We had five riders the day before the ride. But by the time we loaded up the van and started for Cumberland there were only three of us:



Bob

: 50. Organizer of the ride (me). In pretty good riding shape. Not sick or anything.



Tony

: 60. Just did some kind of multi-day ride in the Finger Lakes region. New bike. So, ready for anything.

Todd. 51. A veteran of the very first C&O ride back in '95. Still riding the same bike. Couldn't find his panniers. Relied heavily on bungy cords. Could drop anything.

Getting To Cumberland

We had planned to rent a cargo van for the gear and use Tony's seven-passenger SUV for the people. But with all the bailing out, we just used the cargo van driven by Linda. The lack of seats was remedied using beanbag chairs.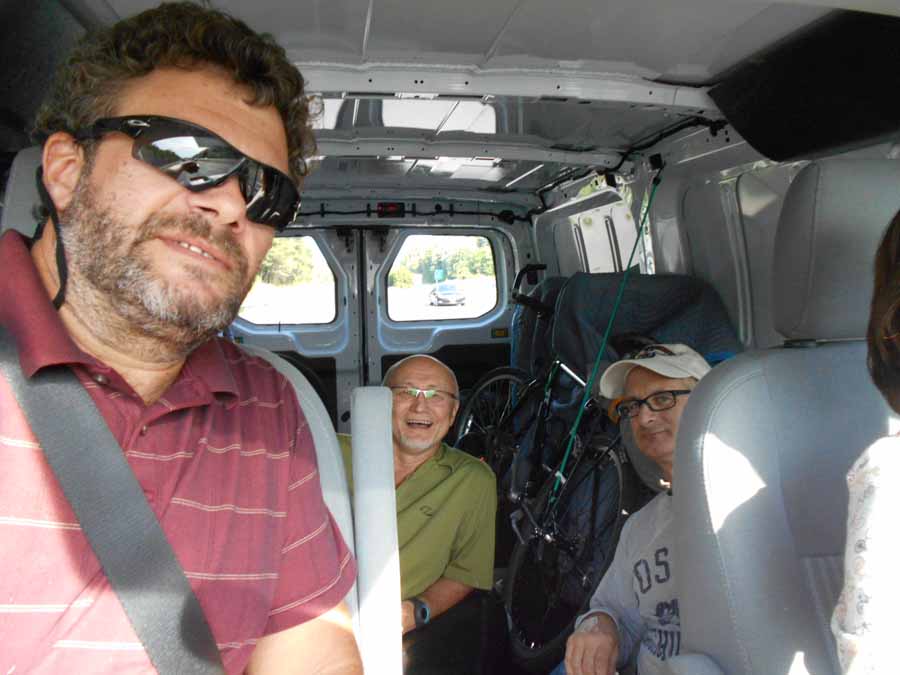 Riding in the cargo...er...passenger van.

We stayed at the Fairfield Inn in Cumberland, which is conveniently located right at the trailhead, and planned for wheels turning before 9am. We actually started at 8am. Probably because of the absence of Wilson.

---
Next
---
"2015 C&O Canal Ride" Copyright © 2010 By Bob Clemons. All rights reserved.