Day 1
Friday, 6 August 2010
Cumberland, MD to North Mountain Campsite, MD
78.0 miles, 6h22m, 12.2 mph
Elapsed Time: 11h07m, Max speed: 26.7mph
Total mileage: 78.0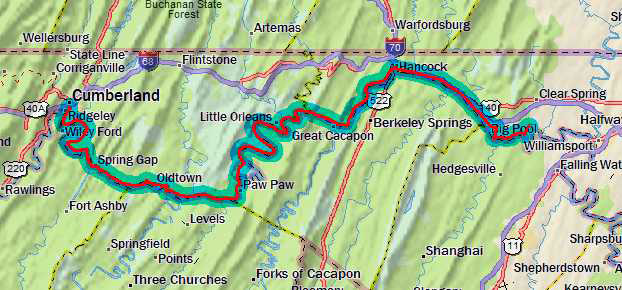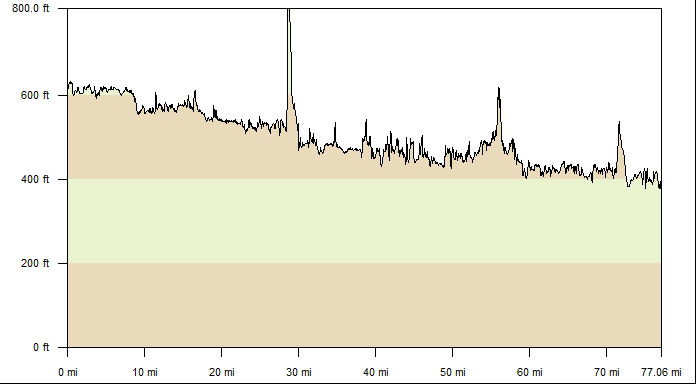 Note: The spike at mile 30 is an artifact. That's where we went through the Paw Paw Tunnel.
The other spikes are on the Western Maryland Rail Trail. But I don't remember them.

---

We made it down to breakfast by 7:30. Just about everybody was already there. I gathered a big pile of food from the somewhat disapppinting buffet and devoured it. By 8:30 all the bikes and riders were outside messing around trying to get all the gear into all the bags and get all the bags on all the bikes.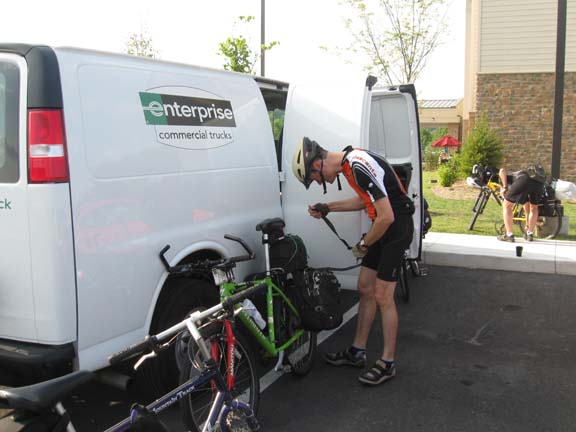 Dave indulges his gear-packing compulsion in an attempt to delay our departure.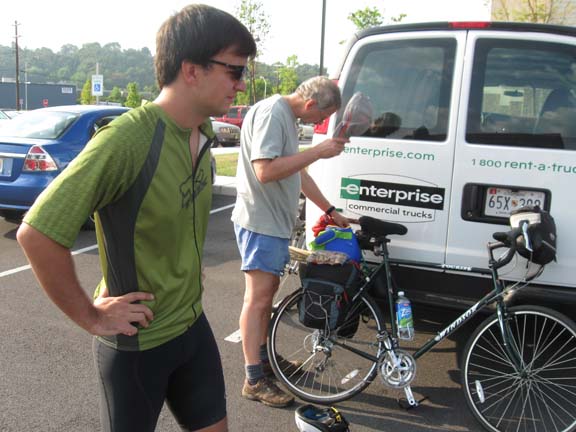 Wilson tries to jam more crap into his bags, while Balint looks on.
That's not Wilson's underwear, that's what he wore.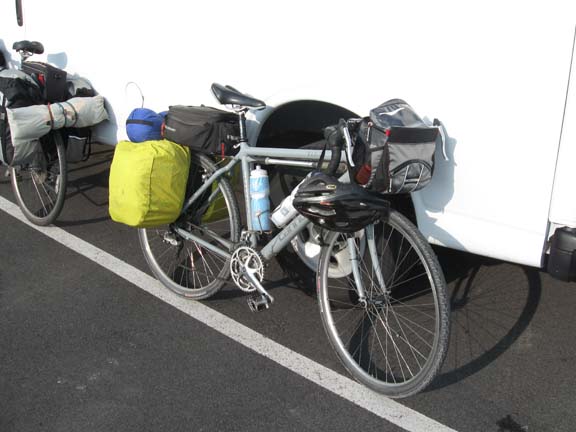 Or course, my bike was packed and ready with plenty of time to spare.



John rode JT's touring bike. Wilson rode Kevin's touring bike. Dave rode his brother-in-law's mountain bike. The rest of us rode our own bikes.

I rode my touring bike. Curt rode his mountain bike.


Curt's bike. The only bike that has done all four C&O rides. It had the only flat tire of the trip.
And it's the only bike with a kickstand.



There was a spirited discussion about who was carrying the most toilet paper. Mr. Balint's full roll dwarfed the little camping rolls that others carried.


Mr. Balint proudly displays his roll of TP. 1000 sheets!
Way more than anyone else--except maybe Fu. But Fu was evasive. He might have had two rolls.



We rode the short distance to milepost 184.5--the Cumberland terminus of the towpath. Linda took the official start photo. There were seven of us. In the finish photo there would be only six.


Official start photo at the 184.5 mile marker in Cumberland.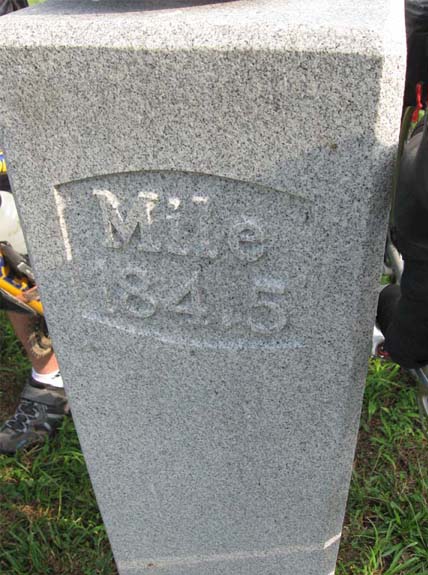 There's another one of these at the other end of the canal.

We'll see it in a couple days.


At the conclusion of the ceremonies, we rolled out and up the grade onto the towpath.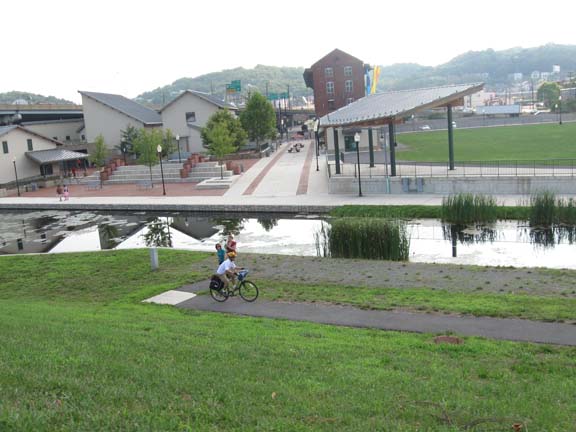 Fu was the last to push off.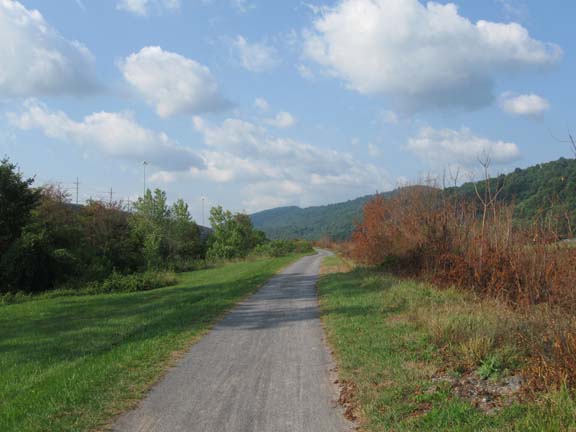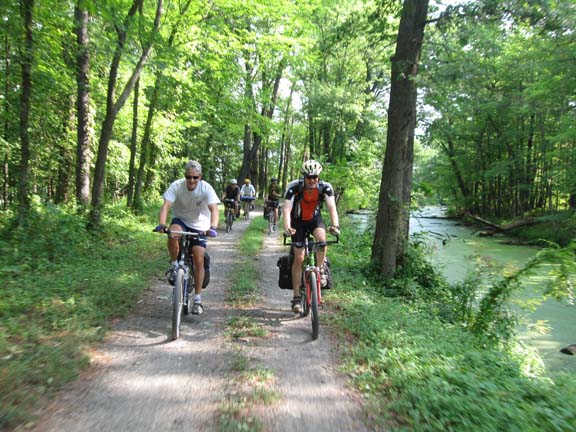 Then it's just a bunch of dudes riding through the woods.



Our first rest stop was at about eight miles. Curt had the first and only flat tire of the trip at about mile 20. Not the earliest flat in C&O history. In 1995, one rider had a flat tire after a mere 1.5 miles after he ran over an "I Love N.Y." pin.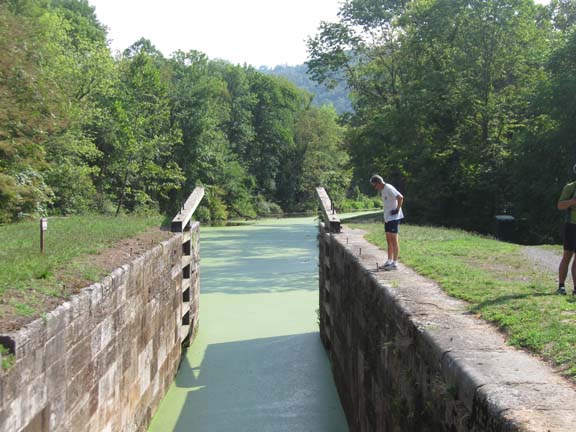 Curt contemplates ending the trip right here--eight miles in.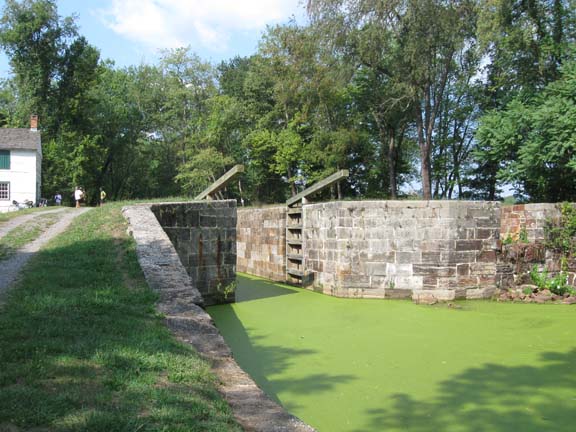 If you ride the towpath all the way, you lose about 600 feet of elevation over the 185 miles. And you get about 8 feet for each lock, though this one looks a little bigger. I took this picture on the walk back from the port-o-421. There were plenty of those along the way.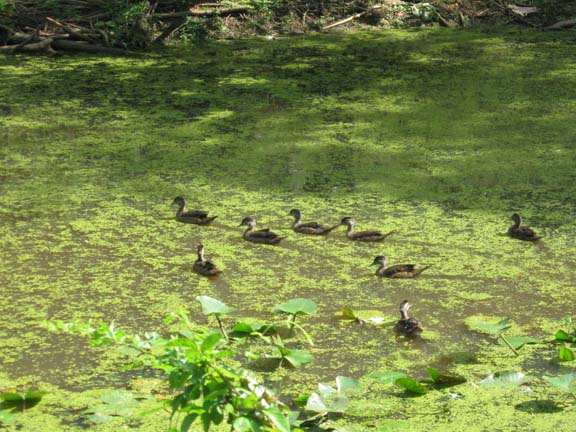 Let's get the nature crap out of the way. Here's some ducks...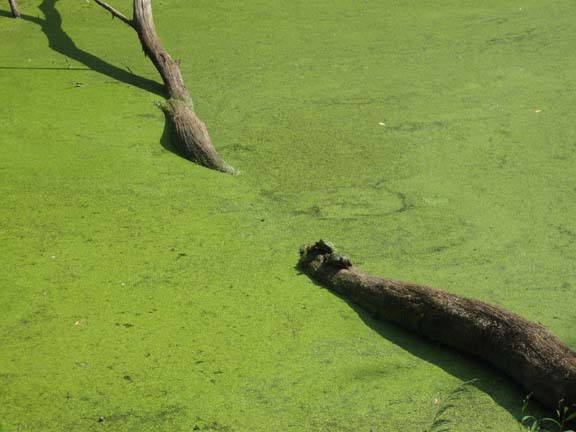 ...and here's some turtles. We also saw deer and many smaller forest creatures.
At night we heard some very loud owls and frogs and rednecks...and other unidentifiable creatures.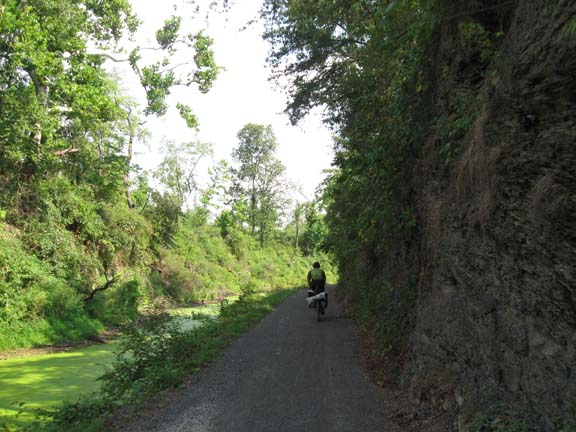 Mr. Balint rides ahead. The weather was perfect.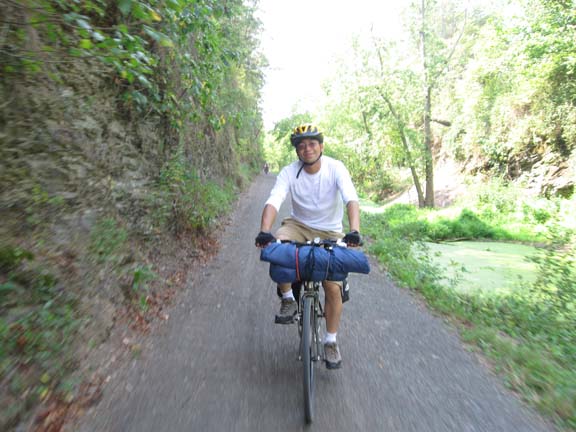 Fu.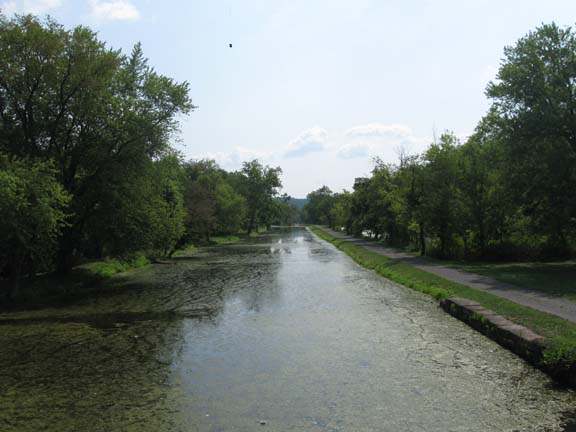 I think I took exactly the same picture five years ago.



We stopped fror lunch in Paw Paw at the same deli that we've been stopping at every five years. I ordered a turkey sub. Mr. Balint and I decided to photograph our food.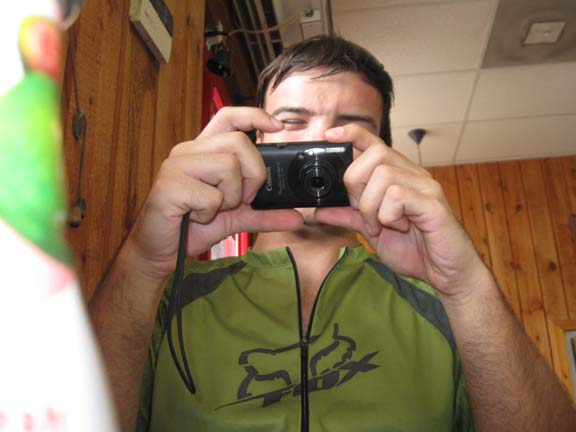 Here's a sandwich-eye view of Mr. Balint.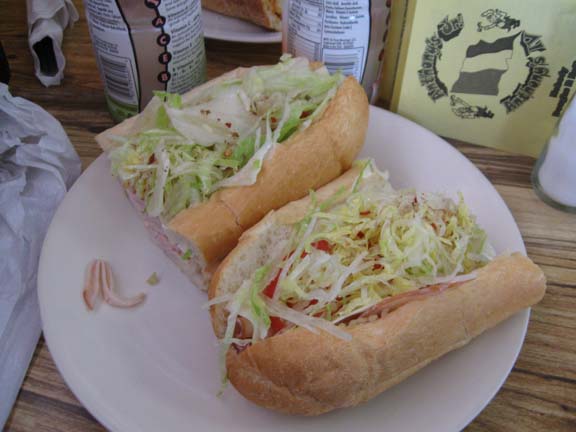 My food.



Wilson finished a 12-inch sub and went back up to the counter. The girl asked, "Do you need a box?" Wilson answered, "No, I need another sub." Yes, he ate 24 inches of sandwich for lunch.

There's no cell service in Paw Paw and I needed to make a call, so I went to the gas station across the street looking for a pre-paid phone card. I bought drinks, but they didn't sell cards. They sent me to the Dollar General across the street. I got the card. I made my call. That's about all you can do in Paw Paw, West Virginia.

Of course, Paw Paw means the Paw Paw Tunnel. For the first time, I brought a bicycle lighting system with me. No more terrifying ride through the darkness into that blinding light at the end of the tunnel. I simply turned on my light and blinded all the people walking toward me. It must have been an exciting walk for them after that. I could see fine. It's not nearly as scary when you can see where you're going.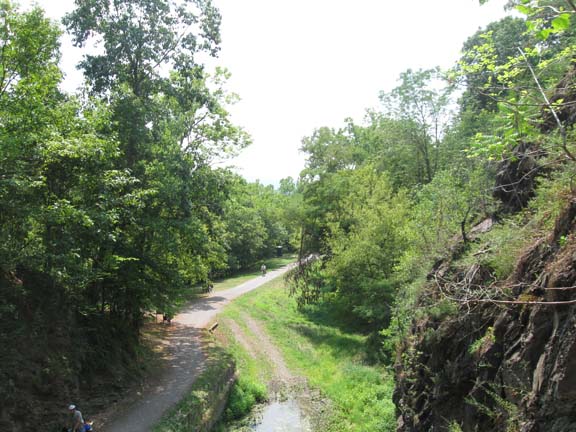 The traditional photo from the top of the Paw Paw Tunnel.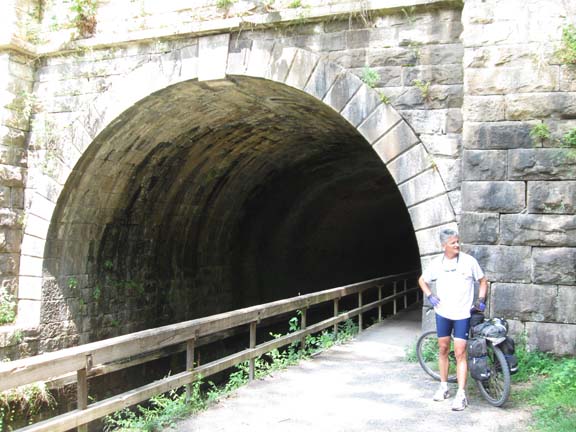 Curt waits to enter the darkness.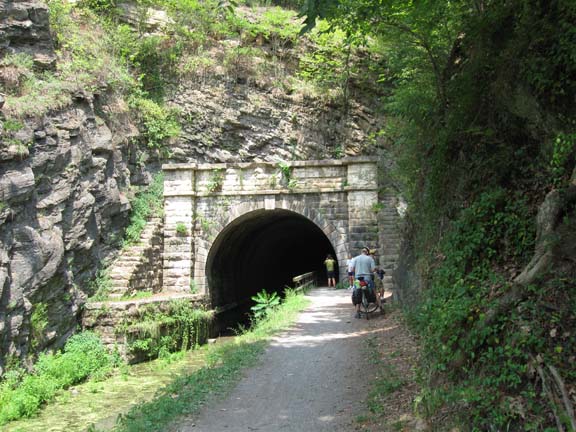 Sort of has a Lord of the Rings ruins-of-Gondor look to it.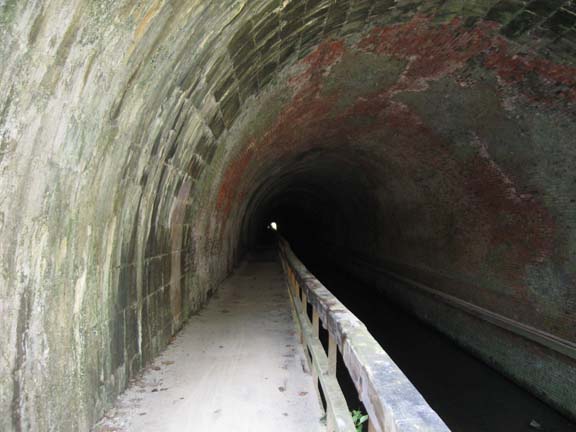 Looking back into the tunnel. It's about a half mile long.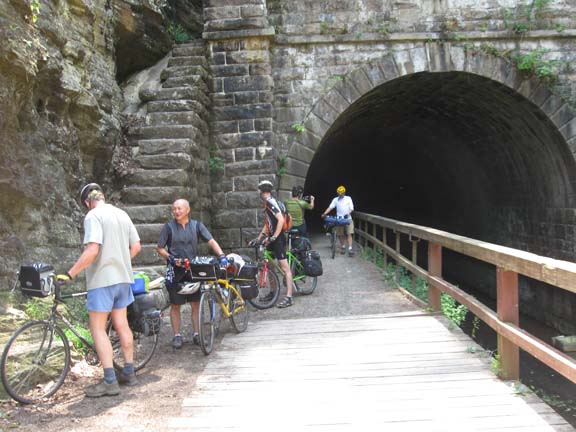 Discussing the horrors of the tunnel.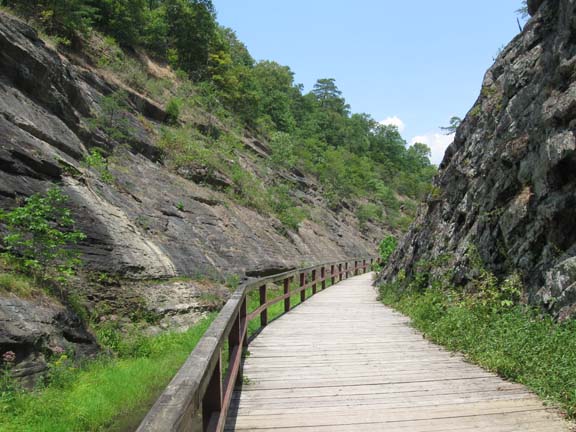 The cut leading to the tunnel. Looks like a lot of work.



Then it was back to the trail. Mr. Balint and I stopped at the store in Little Orleans to stock up on drinks. The store is actually a bar room full of locals sitting around complaining about things. There were some cyclists at a table. One of them was lying on the bench. Never lay down on a ride...it means you're done.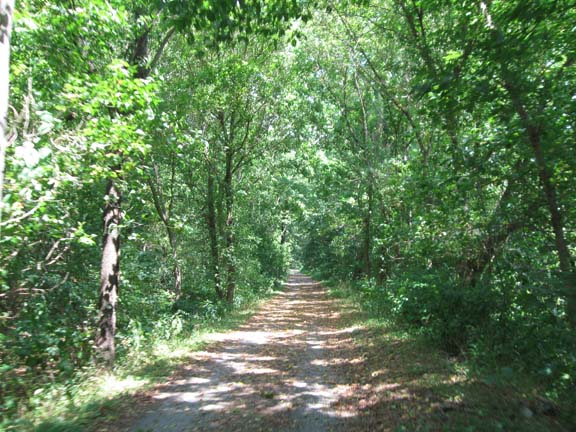 Back on the trail.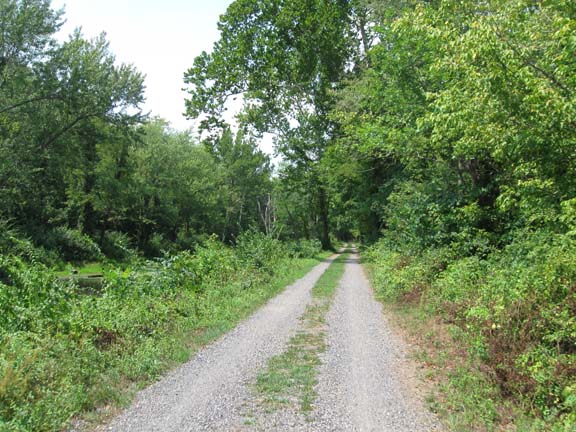 A particularly nice bit of trail.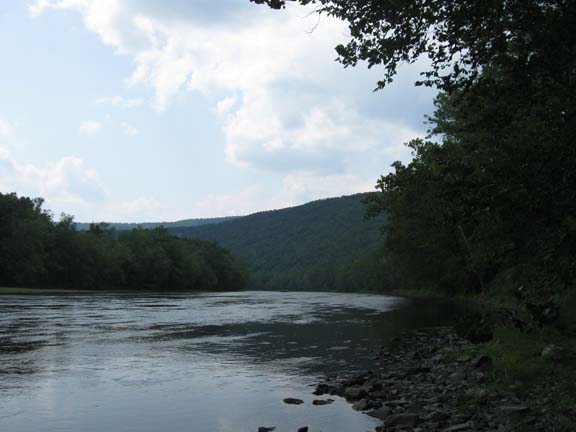 A rare visit to the river. It just occurred to me I spent three days along the river without actually touching it.



A few miles after Little Orleans, we sought out the head of the Western Maryland Rail Trail. The WMRT parallels the C&O for about 12 miles on either side of Hancock. The WMRT requires a bit of climbing..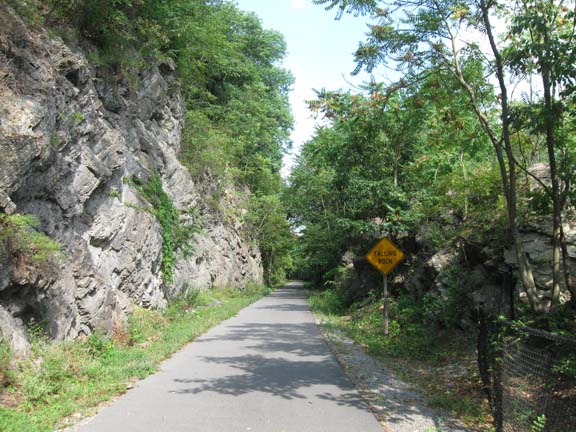 ...but it's paved.

Mr. Balint and I engaged in several sprinting contests over a few miles, then Mr. Balint just took off. We were strung out all over the trail, but eventually we all reached Hancock. We headed down to the Subway for dinner, but it was out of business. So we went to Weaver's--the site of the famous JT breakdown of 1995. That year we ordered food from Weaver's to eat out on the sidewalk. JT felt so crushed by the ride that he couldn't eat anything. He sat on the sidewalk while ants took over his food and carried it away. Then he coasted down to the motel in town and quit. JT has never attempted the C&O since then, although he did ride the entire Pacific Coast with me in 2004. Go figure.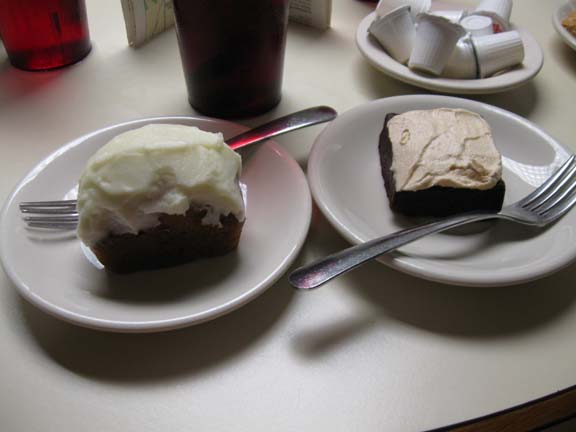 Dinner was at Weavers in Hancock. Dave couldn't decide which dessert he wanted, so he had both. Dont' ask me what they are.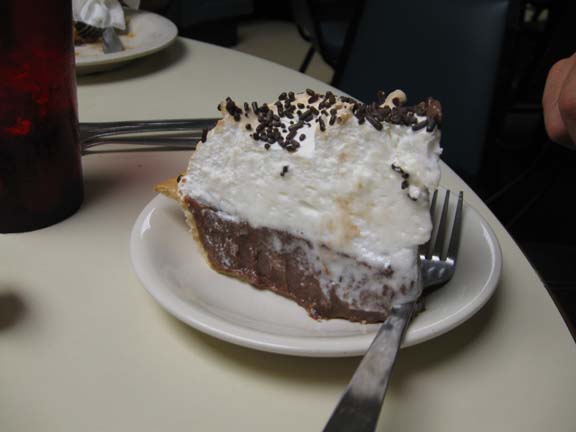 This was mine: chocolate cream pie. I forgot to photograph my steak.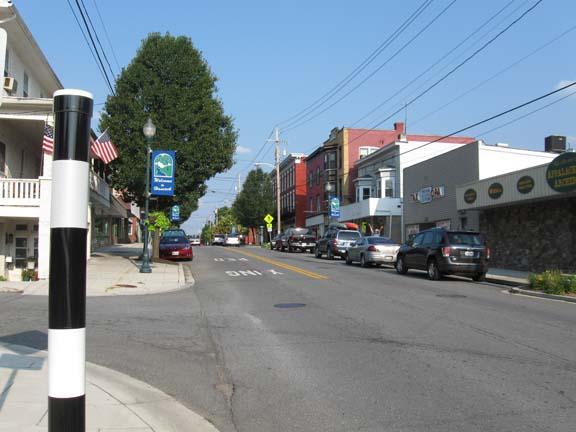 Downtown Hancock. Our home for an hour.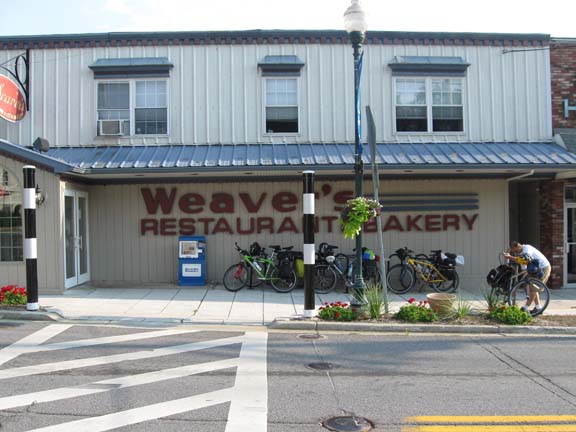 Hooligans outside Weavers.
After dinner we jumped back on the WMRT and took it all the way to the other end at Big Pool.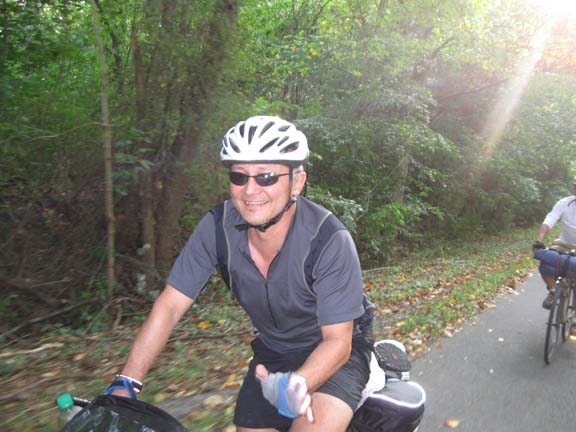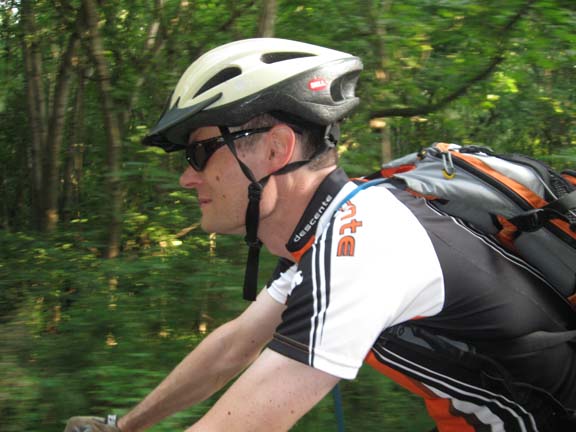 From there we continued on the roads to Fort Frederick State Park. There was a hill along the way. Fu sprinted up to it but had to walk. He refuses to shift into his lowest gears because he says he'll fall over. Fu is different.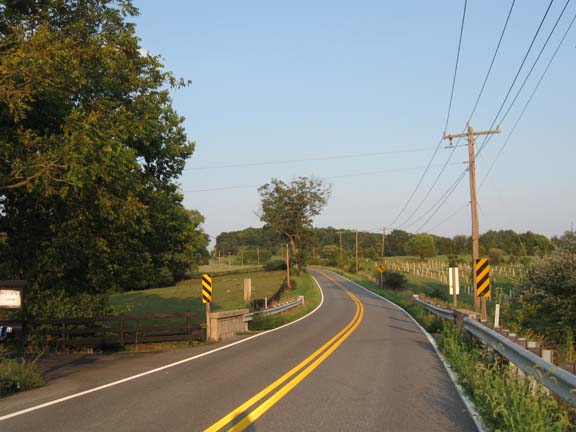 The hill to Fort Frederick..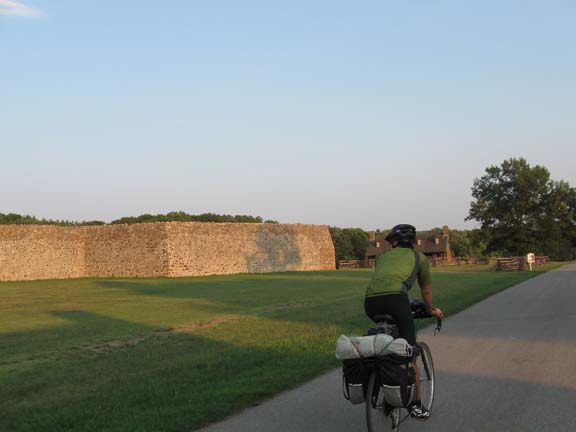 Mr. Balint marvels at a fort in the middle of nowhere that, unsurprisingly, never fired a shot in anger.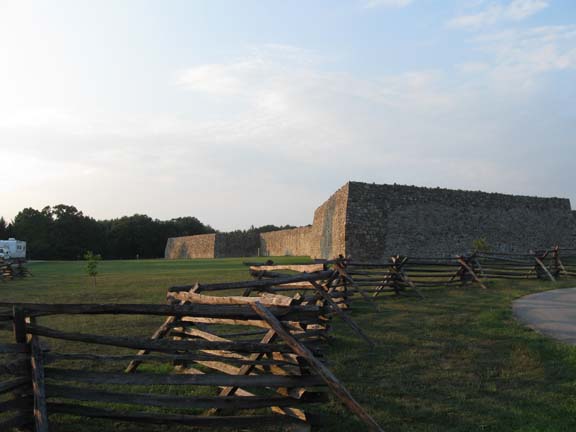 There is a campground at Fort Frederick. It was downhill from the towpath, so I went alone to take a look. It was nothing special. No showers, just port-o-421s. And there were people already camped there. The only thing it had going for it was a group of six attractive young women camping without male escorts.

You know where this story is going. Yeah. We kept on riding, looking for a better deal. Though there was some complaining for the rest of the day and most of the next day.

We set up camp at one of the primitive sites along the path. I managed to snap one of my tent poles, so I fashioned a splint using a tent stake and duct tape. It worked.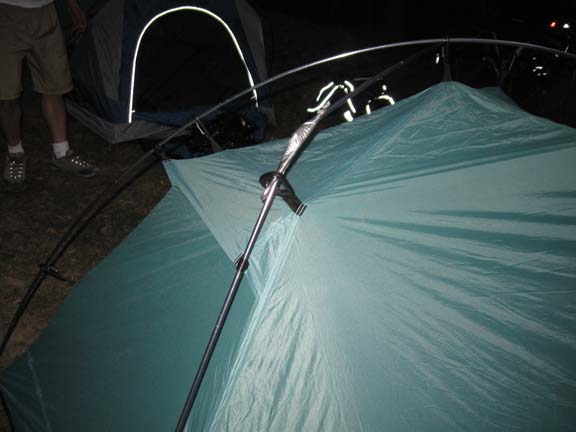 I called Linda and asked her to see what she could do for tomorrow night.



The campgrounds are fairly primitive. They have a port-o-john, a picnic table, a hibachi grill, a fire ring, a hand pump for water, and some bugs.

It was warm at the start of the night. But the temperature dropped into the 50s and it was quite cool. I suffered because I had a cold. Mr. Balint suffered because he forgot his rain fly, so he was essentially sleeping in a mosquito net.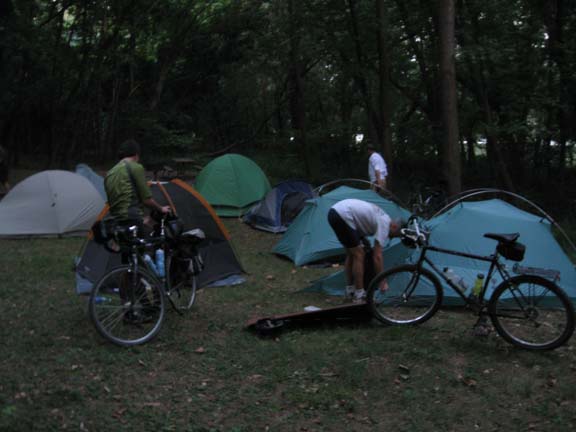 Setting up camp.


There were many noises in the night. Frogs, crickets, owls, mutterings, snoring--at 10pm Fu got up and cranked the noisy pump to get some water.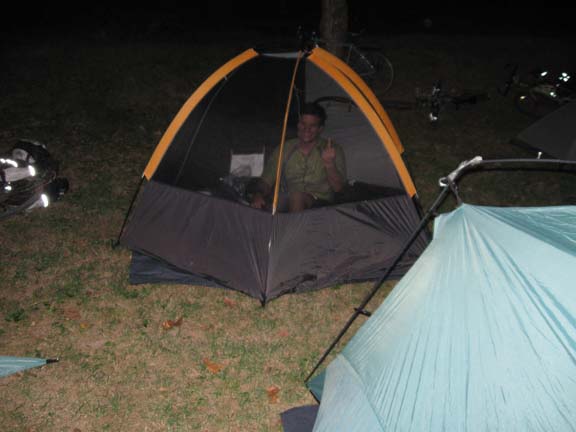 Mr. Balint says I'm number one!

---
Previous | Next

---
"2010 C&O Canal Ride" Copyright © 2010 By Bob Clemons. All rights reserved.