Day 2
Saturday, 7 August 2010
North Mountain Campsite, MD to Marble Quarry Campsite, MD
74.6 miles, 6h13m, 11.9 mph
Elapsed Time: 10h49m, Max speed: 31.6mph
Total mileage: 152.6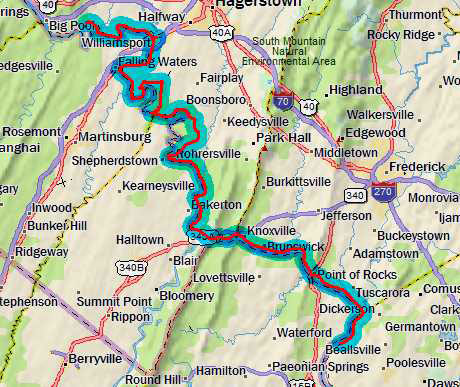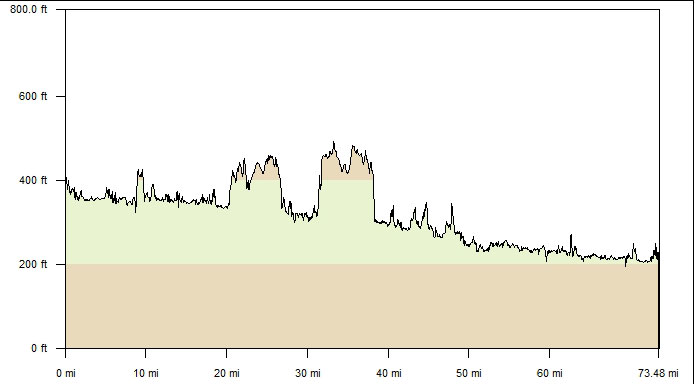 ---

Breakfast was whatever we'd bought in Hancock. I had some cold pop tarts (cinnamon) and a bottle of warm orange juice. Curt was the first one ready to go, then me, then Mr. Balint, then Tony. Then there was a contest between Dave, Fu, and Wilson for last. In the end, the rest of us were waiting as Dave pushed his bike up on to the towpath.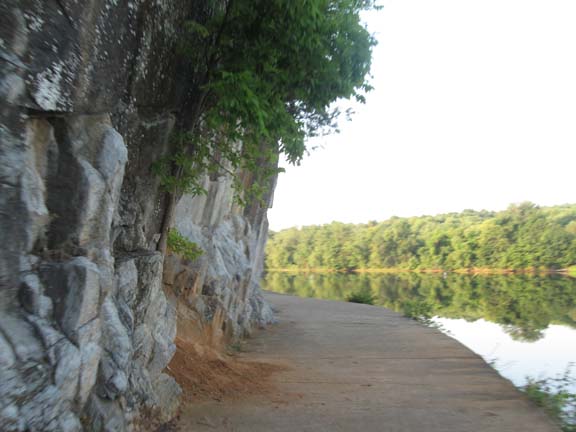 Soon we were on the cool part of the towpath that runs between a cliff and the river.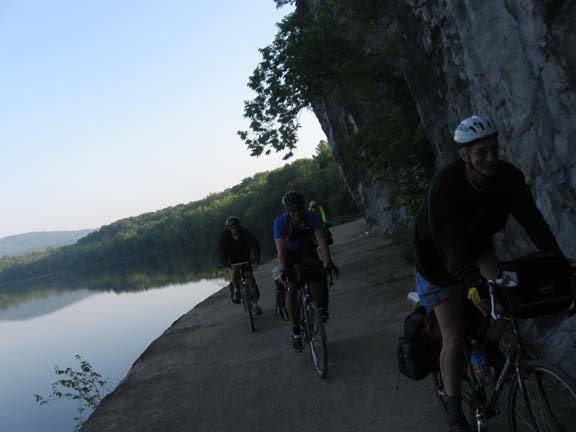 I almost rode in to the river to get this photo. Almost.



Soon we were in Williamsport. We rode through town to the Sheetz and ordered a bunch of breakfast burritos. Wilson ate several. Then back on the path.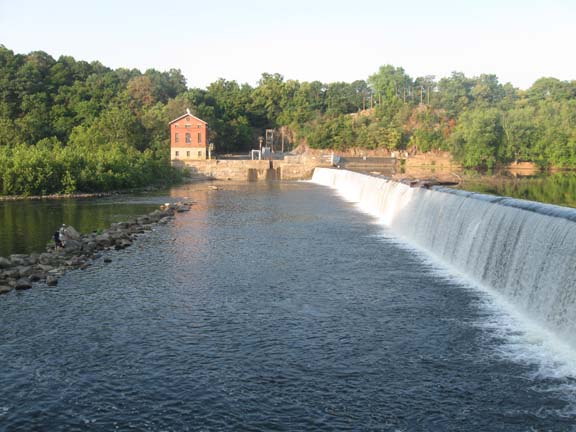 A stunning view of the picturesquely named Dam 5.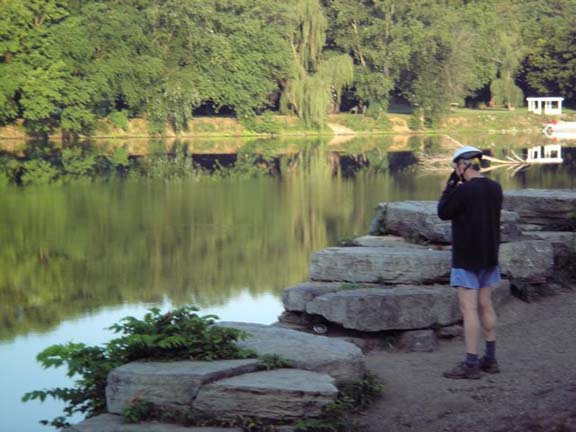 Wilson takes a picture of Dam 5 (Tony photo)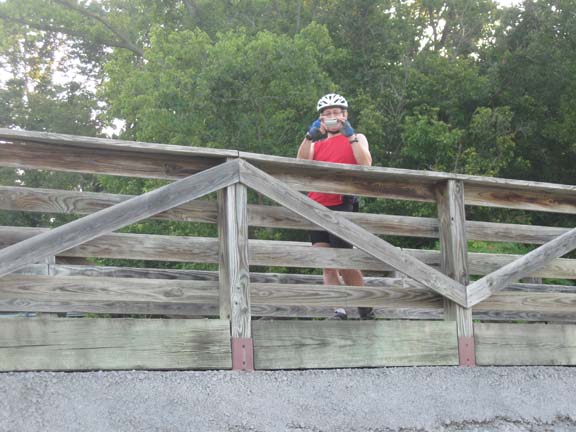 Tony, at takes a picture of me taking a picture of him.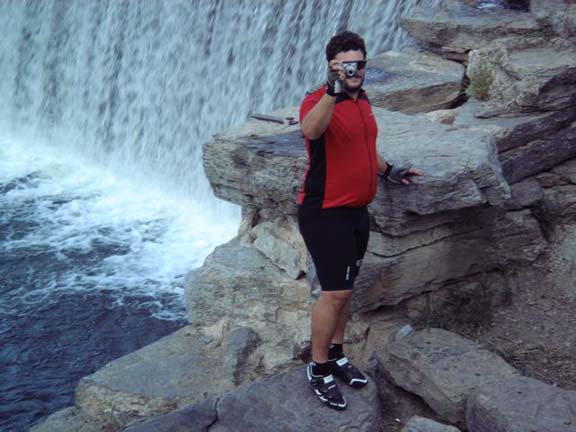 Me, taking a picture of Tony taking a picture of me.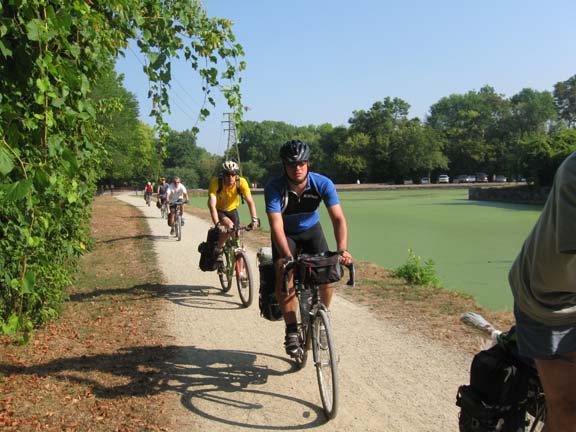 Leaving Williamsport after breakfast.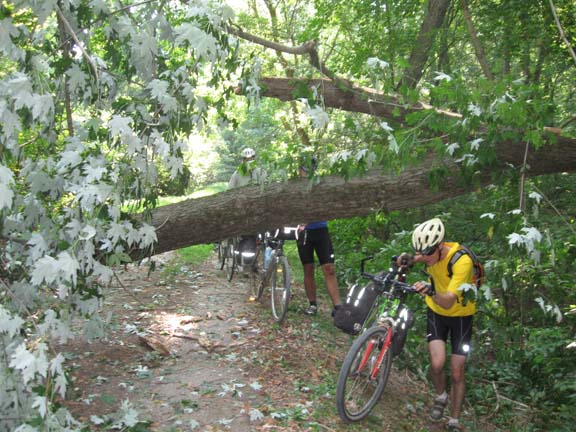 There were obstacles.
And then there was the detour. Apparently there are grand plans to fix the four-mile stretch of towpath that runs right along the river down to Dam 4. For at least the past 15 years, that stretch of towpath has been closed. It's still closed. The picture at the detour looked really cool, so someday it will be really awesome. But it's not awesome now. And I didn't take a picture of the sign.
But Tony did..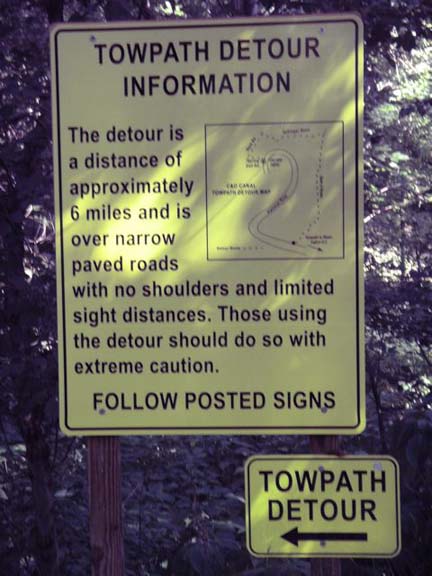 Using the detour requires "extreme caution." I guess that's what
you need any time you ride on the road. What does riding on the closed
trail require? "Super-extreme caution?"
So we climbed a ridiculously steep hill to the back of somebody's farm, then out on to a road, more climbing, more climbing, some downhill, more climbing, then the long run down Dam 4 Road to...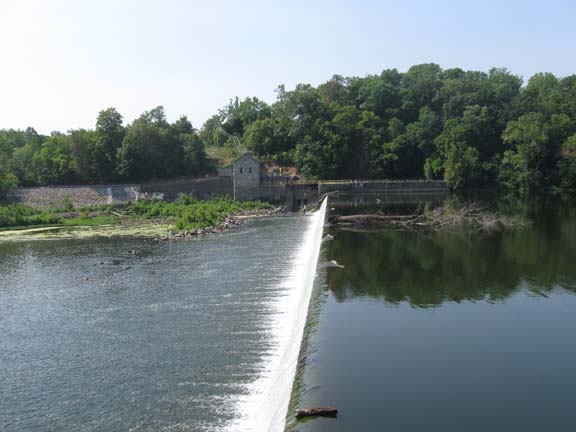 ...Dam 4. Which somehow isn't as nice as Dam 5.
Never saw Dams 3, 2, or 1,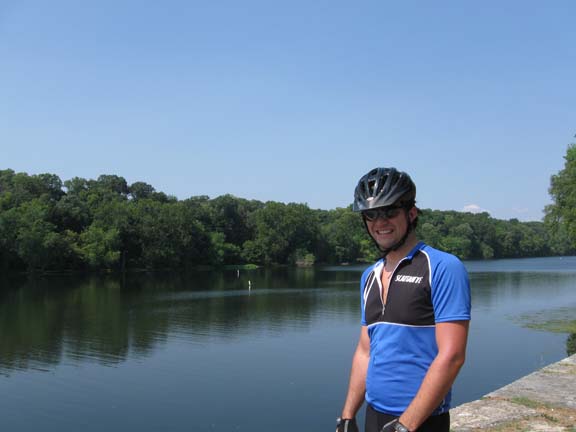 Mr. Balint at Dam 4.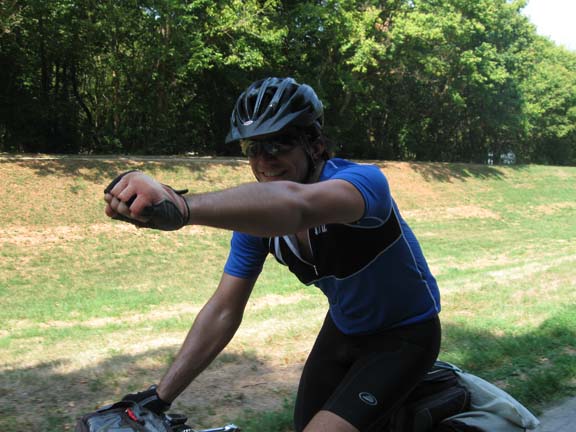 Sharp eyes will notice that the towpath is in the background. We're on the road.
This is supposed to be the "JT" salute. Not sure he got it right.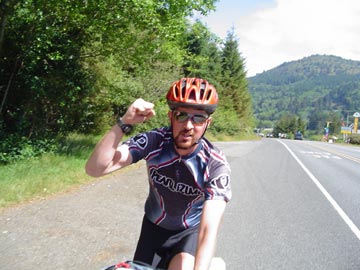 Not even close.

We jumped off the towpath at Taylor's Landing so that we could have lunch in Sharpsburg. That meant more climbing up to the Antietam Battlefield, and a nice descent into town. And then backtracking to the Battleview Store. We ordered sandwiches and ate them outside at picnic tables. Well, most of us did.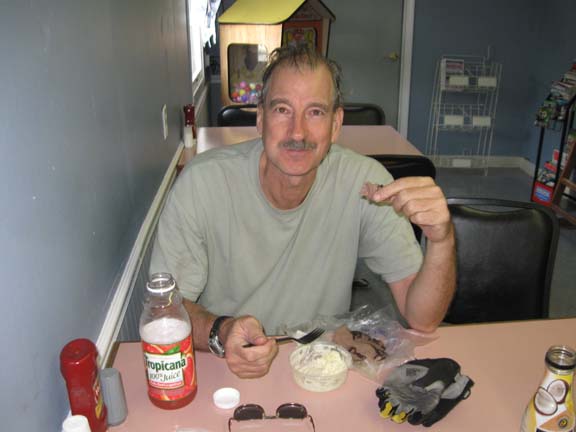 Wilson enjoyed a roast beef sandwich sans bread. And he ate indoors.



Linda met us in Sharpsburg with a brand new Eureka Zeus 2 tent for me.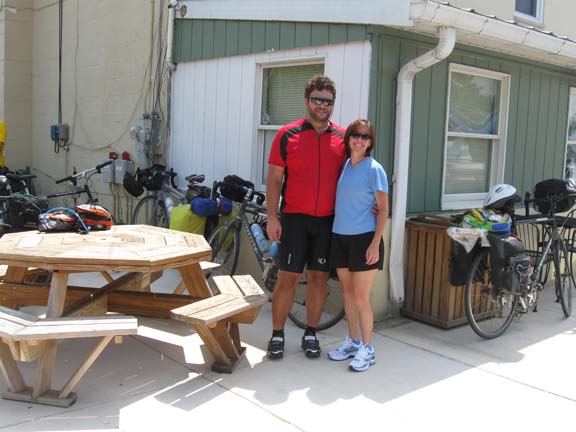 What would I do without her?



Well, for starters, I'd be duct taping my tent pole together again tonight. And riding my bike home from DC. And I don't know how we would have gotten to Cumberland. And I'd be poor and lonely and living in a cardboard refrigerator box and eating out of dumpsters. Well, some of that anyway.

We rode south toward Shepherdstown to rejoin the trail. We were able to stay on the roads for a few miles then it was back on the trail.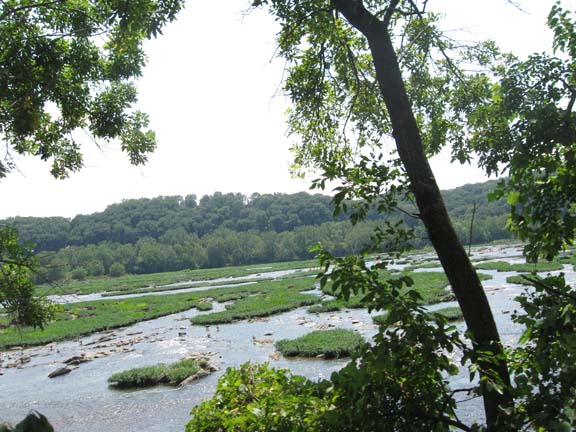 We rode along the river for over a hundred miles. Sometimes we could get a good look at it.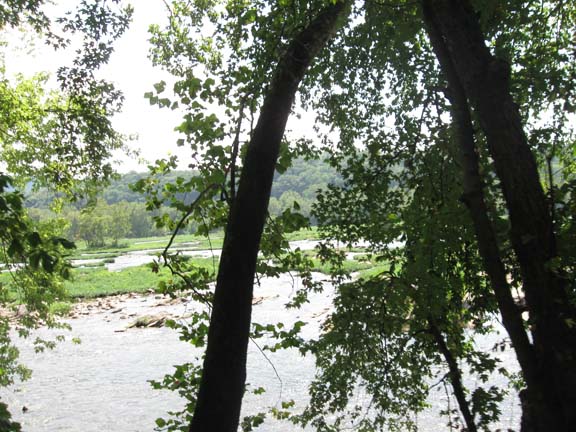 But usually the view looked more like this.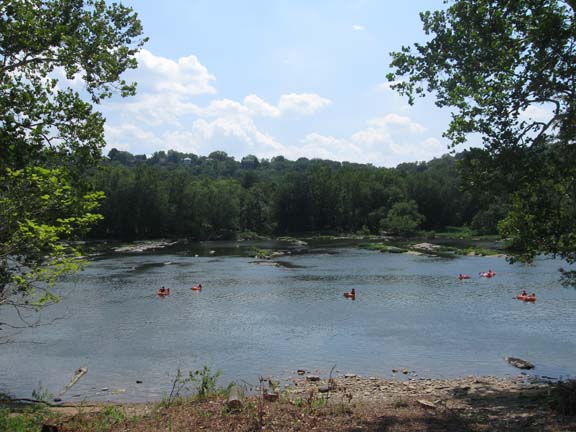 As we approached Harpers Ferry we noticed the river was infested with tubers.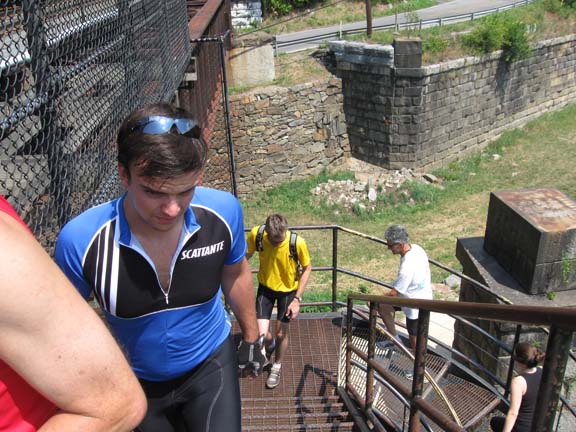 At Harpers Ferry. Fu watched the bikes while the rest of us walked across the bridge to get ice cream.



Wilson decided he would push on because he was slow. We never saw him again. Still haven't. At some point he decided he didn't want to spend another night outdoors and he just made for DC.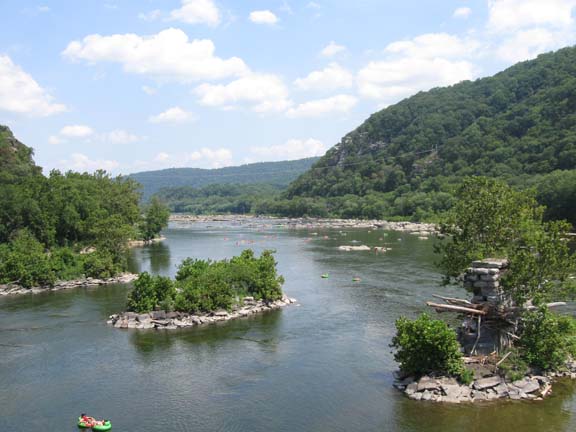 The tuber-infested confluence of the Shenandoah and Potomac.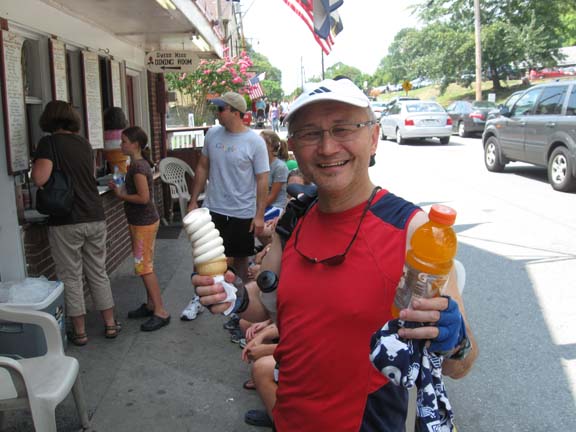 Tony got a nice big ice cream cone. I got a strawberry banana smoothie, which turned out to be too much for me.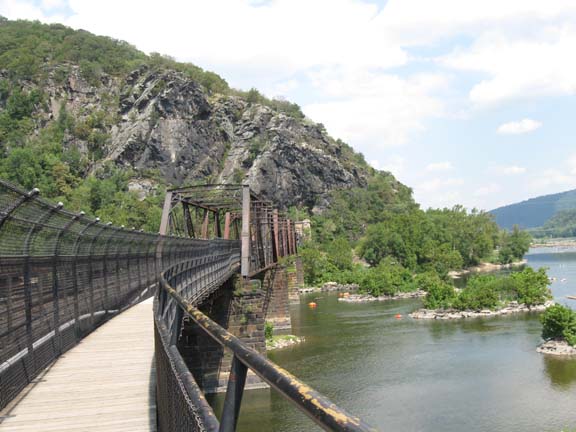 And then we had to return.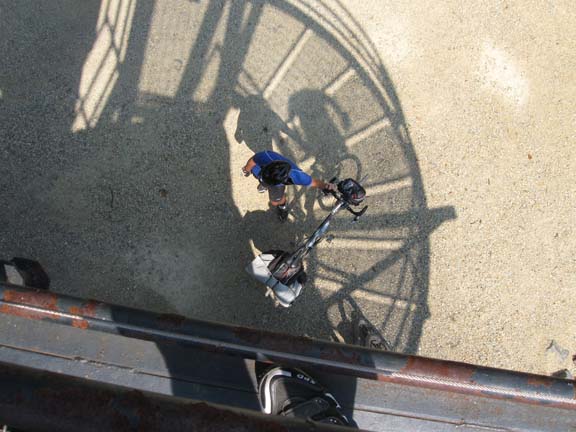 When we got back, Mr. Balint announced that he did not want to spend another night outdoors and that he would push on for DC. We never saw him again...no wait, we did.

We rode straight past Brunswick (Home of the Iron Horse) and stopped to buy dinner at Point of Rocks. We carried the food for several miles and stopped to eat at the Monocacy Aqueduct.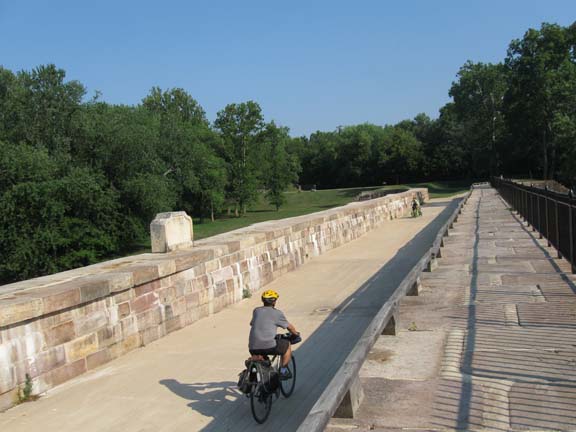 Looks like Fu down there.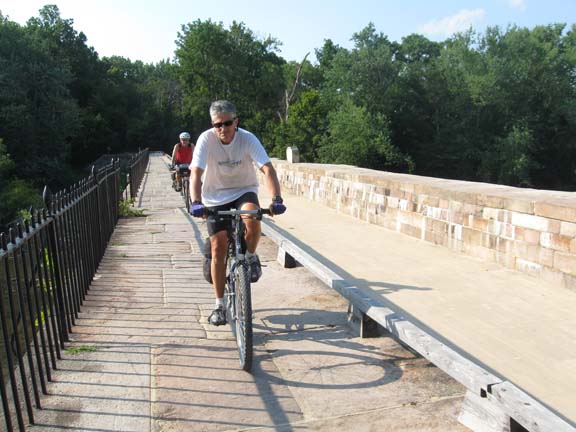 Curt and Tony on the Monocacy Aqueduct.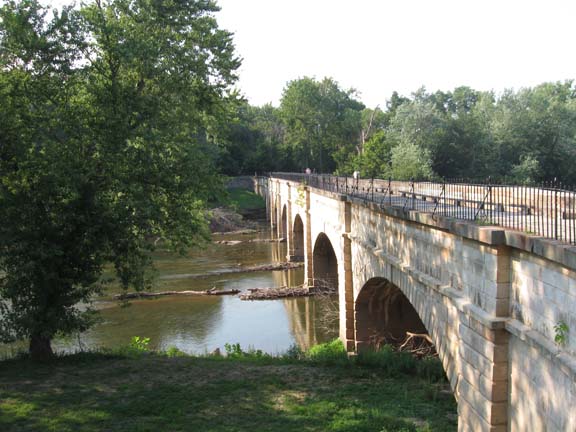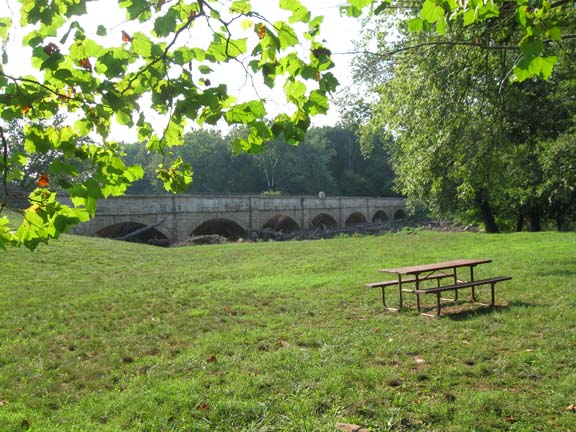 The view from our picnic table. Notice all the debris jammed up against the newly restored aqueduct. That must have worried some people.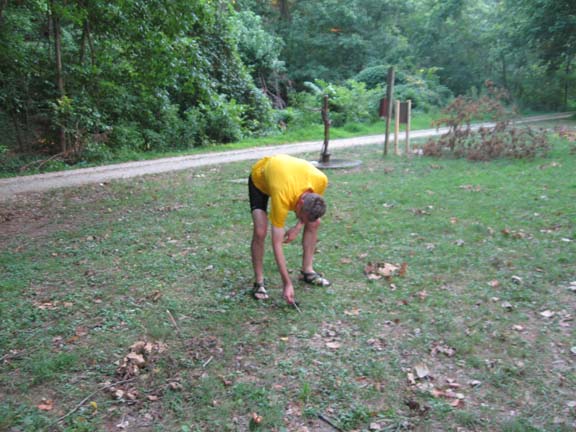 Eventually we reached the Marble Quarry campsite. Here, Dave cleans up his tent site.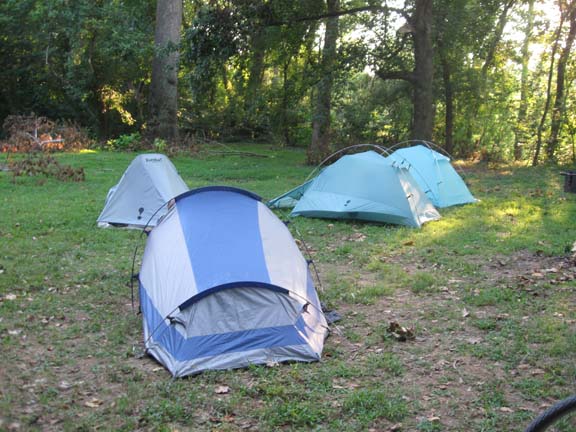 Meanwhile everyone else was all set up. I turned on my phone to call Linda and 10 seconds into the call, my call waiting says Mr. Balint is on the line. I switched over. Mr. Balint said he was at mile 20 and he had passed Mr. Wilson, who was also pushing on to DC. He mentioned that Wilson had left a message with Dave about his plans and that he expected he would stay ahead of Balint...and that he would buy Balint all the beer he could drink if he caught up. Well, he caught up. And went by. Mr. Balint arrived in DC well after dark, but he didn't have to camp in his mosquito net again.

We later found out that Mr. Wilson arrived in DC shortly after Mr. Balint.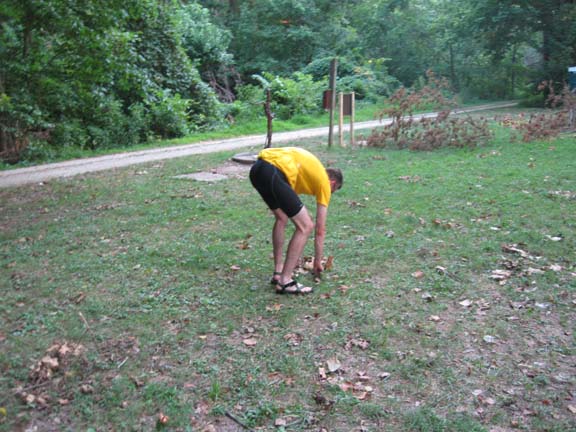 Meanwhile, Dave was still tidying.



Eventually Dave checked his messages and got the message from Wilson. Wilson recommended the Marble Quarry campsite. Good to know.

The night was very comfortable. There was considerably less snoring without Balint and Wilson, but the animal noises were louder. There were some frogs that sounded just like dogs barking all night.

And me without my pepper spray.


---
Previous | Next

---
"2010 C&O Canal Ride" Copyright © 2010 By Bob Clemons. All rights reserved.