Day 2
31 May 2003
Front Royal, VA to Leesburg, VA
50.2 miles, xhxxm, xx.x mph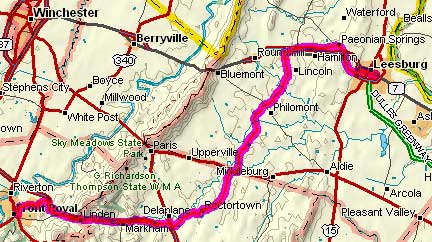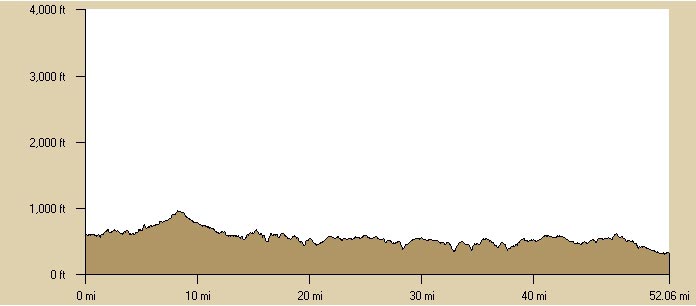 ---
Day 1 was very hard. Day 2 was supposed to be very easy. It was.
Since Friday was so brutal and Saturday was supposed to be easy, we figured we could sleep in until 8am. But I was up at 6:30 and it looked like it might rain, so I got JT and KG up and out so we could get an early start and beat the rain. We grabbed a quick breakfast and hit the road. We were almost out of Front Royal when it started raining. We stopped at a gas station about 7 miles into the ride and filled our bottles. When we started again we could see the sky getting lighter and, sure enough, the rain stopped and the sun came out. We also picked up a nice tailwind.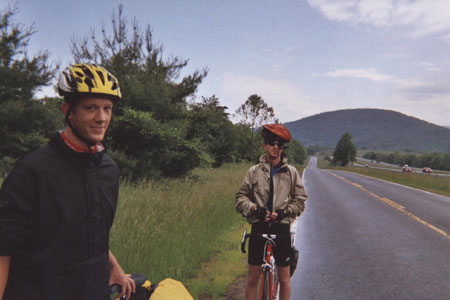 It had just stopped raining. Time to take off the jackets.
The day was short so we made only two more stops: one at Atoka on US50 and another in Purcellville. At Purcellville we picked up the W&OD trail and rode it into Leesburg.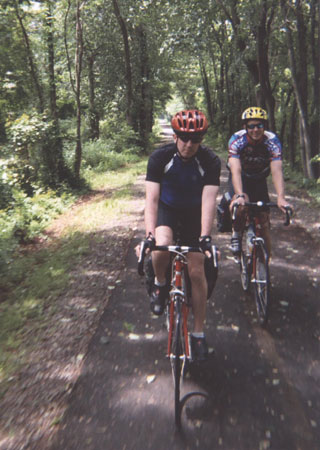 On the W&OD Trail near Leesburg...another over-the-shoulder shot.
In Leesburg we got into some heavy traffic looking for the motel, but we survived. I found a bike shop and had my broken spoke repaired. Once again we ate massive quantities of food.

---
Intro | Day 1 | Day 2 | Day 3