Dry Run: Day 1
17 April 2004
Ellicott City, MD to Thurmont, MD
52.5 miles, 4h06m, 12.8 mph
Elapsed Time: 5h28m, Max speed: 42.7mph
Total Climbing: 3219ft, Max elevation: 874ft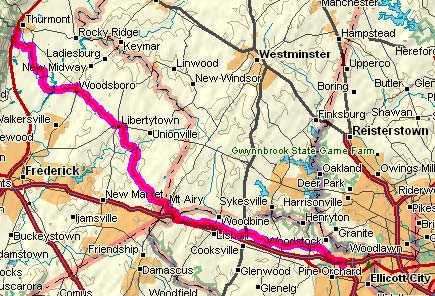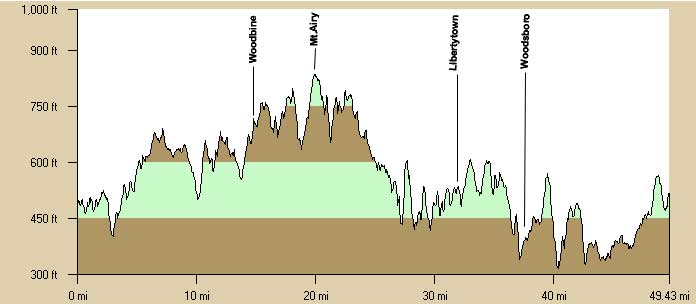 ---
We thought that it would be a good idea to try out our fully loaded touring bikes on a weekend trip. That way we could get the feel of the extra weight and find out how much harder we would have to work. And we could take this opportunity to gauge our fitness.

Neither JT nor I were in very good condition. Although I had lost 20+ pounds since February, I had hardly ridden in the three weeks prior to this ride because of illness, bad weather, and laziness. He hadn't ridden because of work demands and chronic procrastination. Unfortunately, JT couldn't make it on this ride either because of work.

So, on a beautiful Saturday morning I drove myself to a nice neighborhood in Ellicott City and parked my car in front of a friend's house. (He came out but I refused to move.) After about a half hour of fiddling with my front rack I managed to load all my gear and start riding westward on the Old Frederick Highway (MD99).

I was carrying all the crap I intended to take with me down the Pacific Coast. Piles of clothing, extra clothing, a tent, sleeping bag, sleeping pad, ground cloth...everything except a cable and lock. My original plan was to ride to Catoctin Mountain National Park and camp in the Owens Creek Campground, which has sites that are available on a first-come basis. But since this was the first weekend of the season that the campground was open, and because the weather was supposed to be beautiful, I figured that the place would fill up long before I could get there. So I made reservations at the Super 8 in Thurmont as a back up.

By the time I actually started riding, I decided that I would stay in the motel and just haul my camping gear for the shear thrill of it. I still planned to ride up Catoctin Mountain on a little-used back road that I had previously scouted. Then I would ride past the campground and back down the mountain into Thurmont. Then I started thinking that I should instead ride to the campground and then climb further up the mountain and ride past the entrance to the Presidential retreat at Camp David (which is inside the park).

It didn't take long for my ambitious plans to be scrapped. The bike seemed much heavier and less stable then it had been on the East Coast ride. My trunk bag interfered with my pedal stroke. My seat wouldn't stay in position. It kept slipping back and pointing the nose of the saddle up. I stopped at a neighborhood park and repositioned some things and tightened some other things. The trunk bag problem improved but the saddle thing kept bugging me all day. I got used to the stability thing.

The traffic was heavy on Old Frederick Road (but there was usually a good shoulder) until it crossed MD32. Then the traffic went away and so did the shoulder. I passed some cyclists riding the other way that asked me if I was going across the country. I told them I was going across the county.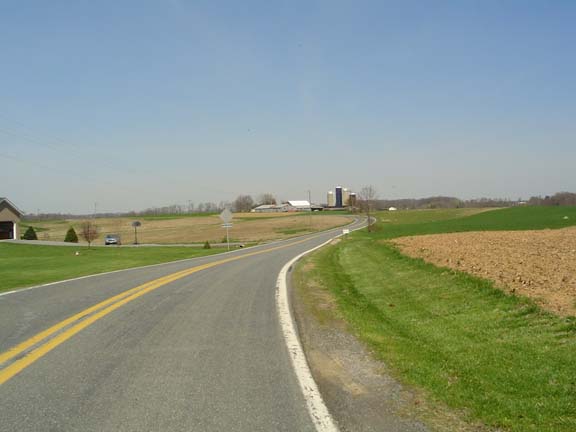 Old Frederick Road


I stopped for lunch at a convenience store in Woodbine but I didn't really buy any lunch. I grabbed various healthy-looking bars and some orange juice, some of which I ate and some I stashed away for later. There were some other cyclists there and I briefly spoke to one of them about my ride. My highest altitude on the ride came a few miles later in Mt. Airy, where I stopped to adjust my seat and to eat another bar.

The terrain in this part of Maryland consists of a series of low ridges that gradually gain elevation until they turn into the Appalachians west of Frederick. To this point the ridges were not too steep (except for a short 11% climb near MD97). But west of Mt. Airy everything got harder. It was all up and down steep little hills, in and out of small stream valleys. This didn't change when I turned north on Old Annapolis Road, but I did pick up a tailwind. I was very lucky that I didn't have to face the normal westerly winds that predominate across Maryland. With any luck I'll have the tailwind tomorrow for my return.

I turned off of Old Annapolis Road onto a little narrow unsigned road called Kimmel Road. It led to Glissans Mill Road and a small crossroads called Linganore. There I spotted several turkey vultures (I think) hanging out in a creek.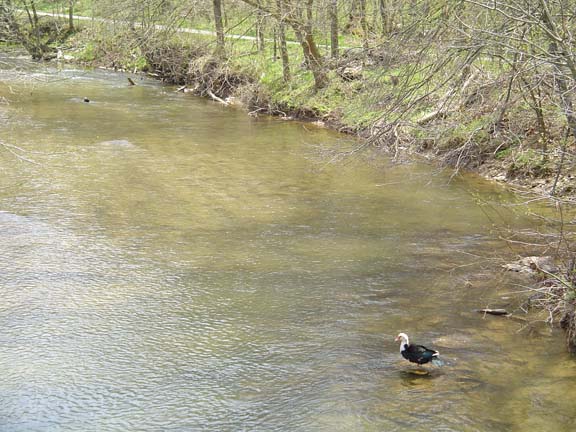 Vultures in Linganore


To get away from the vultures I turned left on Dollyhyde Road, which began with a 15% grade for about a quarter mile. It was nasty. Later I came whipping around a turn on a descent and started another steep climb. I couldn't get shifted down into granny and I came to a stop. For the first time in many years I walked up a hill. I'm not sure that it was any easier then riding. At the top I took a break and adjusted my seat again.

Soon I was in Libertytown, which seems to have some kind of antique furniture thing going. I didn't stop and turned right onto MD550. This was a mistake. The road was wide and mostly downhill, but had very little shoulder. Within a couple of minutes I met my only two idiot drivers of the day. The first were some kids in an SUV who yelled something at me that I couldn't understand. The next was a full-sized pickup who layed on the horn and tried to scare me off the road (it didn't work). Neither of them was held up by me at all. They were simply assholes without a cause.

Eventually I rolled into Woodsboro, where I stopped at a convenience store and grabbed some more snacks and fluids. I figured it would be easy from here on in. Then I started riding on Gravel Hill Road. It wasn't much of a hill but I was starting to wear out. About this time I decided that I would ride straight to the motel and forget all the mountain climbing. There was a nice descent on Gravel Hill Road, and I reached my high speed of 42.7mph.

As I approached Thurmont the hills disappeared and I tried to follow roads that paralleled streams. There was still some up and down but nothing too hard. I reached the motel at about 4pm and checked in. They gave me a smoking room and they were full so I couldn't change. Oh well, at least I could light up if I suddenly decided to change my lifestyle. Then I walked down to a nearby family restaurant and filled up on their buffet. I couldn't resist stopping by a convenience store on the walk back and buying some low-carb ice cream. Mmmm...chocolate peanut butter.

---
Previous | Next

---
"JT and BC's 2004 Pacific Coast Ride" Copyright © 2004 By Bob Clemons. All rights reserved.