Day 13
Thursday, 19 Jun 2014
Dayton, OH to Covington, KY
84.4 miles, 4h16m, 12.2 mph
Elapsed Time: 8h44m, Max speed: 23.6mph
Total Climbing: 2606ft, Max elevation: 997ft
Total mileage: 927.2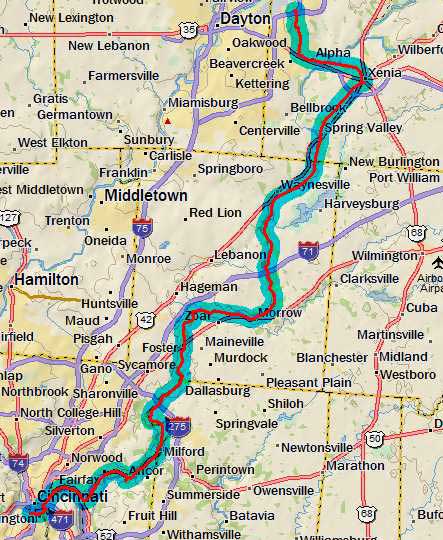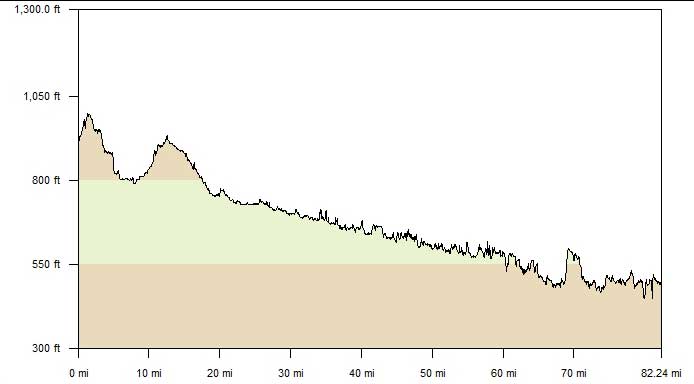 ---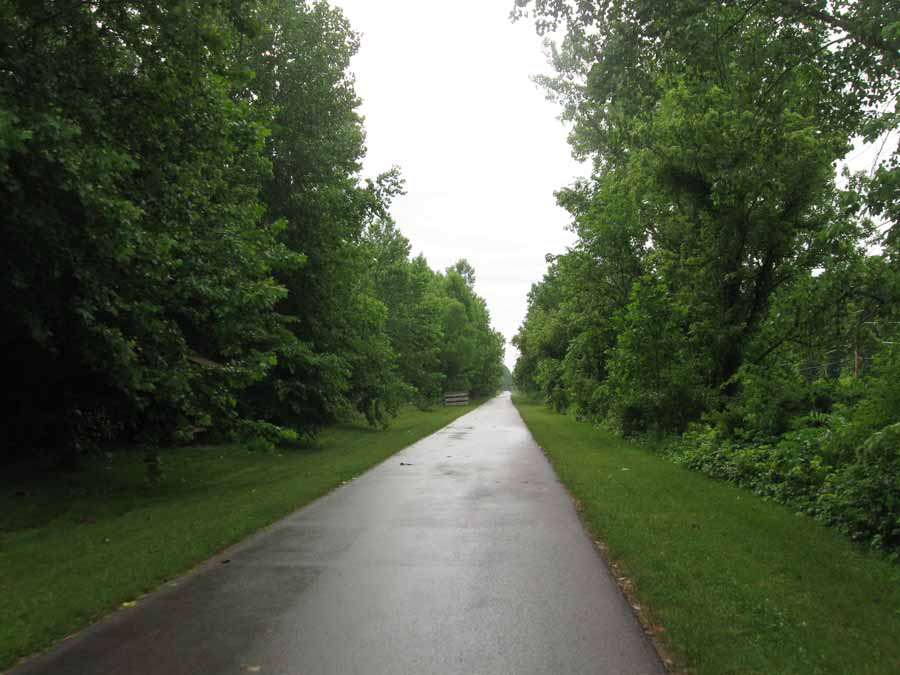 There were some nasty thunderstorms overnight in Dayton, and a few more expected in the morning, so I bolted
at my normal time and headed south. It worked--I didn't get rained on. By the way, this is the Creekside Trail to Xenia.
I have to say Ohio does a great job with their trails.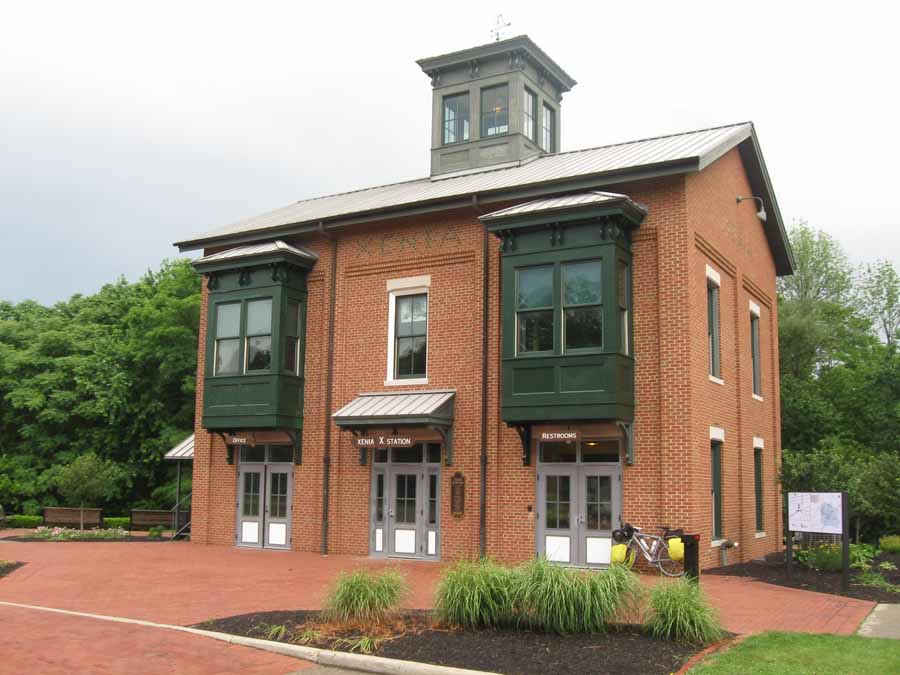 The Creekside Trail links up with the Little Miami Trail at Xenia Station. Just like in the old days when
they were railroads.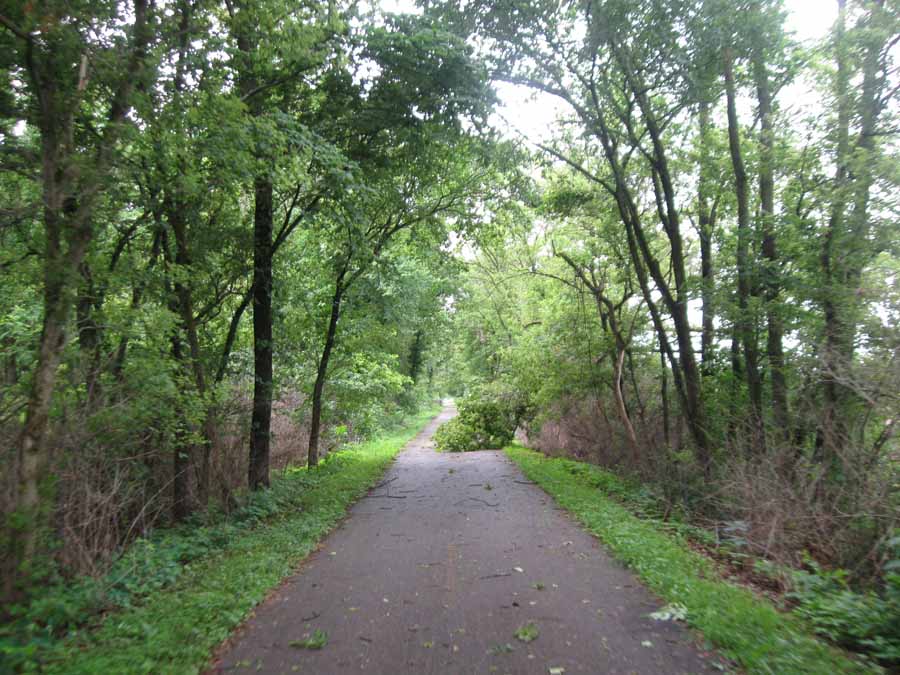 Lots of sticks and debris on the trail from last night's storms. I stopped and talked to a couple guys who were
riding the trail all the way from Cleveland. It's pretty cool that Ohio has such an advanced rail-trail network. They agreed
that staying in motels is the way to go because "it's all about the riding."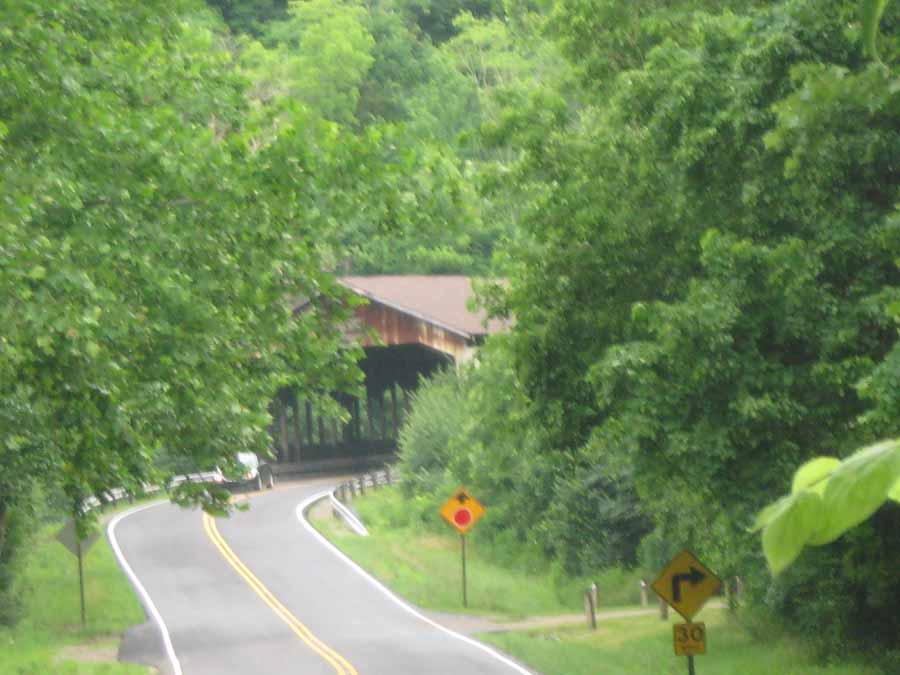 A glimpse of a double-wide covered bridge. How could that be vintage? More like a barn with a road
going through it. And the floor is paved? I call shenanigans.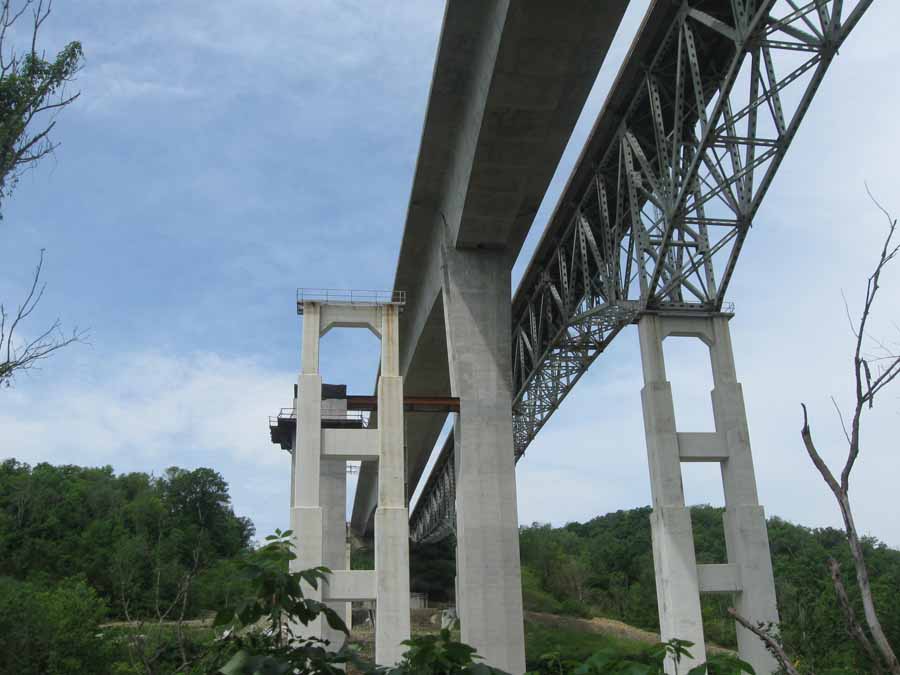 Looks like a new bridge. But which one is new?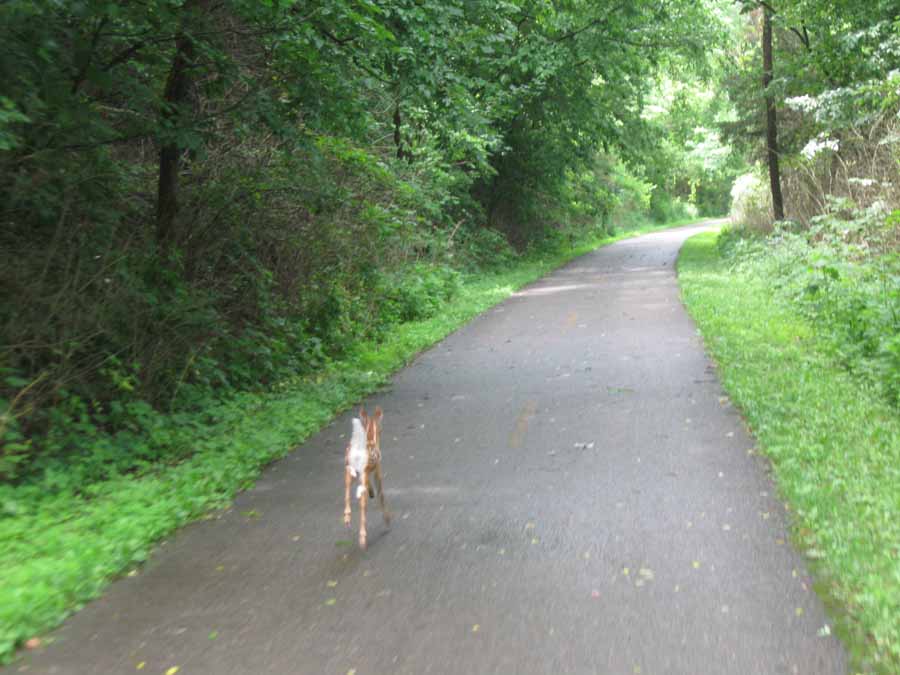 This fawn couldn't decide whether to go left or right, so she just went straight--for like half a mile.
Towards the end I think we both knew I could pass her if I wanted to. Then she chose right.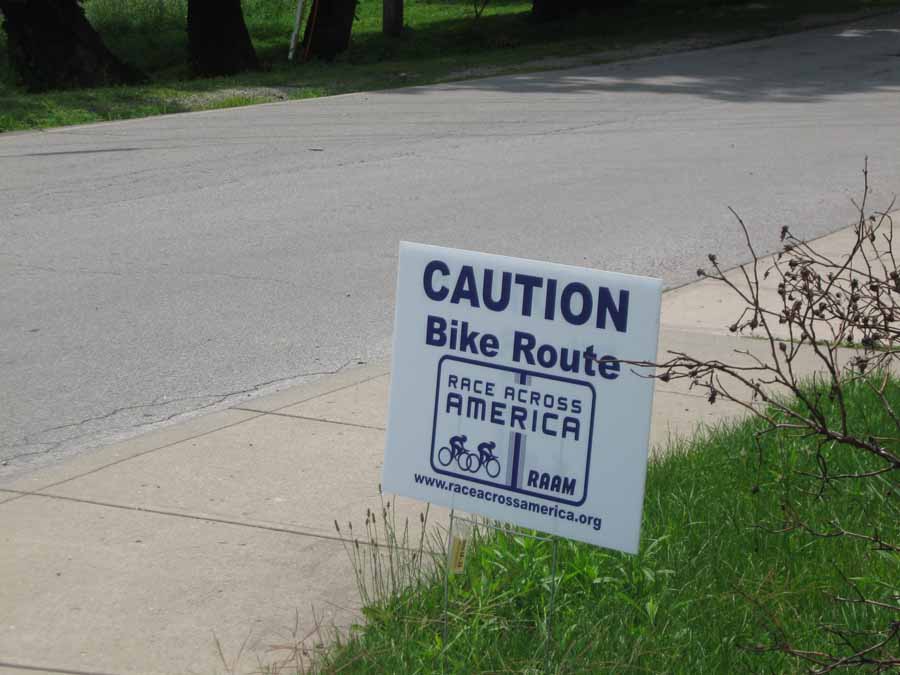 I crossed the RAAM route at Morrow. I didn't see any racers--though several did pass through here today.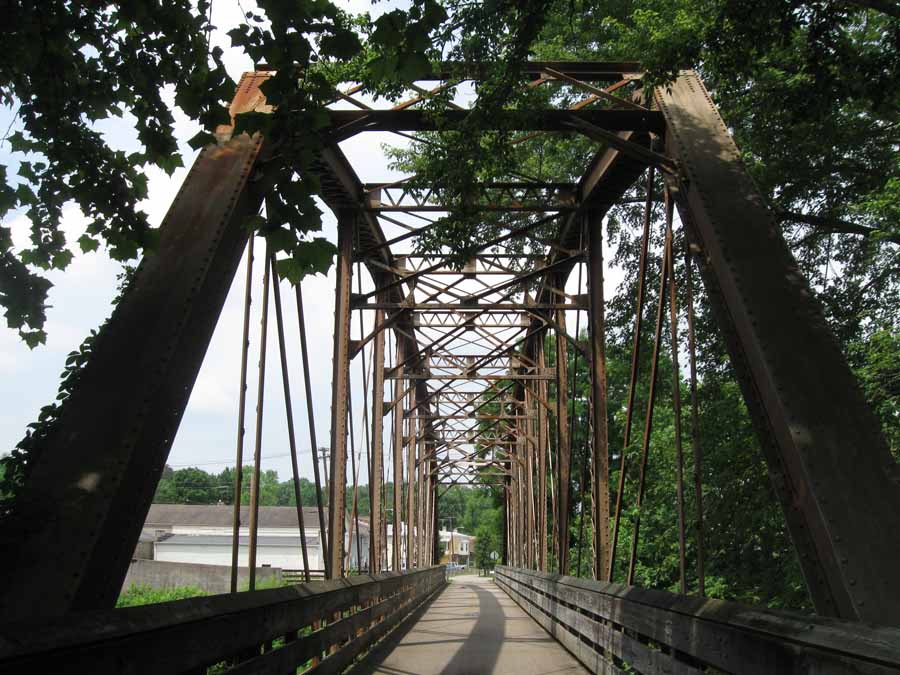 I ate a gas station deli sandwich for lunch at Morrow--which was kind of a mistake. I should have waited until I got to Loveland--which has many outdoor pubs.
As I sat here eating my sandwich, I was told by a dude passing by with a fishing reel and an 8-pound catfish, that I should not stay in motels and
I should camp out on the side of the road because it's too expensive to stay in motels.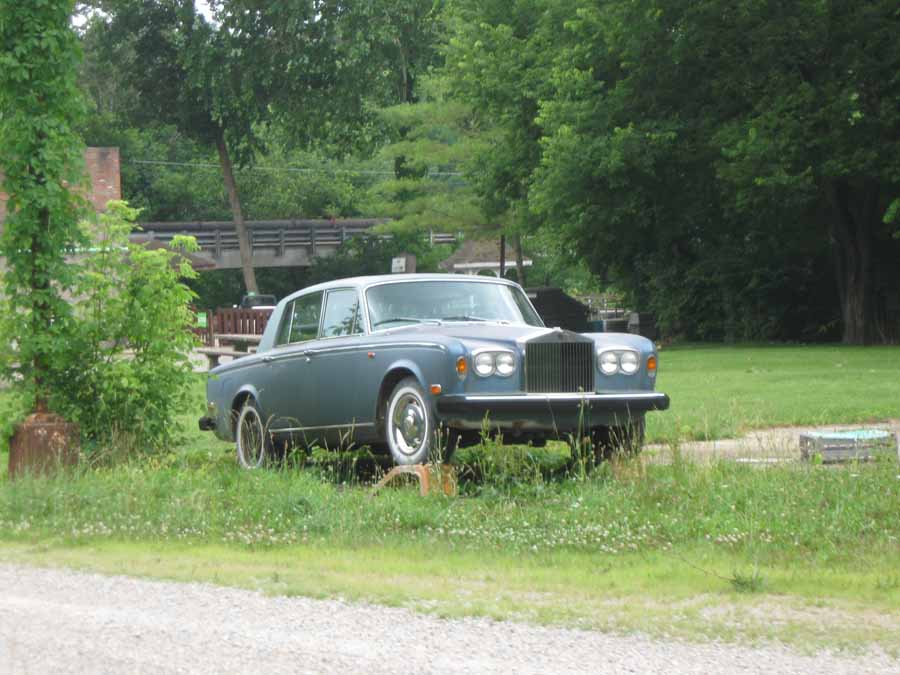 That guy said he lives on the trail. I wonder if this is his Rolls up on blocks.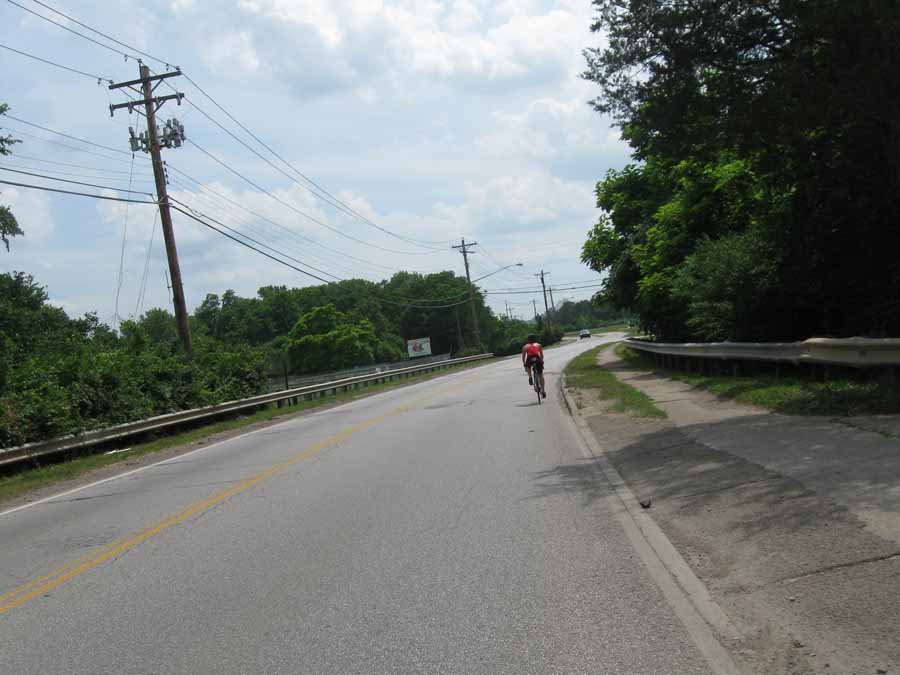 The Little Miami Trail ended in a golf course. No signs. No "good luck, you're on your own!" Nothing.
So I got onto US 50 and climbed into Mariemont. As I sat at a traffic light I heard a bike stop behind me.
I asked the rider if she knew how to get to downtown. Susan led me through the backstreets and pointed me
in the right direction--a huge help. I was a little relieved when she turned off to go home--I'd had to work pretty hard to keep up.
I hope I didn't slow her down too much.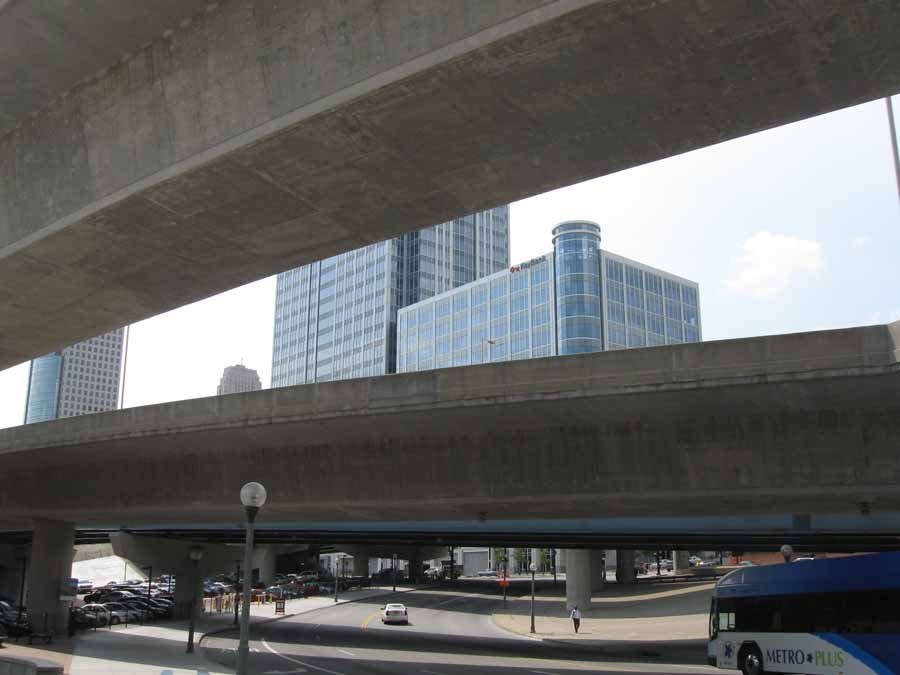 Beautiful downtown Cincinnati.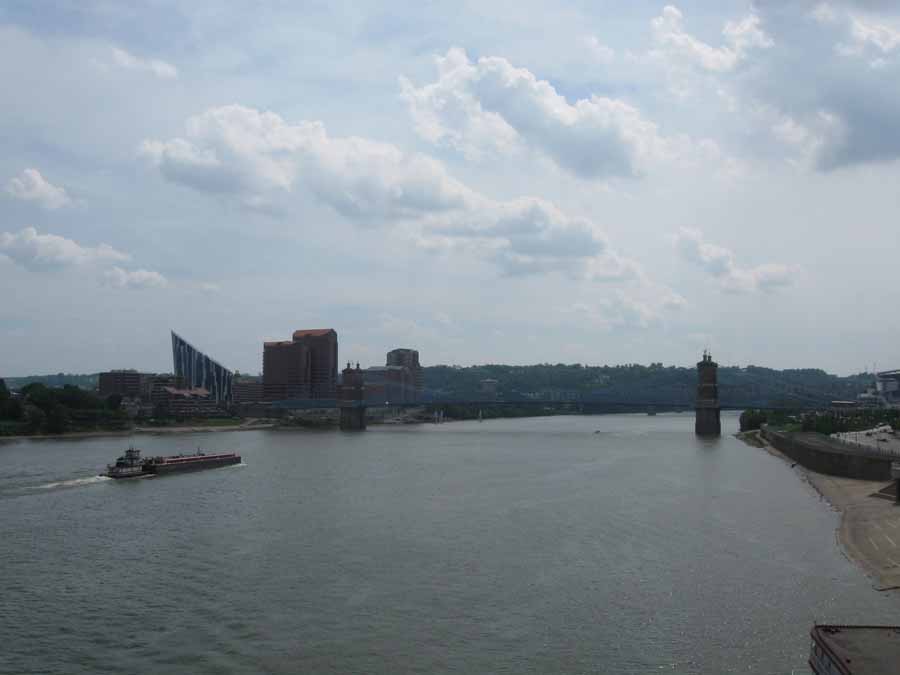 I crossed the Ohio River on the third of the five bridges into Newport, Kentucky. I believe this is my
3rd crossing of the Ohio by bicycle.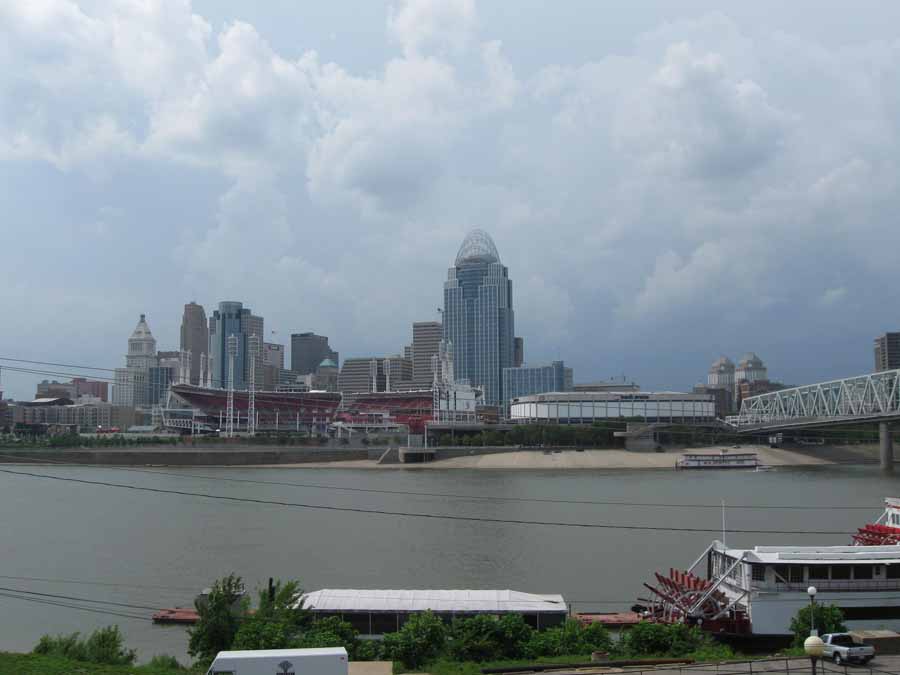 Looking back at Cincinnati from the top of the levee in Newport.
After a shower I took a shuttle back over to Cincinnati.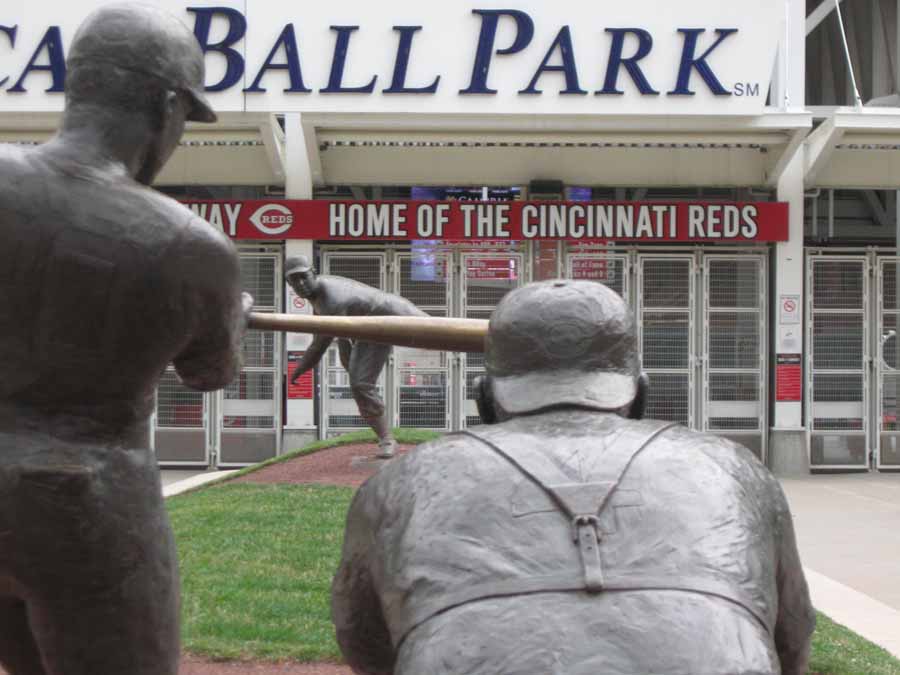 The Reds Hall of Fame outside Great American Ballpark. An umpire's-eye view of Joe Nuxhall pitching to Frank Robinson with Ernie Lombardi catching.
This is part of a tribute to Crosley Field--the Reds home until 1970.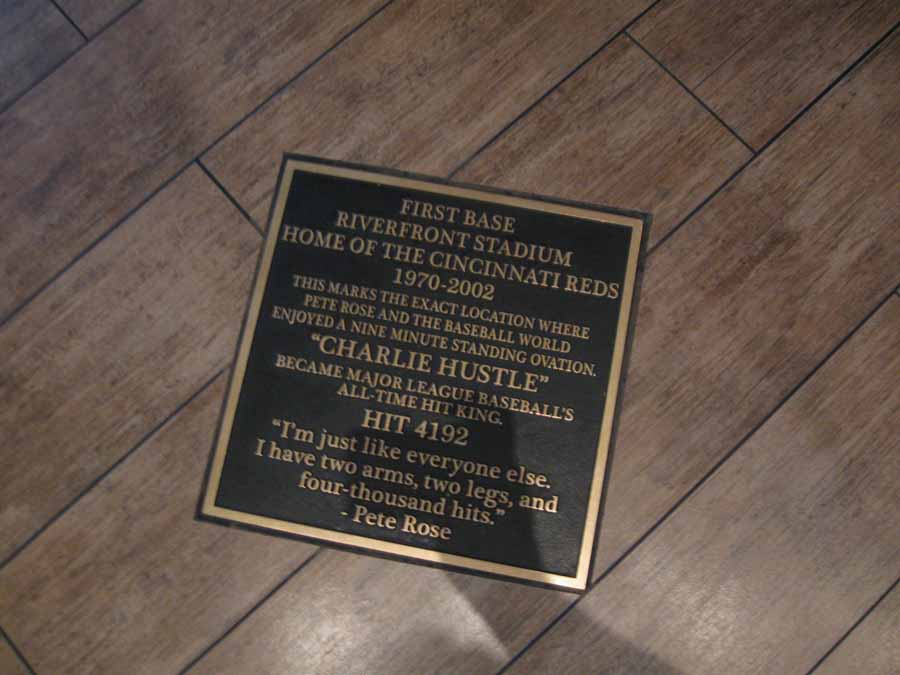 I went to the Morlein Lager House for dinner. First base from Riverfront Stadium is right in front of the hostess station.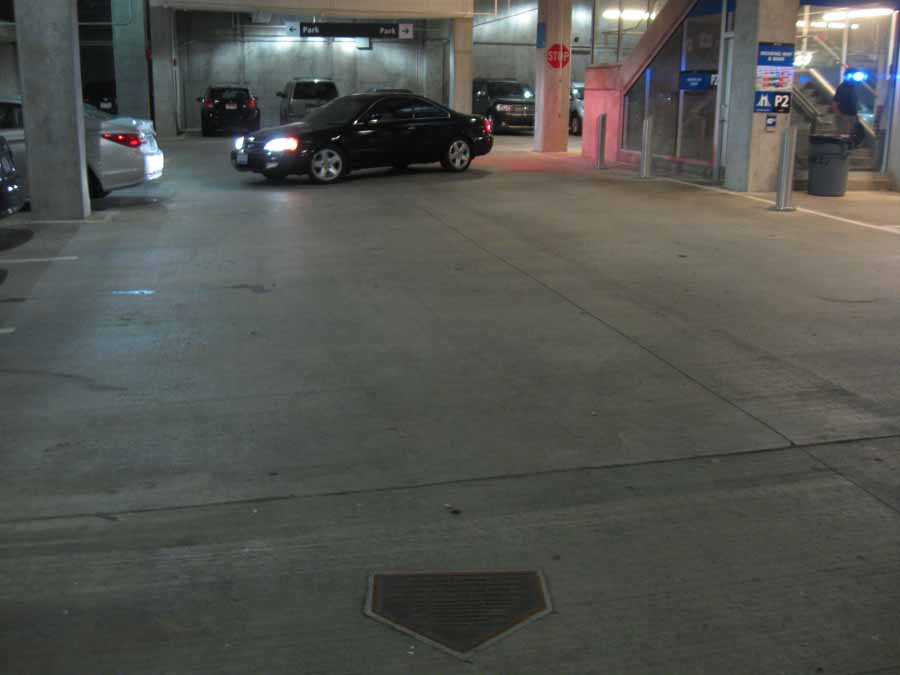 Home plate is 90 feet away...and two stories below...in the parking garage. That dude pulling out of the parking space
totally ran over the plate on his way home...as is only proper.
---
Next
---
"Old Northwest Tour 2014" Copyright © 2014 By Bob Clemons. All rights reserved.