Day 11
Tuesday, 17 Jun 2014
Gas City, IN to Richmond, IN
71.6 miles, 6h14m, 11.4 mph
Elapsed Time: 7h47m, Max speed: 32.7mph
Total Climbing: 2179ft, Max elevation: 1172ft
Total mileage: 791.2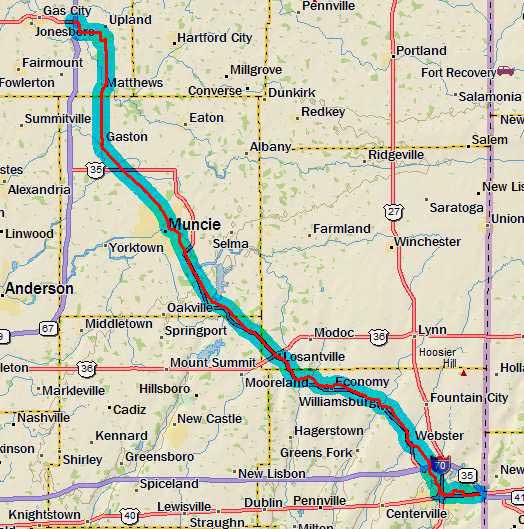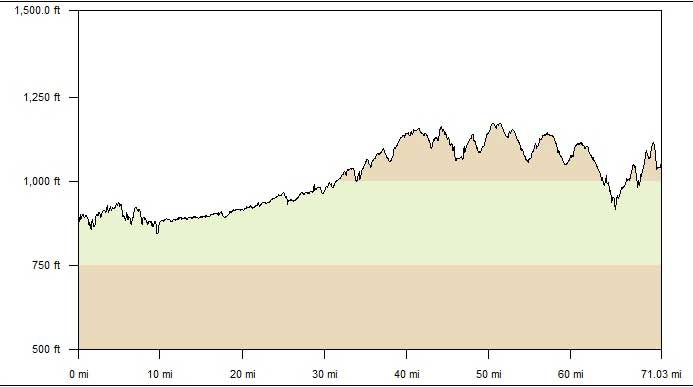 ---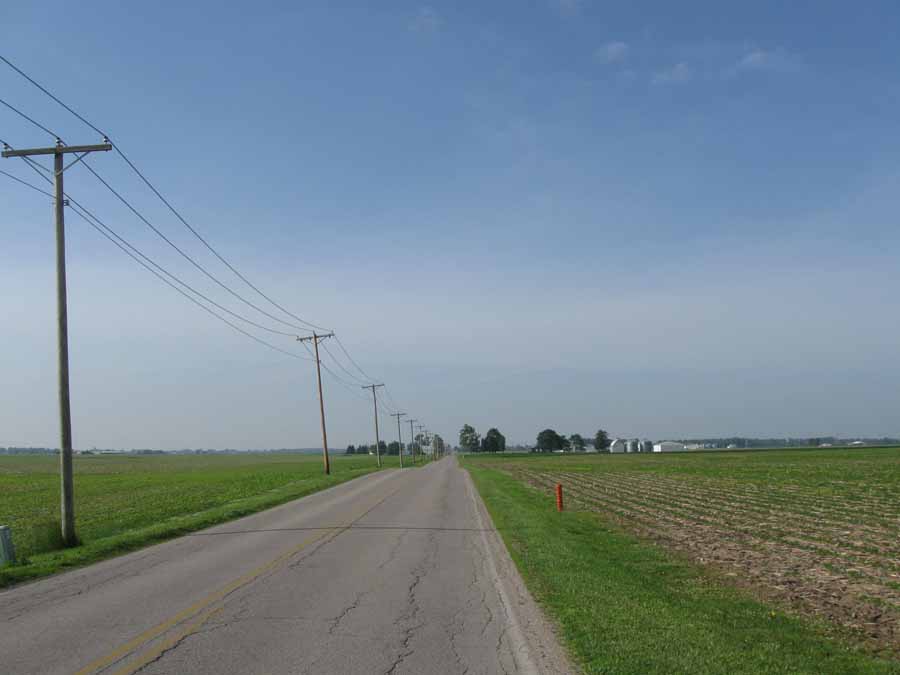 I rode 15 miles from Gas City to Gaston (no relation) to pick up the Cardinal Greenway Trail. In Gaston I met a kid who decided to ride his
mountain bike to Charlotte, NC. He had gear piled up almost to the height of his head--pots and pans, a sleeping bag, tent. His rear rack was fashioned from a crutch.
The whole pile was held together with zip ties and bungie cords. I tightened a couple of his spokes, showed him how to adjust his
derailleur, and helped him pump up his rear tire. I hope he makes it.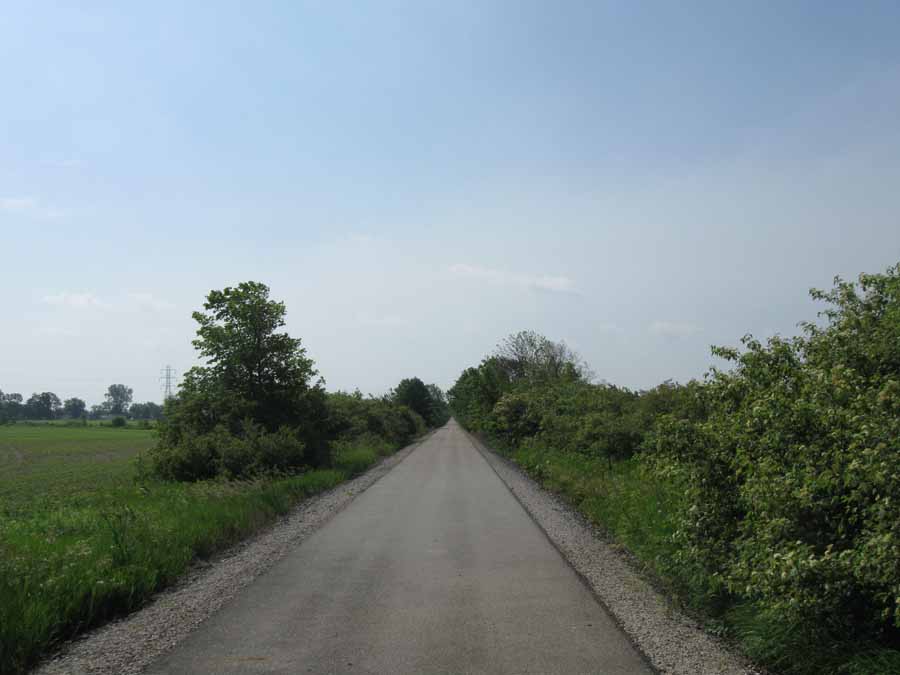 Now this is a nice path. The winds were often screened by the bushes, so that wasn't so bad.
The worst thing was the long railroad-grade climbs. The highest point in Indiana
is somewhere around here.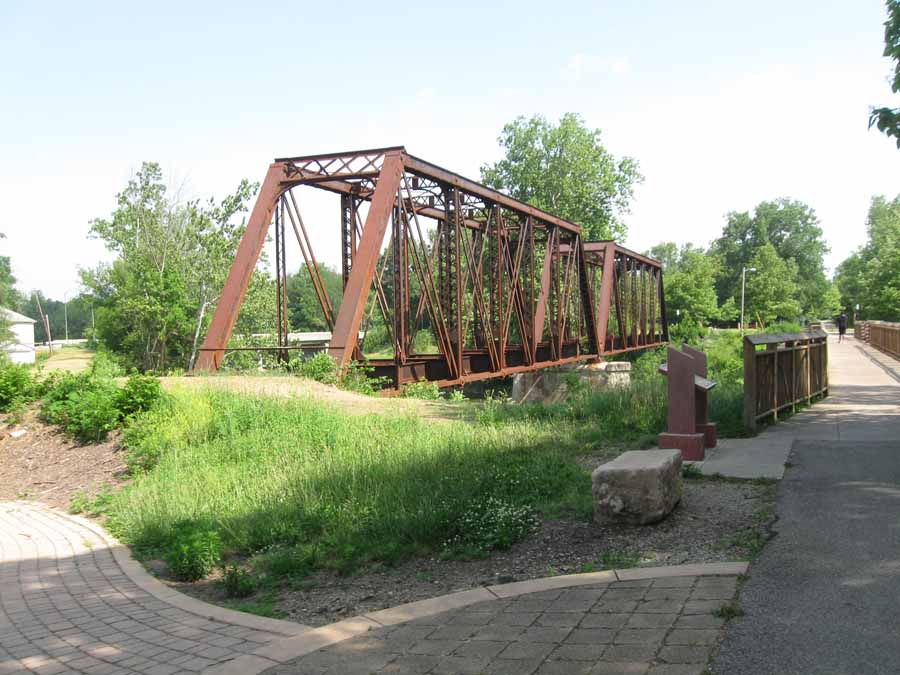 I rode through Muncie, Indiana without seeing anything of the town. To me, this is it. I didn't even stop to
take the picture.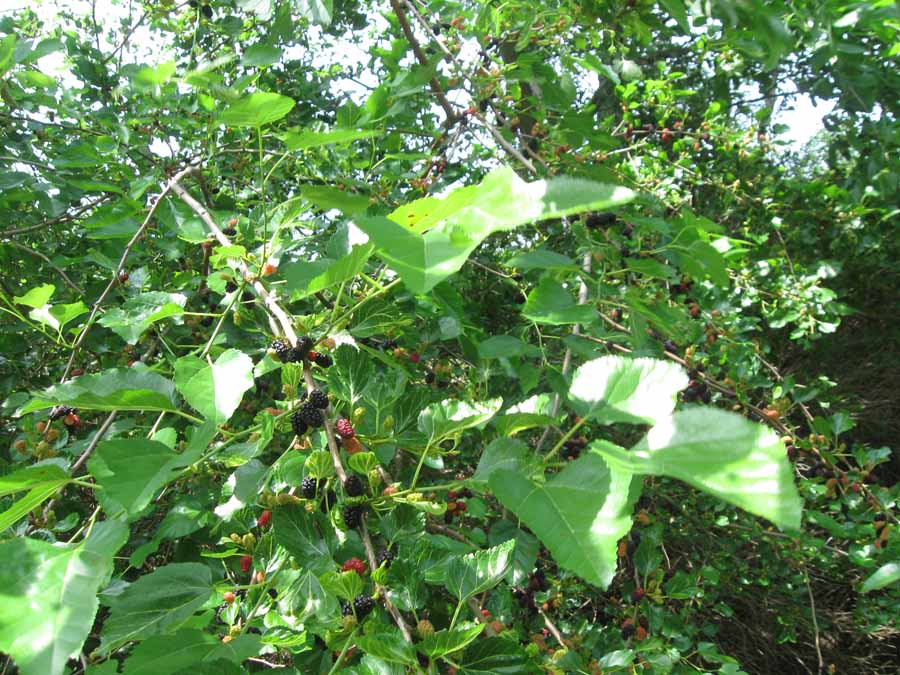 There are restrooms along the path, but very little food. Fortunately the mulberries are plentiful and ripe. I was
able to grab some without stopping. There were so many on the pavement that the bottom of my
bike is purple.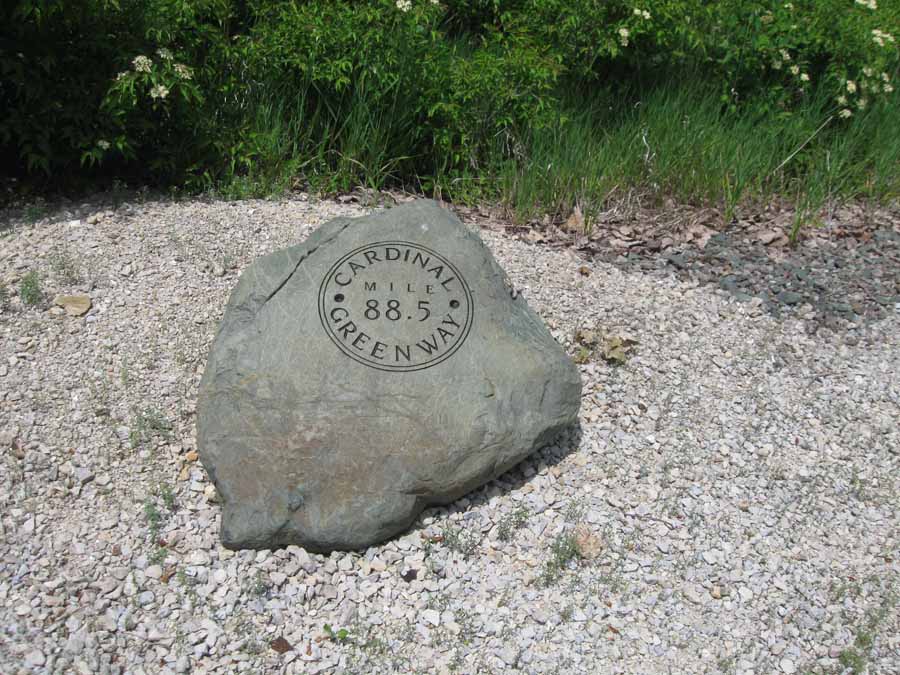 There is one of these every half mile. Although I passed about a hundred of them, I never actually stopped to
take a picture. Just kept moving.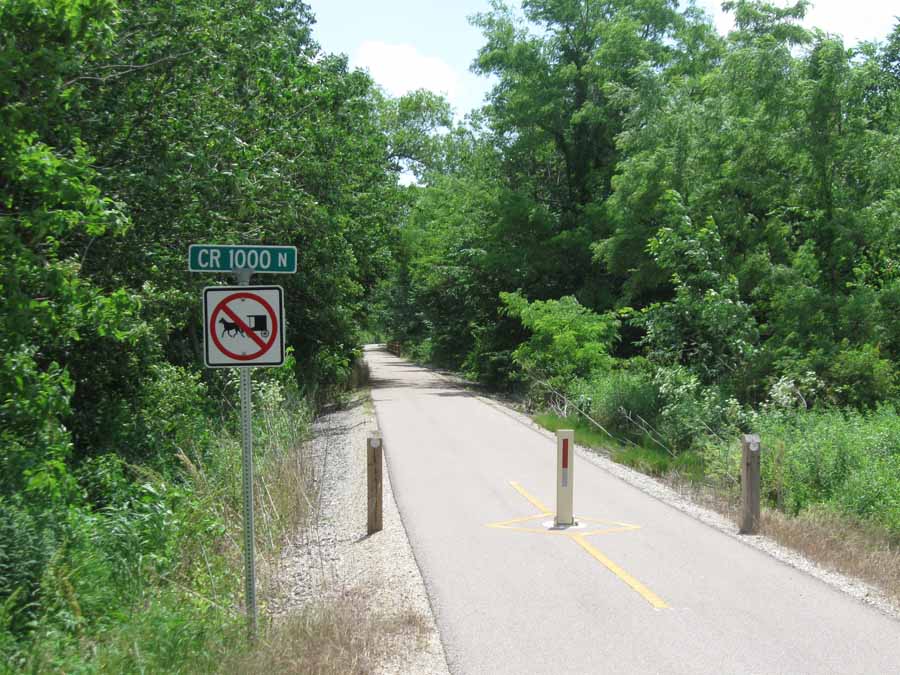 Apparently they've been having some problems with the Amish joyriding on the path.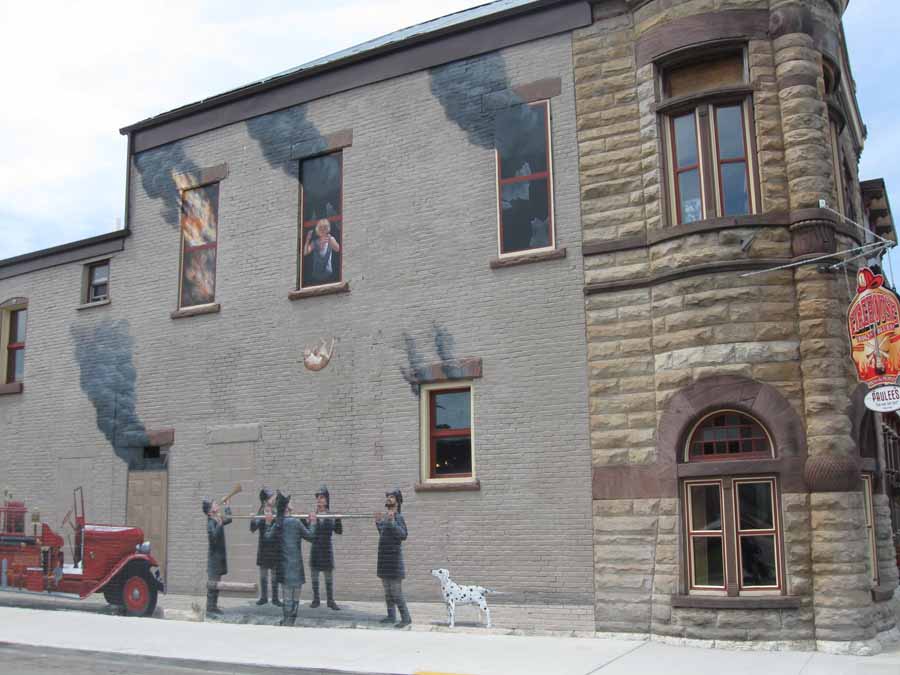 Finally, the trail ended in Richmond. This mural is painted on the side of a blues club made from an old firehouse.
I passed a Model T Museum in Richmond, but I'm pretty sure all Model Ts look the same--except that they
can be any color as long as it's black.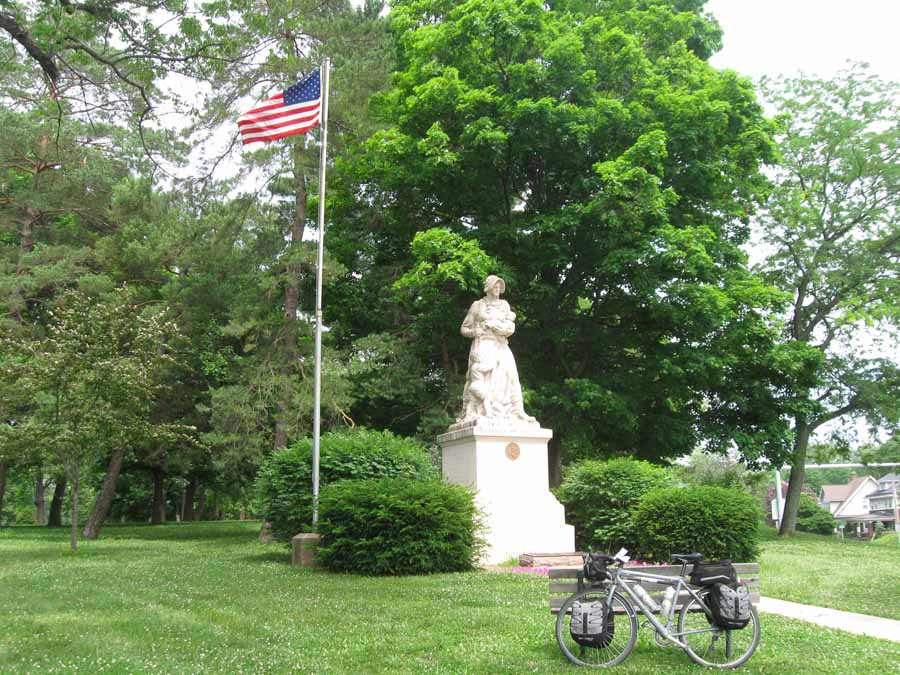 There is a Madonna of the Trail in Richmond. There are 12 of these in the US. The only other one I've seen is in Lamar, Colorado.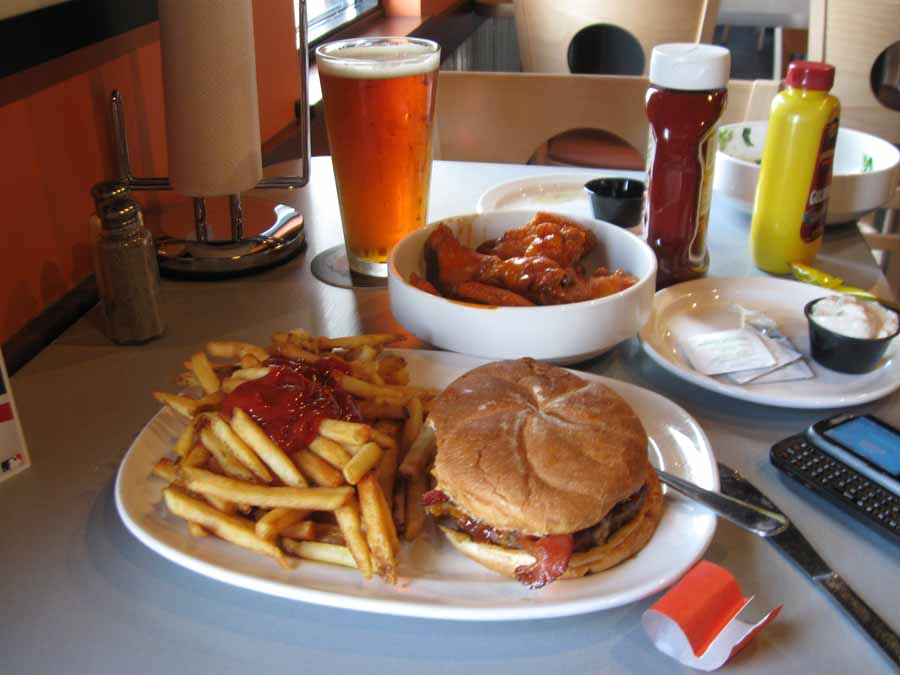 I made my way across town, did my laundry, and walked across the street to Buffalo Wings & Rings--a place the specializes in, well wings and onion rings.
A little weird. I had to ask for the blue cheese dressing, and there was no celery or carrots with the wings. What manner of wings place is this?
Burger was really good, though.
---
Next
---
"Old Northwest Tour 2014" Copyright © 2014 By Bob Clemons. All rights reserved.