Day 13
Wednesday, 4 June 2008
Natchez, MS to New Roads, LA
83.4 miles, 7h45m, 10.7 mph
Elapsed Time: 9h27m, Max speed: 33.1mph
Total Climbing: 680ft, Max elevation: 210ft
Total mileage: 778.2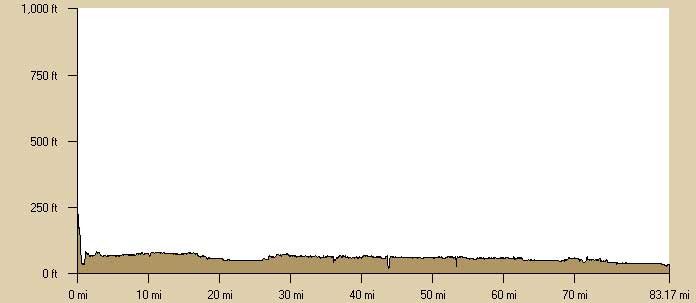 ---

Eighty miles, totally flat terrain, why so slow? Nasty, nasty headwinds and nasty, nasty heat...but mostly the headwinds. This was without a doubt one of the most difficult days of cycling ever for me. The wind was unrelenting and it just sucked the moisture out of me. I almost ran out of water and actually asked someone for help.

The day started in Natchez with a brisk run down the hill and across the bridge into Louisiana. Naturally the westbound bridge is the old bridge with no shoulder, but I just put my head down and hammered across, no problem.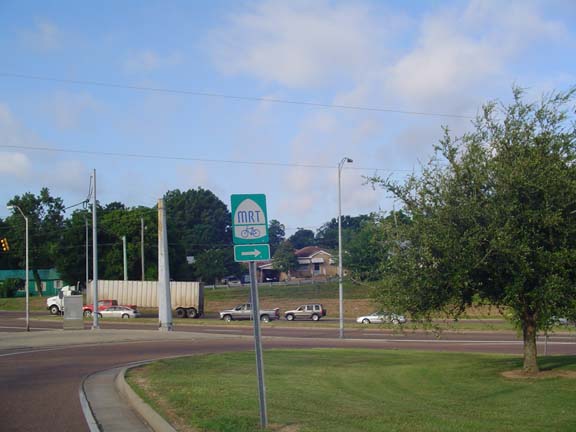 There was an MRT sign right across from my hotel.

(That would be Mississippi River Trail.)


Most of the miles today were on the side of the Mississippi River levee. I had only a very few glimpses of the actual river, and the scenery quickly got old. Mostly I just stared at the road and tried to find a smooth path. Because of the wind, I couldn't always hear when a car or truck was coming up behind me, so I stuck to the shoulder (I don't like mirrors...I'm afraid I might not have a reflection...you know, I'm most of the way through law school and could lose by soul at any time).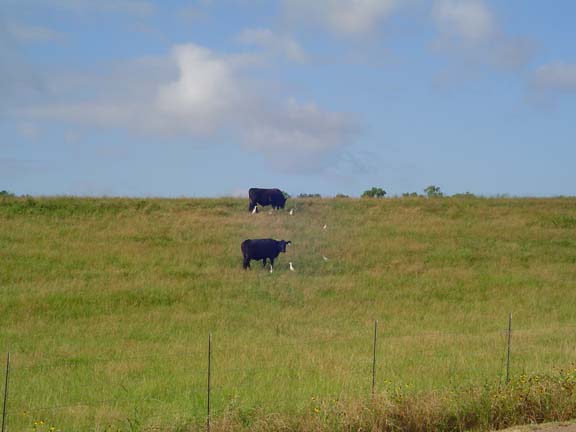 Cows and their pet birds on the levee.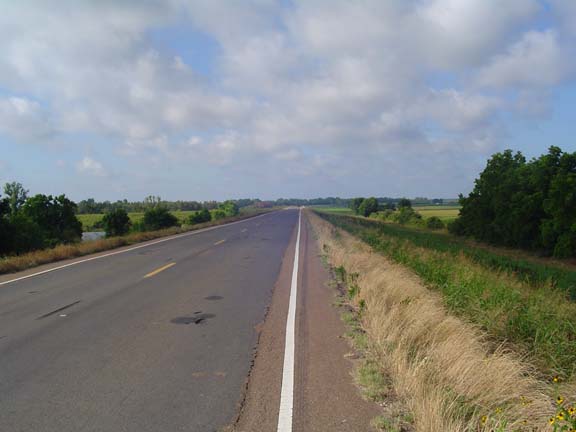 Riding on the levee. That grass is bending straight at me.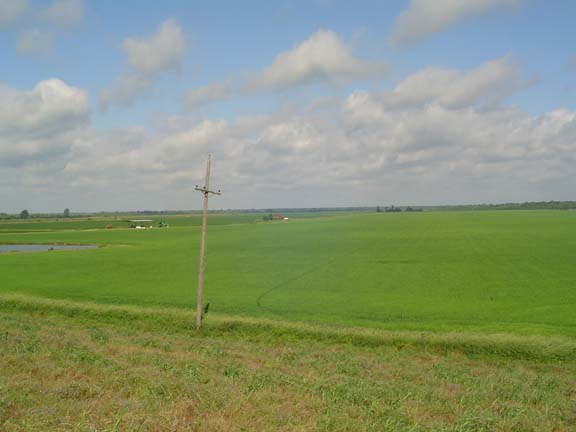 Looking inland from the levee.


There was supposed to be a store at a place called Deer Park, but it looked like the place had been closed for some time. I didn't expect another store until about mile 60, so I instituted water rationing. I had started the day with an extra bottle of Powerade (due to a fortunate malfunction of a vending machine), but I wasn't sure I had enough. The wind was really slowing me down and making me work hard.

At around mile 40 I began encountering massive river control structures. The first one had a visitor center, but it was closed and locked. A guy eating his lunch in his truck told me they had water at one of the other buildings a couple miles down the road. So I rode down to the next massive river control structure and found the building, but it had a gate and security and stuff, so I rode on.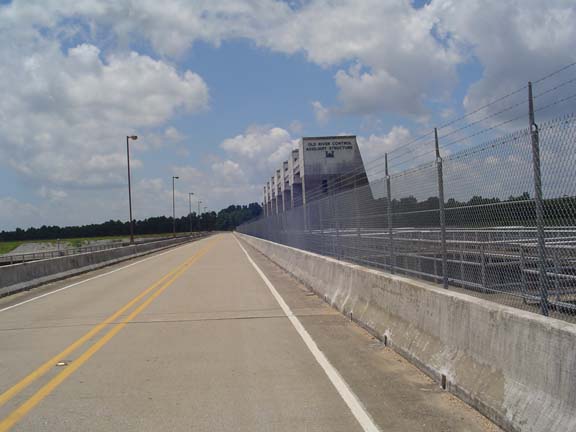 Not sure which massive river control structure this is.


Finally, I came across a third massive river control structure. This time I was really worried about water so I pressed the button on the security gate and a woman came out. I asked for water and she said they don't drink the water here, but she offered to give me a couple of bottles of water. So I took them and felt a little better about my ability to make it to the next store. She said that would be about 6 miles, but I think it was farther...we may not have been talking about the same store. Anyway, we talked about my ride through the gate for a while until her boss drove up and chased her back into the office.

After several more miles of riding into the wind I finally reached the town of Innis and its grocery store. I went in there, grabbed a basket, and just kept putting bottles of fluids in there until it weighed about 15 pounds. Then I added a few apples. I sat in the shade of the building and gorged on water, Vitamin Water, Gatorade, Iced Tea, Yoo-hoo, and some other unidentified fluids...and I ate two apples. I filled my water bottles and stashed four other bottles in my trunk bag. I was not going to run out of fluids. There were only about 20 miles to go, but I was not going to run out. Nope.

There was another store in the next little town, which was, like, two miles away. I stopped and drank one of the bottles I was carrying. Then I came to the massive Morganza river control structure.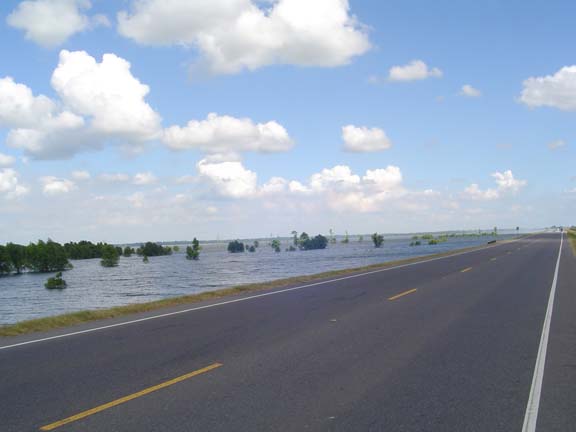 I guess they dump water into that flood zone.

The most exciting part was the sprint across the shoulder-free spillway dam (remember this was into a headwind). I got really lucky and didn't encounter a dual truck crossing issue, but it seemed like I was on that thing forever.

I stopped in the town of Morganza and bought a couple more bottles of Vitamin Water for the final push to New Roads. The last section just went on and on and finally I reached the motel. After I cleaned up I walked to a nearby pizza joint and brought back a large pepperoni. I may save a few pieces for breakfast.

---
Next
---
"NatchezTrace Tour 2008" Copyright © 2008 By Bob Clemons. All rights reserved.