Day 9
Saturday, 31 May 2008
Kosciusko, MS to Jackson, MS
71.5 miles, 5h52m, 12.2 mph
Elapsed Time: 7h43m, Max speed: 28.5mph
Total Climbing: 1016ft, Max elevation: 427ft
Total mileage: 563.1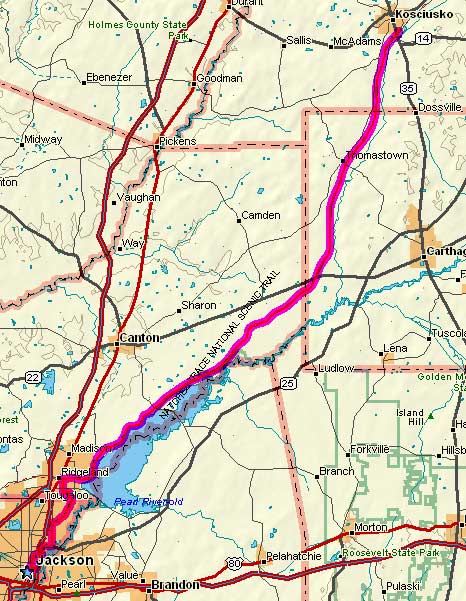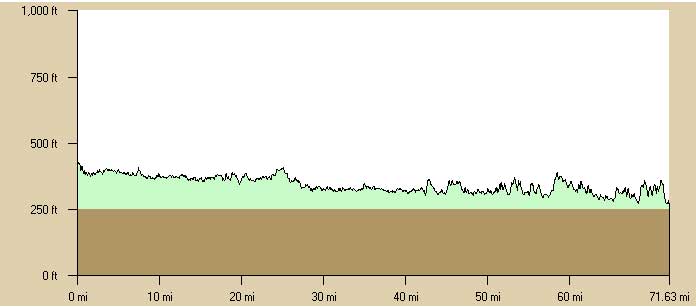 ---

I slept a solid 10 hours on Friday night, and was still out the door by 7am. It was a beautiful day for riding. Sunny, warm, even a slight headwind to cool me off. The road was mostly flat and mostly good.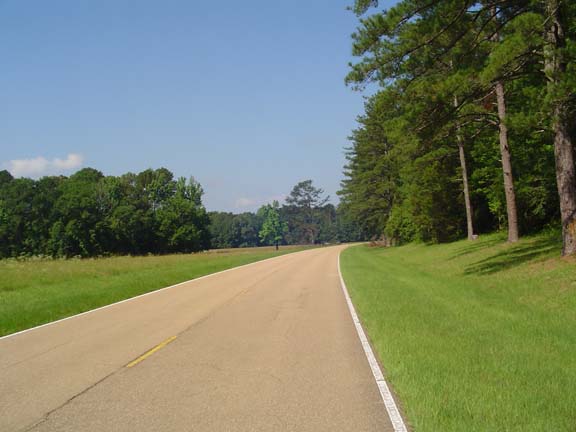 It looked like this most of the day.


There were a few historic sites and nature trails. I took a short nature walk to see a beaver dam. It was so feeble-looking that I would be embarassed to show the picture on this website (Okay, so it was blurry). I didn't see any beavers either...maybe Saturday is their day off. I did see (and feel) many, many mosquitos.

I skipped the first store beause it was too early for lunch. The second store was closed, but a sign outside told me to go to "Frank's," just 900 feet away for beer, ice, and bait. I decided I didn't want to ride 900 feet unless I knew the bait would be tasty. So I never did eat lunch.

The traffic started to pick up as the day went on. Lots of power boats headed for the Pearl River.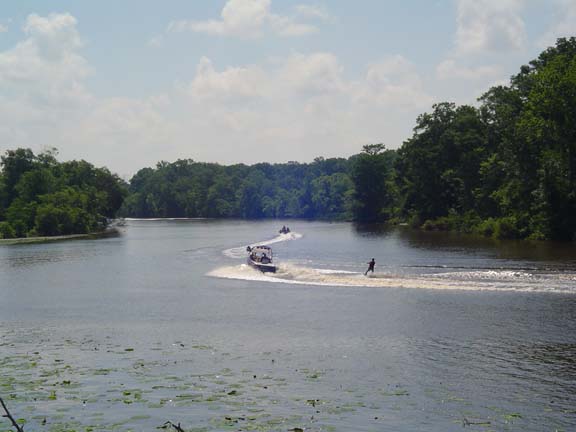 Waterskiing on the Pearl River.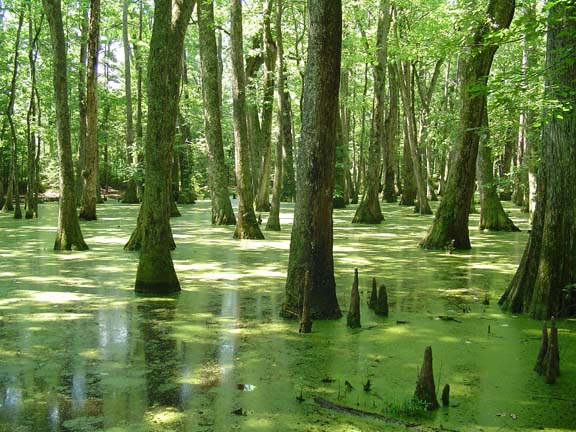 Here's another one of those cypress swamps.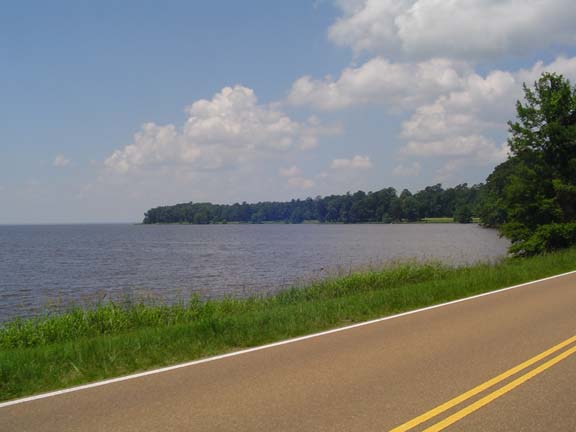 Here's the Ross Barnett Resevoir.
I came across another rider near Jackson. John was out for a weekend ride on the Trace. We talked about bikes for a while and then rode toward Jackson together for a while. Then John peeled off to attack a Chinese buffet. He warned me about the crappy streets of Jackson.

It took my about an hour to work my way through town to my downtown hotel. Unfortunately, there's no good food--or anything interesting at all--within walking distance of this place (at least walking distance on a 90 degree day). So, I've decided that I will ride tomorrow, but only across town. This will save me from having to ride across the city during the morning rush on Monday, and I'll get to see the downtown sights on a traffic-free Sunday.

I ordered dinner from a place that delivers steaks. It was good.

---
Next
---
"NatchezTrace Tour 2008" Copyright © 2008 By Bob Clemons. All rights reserved.