Day 7
Thursday, 29 May 2008
Tupelo, MS to Jeff Busby Campground, MS
80.2 miles, 6h39m, 12.1 mph
Elapsed Time: 8h37m, Max speed: 23.9mph
Total Climbing: 1709ft, Max elevation: 562ft
Total mileage: 451.9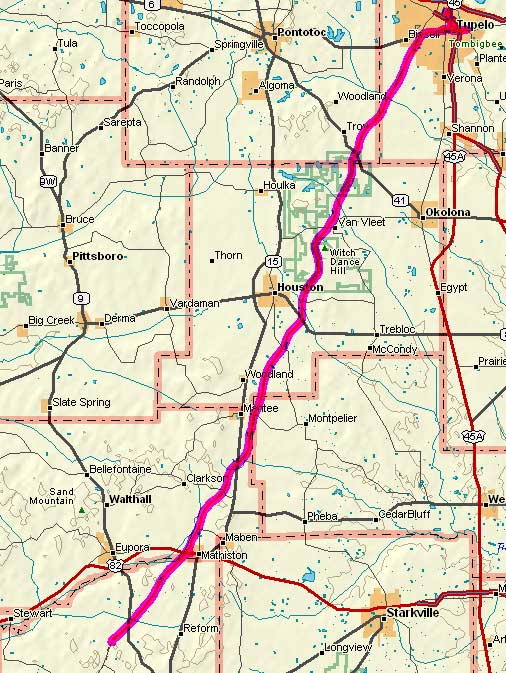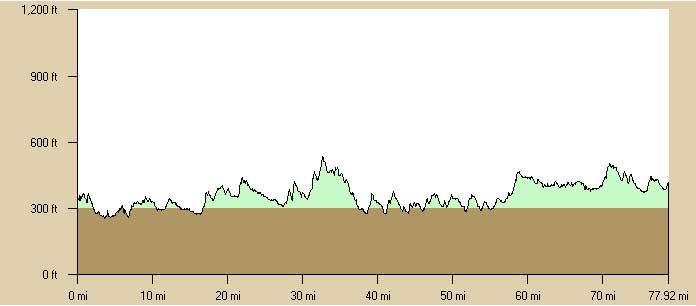 ---

The weather was supposed to be sunny on Wednesday, so my plan was to start late and take it easy. I started late, but I ended up riding another long day. It was cloudy. There were two options for finishing: the Jeff Busby Campground or a purported motel in Mathiston. The motel was supposed to be about 10 miles closer. Unfortunately it didn't actually exist, so I camped.

I started with a tour of Tupelo. On the way into town yesterday I rode through the rich part of town. Today I rode through the poor neighborhoods. That's where I found Elvis' birthplace. After all, coming to Tupelo without visiting the birthplace would be like going to Memphis and not visiting Graceland. Just wouldn't be right.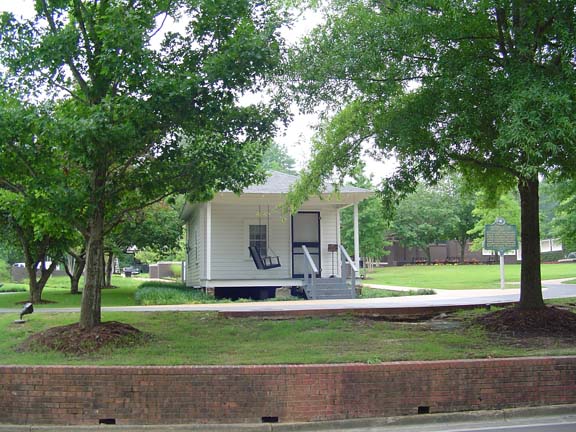 There it is. There's also a museum and park, but I didn't go inside because I was running late.


Then I rode through the center of town. They still have telephone poles in downtown Tupelo.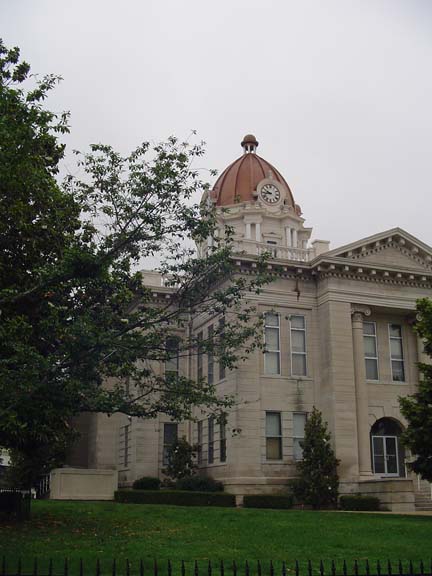 Here's the courthouse.


Then the Tupelo battlefield, which is only one acre along a busy road.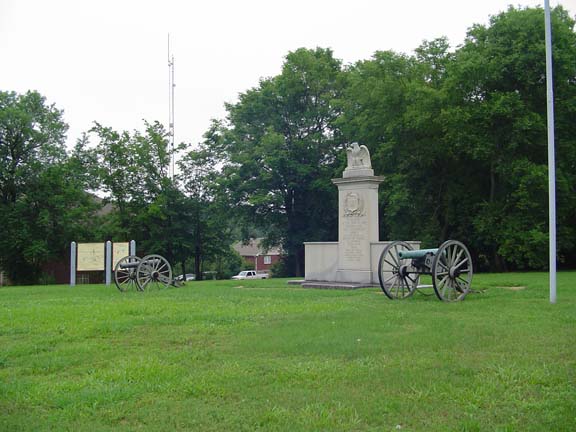 This is pretty much all there is.


Finally, back onto the Trace. There was noticeably more traffic on the road here, but it slowly decreased as I headed away from Tupelo. There were considerably fewer points of interest along this part of the Trace, but there were a few.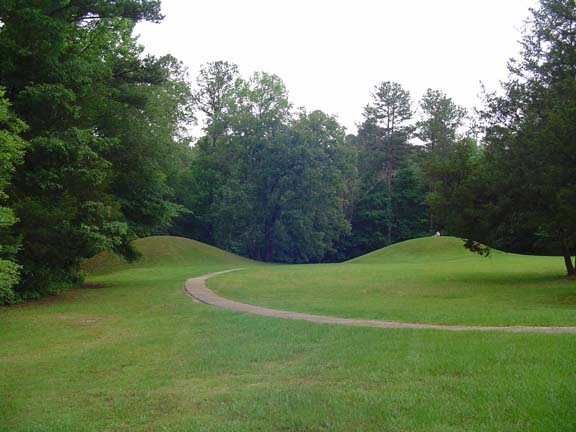 These are the Bynum Mounds.

Notice the hillbillies having a picnic on the right mound.

Lunch on an Indian burial mound? Sounds like bad luck to me.


I saw surprisingly little wildlife. At one point I saw a pair of foxes run out into the road and roll around on the pavement. But before I could get close enough for a picture, a car came and scared them off (I was also fumbling with my camera, which is becoming increasingly temperamental with age).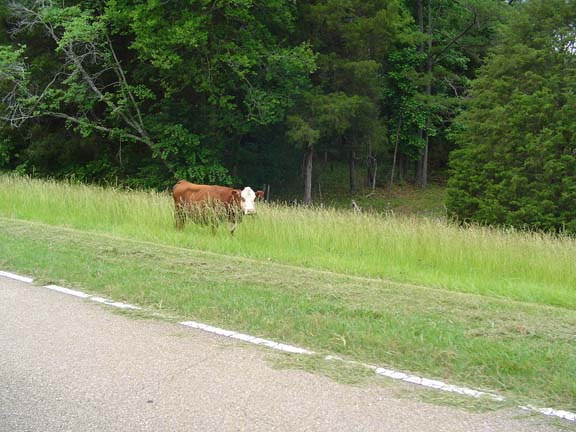 Finally, some wildlife!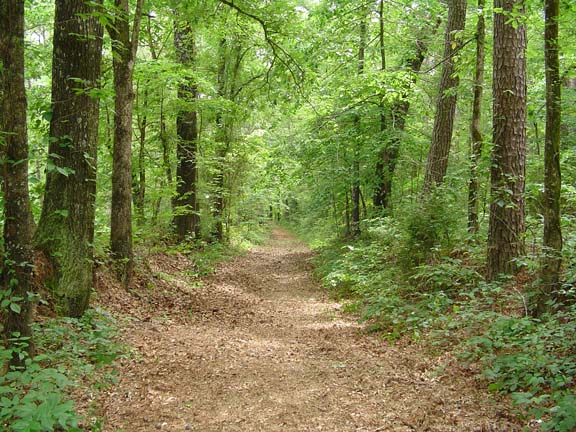 Here's another shot of the Old Trace.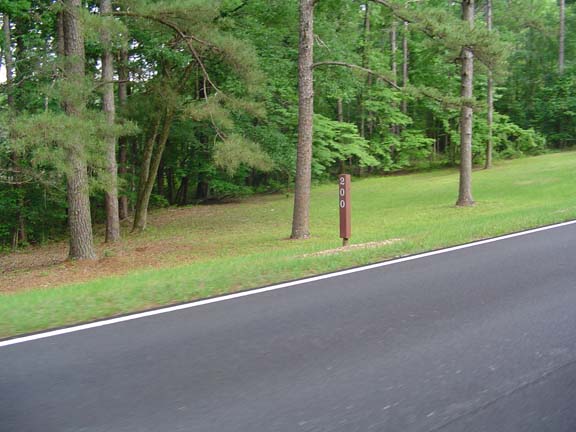 I finally got a decent shot of one of these.


I've noticed a few things about the Parkway. All the crossroads around here are built on the ridges...I assume they are old tobacco roads. The Parkway crosses the grain of the old roads. So it's just an endless series of shallow decents to cross streams and gradual climbs to cross roads. Also, the Parkway crosses all the roads on bridges. There are very few at grade intersections and it is extremely rare for the Parkway to go under a bridge. This means that there are few opportunities for shelter if it rains. It also means those climbs are a little higher than they really have to be. This is the kind of stuff I think about sometimes in the long, long hours of riding.

It looks like the Park Service is slowly repaving the worst parts of the parkway. The best parts are silky smooth asphalt. The worst parts are chipseal with bone-jarring cracks every ten feet. Cyclists hate chipseal and cyclists hate expansion joints and cracks in the road. This road has it all!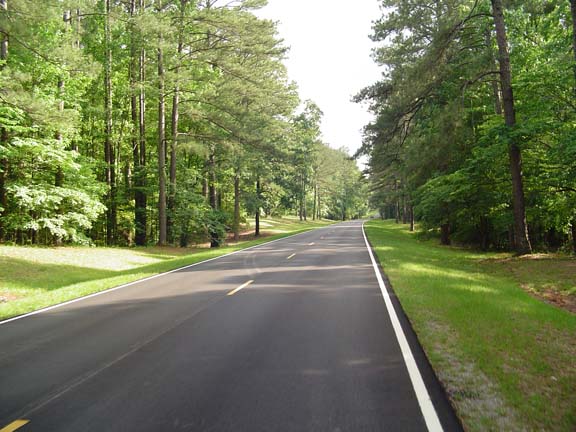 The scenery is generally not all that interesting.

But the road surface here is beautiful.


I encountered a few more cyclists today. There was one guy who was riding the Parkway from the start to Jackson (going the same direction as me). I caught up with him as a place called Witches Dance, which was near the end of his day--he was staying in Houston, MS. I also encountered a group that was riding in relays to Texas. On previous days I'd past a few fully supported touring groups heading north.

I carried some food with me today, but I expected to be able to buy what I needed. The first store I stopped at was permanently closed. The second store (at Mantee) was well after lunchtime and I had already eaten all my food. But they sold a pulled pork sammich, so I bought one and had a real lunch. At Mathiston, I bought a big Subway sub and some other junk that I took to the campground with me.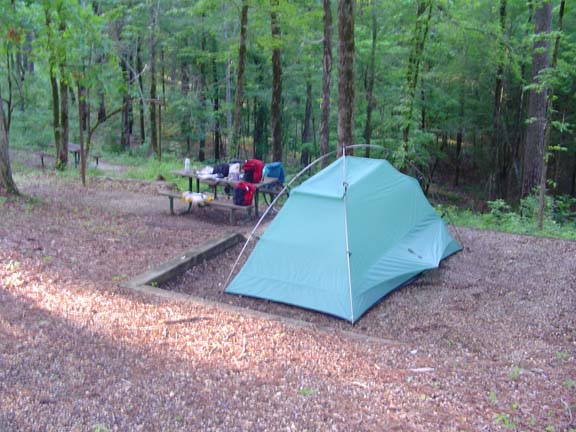 My home for the night.
It was a good night, but I didn't sleep well. Some Harley-riding rednecks showed in the evening. They were apparently unable to speak to each other without yelling--even when they are sitting across a picnic table from each other. Eventually they quieted down, but then one of their buddies rolled in on another Harley and it started all over again. Then, well after midnight, somebody else arrived in a RAV4 and slammed some doors for about 15 minutes. I've got to hand it to the rednecks though, they were up at first light same as me (of course, they probably got the same amount of sleep as me).

Tomorrow will be a short day--only about 40 miles to Kosciusko.

---
Next
---
"NatchezTrace Tour 2008" Copyright © 2008 By Bob Clemons. All rights reserved.