Day 5
Tuesday, 27 May 2008
Meriwether Lewis Nat. Mon, TN to Collinwood, TN
34.9 miles, 3h13m, 10.8 mph
Elapsed Time: 4h20m, Max speed: 27.1mph
Total Climbing: 968ft, Max elevation: 1037ft
Total mileage: 272.8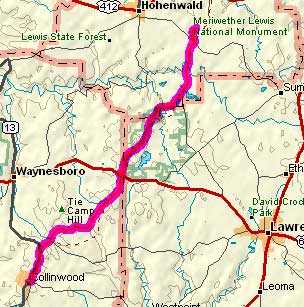 ---

I broke camp and started riding at about 7am. It rained a little during the night and everything was still wet. It was still cloudy. It looked like it wasn't done rainin'.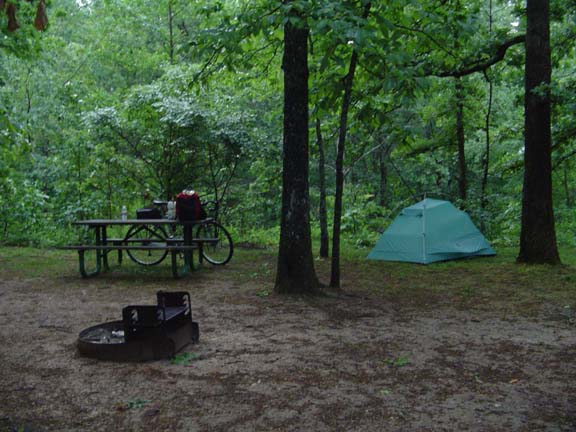 My wet camp.


I pedaled up to the Meriwether Lewis monument and took a look around. Lewis was shot and killed at the age of 35 at an inn at this location on the Trace. His death was probably a suicide, but nobody knows for sure. His is the only marker in a "Pioneer Cemetery" on the site. There is also a reconstruction of the inn.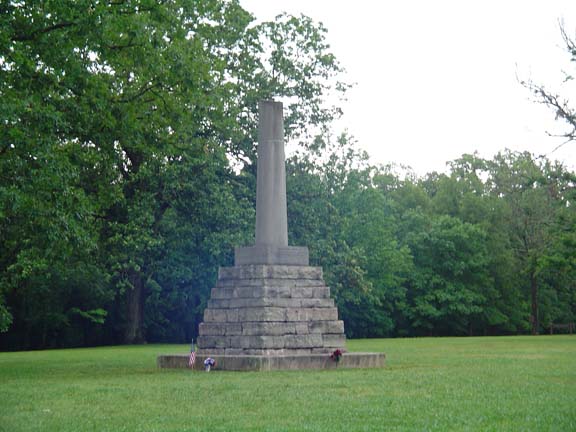 It started sprinkling as I nosed around the exhibits, but the hard stuff held off until I was a few miles down the road. It rained almost constantly for three hours, and it was really pouring when I reached the town of Collinwood. I stopped by the welcome center and asked about lodging (all of my sources said there was no lodging in Collinwood). Turns out the guy who runs the Home & Auto store across the street rents out a room around the corner. When I called the guy and asked for directions he said, "I can see you from here." And he waved. So that's the story of how I ended up in Collinwood, TN on a Tuesday night.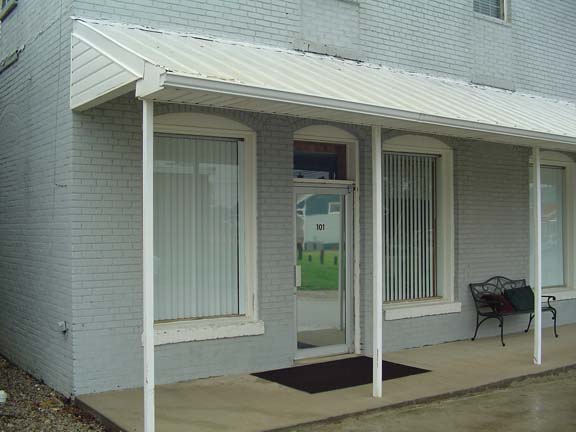 My home for tonight.


This puts me about a half day behind schedule. Because of the scarcity of lodging, and the liklihood of more lousy weather, I suspect that the half-day will turn into a full day. We'll see how it goes.

I was thinking about making reservations at a hotel in Belmont, MS for tomorrow, but if the weather is only half as lousy as today, then I would rather stay on the Trace and camp. So, I'm just going to play it by ear. The plan is to be in Tupelo, MS by Thursday. That may be the next time I have Internet access.


---
Next
---
"NatchezTrace Tour 2008" Copyright © 2008 By Bob Clemons. All rights reserved.