Day 4
Monday, 26 May 2008
Franklin, TN to Meriwether Lewis Nat. Mon., TN
77.2 miles, 7h11m, 10.7 mph
Elapsed Time: 10h45m, Max speed: 38.2mph
Total Climbing: 3543ft, Max elevation: 1086ft
Total mileage: 237.9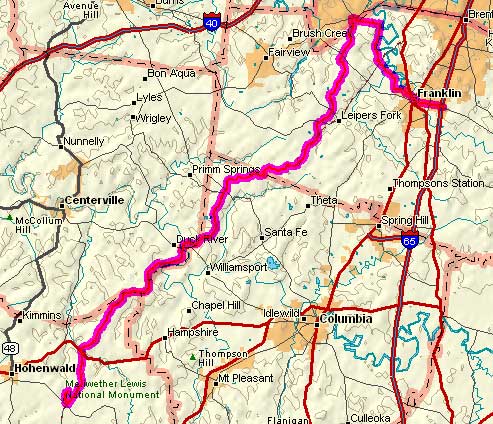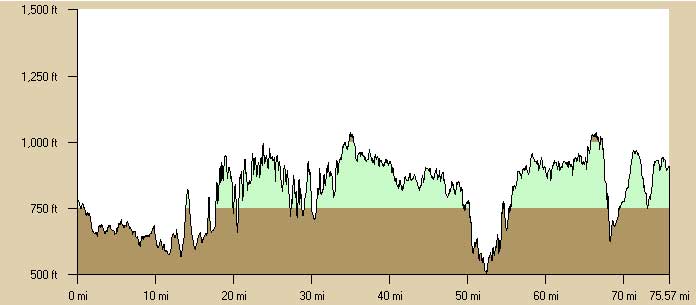 ---

Monday's forecast called for "isolated thunderstorms." There was only one thunderstorm, but it lasted half the day. I think it's following me.

But the day started out nice enough. First I rode through suburban Franklin, which is itself becoming a suburb of Nashville. There were lots of runners and cyclists out on the country roads. No loose dogs either!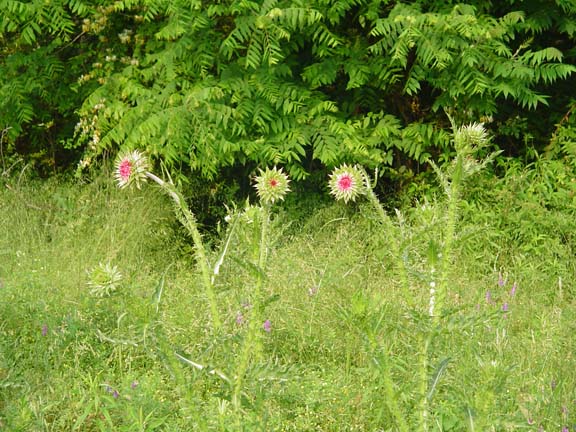 Does anybody know what these are? They grow like weeds along the roads of Tennessee.

I suspect they are weeds.


After a lovely ride through the country and a stupid detour over the top of a big hill that I could have easily gone around, I arrived at the start of the Natchez Trace Parkway.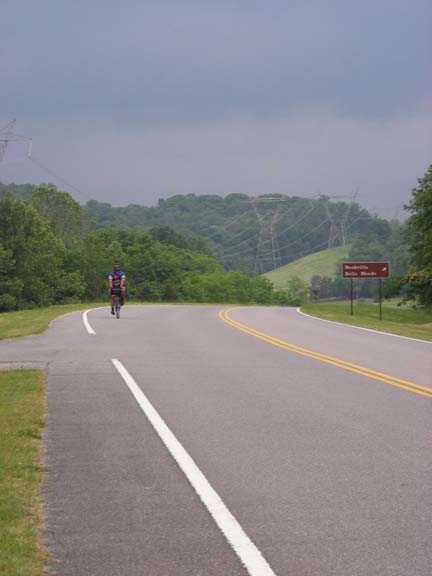 Linda captured the historic moment.
Then she gave me all my gear.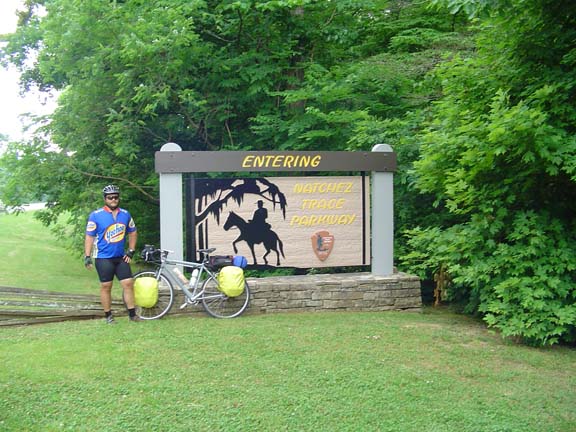 And she took the mandatory starting point photo.
We bought a bunch of food for me yesterday because I wasn't sure I would be able to get food without leaving the Parkway. That turned out to be a really good idea. There were plenty of places to get water but there were no stores or restaurants at all. So for lunch I had a chicken spread sammich, and for dinner I had a Spam sammich and a tuna sammich. For dessert I had pop tarts and Apple Nutrigrain bars.

A few miles into the Parkway I rode across the famous Double-Arch Bridge. This has got to be the coolest-looking bridge there is. Unfortunately, it doesn't look so cool when you're riding across it, so I don't have a cool picture of it. I'm sure there's one or two on the Internets somewhere, so you should look at one.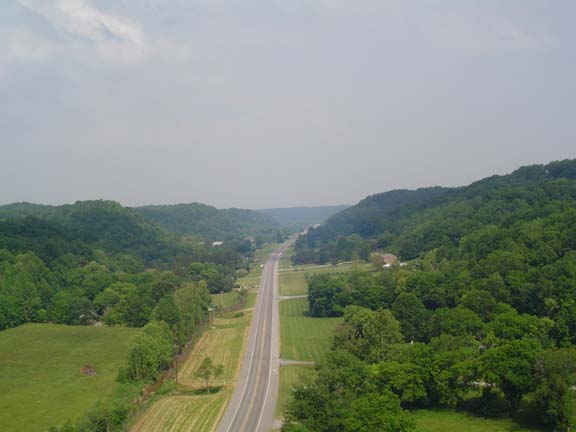 I took this picture from the Double-Arch Bridge.

If you look closely you can see a woman out for a walk way down there on the right shoulder.

I waved at her and she waved back.


The northern end of the Trace is much hillier than the southern end. It's no Blue Ridge Parkway, but some of the climbs were surprisingly long and steep.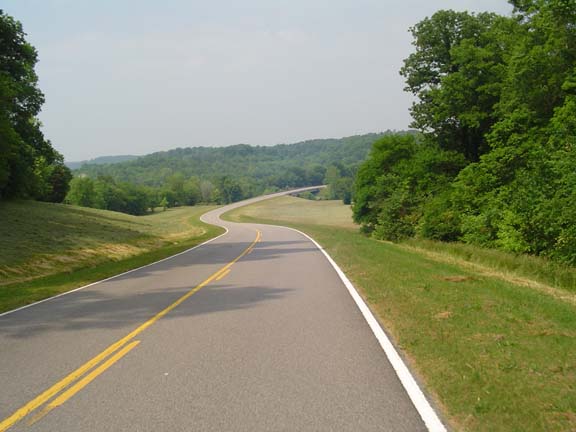 This is the best I could do for a scenic photo of the road.

Most of it was considerably less scenic.


All along the road there are signs pointing to the location of the "Old Trace." The Old Trace was the path that was actually created by people (and armies) walking from Natchez to Nashville (after they took a boat down to Natchez). There are parts of the Old Trace that you can drive (or bike), but all those segments go south-to-north, so I won't be doing any of that. That's what I get for going against the historical grain.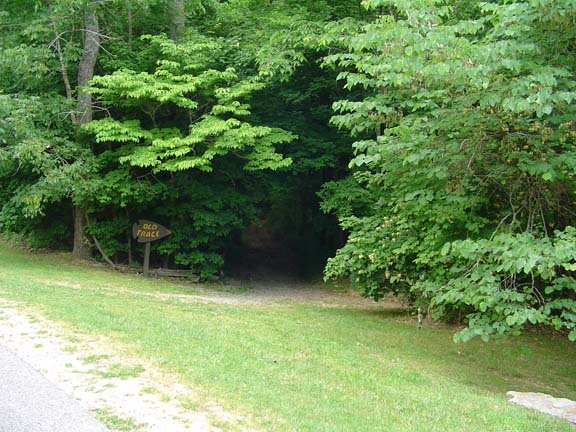 Token shot of the Old Trace.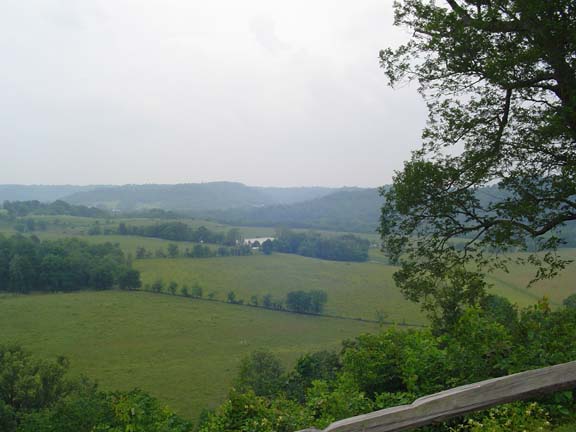 Some token central Tennessee scenery. Note the overcast.


I was riding along minding my business when I noticed it was getting windier. Then it started getting colder. Then there was thunder. Then there was lightning. That's when I knew that I was going to get wet. Just as the rain started to fall, I came upon a tobacco drying exhibit, complete with tobacco barn. I wheeled my bike inside just as the storm hit. I figured this was going to be one of those quicky blaster thunderstorms that would be over in 20 minutes. I stayed in that barn for two hours.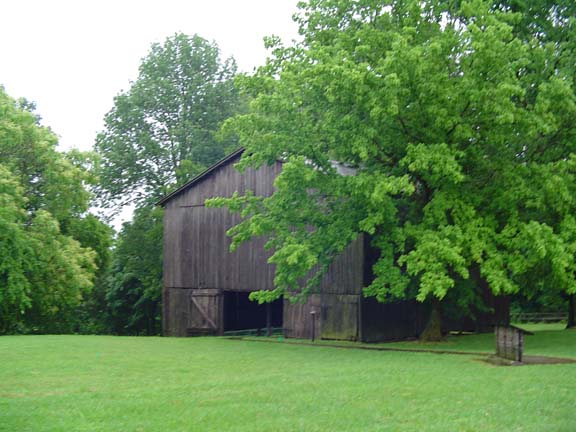 My shelter from the storm.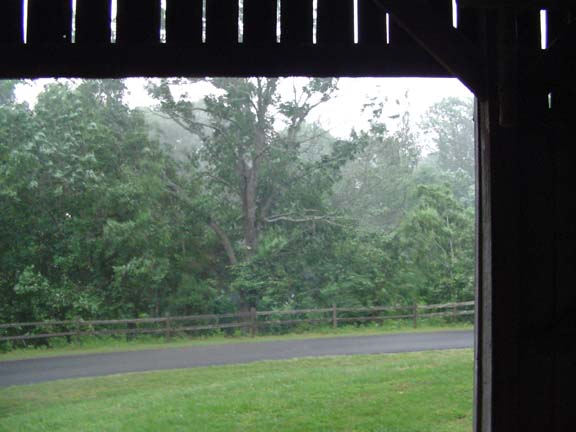 Looking out at the storm. It was really coming down.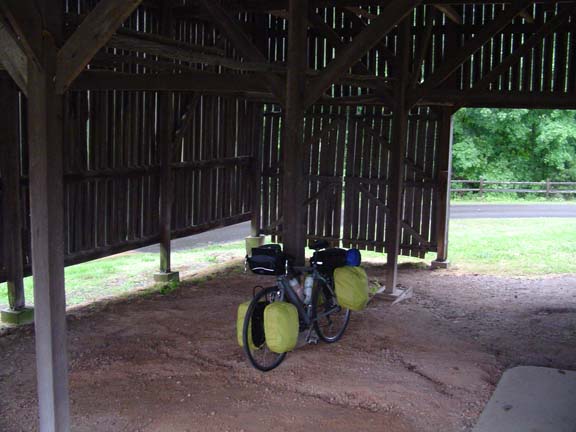 There was plenty of room.


So what does one do for two hours in a tobacco barn? I ate a snack. I drank some water. I read a book. I listened to the audio interpretive display until I had a pretty good handle on the process of drying Burley tobacco. From what I learned, the tobacco hanging in the barn was not quite ready to be made into cigarettes. Too bad, but if I had been in there much longer I probably would have rolled one anyway. Certainly the experiment would have ended in frustration, as we all know I don't have any matches.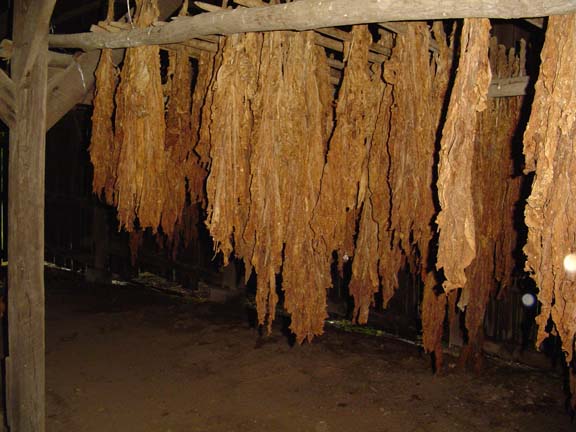 Burley tobacco: An aromatic variety especially suited for use in cigarettes.


I sat there until about 4:15 in the afternoon. Then I decided I had to get going so I sucked it up and rode in the rain.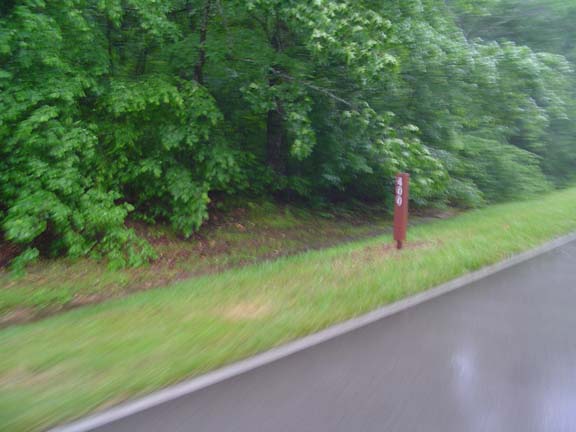 This is a really bad picture of milepost 400. I had put my camera away

because of the rain, and I had to whip it out quickly for this photo.

I must have that picture! (But it's not so important that I stop for it).


I arrived at the Meriwether Lewis campground...I don't know when. The place was wet, but at least it wasn't raining. There was only one other family in the campground, and they had a camper trailer. So, I set up my tent, called Linda, and went to bed at about 8pm. I think I slept okay.

---
Next
---
"NatchezTrace Tour 2008" Copyright © 2008 By Bob Clemons. All rights reserved.