Day 13
Thursday, 20 Jun 2013
Niobrara, NE to Yankton, SD
49.6 miles, 4h22m, 11.3 mph
Elapsed Time: 6h13m, Max speed: 39.5mph
Total Cimbing: 1517ft, Max elevation: 1801ft
Total mileage: 760.1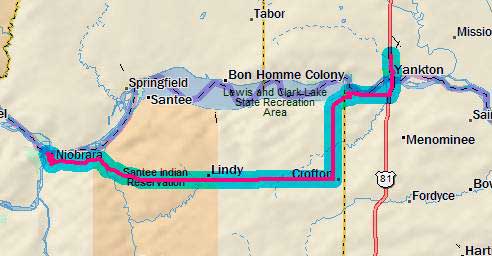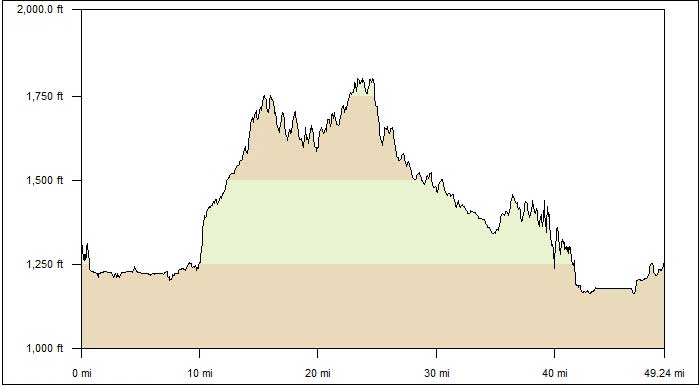 ---

This was supposed to be an easy day. Turned out to be pretty hard.

I didn't sleep very well in my cheap hotel,
The A/C didn't keep it very cold.
There was no shampoo or conditioner too,
And the TV was kind of old.

Anyway, I checked out at 8:30 and rode over to the post office to mail all my camping gear home. No more camping. If I can't get a room I'll just hobo it. Or keep riding.

I wasted a half hour trying to find the eastern end of the Niobrara River Railroad Bridge--I could see it from a dirt round out back of the local golf course, but I could not get there. Eventually I wrote that off and started riding. It was windy and very overcast. Good chance of rain. Amazingly it did not rain.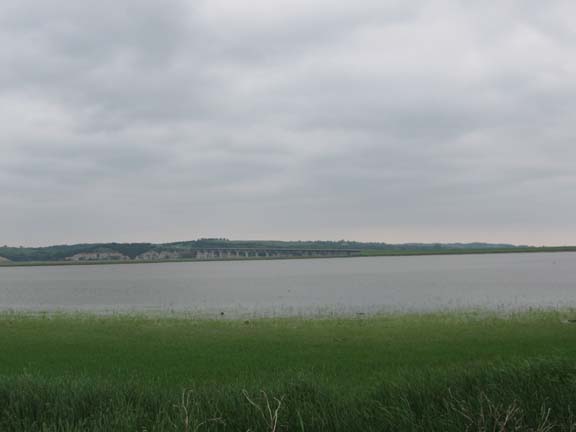 That's South Dakota over there across the Missouri River. Today will be the first time I've ever been there. But first I must
turn back into Nebraska and ride 30 miles of hills. Looking back...maybe I should have just
crossed the bridge.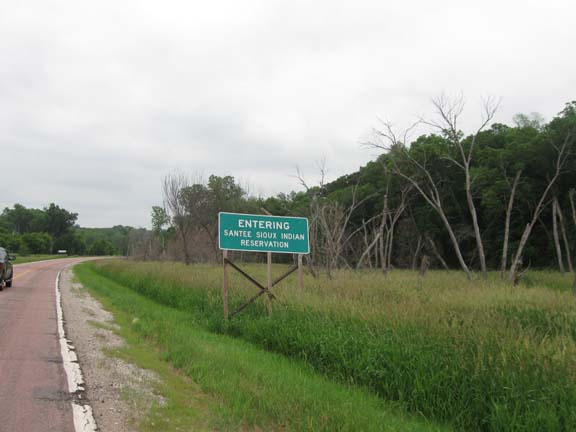 Another first for me: riding onto an Indian reservation.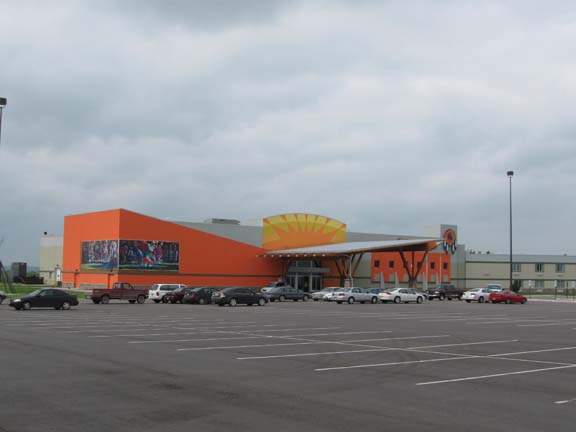 After 5 miles of climbing I reached the Ohiya Casino & Resort. I bought a drink at the gas station.
The casino was responsible for much of the traffic on this generally crappy road. Lots of trucks stopping to buy diesel.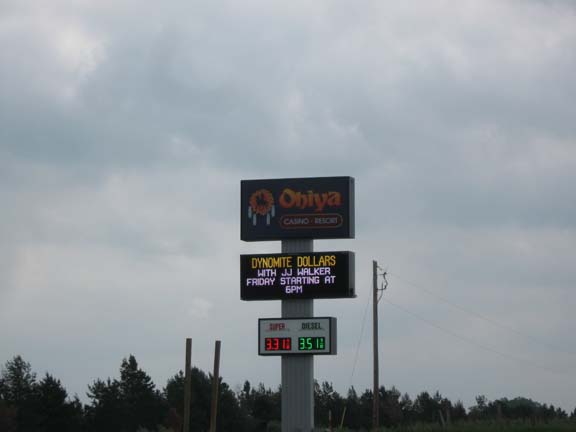 Looks like Jimmy "JJ" Walker didn't take good care of his money. He must be pretty low on the
celebrity list to end up here.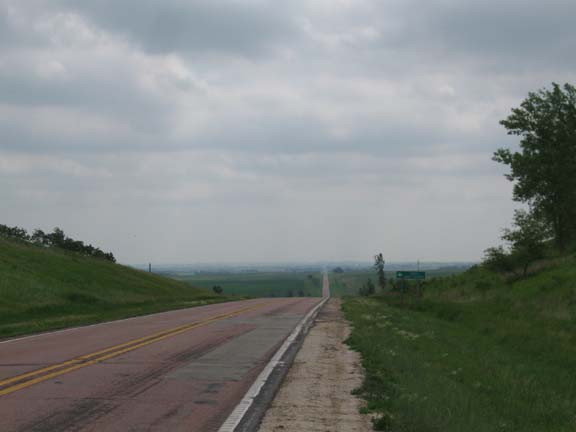 There was lots of up and down with a fierce crosswind. But finally the hills ended and I turned north
and blasted up the road back to the Missouri River.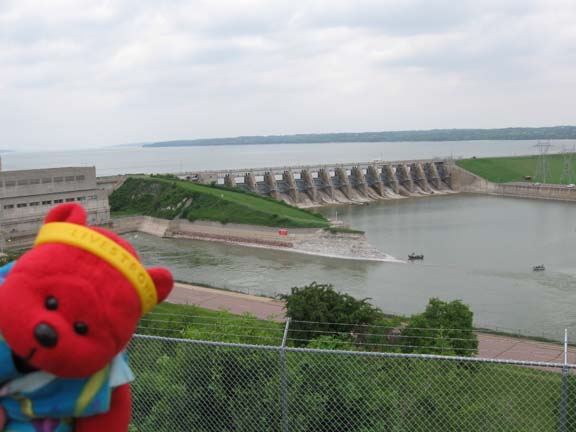 The Gavins Point Dam with Lewis & Clark Lake jammed up behind it. This bear keeps getting
in my dam photos. I stopped in at the Corps of Engineers Visitor Center and talked to the
folks there about the river. I was surprised that there are no locks for navigating
through here. I guess I shouldn't have been.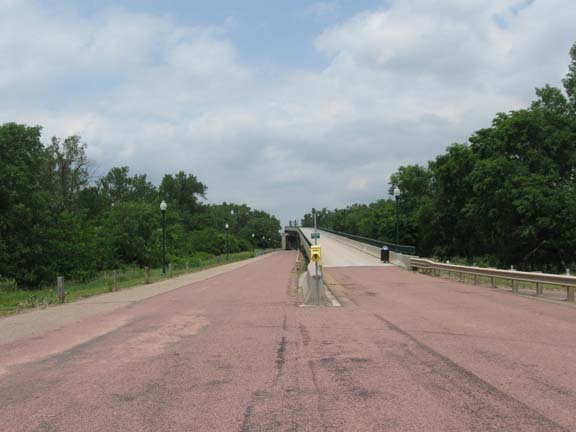 A few miles later I was ready to cross the river into Yankton, SD. The old bridge is now a pedestrian and
bike bridge--and it has two levels. I chose the upper.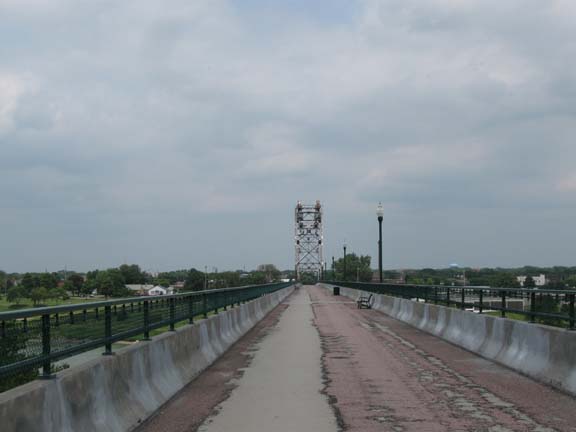 "Welcome to South Dakota!" Was not what any sign said on the bridge or at the end of the bridge.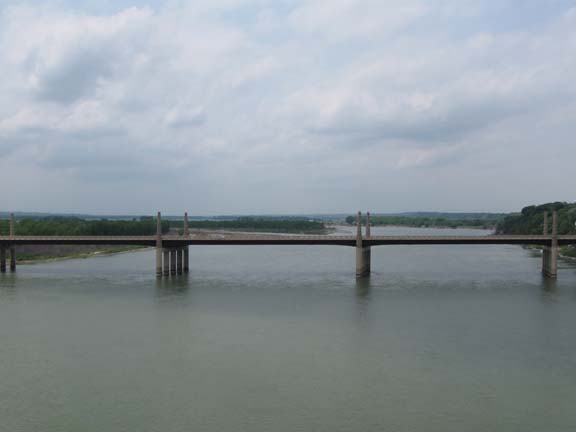 There's the new bridge and the Missouri River.


I rode up through town to Ace Bike & Fitness--which turned out to be a full-service bike shop in an Ace Hardware store. The dude there fixed my spoke in a few minutes, replaced a rack mount bolt that seems to have rattled and fallen off, and zip-tied a few extra spokes to my seat stay where the old replacements used to be. Then off to the Holiday Inn Express across the street.

Looks like Mexican food tonight--it's the only place in walking distance. Tomorrow I hit the biggest city in all of South Dakota: Sioux Falls!

Everybody keeps telling me how hot it is, but I really don't think it's that hot. Maybe it's just me.


---
Next
---
"Great Plains Tour 2013" Copyright © 2013 By Bob Clemons. All rights reserved.