Day 11
Tuesday, 18 Jun 2013
Ainsworth, NE to O'Neill, NE
68.6 miles, 5h52m, 11.7 mph
Elapsed Time: 7h02m, Max speed: 21.5mph
Total Cimbing: 644ft, Max elevation: 2521ft
Total mileage: 652.6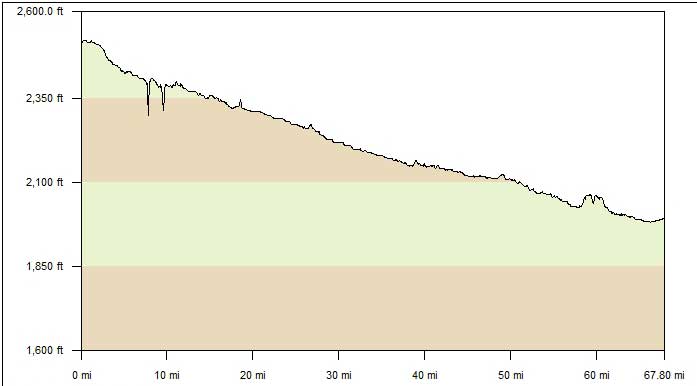 ---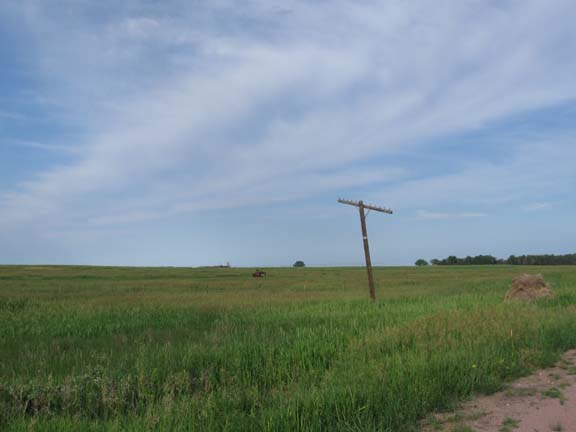 At breakfast there were some guys who are walking the Cowboy Trail. I didn't talk to them.
But I decided to ride the first few miles on the trail in their honor.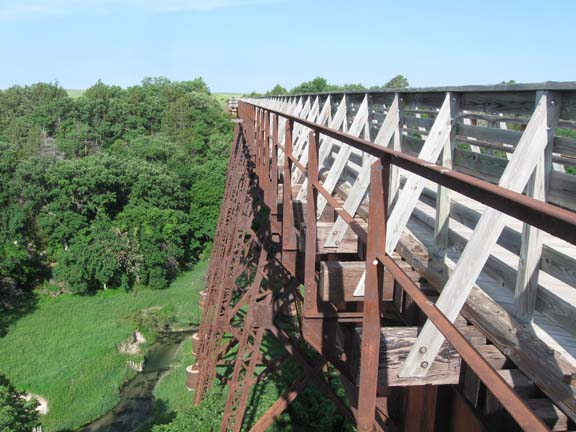 The trail crosses this railroad bridge at Long Pine. There was an old woman on the bridge. I said,
"Good morning." She said, "It
is
a good morning." As though I have a habit of dishing "good mornings"
on just any day.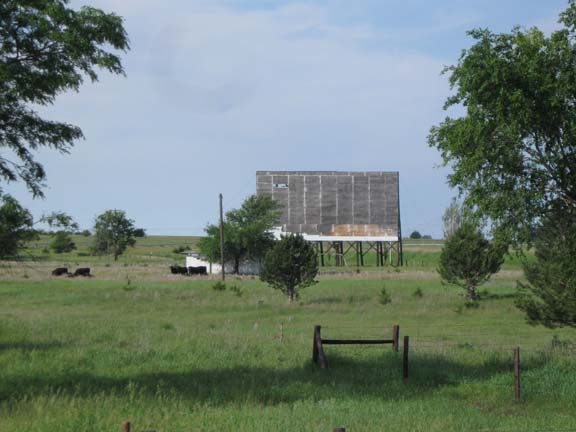 Back on the highway. Not much to see. The cows have taken over the drive-in.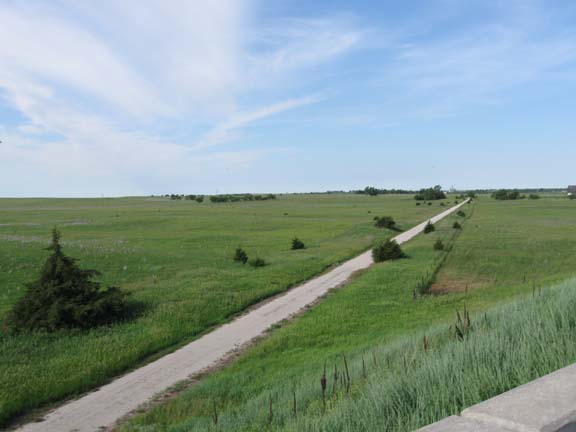 The profile showed that I was going gradually downhill all day. The headwinds took care of that.
The Cowboy Trail was always around somewhere.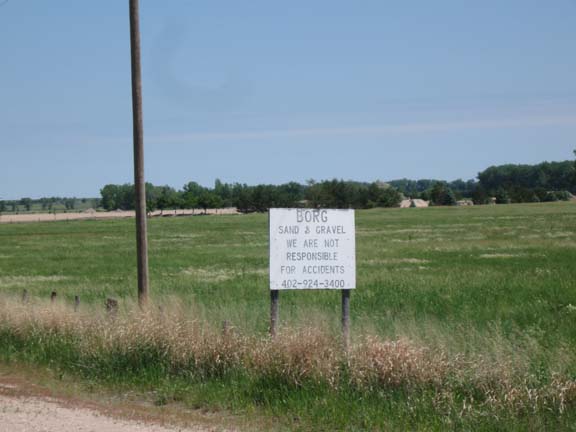 How far The Borg has fallen! "The Borg is an autonomous collective seeking to achieve perfection in the supply
and distribution of sand and gravel. The Borg is not responsible for accidents. Litigation is futile."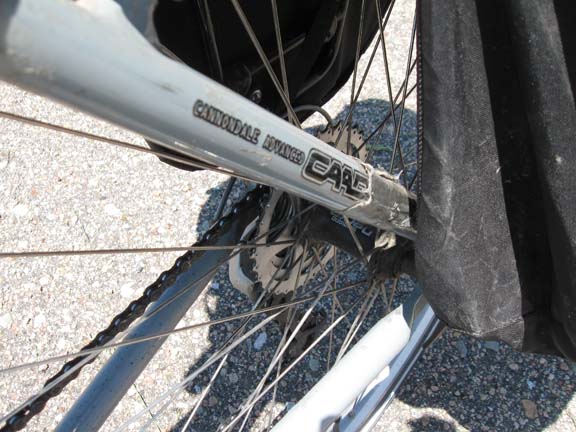 I was riding though Stuart when I heard a spoke break. No worries, I always carry some spares right
here taped to the....crap. Yes, the spare spokes that had been taped to the seat stay for 10 years--and had
just been there a few days before--had shaken loose and fallen on the road somewhere--just when
I needed them. What are the odds?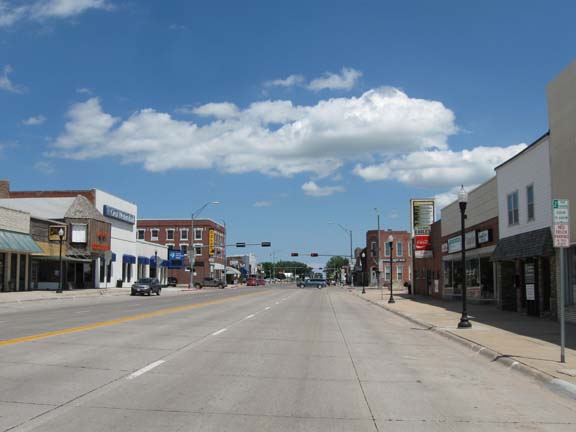 Nothing to do but keep riding. O'Neill is a 3 traffic light town--it has a Radio Shack and a
Holiday Inn Express--but no bike shop.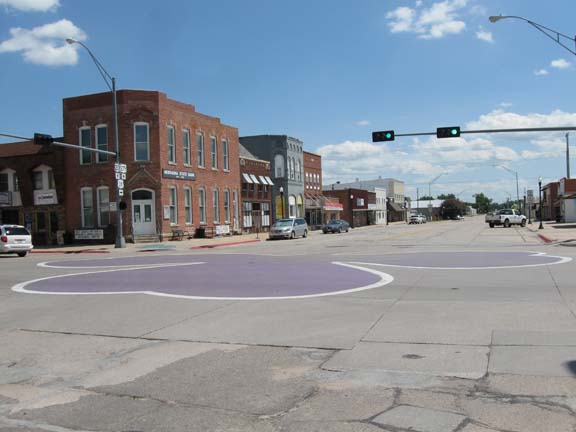 O'Neill is also the Irish Capital of Nebraska--which explains the giant purple
shamrock painted on the main intersection. For dinner, naturally I had Mexican.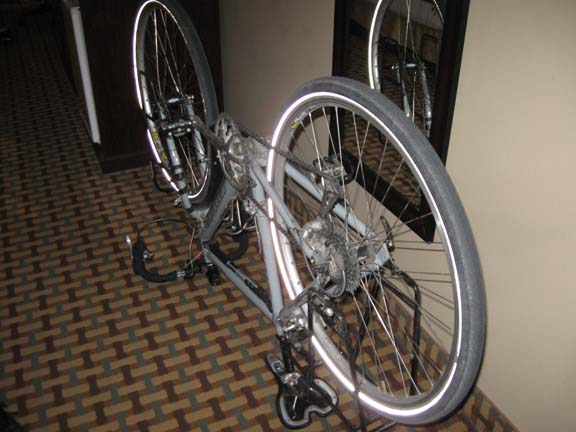 And I trued the wheel up best as I could leaving the broken spoke in place. The wheel is pretty
tough so I'm not worried about it collapsing before I can get to the bike shop
in Yankton in a couple days.
Tomorrow should be interesting. I don't have a place to stay and could end up camping...or maybe staying in a motel. And there will be fossils!

---
Next
---
"Great Plains Tour 2013" Copyright © 2013 By Bob Clemons. All rights reserved.