Day 10
Monday, 4 Jun 2007
Asheville, NC to Mt. Pisgah, NC
24.5 miles, 3h09m, 7.8 mph
Elapsed Time: 3h47m, Max speed: 34.5mph
Total Climbing: 3381ft, Max elevation: 4911ft
Total mileage: 609.8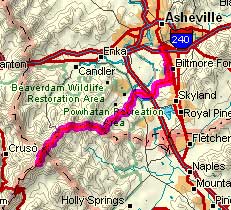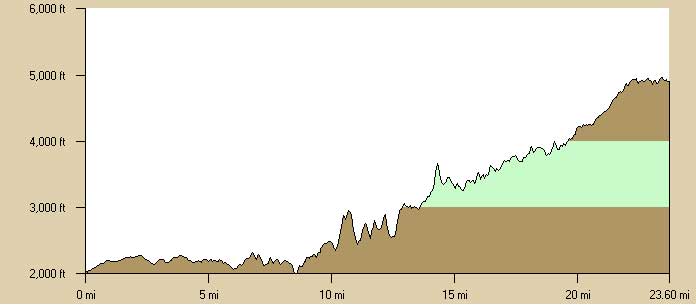 ---

I figured I'd sleep in since I was planning on such a short ride today (and because I was staying at the Sleep Inn), but I was up at 6:30 and attacking the continental breakfast by seven. I managed to lallygag around until a little after nine, but then I had to go.

I got out of the city via Vanderbilt Road, which runs through the town of Biltmore Forest--one of the wealthier neighborhoods in Asheville. Soon I was back on the Parkway and headed south. By cutting through the city I missed about 10 miles of Parkway, including the Folk Art Center--my last chance at any kind of culture. Oh well.

The first few miles were easy, but then the Parkway crossed the French Broad River and started up. Right at the start a woman pulled up to me--the guy on the bicycle with all the bags wearing a Cookie Monster jersey--and asked if I was familiar with the area. I said, "Do I look like I'm from around here?" She laughed. I asked her what she was looking for. She said, "Route 191." I looked to my right at the sign for NC 191. "You have to turn around and go back that way." I am so helpful. I've only been asked for directions twice on this trip. Both times were in Asheville. (Yesterday somebody asked me how to get to the Biltmore.)


Looking back toward Asheville.

Yesterday I went through 10 tunnels, today there were nine. Since there are 26 tunnels on the Parkway and we hit one in Virginia, I'll expect six tomorrow. The tunnels are nice because the road is smooth and there is even a little shoulder in there. Of course, it's dark and if a car is in there with you it's loud and scary. I'm glad I invested a lighting system for my bike. Sometimes there are stones and debris on the shoulders. After a couple of tunnels I found that the lighting system is more effective if I take off my sunglasses.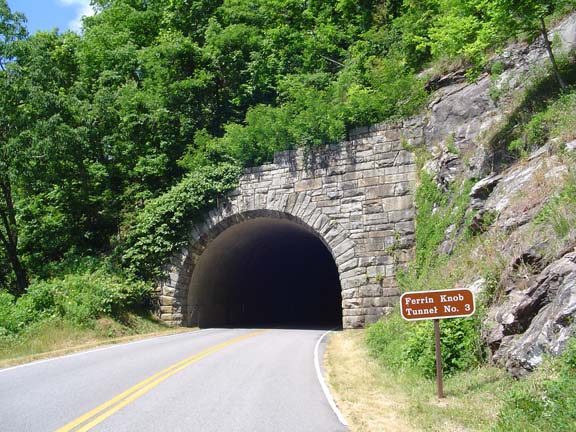 Token tunnel photo: This is Ferrin Knob Tunnel No. 3.
Looking toward Mt. Pisgah. It's the one with the towers.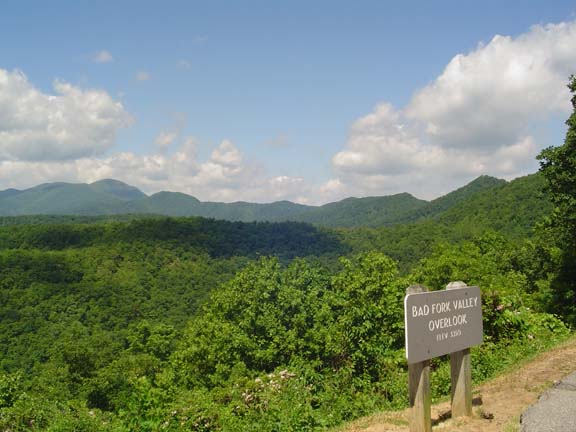 A little closer now.

The climb was very long, but not too challenging--at least not at the beginning. It went up in stages punctuated by the tunnels, with the occasional little descent. The last couple of miles were steeper and unrelenting, but it was a really nice day, and a really short day for me, so I enjoyed it (except for the horseflies that tormented me--actually it might have been the same one all the way up).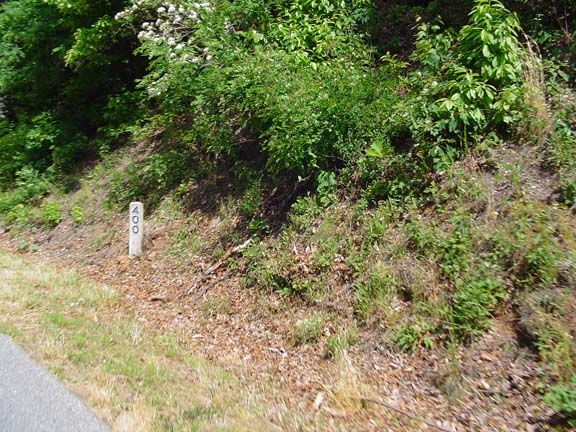 I almost missed this one. Like I didn't see it coming.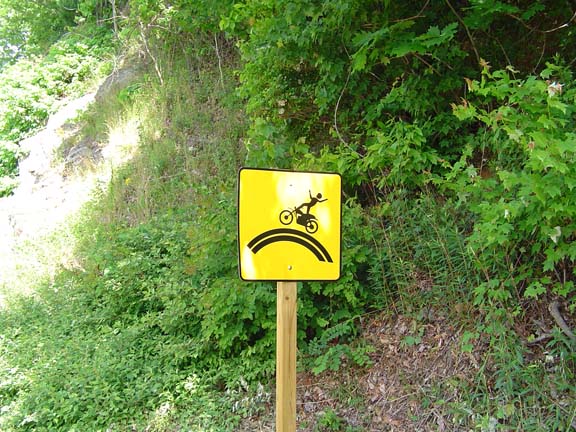 Aaahhh!

I reached the Pisgah Inn a little before 1pm. It was too early to check in so I had some lunch at the restaurant and did some reading in a deck chair. I talked to a few people about my trip, including a couple of guys who just rode up from Asheville for lunch. The local cyclists must be in pretty good shape because all the roads around here seem to head upwards.

For the rest of the day I plan to relax, eat, and sit on my porch...and kill the fly that's buzzing around my room.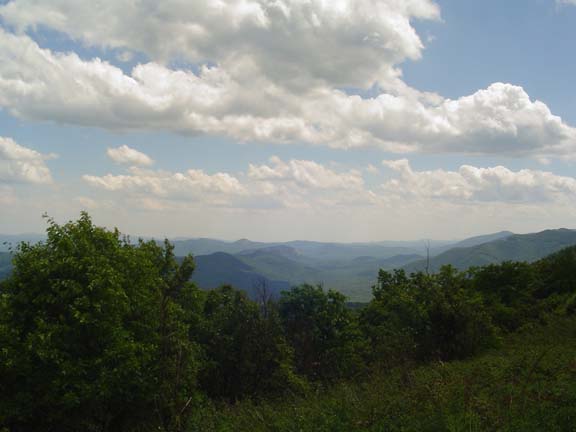 The view from my porch.
---
Next
---
"Blue Ridge Tour 2007" Copyright © 2007 By Bob Clemons. All rights reserved.