Day 11
Tuesday, 5 Jun 2007
Mt. Pisgah, NC to Cherokee, NC
65.2 miles, 6h10m, 10.6 mph
Elapsed Time: 7h50m, Max speed: 42.0mph
Total Climbing: 6225ft, Max elevation: 6053ft
Total mileage: 675.0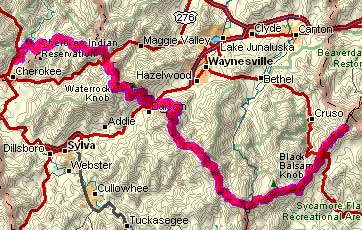 ---

I wanted to get an early start because it was going to be a long, hard day. The restaurant opened for breakfast at 7:30 (actually 7:35) and I devoured a plate of french toast. Then I got my gear together, checked out, and headed down to the store to load up on fluids and lunch. But the store, which was supposed to open at 8:00, was not open yet. It was 8:30! WTF! The guy came by a few minutes later and opened the store. I was just about to ride up to the office and start whining. I bought drinks and some kind of tuna fish portable lunch system since I didn't expect to find any place to buy lunch today. My wheels were turning a little before 9:00.

The weather was sunny, but a little cool and sometimes windy. I started wearing a jacket, then took it off, then put it back on, then took it off. Generally, off when climbing, on when not climbing, but sometimes on when climbing, but always on when descending.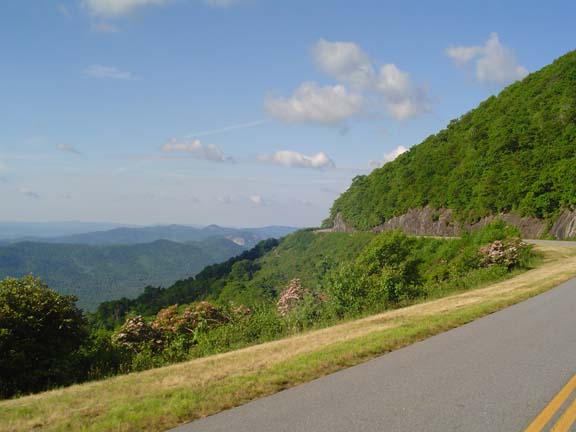 Jacket may have been on or off here.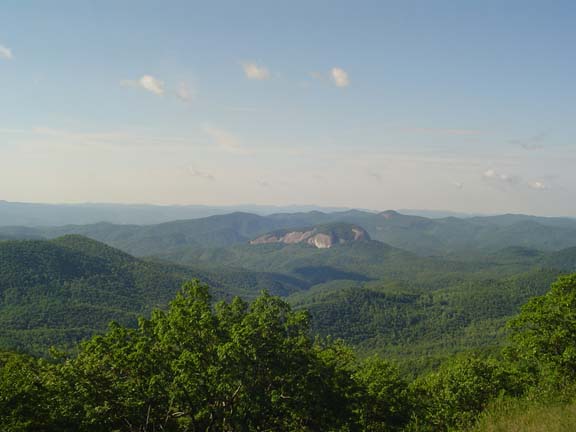 As usual, the scenery was spectacular.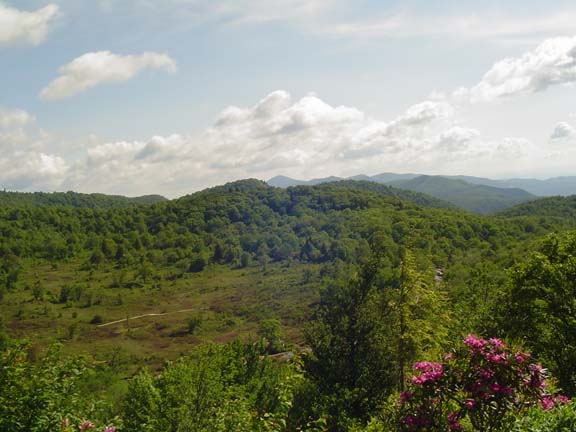 This is called Graveyard Fields. There's a long story associated with the name.
Because of various natural phenomena, this place looked like a graveyard.
That is, until 1925 when a forest fire ripped through here.
Now it doesn't look like a graveyard anymore.
But still there the name survives.
And there are flowers.
The climb to Richland Balsam looked like this.


After several ups and downs, then a bunch of ups, I reached Richland Balsam, the highest elevation on the Parkway.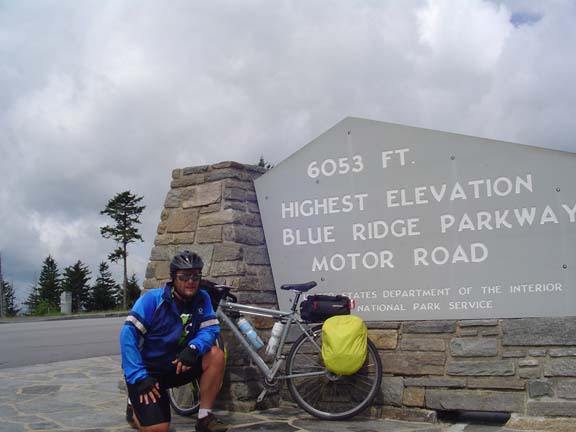 Here's proof (note jacket on).


Then there was a fun 10-mile descent and then a grueling, unrelenting 8-mile climb to Waterock Knob. It took me a couple of hours. When I got to the top I had to climb another 100 feet or so to get to the visitor center. The guy at the visitor center was really nice and told me about the rest my the route in detail. I filled up on water.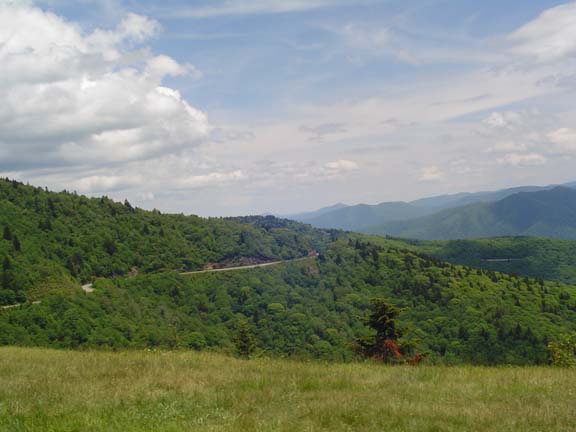 I think this is the view from Waterock Knob.


So then there was a 5-mile descent and a 2 1/2 mile climb. Then a breathtaking 11-mile descent to the end of the Parkway. There were several tunnels on the descent but I stopped taking pictures of them because it was too scary. I just left my little headlight turned on and took off my sunglasses for every one. I was tearing down the mountain so fast I caught up to a minivan. Then the driver, apparently noticing that he had been caught by a bicycle, suddenly found the gas pedal. Good thing. It's one thing to catch 'em, and another thing entirely to pass 'em.

But all good descents must come to an end. I actually went ripping past the Blue Ridge Parkway sign and had to turn around to take these pictures.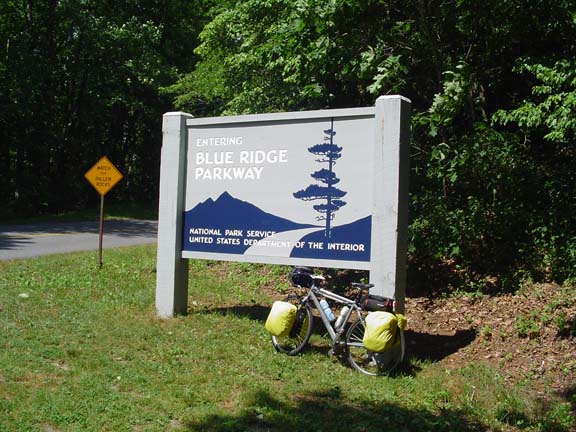 Here's proof that my bike made it.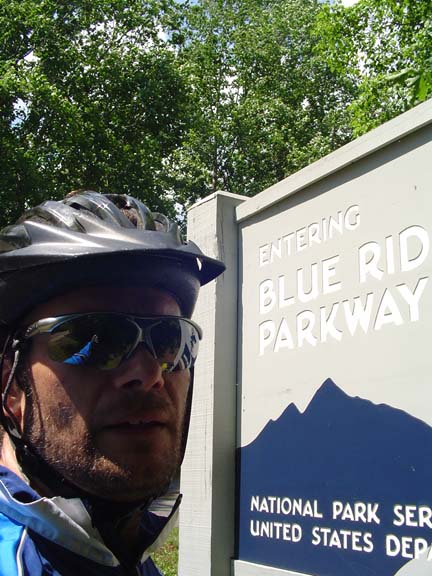 Here's proof that my head made it.


I meandered down into the tourist town of Cherokee and checked in to the Best Western. There is a casino in town but I'm too far away, otherwise I could pay for this trip right here. Oh well. Tomorrow I make one last huge climb over Newfound Gap in Great Smoky Mountains National Park.

---
Next
---
"Blue Ridge Tour 2007" Copyright © 2007 By Bob Clemons. All rights reserved.