Day 6
Thursday, 31 May 2007
Meadows of Dan, VA to Roaring Gap, NC
57.1 miles, 5h15m, 10.8 mph
Elapsed Time: 7h09m, Max speed: 38.1mph
Total Climbing: 3594ft, Max elevation: 3181ft
Total mileage: 418.6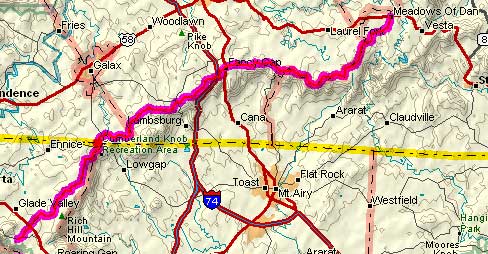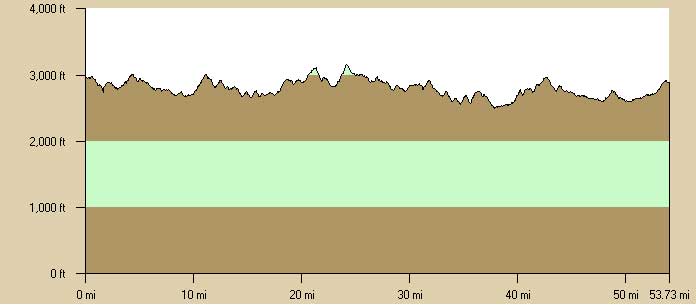 ---

Rolled out of the fleabag motel at 7:30--locking the key in the room as per instructions (In all fairness, the motel was dumpy but there were no bugs). I called Linda to find out the results of her lodging quest. She booked me for the night in the Mountain Hearth Lodge B&B (http://www.mountainhearthlodge.com/). I would get my dinner there and my breakfast tomorrow. Since there were towns along the way and this is probably the easiest stretch of the Parkway, I was looking forward to an easy and worry-free day. Woo-hoo! (Linda also booked me into a motel in Blowing Rock for Friday night).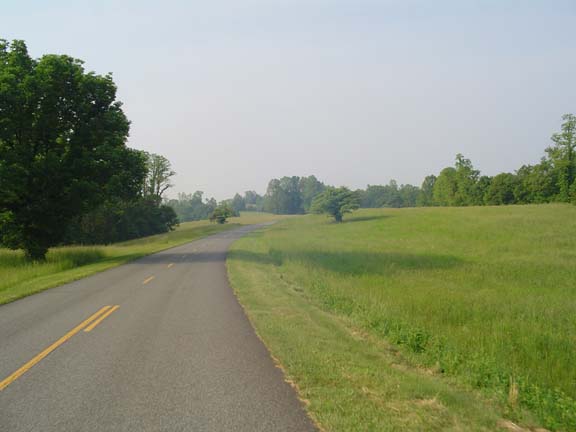 The road was easy.

The road was easy and the people seemed to be nice. Probably 80% of the drivers coming the other way waved to me. Most of the motorcyclists either waved or did their little two-finger salute thing. I took my time all was good.

I stopped at the Groundhog Mountain picnic area and examined the display of rail fence technologies.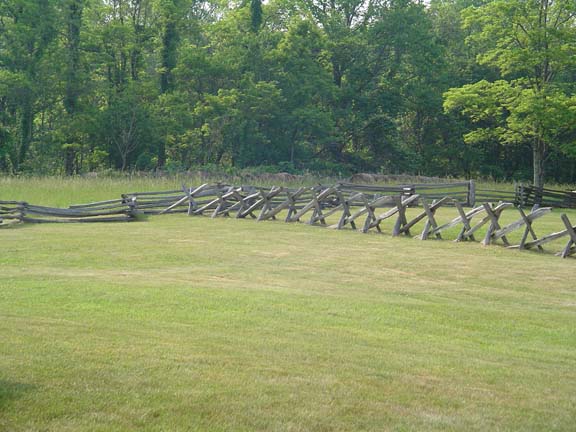 Buck rail, Snake rail, and Post & Rail. But which is which?



Later on as I rode along, an older guy in an SUV pulled up alongside and asked me about my trip. He said he likes to tour too, but not in the mountains. We chattted a while and then he moved on. Later, I stopped for lunch at Fancy Gap. While I was eating the same guy came in to the restaurant and sat down on the other side of the room. He finished before me and left. When I went to pay the waitress told me that the guy had bought my lunch. What's going on? Why are people being so nice?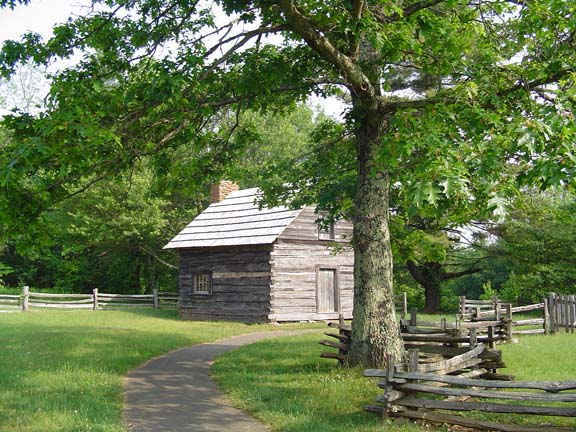 This is the Puckett cabin. An old lady named Puckett lived here.

She was a midwife who delivered dozens of babies.

But none of her own 24 children survived infancy.

Hmm.

I wanted to stop at the Blue Ridge Music Center, but I would have had to climb back up out of a valley so I passed on it. It probably would have been interesting, but I can't do everything. I did stop at the Cumberland Knob picnic area. Not much to see there. Should have gone to the music center. Next time.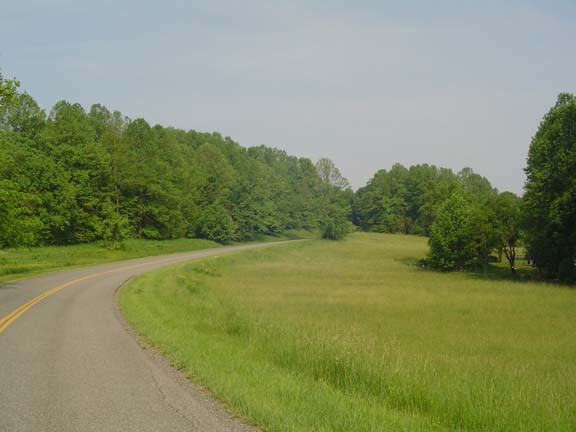 As I rolled along I started thinking of how nice it would be if I didn't have to carry my camping gear up high mountains. I figured when I got to Blowing Rock I could make my lodging arrangements for the rest of the trip and then mail all my camping gear back. I'm actually thinking about trying to tackle Mount Mitchell on Sunday. Getting rid of my gear would make that slightly more likely.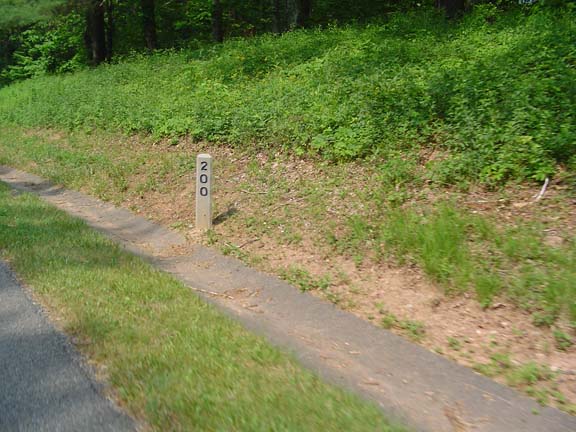 These mile markers are the sole measure of progress.
Without them....madness!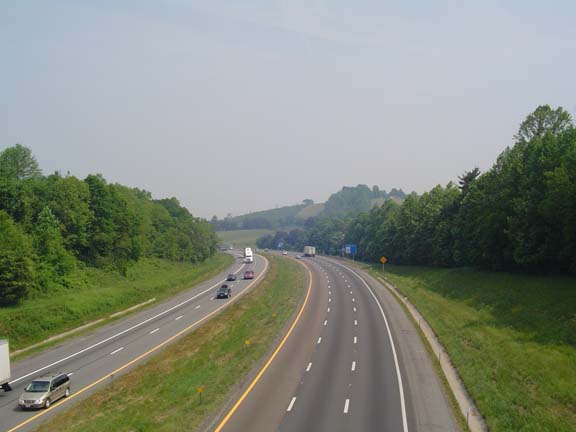 Even the Interstate highways are prettier out here.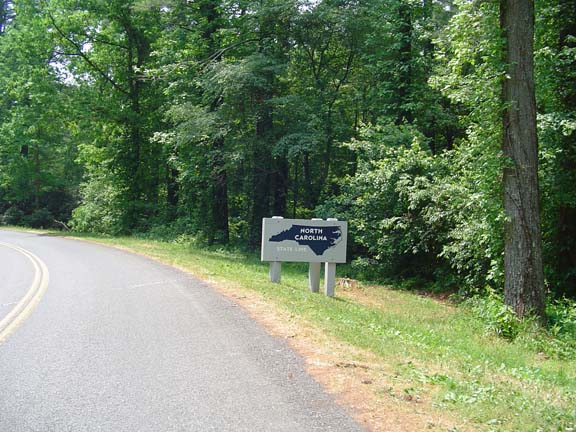 Suddenly, I was in North Carolina.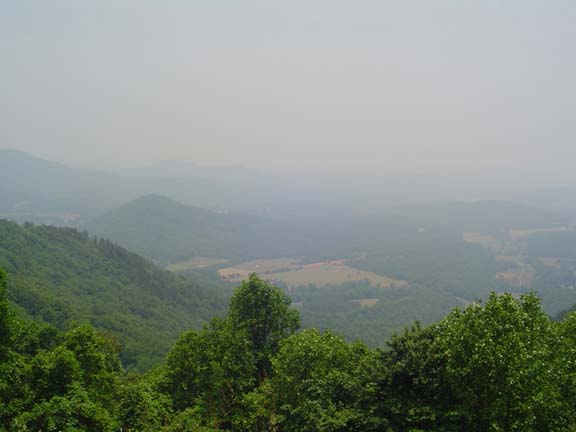 This is just to show that there were some hills today.

I wasn't just puttering around in some valley.

With about eight miles to go the clouds starting building up and it looked like rain. I figured I could just hammer the rest of the way. After about one mile I gave up on that idea and just rode on in. It didn't rain until long after I was inside.

I've got to say that the Mountain Hearth Lodge is the best place I've stayed at on any of my bike trips. Dana and Sarah Ross who run the place are two of the nicest people you could meet and they really like cyclists (because they used to cycle and tour quite a bit too). When I arrived they were off on a wild goose chase--literally. They were trying to chase some wild Canadian geese out of their pond (where they were not welcome) and over to one of their neighbor's ponds (where such critters are welcome). I mentioned my ideas about mailing back my gear and Sarah immediately offered to drive me to the post office right then.

So I got cleaned up and called a couple of places in Little Switzerland until I was set for Saturday night. I decided that was good enough. No more camping for me. I grabbed my stuff and we drove off the post office, only to arrive 3 minutes after closing. But Sarah was able to sweet-talk the postmaster into letting me in, so we boxed up my gear and off it went. That will save me dragging 10.8 pounds over the mountains. That's almost 11 pounds! I can afford to eat 11 more pounds of ice cream! It was very nice of Sarah and very nice of the postmaster. I don't know how much more niceness I can take...but I suspect I can take quite a bit.

Then were was dinner. It was extremely tasty and extremely huge (at first I was worried I might not finish it all, but then I hit my stride and put it away). Then there was ice cream. Awesome. Did I mention this place has wireless? And my cell phone works here! It's just amazing. And really really nice.

Eventually I waddled back to my apartment and called Linda. We worked on additional lodging arrangement for about an hour while I uploaded by backlog of journal entries.

I suspect breakfast will be really good too.


---
Next
---
"Blue Ridge Tour 2007" Copyright © 2007 By Bob Clemons. All rights reserved.