Day 10
Monday, 20 June 2005
South Portland, ME to Augusta, ME
75.0 miles, 5h53m, 12.7 mph
Elapsed Time: 8h09m, Max speed: 39.9mph
Total Climbing: 3952ft, Max elevation: 489ft
Total mileage: 638.3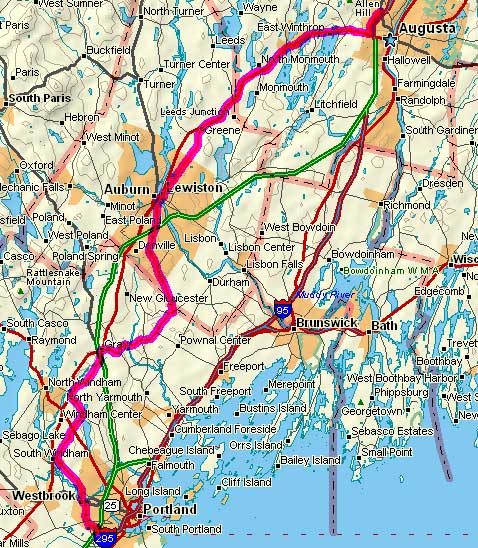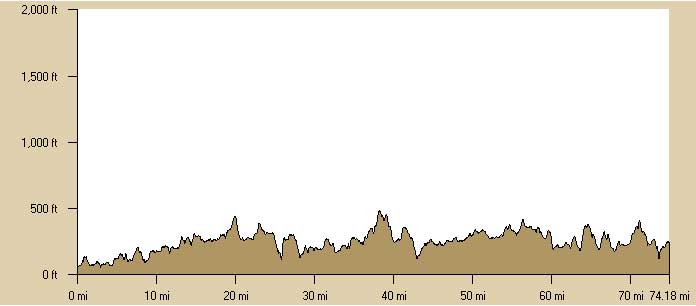 ---

Finally, we had perfect weather. Even the tail wind. Woo-hoo.

We got an early start and took a secret back road through a golf course to get away from the Mall of Maine. I discovered the secret road some time ago using the satellite images on Google Maps. The road was actually closed, but we got through.

We passed through the town of Westbrook and onto River Road heading west. It was about the worst cycling road you could pick. No shoulder. Heavy, high-speed traffic. Hills. Fortunately, most of the traffic was headed into Portland and we were headed away. But it wasn't much fun.

Then we got onto the back roads and things were better, except that none of the roads seemed to be flat. They were all up and down, up and down--short, steep little hills. I know I'm whining, but we had perfect weather so I wanted perfect roads too!

Speaking of road quality--there seem to be two kinds of Maine roads. Junk and really nice. The junk roads are all cracked up and falling apart--especially on the edges. The really nice ones are silky smooth.

We stopped for the first time at the surprisingly hectic crossroads town of Gray. Then there was more up and down (and waiting for another freight train) before we reached the amazingly unhectic crossroads hamlet at North Pownal. We had already passed the post office at Pownal, which was in the middle of nowhere. There is no post office at North Pownal which has a store and church and a garden center.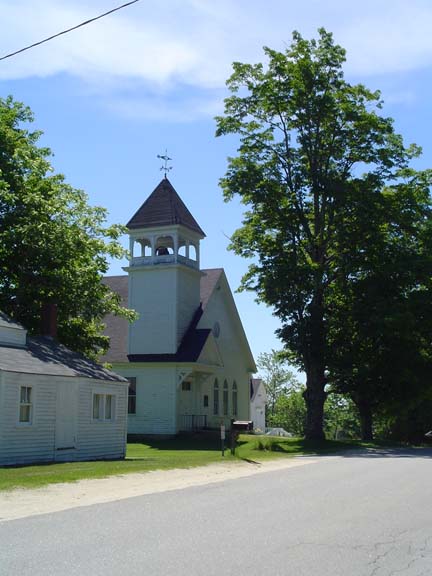 The church at North Pownal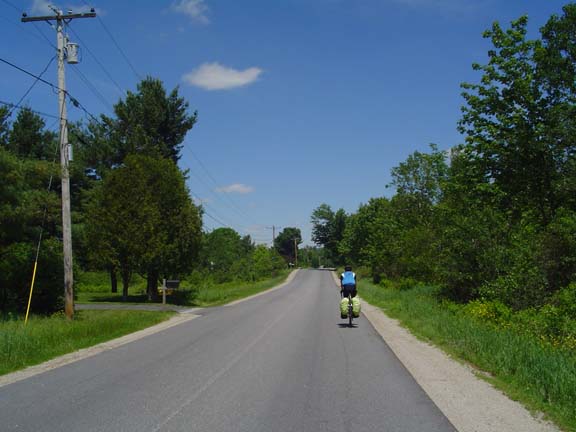 This is a really nice road.


We rolled into Lewiston at about noon and found Simone's Famous Hot Dogs for lunch.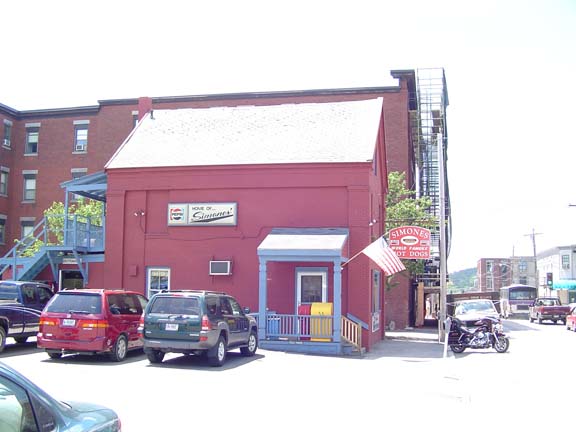 The famous Simone's Hot Dogs in Lewiston.


JT had two grilled chicken sandwiches and I had a ham and cheese sub. The people were really nice and Mr. Simone was walking around working the room. I decided that I should have a famous hot dog and find out what all the fame is about. The dog was very tasty and very small. And it looked funny...like it had a red wax coating on the outside. It didn't but it looked like it did. Here's me jamming the dog in my face.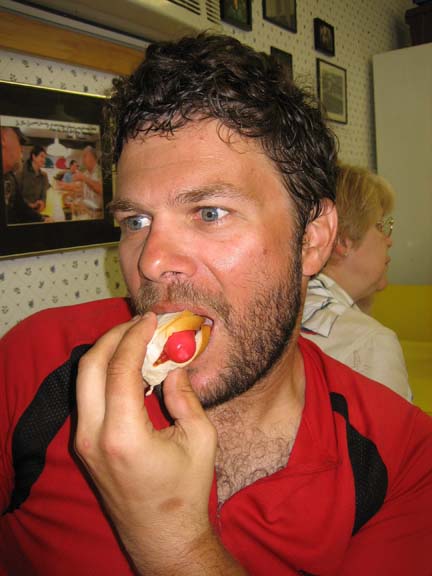 Eating a Simone's dog.


Last night I changed some of today's route in order to avoid some of the larger hills. Now I got the idea that we could avoid more hills by riding on US202. That road takes a wide arc to reach Augusta so I figured it was following a valley or something. The owner of Simone's (that would be Mr. Simone) said that 202 was mostly flat between Lewsiton and Augusta and that it has a good shoulder until you get close to Augusta. He was right about the shoulder but he was completely wrong about the hills. I know that people who travel in cars don't always notice the terrain--but there were three places where an extra lane was added to accomodate slow traffic on hills. Mr. Simone may know hot dogs but he don't know US202.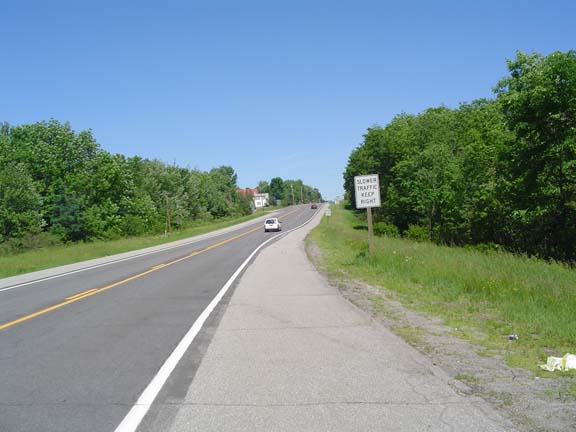 That sign says, "Slower Traffic Keep Right."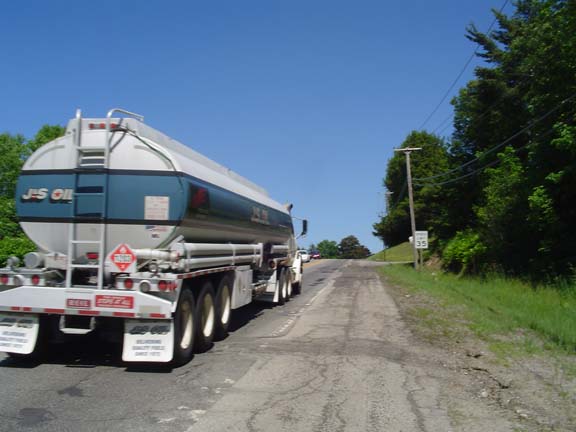 Here's a fine section near Augusta.


Things got pretty hectic when we reached the Augusta city limits. We found a road that ran to the north end of town and rode up there to the Comfort Inn. Then we ate.

---
Previous | Next

---
"JT and BC's 2005 New England Ride" Copyright © 2005 By Bob Clemons. All rights reserved.