Day 9
Sunday, 19 June 2005
Portsmouth, NH to South Portland, ME
78.0 miles, 6h05m, 12.8 mph
Elapsed Time: 8h31m, Max speed: 29.9mph
Total Climbing: 2367ft, Max elevation: 162ft
Total mileage: 563.3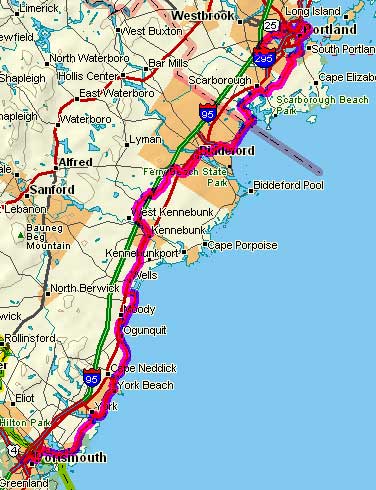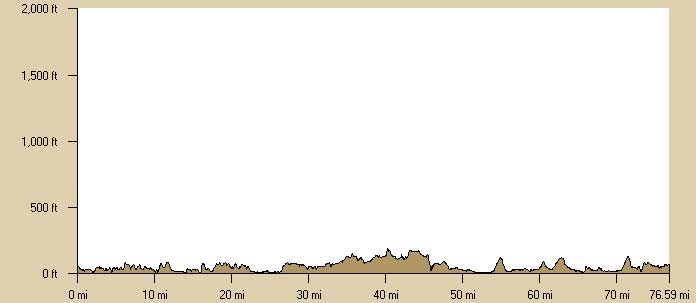 ---

Finally a sunny day, but it was still a bit cool. I will settle for nothing less than perfect weather. But perfect weather is always a day away. Tomorrow for sure.

We didn't get out of Portsmouth until about 8:30 and crossed into Maine on a draw bridge. We may have seen our first fellow tourists going the other way. There were two older couples riding tandems. One couple was riding a recumbent tandem. The woman balked at crossing the steel grate bridge and apparently she hit the brakes. Then there was a lot of yelling as they walked the bike across.


A first look at Maine.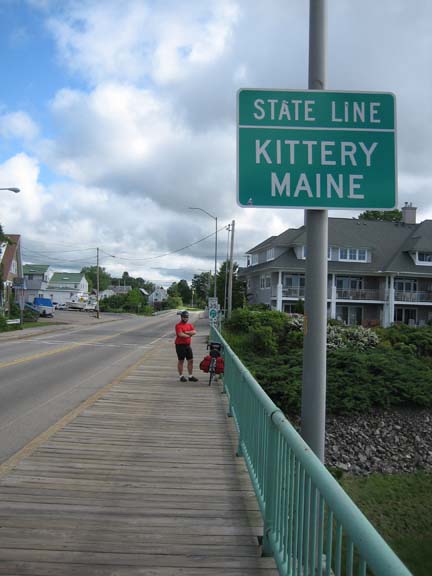 Waiting in Maine for JT.


About five miles into the ride we reached Fort McClary State Park. The park wasn't open yet (not for another 8 minutes) so we went around the barrier. Then we took a lot of pictures for no reason.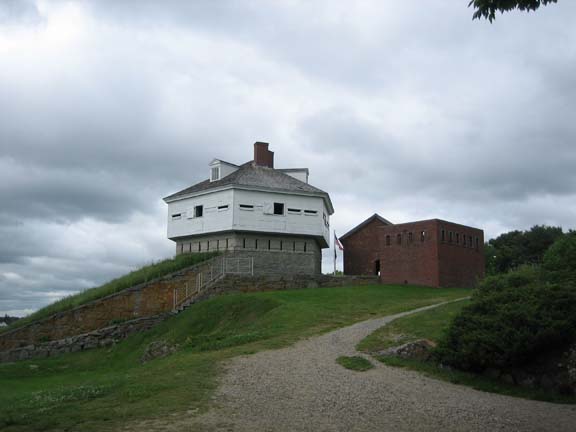 There it is: Fort McClary.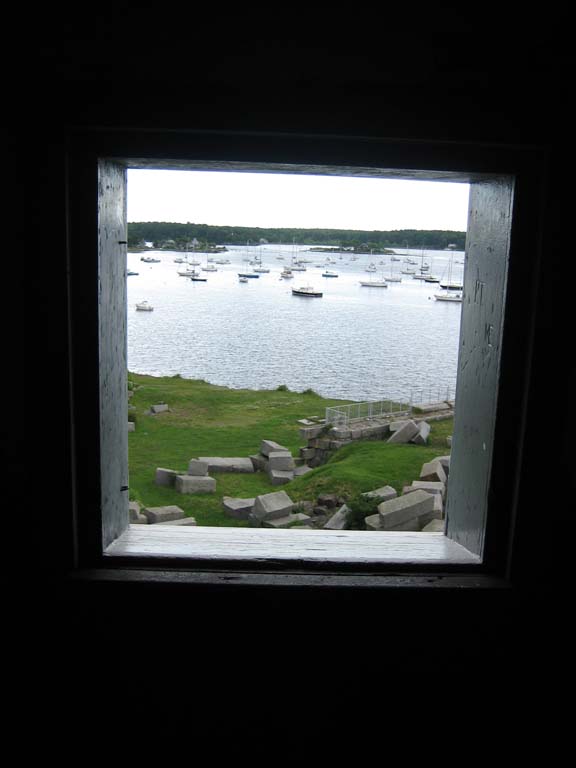 JT took this artsy shot.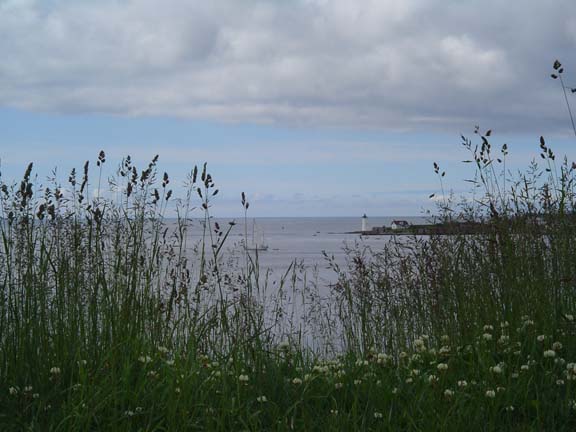 I took this one. That lighthouse is the same

one from yesterday.


Then we rode on to Kittery Point, York Harbor, and York Beach. It was nice, but we were riding into a stiff headwind. Normally the wind is out of the south, but the wacky weather we've been having is a bit unusual, so we get the headwind.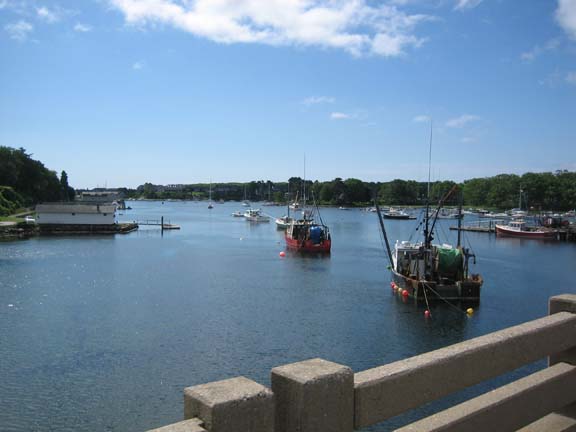 I think this is York Harbor.


The route was a little bit rolly at the beginning and flatter toward the end. We only needed to use the granny gear twice all day.

We stopped at a coffee shop in Ogunquit for a snack and we met an older couple who had done lots of touring and now live locally. We swapped touring stories and they told us about a shortcut that would save us a little riding on US1. Then it was Wells and Kennebunk before we headed inland to sample some of the lousiest roads yet.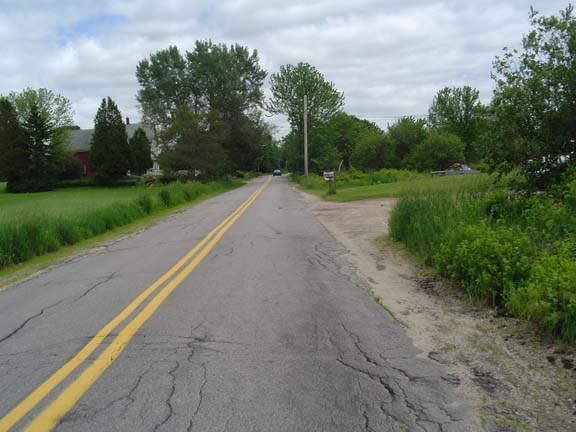 A lousy road. Most of them were actually better.


Next it was Biddeford and Saco before we hit the coast again at Ocean Beach. We stopped there for lunch at a little place. Then we moved on up the coast to Old Orchard Beach, which was crowded and noisy. We moved back inland and stumbled across the Scarborough rail trail, which saved us some more US1 riding, but it wasn't paved.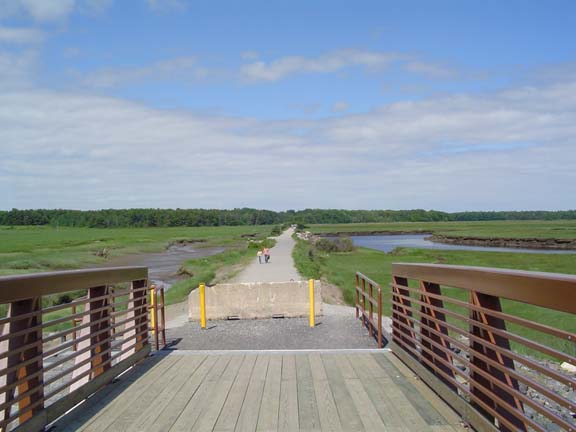 Entering the Scarborough Rail Trail.
This is why we came to Maine.


We had two options for fiinishing the ride today. One was to go directly to the motel. The other was to ride north into Portland and do a lap around the city. For some reason we decided on the second option. Portland was nice, but it really wasn't worth the extra miles. We should have gone out to Cape Elizabeth, which is supposed to be stunning.


Riding the cobbles in Portland's old port district.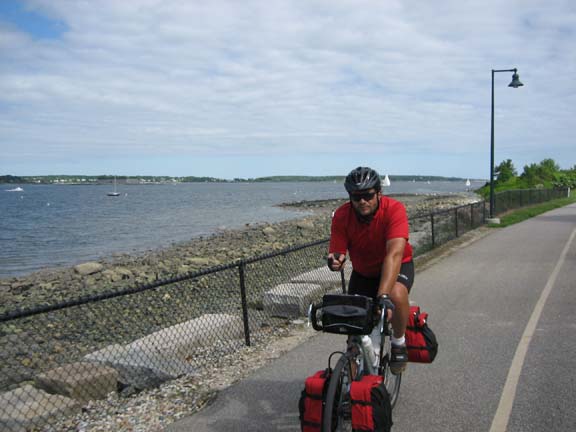 And the trail around the city.


Eventually we found the motel in South Portland across the street from the Mall of Maine. Across the street was too far to go for dinner so we hit the Chilli's in the parking lot.

---
Previous | Next

---
"JT and BC's 2005 New England Ride" Copyright © 2005 By Bob Clemons. All rights reserved.