Day 6
Thursday, 16 June 2005
Bourne, MA to Provincetown, MA
77.9 miles, 6h11m, 12.6 mph
Elapsed Time: 8h31m, Max speed: 31.9mph
Total Climbing: 2645ft, Max elevation: 237ft
Total mileage: 402.1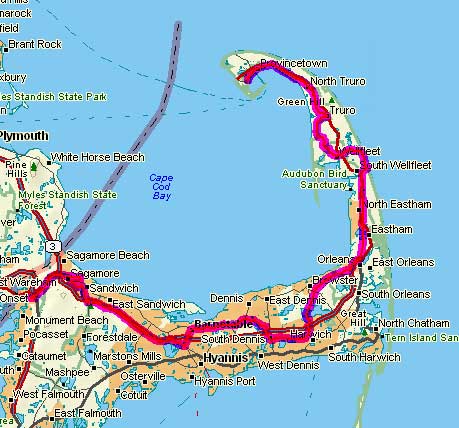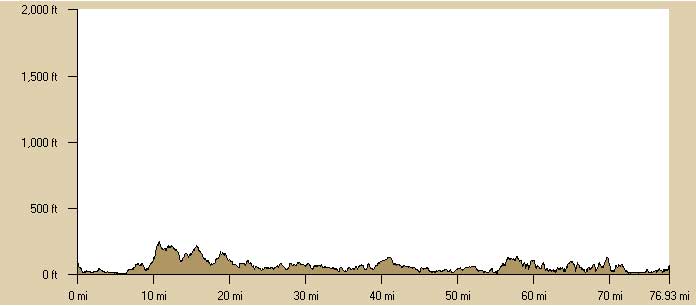 ---

I thought Cape Cod would be mostly flat. In fact, it is almost never flat. No big hills, but lots of little ones.

It was a dark and cloudy morning when we started. Not as cold as yesterday and not as windy, but still cool. We started by finding our way to the Cape Cod Canal and jumping on the bike path.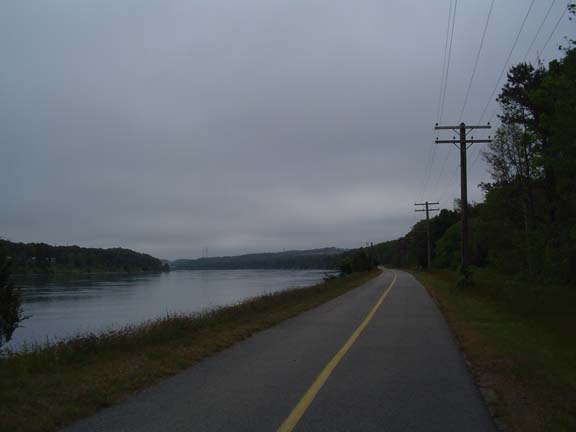 Cape Cod Canal Bike Path on a dark June morn.


We stopped for a break at the end of the trail. An old guy walking by us asked, "Extra ham and marshmellow sandwich?" At least that's what we thought he said. It might have made more sense if he had said, "ham and cranberry" but I don't think that's what it was. By the way, this is cranberry country and is rife with cranberry bogs...and apparently with crazy old men.

Soon we were in the village of Sandwich and we stopped to photograph a mill. I noticed that I had a voice mail message so I called Linda, who was at the airport waiting to fly up here to meet us along with Phyllis (JT's squeeze). She said the message wasn't from her, so I had to listen to it. It was from my boss's boss's boss's boss (that would be my great-great grandboss). That could only mean that I'd been fired or I'd been promoted. Since he said he had "good news" I assumed the latter, and I was right. Linda had also been promoted and later we learned that Phyllis had been too. JT didn't get promoted, but he got a substantial consolation prize. It was decided that he would buy dinner tonight.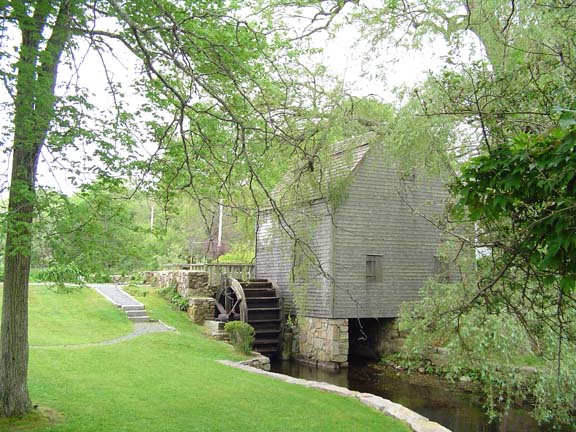 Dexter Mill in Sandwich. Big doings.


After the excitement died down we got back on our bikes and headed east. We got on the Route 6 Service Road, where we learned that Cape Cod is not flat. That road is more like a roller coaster...all up and down. Turns out that all the roads on The Cape are like that. Later we roade through Barnstable, Cummaquid, and Yarmouth Port on Route 6A, which was busy and narrow, but the drivers were courteous and speeds was slow. We wandered around South Dennis for a while until we found the Cape Cod Trail and jumped on.

I was a little disappointed in the Cape Cod Trail. The quality of the trail surface ran from silky smooth to rough with tree roots poking through. Still it was better than riding in traffic and it was very peaceful...and it actually goes somewhere useful.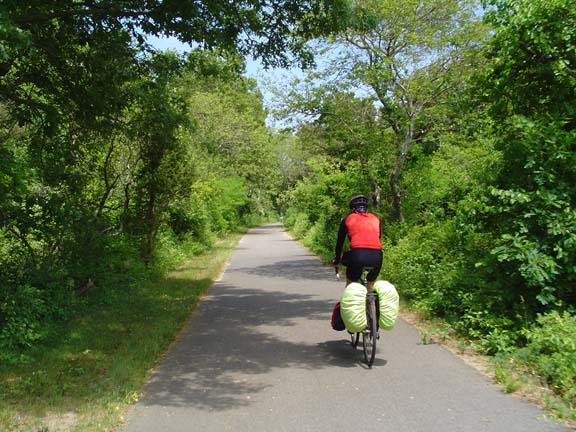 One of the nice parts of the trail.


We stopped for lunch on the trail in Mt. Pleasant, which is somewhere in the middle of nowhere. We were near South Wellfleet when Linda called and said that she and Phyllis had just crossed the Cape Cod Canal (they had flown into Providence and rented a car). I told her to call back when they got to Orleans. Meanwhile, JT and I finally got to see the ocean.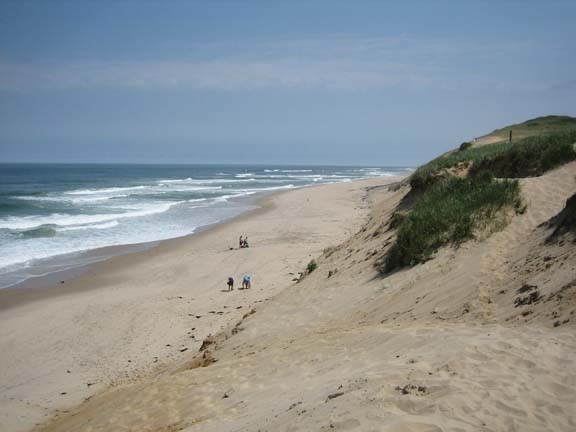 It looked like this.


By the way, the clouds cleared away and the sun started shining. Woo-hoo!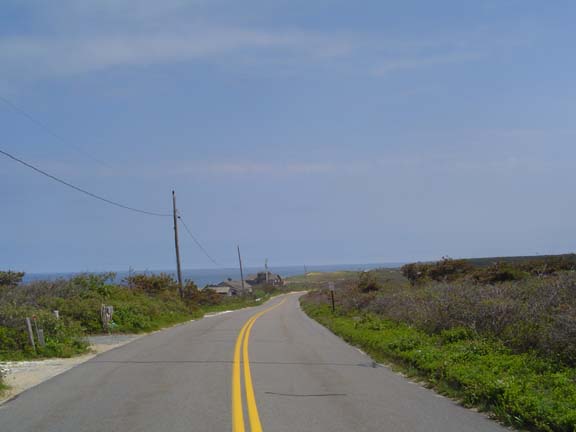 This is from the top of a big hill.

We were near Wellfleet when Linda called again. I told her to call back when they reached Wellfleet. I could go on for some time about the difficulties of the rendevous. Let's just say there were various zany madcap antics, but eventually we managed to meet up in front of a bait shop in Truro.

After a brief but joyous reunion, the girls took our bags and we started off on the final leg through North Truro and finally into Provincetown.

Provincetown is a wacky place. There was a guy in a miniskirt and high heels standing in the town square singing Sinatra songs. His sign claimed that he was a 73 year old "Provincetown chorus girl."

We went to dinner at a place down on the water. It was cold. I had lobster.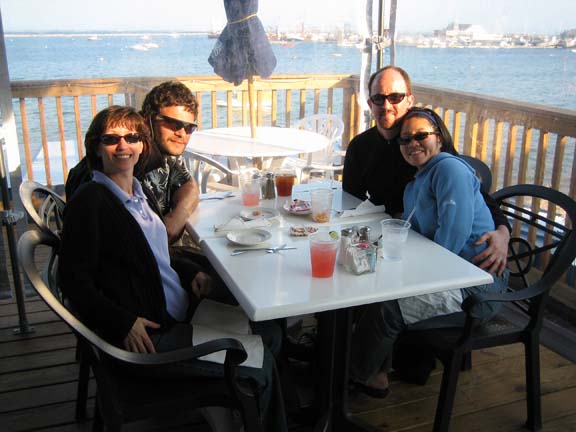 Dinner at Pepe's.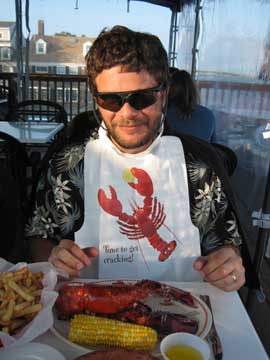 I had lobster.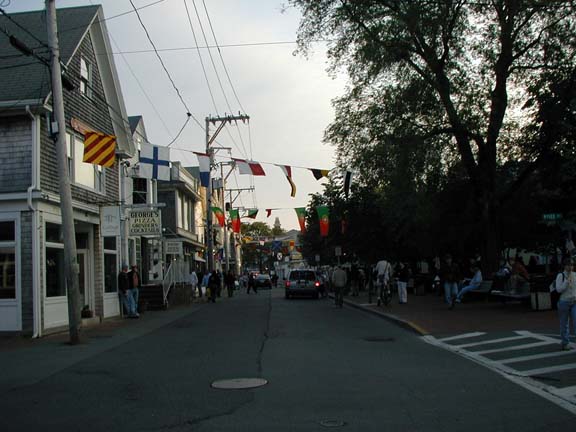 A wacky place.
---
Previous | Next

---
"JT and BC's 2005 New England Ride" Copyright © 2005 By Bob Clemons. All rights reserved.