Day 5
Wednesday, 15 June 2005
Foxboro, MA to Bourne, MA
55.8 miles, 4h23m, 12.7 mph
Elapsed Time: 5h42m, Max speed: 25.3mph
Total Climbing: 1208ft, Max elevation: 235ft
Total mileage: 324.2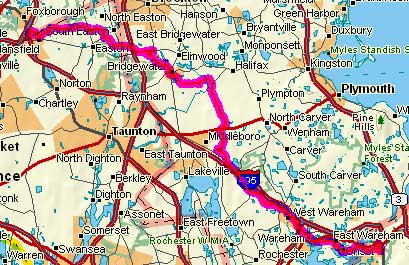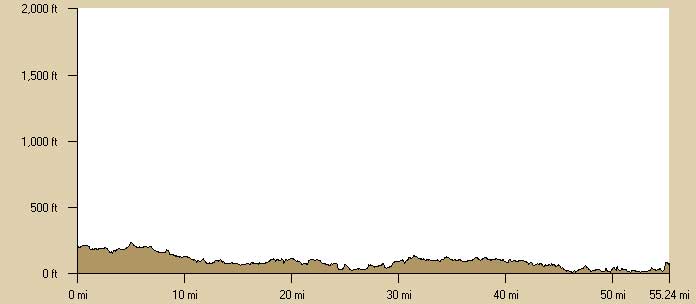 ---

Out of the frying pan, into the freezer. After four days of temperatures in the high 80s and low 90s, today the temperature never made it near 60. I think I liked the heat better. JT prefers the cold over the life-threatening heat.

As indicated by the profile and our average speed, the ride was fairly easy. If it wasn't for the cold it would have been great.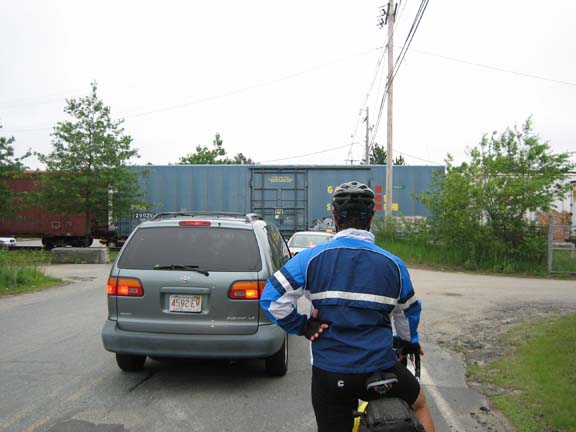 I hate when this happens.


We had some trouble with street signs along the way today. The road we wanted in West Bridgewater didn't have a sign so we missed the turn. Then we wandered around until we found the right road, but the bridge was out so we had to detour a bit. We spent way too long in West Bridgewater.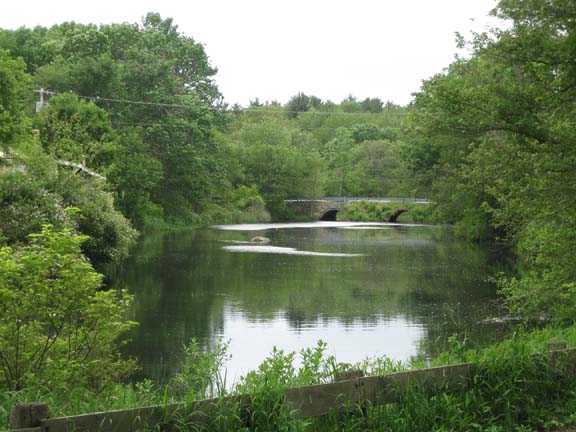 This is the bridge we wanted to cross.


We also had trouble finding our way out of the next town: Bridgewater. We stopped at a convenience store and asked directions, but that really didn't help. Eventually I learned how to read my map and we moved along. We spent way too much time in Bridgewater. So we didn't stop again until we reached Wareham.

At Wareham we stopped at the Dunkin' Donuts for bagels and coffee and then rode through Orset and Buzzards Bay to the Cape Cod Canal Trail.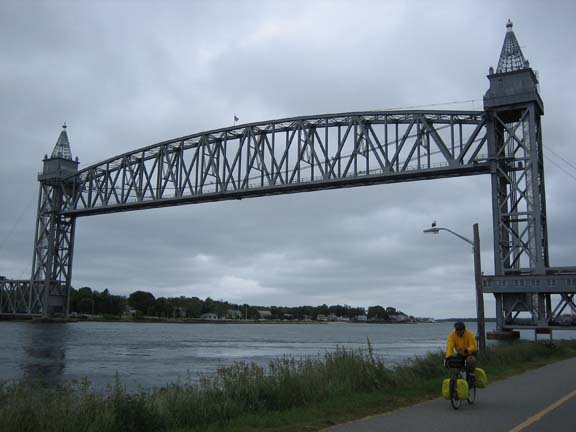 Bob in front of the CC Canal Railroad Bridge.
Bob approaching the Bourne


We jumped off the trail into a campground that was right under the bridge. Then we worked our way around to the west side of the bridge. The pedestrian/bike approach was not really in great shape and it didn't look like it was used very often.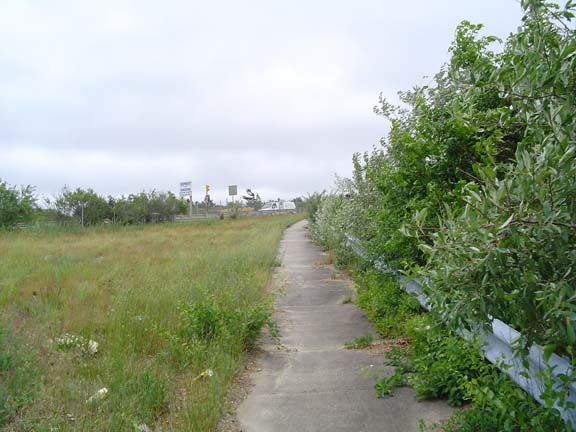 The well-maintained appraoch to the Bourne bridge.


The bridge itself was a nice climb to about 180 feet over the canal. There is a 2-foot curb between the sidewalk and the traffic but no guardrail. The most exciting part was weaving around the ladders being used by bridge workers who were painting or sandblasting.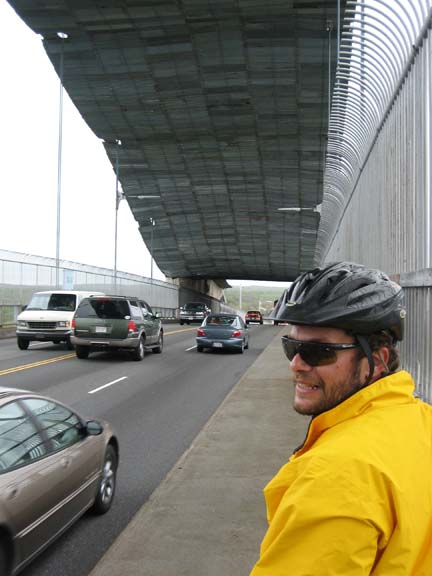 Bob on the Bourne bridge.


We could see the Best Western from the bridge so it was easy to find. We were in the nice warm room by 2:30. Dinner to follow.


---
Previous | Next

---
"JT and BC's 2005 New England Ride" Copyright © 2005 By Bob Clemons. All rights reserved.