Day 15
Friday, 6 June 2008
Plaquemine, LA to Laplace, LA
69.8 miles, 6h43m, 10.3 mph(est.)
Elapsed Time: 8h15m, Max speed: 30.0mph(est.)
Total Climbing: 855ft, Max elevation: 165ft
Total mileage: 898.7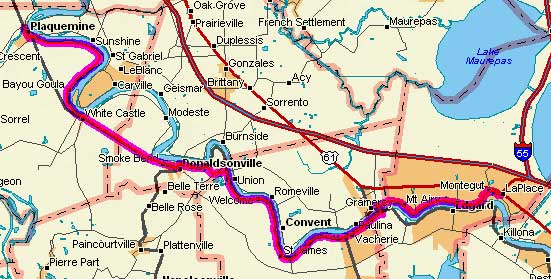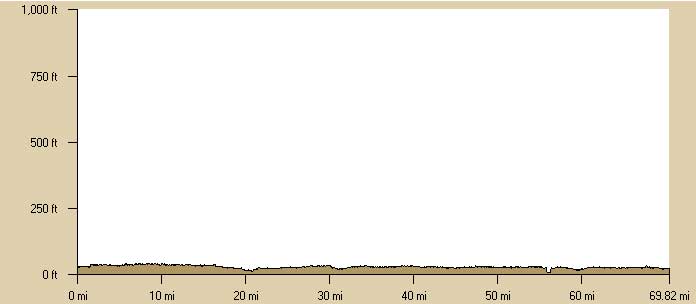 ---

Well, today my route would be more easterly than southerly, so the wind adapted by switching to a southeasterly direction--just to make sure I was covered. Other than that the weather was the same--hot and sunny. Today's route was very similar to Wednesday's route. It followed the river along the levee. Since I'd seen that film before, I took a couple of shortcuts when the river and roads obliged.

I rolled out of Plaquemine at about 7:45 and immediately found the levee to my left as usual. But instead of massive river control structures, I encountered historic sites and antebellum plantation homes. [By the way, I've since learned that those massive river control structures that I rode through are really cool. They represent the ongoing efforts of the Army Corps of Engineers to prevent the Mississippi River from changing course.]

It's not unusual to encounter churches in the south. Most of them are of fairly uninspired architecture. Imagine my surprise when out of nowhere...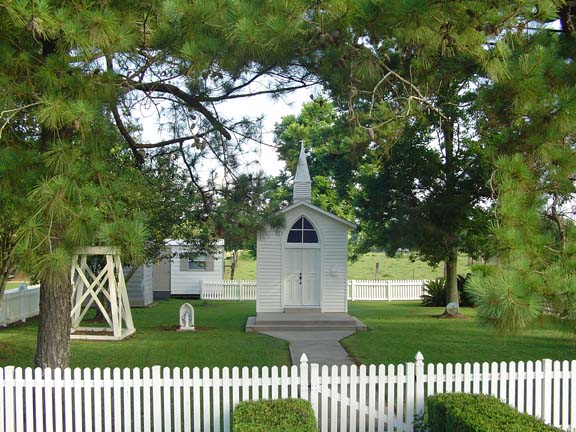 The spectacular Madonna Church of Bayou Goula.
The sign out front says it's the smallest church in the world.
It seems like I've been to other smallest churches in the world
(see
http://www.roadsideamerica.com/set/church.html
).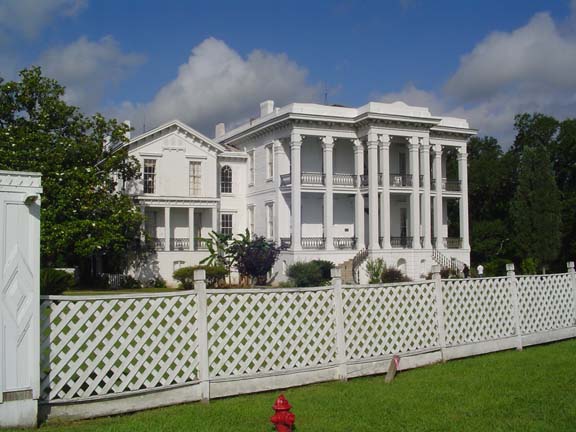 This is one of those antebellum plantation houses.
I forget its name.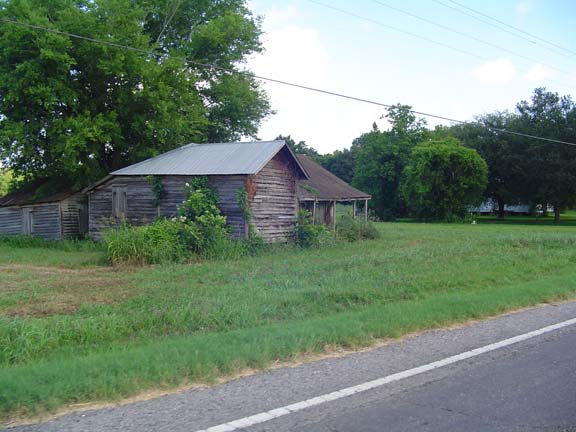 This is a more typical residence.


After my trip along the levee I decided to cut off a bend in the river by taking a straight shot down LA 1 to Donaldsonville. The shortcut saved me about 5 miles, there was less wind, there was no levee, there were no dogs, and the road surface was perfectly smooth. LA 1 was great. Did I miss another tiny church or an amazing plantation house? Probably, but I'll never know.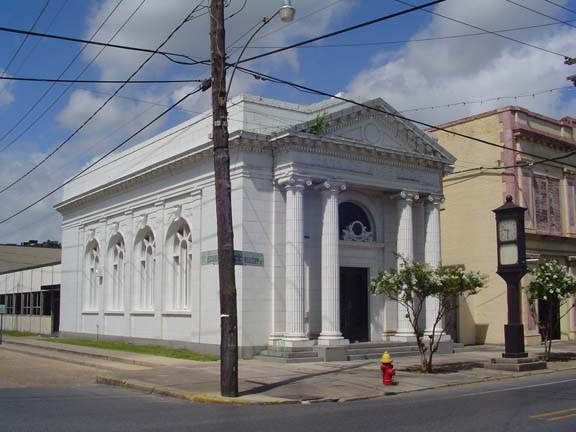 There were some cool buildings in Donaldsonville. This was a bank.

In Baltimore it would now be a bar.


After Donaldsonville, it was back to the levee road. I should mention that in three days of riding along the river, I've actually seen the river only a handful of times. Apparently the levee belongs to whoever owned the land under it, so most of the little roads that climb the levee are posted no trespassing. In this area most of the land belongs to oil refineries, with a few plantations wedged in between.


I've seen some big CFs in my day, but never anything like this.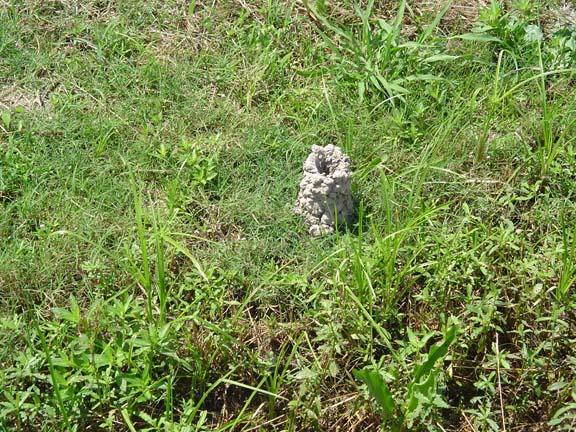 Another mound-building culture heard from.


The road was good from Donaldsonville to a little place called Welcome. Then it went to crap.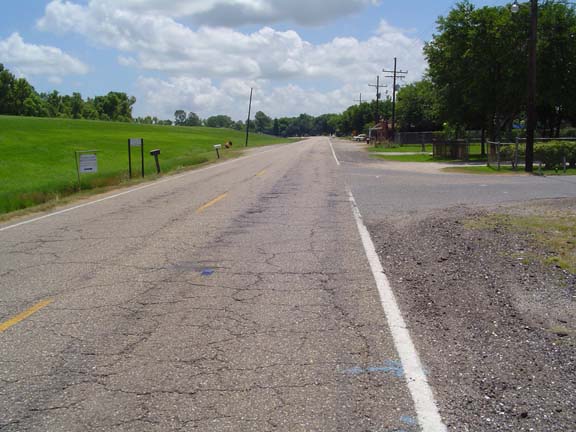 I really want to emphasize how crappy the road was.


Furthermore, there was more traffic than I would expect on such a crappy road with no shoulder. So I spent all my time staring at the road, trying to pick my way along, into the wind, listening for trucks coming up from behind. It was tiring, but there were interesting sights.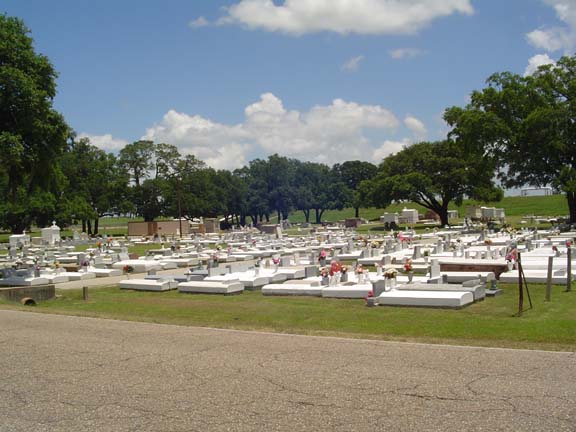 Like those crazy Louisiana cemeteries.


Somewhere around Welcome I stopped at a store to pile on more drinks (I was already carrying maximum capacity). While I was resting out front a guy got out of a car and started talking to me about fellowship and lunch breaks. He had several gold teeth. He asked me about my trip and was very impressed. Turns out he's from New Orleans, 6th Ward, his name is Nelly. He insisted on buying me a Gatorade. I was feeling worn out by the road, but after our talk I had a little more energy...and more Gatorade. I instituted a policy of carrying one of my bottles in my handlebar bag so that I would drink them before I bought more. Turns out I didn't need to buy any more.

Then Linda appeared and everything got even better.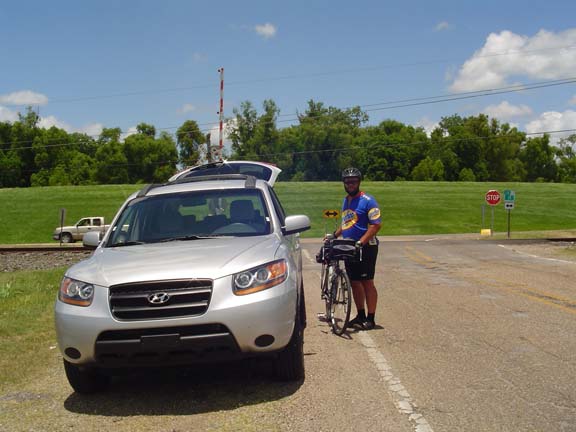 Yea!


I rode a little faster without the bags, and also because the road turned a little north so I had a tailwind for a while. There were a few more things to see.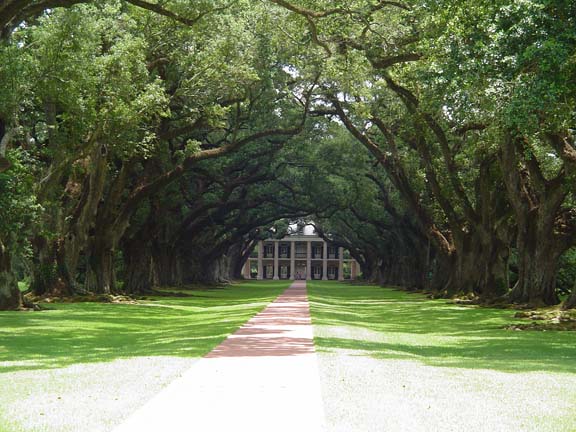 This is the Oak Alley Plantation. I wonder why?


Next came the thrilling crossing of the Mississippi on the Gramercy Bridge. There is always some concern about the safety of bicycling on this kind of bridge, but in this case the bridge was much safer than the regular roads on either side. The bridge had a nice shoulder and low traffic, while the roads leading to the bridge had no shoulder and lots of traffic. Those little reflectors stamped in the road weren't a big problem, but I had to be careful with the expansion joints, which could easily grab a bike tire. I also had a tailwind on the way up. Woo-hoo! Which made it very hot. D'oh!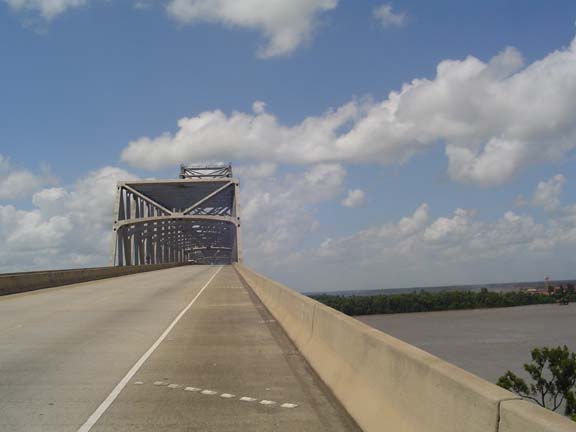 Much safer than the surface roads.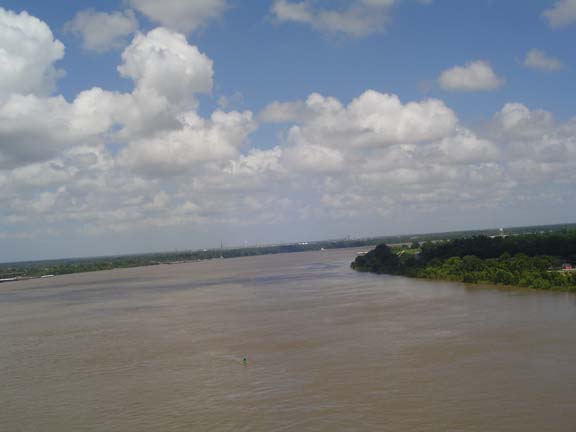 I even got a look at the river from the bridge.
The bridge is 165 feet above the river. It was the highest elevation I've reached in Louisiana.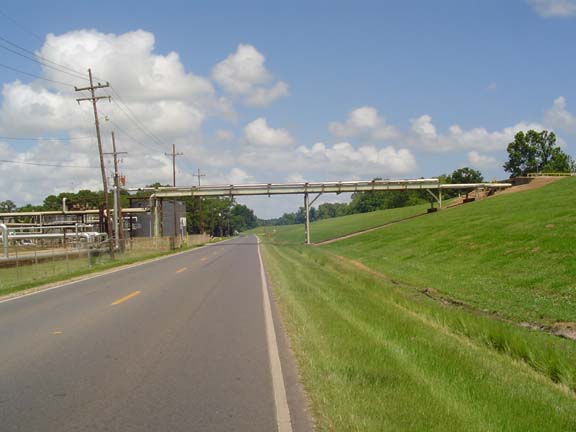 Now the levee is on the right!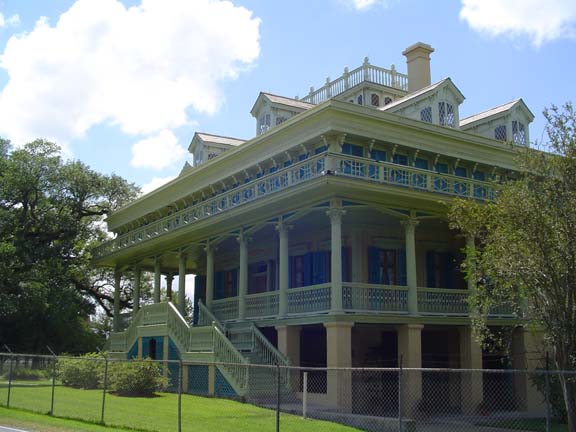 The San Francisco plantation.
A few more miles down the busy road and I reached Laplace. Linda met me at an intersection and we loaded the bike into the car and drove off to the Hampton Inn. Tomorrow Linda will drive me back to the same place and I'll head into New Orleans. Just 30 more miles to go! I can't wait to be through with this drudgery and get back to work!


---
Next
---
"NatchezTrace Tour 2008" Copyright © 2008 By Bob Clemons. All rights reserved.