Day 2
Saturday, 24 May 2008
Chattanooga, TN to Monteagle, TN
63.6 miles, 6h01m, 10.5 mph
Elapsed Time: 7h24m, Max speed: 40.1mph
Total Climbing: 4361ft, Max elevation: 1913ft
Total mileage: 76.9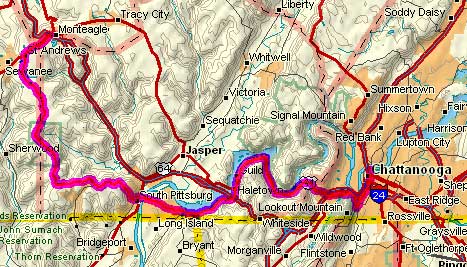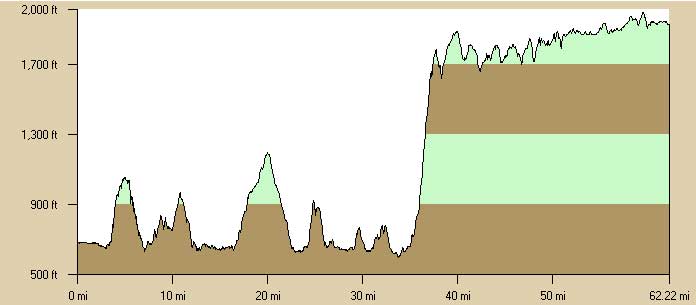 ---

The first big day was really hard. I rolled out of downtown Chattanooga before 8am. The first thing I had to do was somehow get past the nose of Lookout Mountain. On the drive over it looked like there was about enough room for an interstate and a railroad, but not for a bike route, so I had to climb partway up the mountain.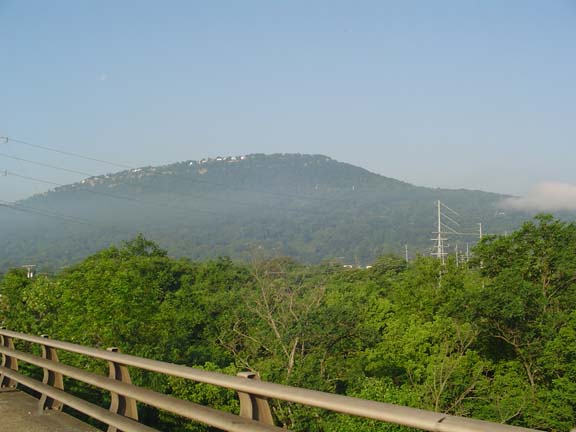 Lookout Mountain looms.



So I did a little climbing, and I got on a crappy little bike path that ran around the front of the mountain.


The incline railroad up the mountain.



The path eventually dumped me out at the world famous Ruby Falls tourist trap. From there I had a really fun ride back down into the river valley.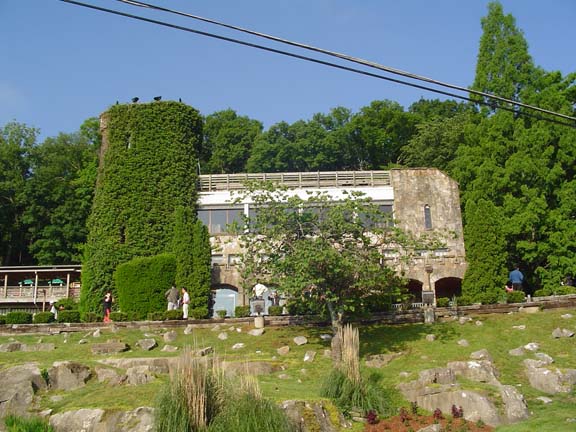 Ruby Falls. We saw about 700 signs for this place on the drive down from Nashville.



I avoided the major climbs by taking US41 along the river. This whole area is nothing but hills, so I couldn't avoid them all. Route 41 is one of those roads that time forgot. It was a big deal when it was built, but nowadays wherever it goes, there are several better ways to get there. So there was little traffic except for guys goin' fishin'.

Somewhere west of Chattanooga I crossed over into the Central time zone and gained an hour. It was the first time I'd ever cycled across a time zone boundary. Odd that I'd never done that before. Yes, odd.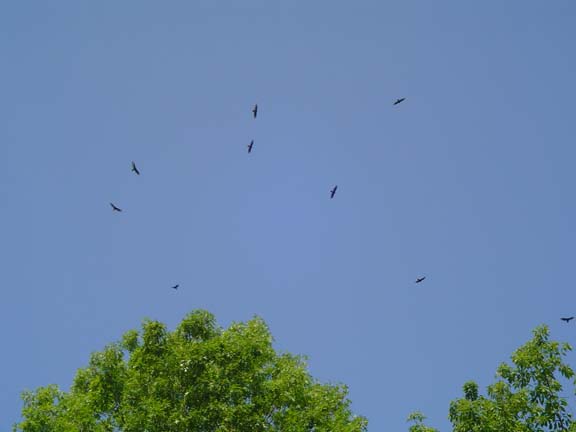 How many vultures does it take to consume a cyclist? Apparently the answer is nine.



There was a big climb, and then I coasted back down to the river and rode along the flat ground for a while.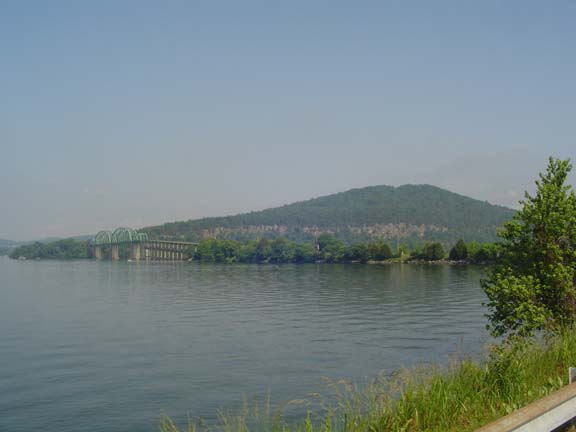 That's the US41 bridge over the Tennessee River. Exciting huh?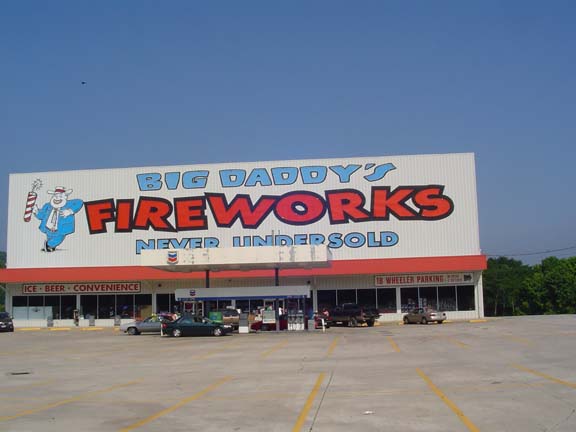 You know, I don't actually have any matches with me. Too bad.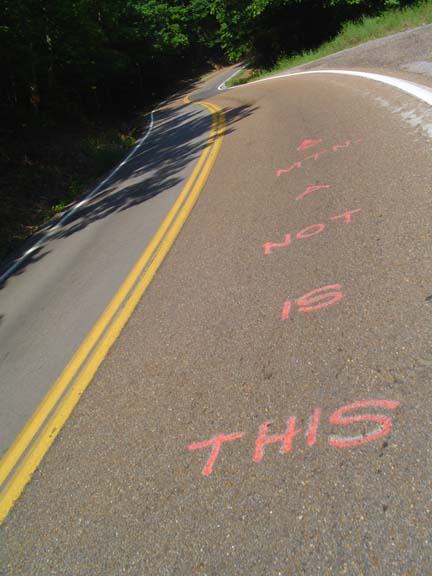 This is not a mountain. Just a really steep hill.



Eventually I crossed the Tennessee River and rolled into South Pittsburg, TN. I grabbed a fine turkey sub for lunch at the Dixie Freeze. Across the street there were some people sitting in chairs on the sidewalk playing guitar and singing the blues. I sat outside so I could listen. I could have sat there all day, but I needed to get to Monteagle, and I had a date with a really nasty hill (see profile above).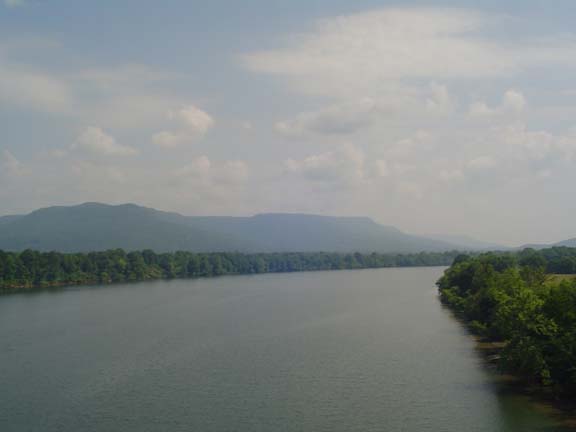 One last look at the Tennessee River....for now.



That hill was ridiculously steep. One thousand feet in about 2 miles. The grade was something like 12 percent. I guess you can do that when you don't have to worry about snow. Did I say it was ridiculous? Well, it was ridiculous.

Once I got up there I got to stay up there. The road just kind of wandered along a ridgeline without ever dropping down too much. It was pretty boring and seemed to go on forever. At one point a motorcyclist eased up beside me and asked me where this road comes out. I told him and he asked me how far. I answered that his guess was as good as mine. Even though I have a detailed map that shows all the smalled side roads, I managed to lose myself. I knew where I was coming from and I knew where I was going, but I had no idea where I was. Pretty unusual for me.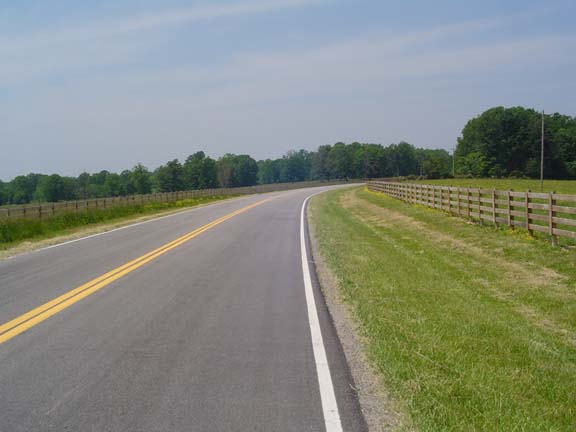 A token photo of one of the more interesting parts of TN156.



I was worried that I would run out of water, so I called Linda and she brought me some. Linda had taken a side trip to the Jack Daniels Distillery in Lynchburg and she was on the way back (still okay to drive--the distillery is in a dry county).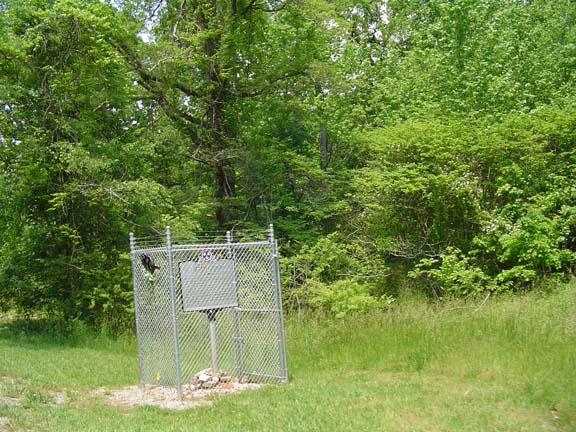 A historical marker in a cage. Some guy named Allan Gipson. Why the cage? Anybody know?
I rolled into the Regency Inn in Monteagle at about 2pm. We kind of figured it was a dump, and we were not disappointed. It took about an hour and a half for them to get the room ready. Then, well, it was a dump. All the other places in town were full. So we made do. Tomorrow we stay at a much nicer place.

---
Next
---
"NatchezTrace Tour 2008" Copyright © 2008 By Bob Clemons. All rights reserved.