Day 16
Sunday, 23 Jun 2013
Brandon, SD to Marshall, MN
84.7 miles, 5h49m, 14.5 mph
Elapsed Time: 7h29m, Max speed: 31.6mph
Total Cimbing: 1552ft, Max elevation: 1807ft
Total mileage: 964.2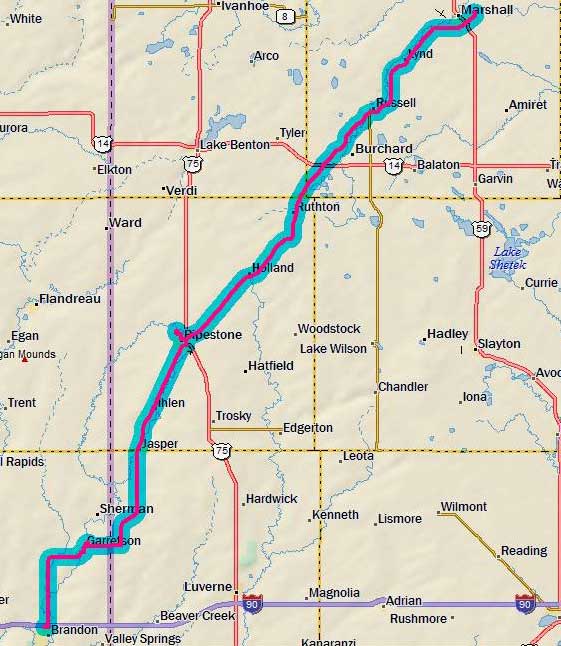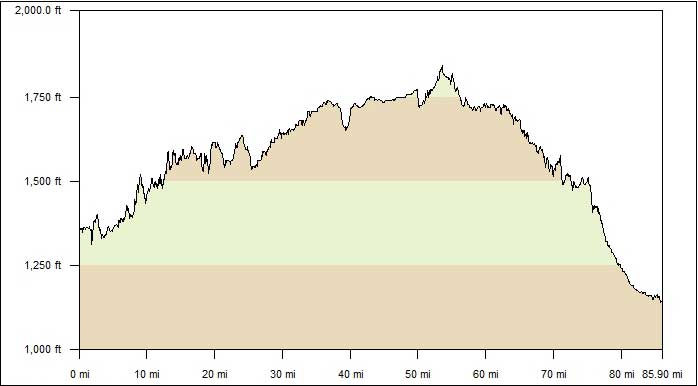 ---

One of the fastest average speeds I've ever had on a tour. A beautiful day to be riding in a northeasterly direction in southeastern Minnesota.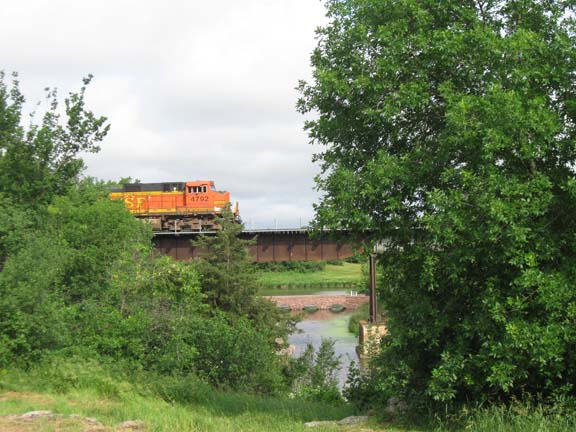 A quick ten miles from Brandon to Garrestson. Garretson was having it's annual Jesse James Days
this weekend. I don't know what this entails because I got there kind of early on Sunday.
Apparently, Jesse James escaped a posse at a place in Garretson called Devil's Gulch after
he robbed a bank in a nearby town. I saw a train.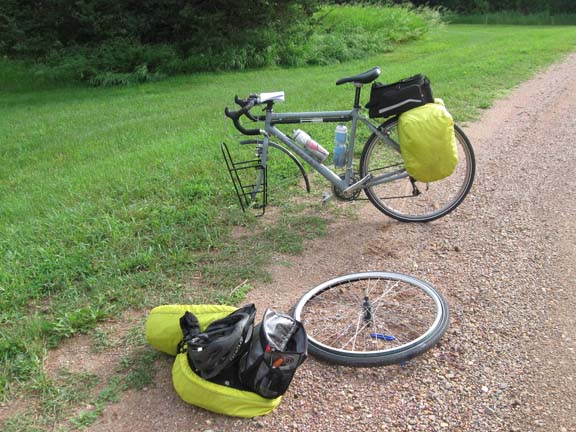 I got a flat tire trying to get there. First ever flat while using the legendary Schwalbe
Marathon Plus touring tires. Very disappointing. At least is was a front tire. Quick change and on I went.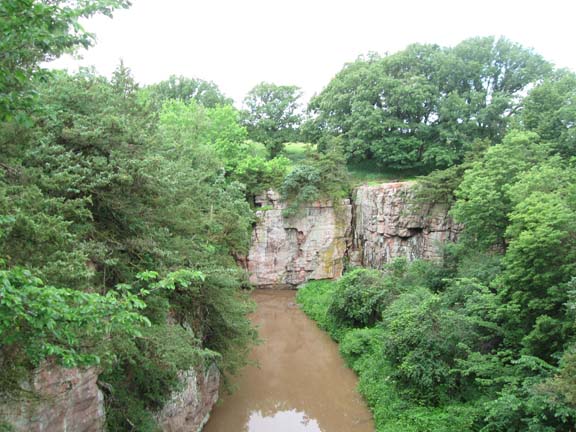 All to see the famed Devil's Gulch.
This was the best "Welcome to Minnesota" I could get. I promise I will not build without a permit.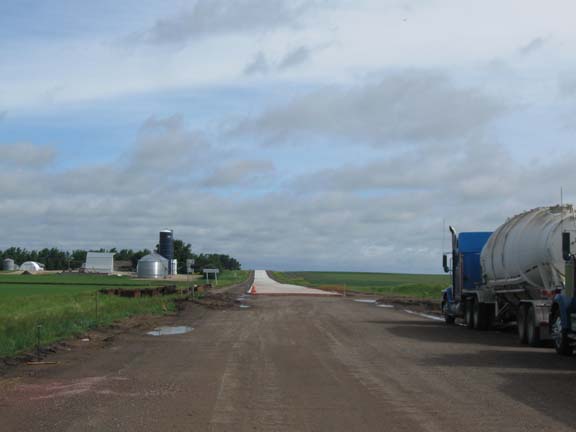 I planned to ride the rest of the way to Marshall on MN 23. But when I got there I saw this.
An empty road under construction and a bunch of trucks lined up to work.
So I had the road all to myself for about 10 miles.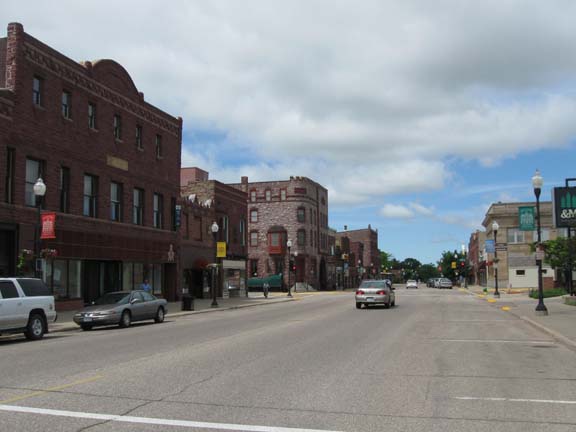 Pipestone, MN. The next place worth seeing. Neat little downtown.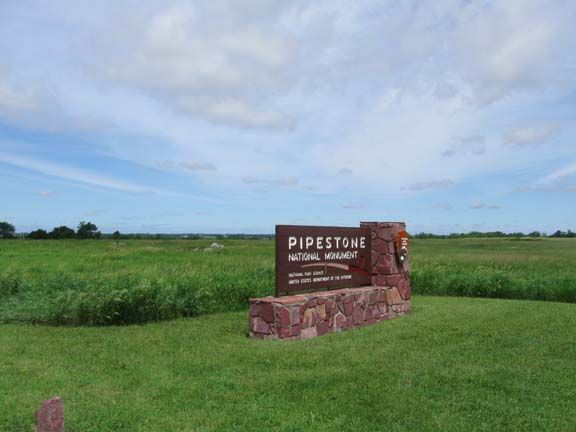 I stopped at the Pipestone National Monument to do the tourist thing.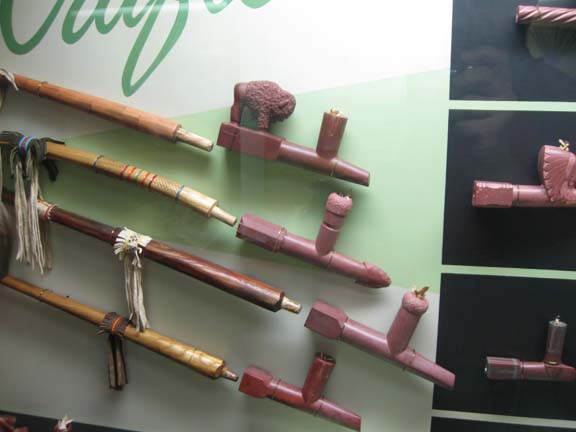 Pipestone was a place where Native Americans mined Sioux Quartzite, from which they made
pipes...like these. There was a guy there carving pipes (or something) in the visitors center.
Apparently the stuff is really good to work with.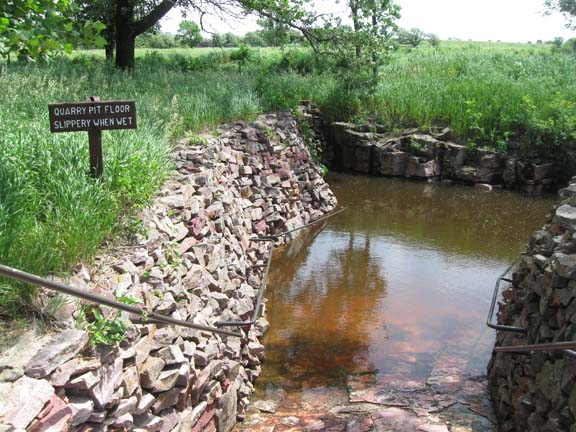 Careful! That floor could be slippery!
Yeah, it's been raining a lot.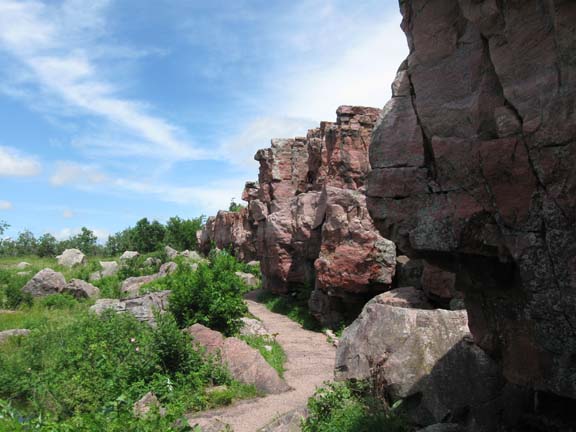 You could only do about half of the walking tour because of raging waters. But you could see
most of the cooler quartzite cliffs.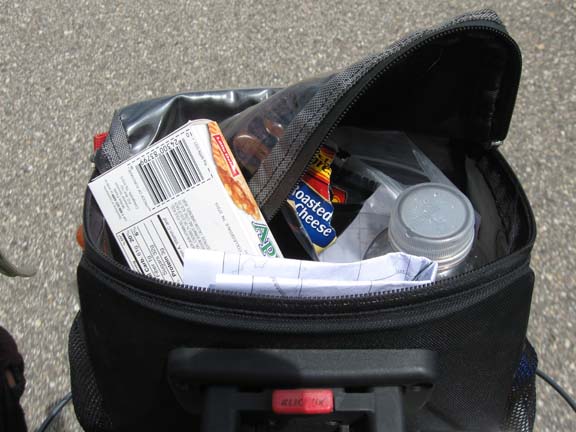 After finishing the tour, I stopped in town for lunch--which I ate while riding. There's my
little lunch set up. I was going about 16mph when I took this picture.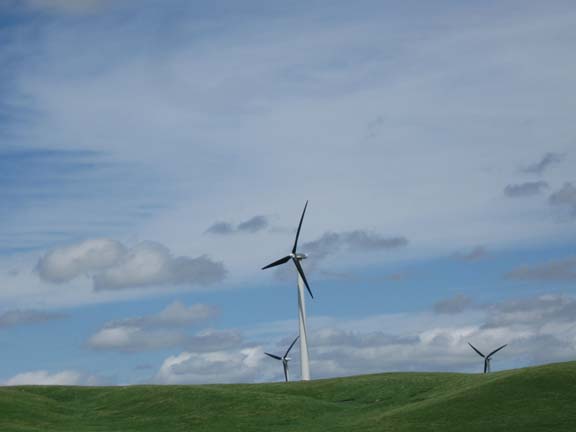 The last 40 miles were nice and fast. Tailwinds. Nice shoulder. Windmills. Oh yeah.


Tomorrow should be a short day to Redwood Falls. I'll end up in a casino. Pay for the trip.

---
Next
---
"Great Plains Tour 2013" Copyright © 2013 By Bob Clemons. All rights reserved.