Day 1
Saturday, 8 Jun 2013
Denver, CO to Brighton, CO
25.2 miles, 1h59m, 12.8 mph
Elapsed Time: 2h07m, Max speed: 25.0mph
Total Climbing: 485ft, Max elevation: 5303ft
Total mileage: 25.2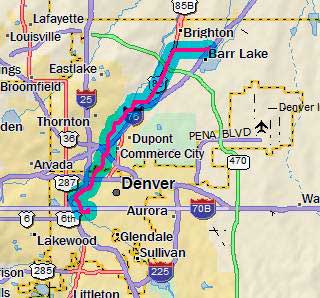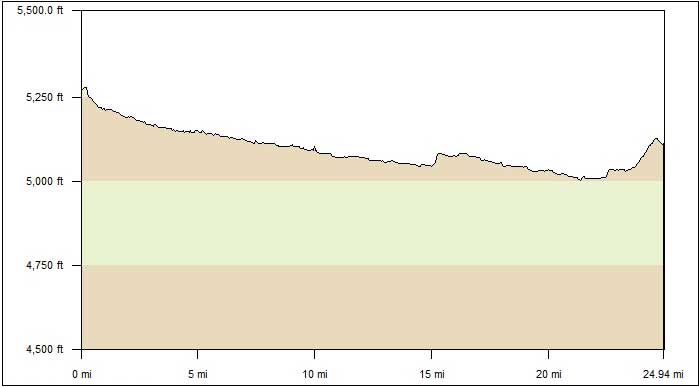 ---

We cut out of work early on Friday in hopes of reaching the bike shop in Denver before it closed at 7pm. It was raining in Baltimore because of Tropic System Andrea, but our flight left pretty much on time. Our flight landed early at 5:30, but then we sat on the tarmac for 20 minutes waiting for our gate to be vacated. Apparently they were waiting for a flight attendant to show up. That was the difference between making it and missing it. Oh well. I knew everything had to go right--and I know it seldom does. So we had to wait for the bike shop to open Saturday morning at 10.

We drove downtown a little early to see what there was to see. There was a giant blue bear looking through the windows at the convention center.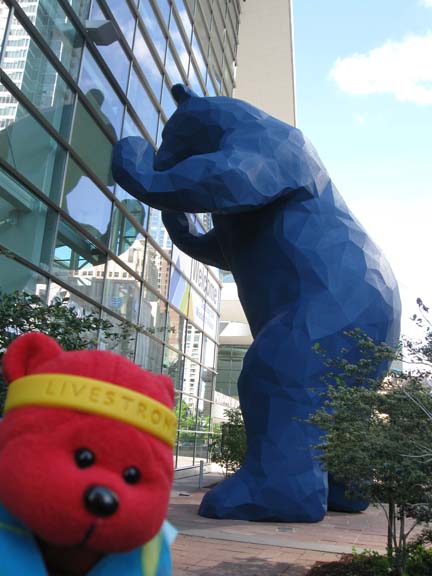 Which some of us found to be quite alarming.


After that encounter with nature, we headed over to the bike shop. We were there when they opened, and we were out 10 minutes later.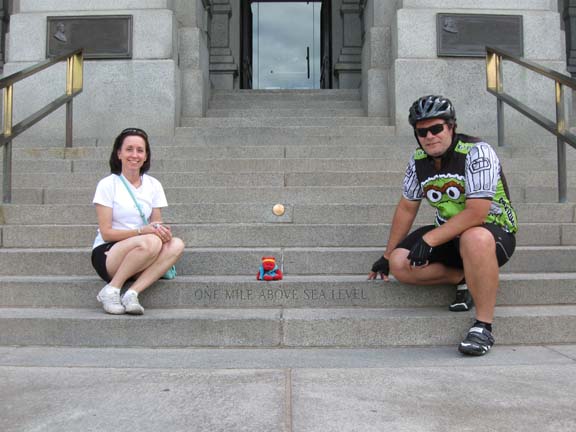 Got a photo with the whole crew at the Mile High step--as is the tradition.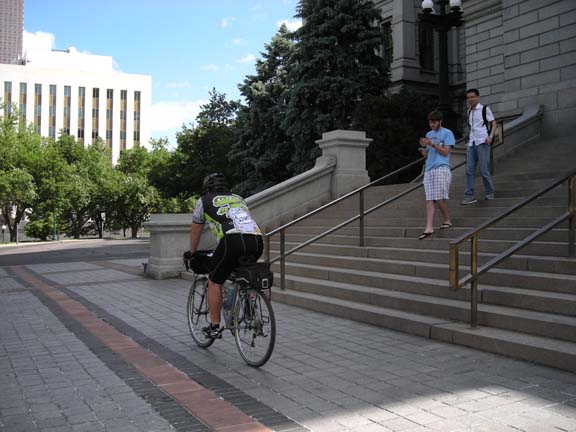 And I rode away to the applause of the crowd.


Last year I started here and rode south into a headwind. This time I rode north into a headwind. At least it was a good 20 degrees cooler this time.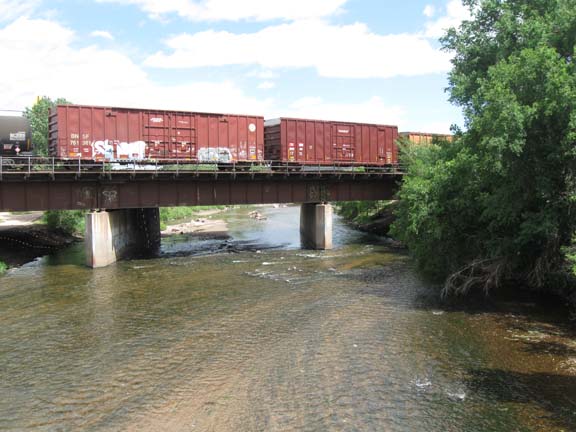 The Platte River Trail runs through some active industrial areas. Lots of industrial activity and decay.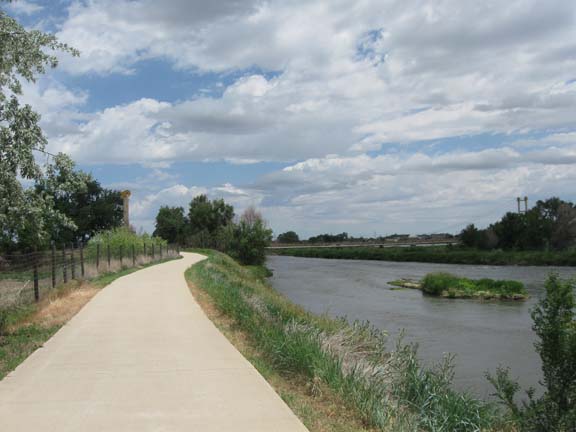 The trail got nicer right before it ended.

The last few miles were on the roads of Brighton. I ended up at our hotel in the Prairie Center--which appears to be a gigantic empty area dotted with very large stores. There's even a rare standalone JC Penney. But mostly it's grass.



We met Bert, Lisa, and L'il Bert for lunch in Brighton at Lauer Krauts--which was featured on one of those food shows with that spikey-haired guy.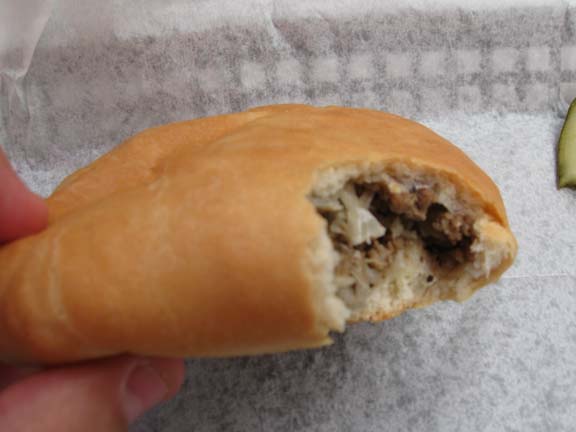 They specialize in Krautbergers, which look more like hotpockets than burgers--but taste much better.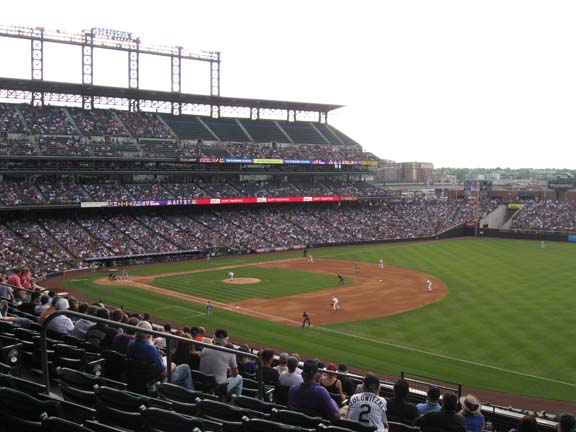 We followed Bert & Lisa down to Coors Field for that night's game against the Padres.
The Rockies made it close but couldn't come all the way back. They lost 4-2.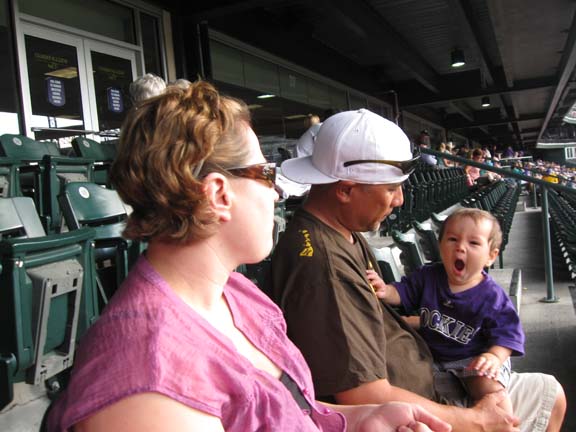 Which made L'il Bert tired. Me too.


Tomorrow I ride to Fort Morgan. Since there is really nothing to see between Brighton and Fort Morgan, Linda is going back to Parker to hang out with Lisa and Bert while I ride the open prairie.


---
Next
---
"Great Plains Tour 2013" Copyright © 2013 By Bob Clemons. All rights reserved.