Day 11
Sunday, 7 Jun 2009
Alpena, MI to Tawas City, MI
66.7 miles, 4h53m, 13.6 mph
Elapsed Time: 5h48m, Max speed: 31.6mph
Total Climbing: 988ft, Max elevation: 878ft
Total mileage: 691.3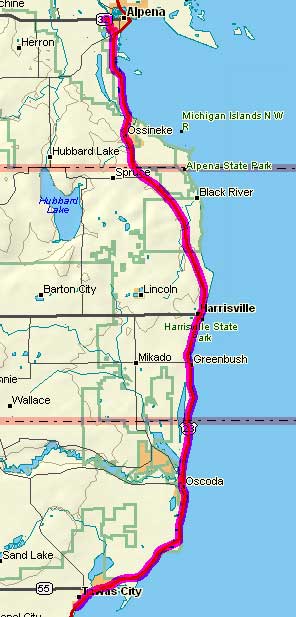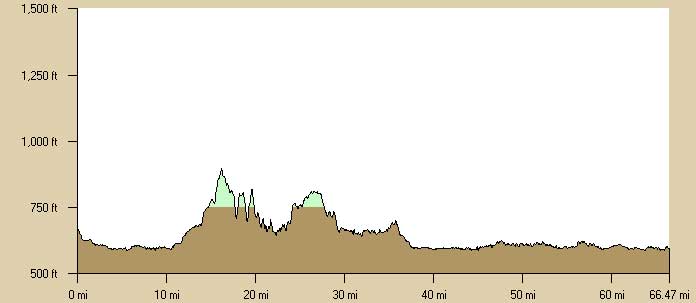 ---

It was raining and cold in the morning, so I decided to wait. The Doppler showed that there were a few more showers and then things looked good for a while, so I studied for the bar until about 10am and was ready to go by 10:30. It was still cold and it was still wet, but it wasn't raining. I was about 65 miles to Tawas City and I was booked into the Days Inn so I didn't take many pictures or stop, except for lunch.

It was 45 miles before I encountered the first of Michigan's famous roadside rest areas, and it wasn't all that great--you couldn't even see the lake. Normally, these stops come every 10 or 20 miles. To make up for the big gap, the next one was 200 yards away.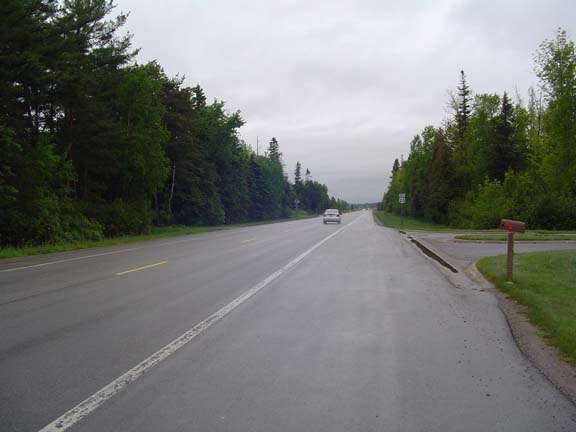 Nice wet road in the morning.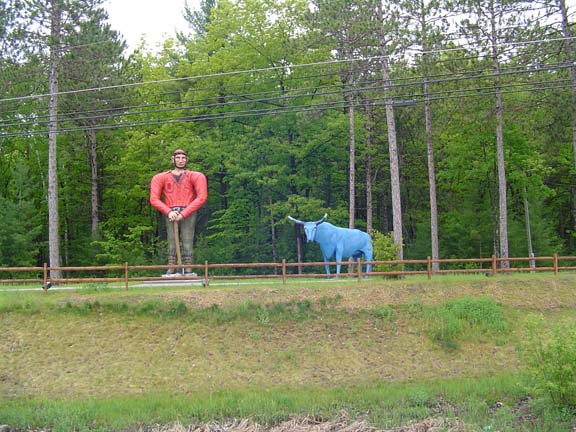 Paul Bunyan and Babe. Not only on the UP.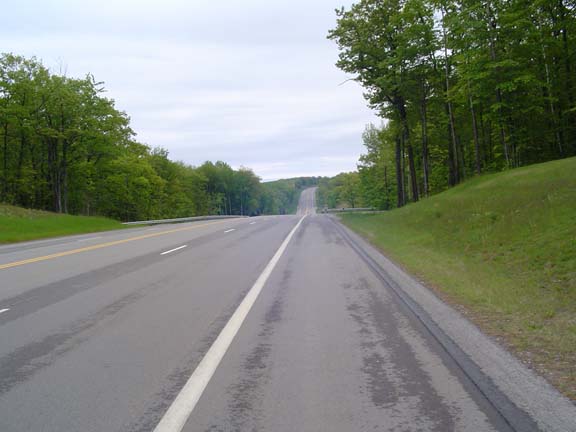 A nice, mostly dry road.


There was a 5-mile stretch where the road was really bad. Construction, no shoulder, rough road. It looks like this is the last section of US23 that needs to be upgraded to make the whole road really awesome.


Just why that particular bump deserved a sign is beyond me.
There were 300 equally deserving bumps before it.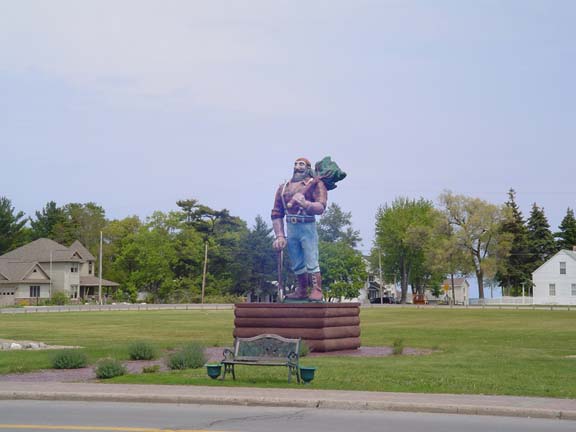 Another Bunyanesque character. I don't remember where.
I ate lunch in Harrisville, then put my head down and drove for home. I had a very favorable tailwind as I flew through the little resort towns on the lake. I encountered a brief rain shower just outside of East Tawas, but it wasn't enough to get me wet. It didn't rain again until I was safely in my room.

No food within walking distance so I ordered pizza and wings. The Days Inn's lame WiFi doesn't reach my room so I'll have to upload this from the lobby. This is going to be a big inconvenience in the morning when I'm trying to figure out the weather. They have satellite TV and the Weather channel is pretty much useless. The forecast calls for rain tomorrow, but I think it's supposed to be a bit warmer. I guess I'll find out.

---
Next
---
"Great Lakes Tour 2009" Copyright © 2009 By Bob Clemons. All rights reserved.