Day 10
Monday, 3 July 2006
Pittsburgh, PA to Confluence, PA
88.0 miles, 7h38m, 11.5 mph
Elapsed Time: 9h31m, Max speed: 32.9mph
Total Climbing: ???ft, Max elevation: 1351ft
Total mileage: 757.3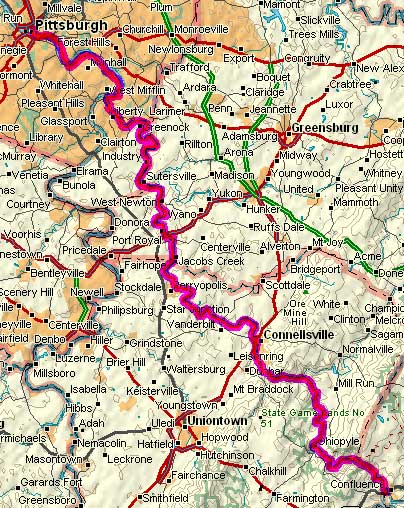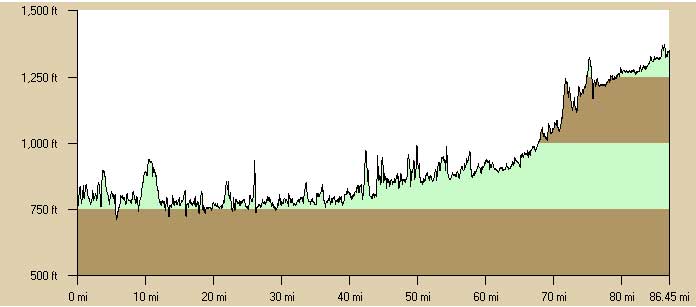 ---

I wanted to beat the traffic out of Pittsburgh, so I rolled out of downtown at 6:15 after an inadequate breakfast of coffee, crumb cake, and a banana-nut muffin. I bumbled around a little while before finding the Ezra Furnace Trail. The trail took me out of downtown and into the surrounding rust-belt areas. The trail ended near the Hot Metal Bridge (coolest bridge name ever--I wonder if there's a Cool Jazz Bridge) and continued on PA 835 to the Glenwood Bridge, where I crossed the Monongahela River for the first time. Traffic was light. I made the mistake of crossing on the sidewalk, so I had to schlep my bike down some stairs and run across the road to get onto PA837.

That road took me through Homestead and Duquesne, where I crossed the river again into McKeesport. I crossed on the sidewalk so I could get a picture of McKeesport, but I was thwarted by the fence.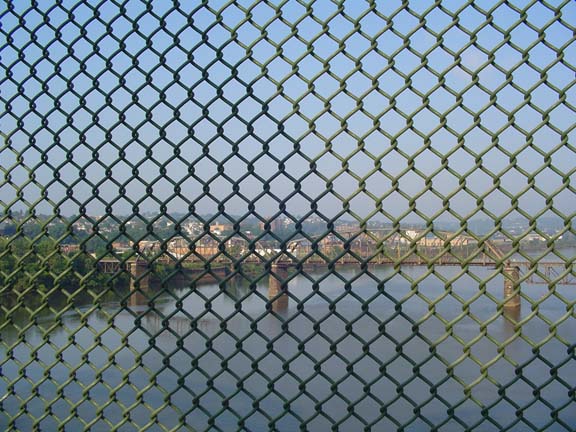 Downtown McKeesport from the McKeesport-Duquesne Bridge.


I managed to find the start of the trail in McKeesport. There are no signs, so I guess you just have to know to cross the Yough on the 15th Street bridge and follow River Road until it ends, then veer off onto the unmarked trail before you get to the wrecking yard. It's all part of the game.

The trail was generally pretty good. It looked like this...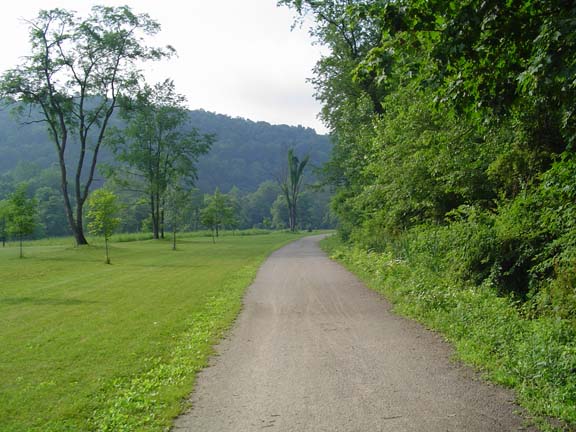 .. and this...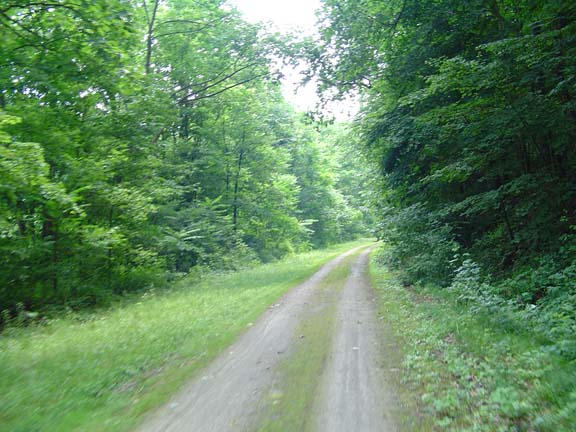 ...and this...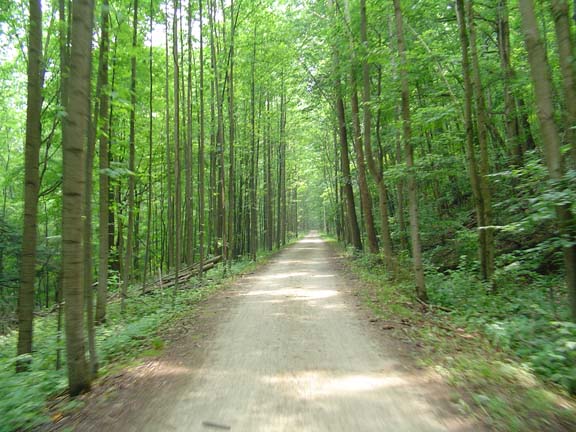 ...at various times. There weren't very many people out there. Certainly no one else riding from Pittsburgh to Confluence.

Since my breakfast was so feeble, I got hungry for lunch a little early, but there was no place to eat. I rode all the way to Connellsville (60 miles) before I was able to wolf down a chicken caesar Wrapz from the Sheetz. The last few miles were touch and go. I was starting to self-metabolize. Not pretty. Anyway, I got my food and took it back to the Connellsville waterfront to eat.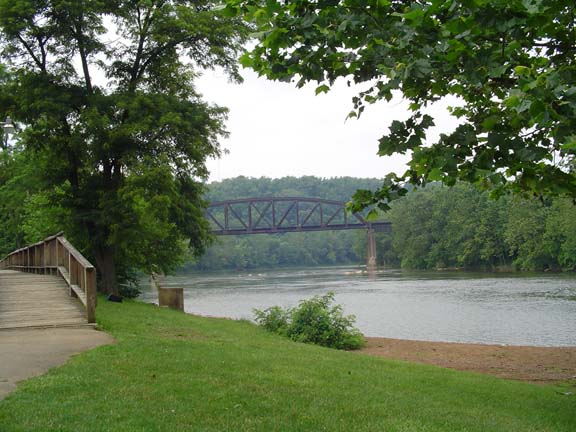 Site of my lunch. It looks nicer than it is.


Riding along the trail for hours on end leads to a sensory deprivation experience. The slightest little change from riding down a tunnel of trees is a big deal. Like the time I rode across that bridge...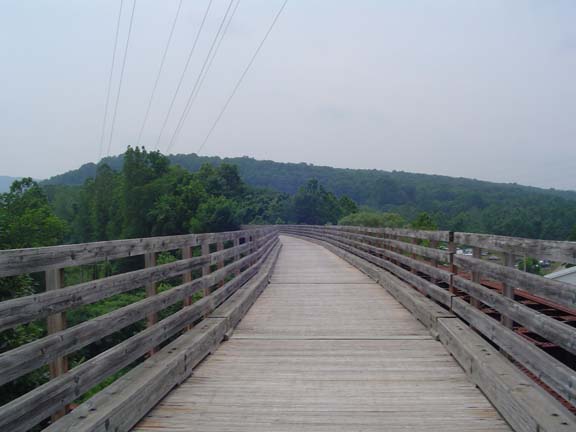 Ooh! I can't wait to see the view!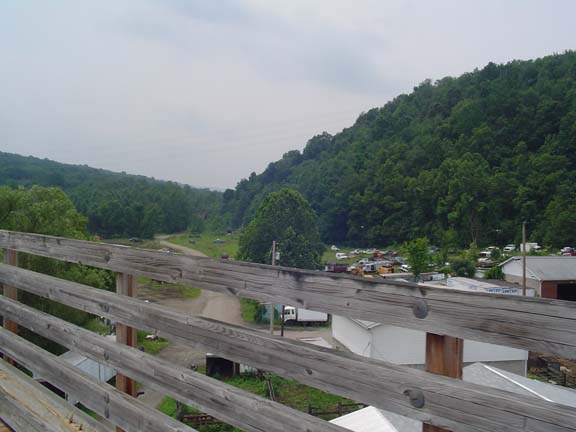 Ahh yes. A junkyard.


You could usually see the river through the trees, but there wasn't much to see there--except maybe for the occasional bikini-clad whitewater rafter. I say maybe because I didn't see any of those. They would have been wearing stupid life preservers anyway. But then every once in a while a spectacular vista presents itself.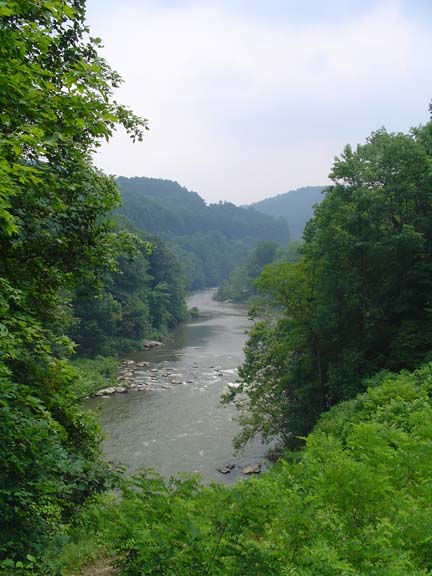 It wasn't really "once in a while," it was "once."


Ohiopyle was a huge shock to my senses. All of a sudden there were people all over the place, crowding the trail, screaming children, ice cream. I didn't know what to do. I really wanted some ice cream. I talked to a couple who had started at McKeesport and were riding the trail to Cumberland. They were planning to get to Rockwood today. I should see them on the road tomorrow. When they went to get ice cream, I took off for Confluence. I never saw them again.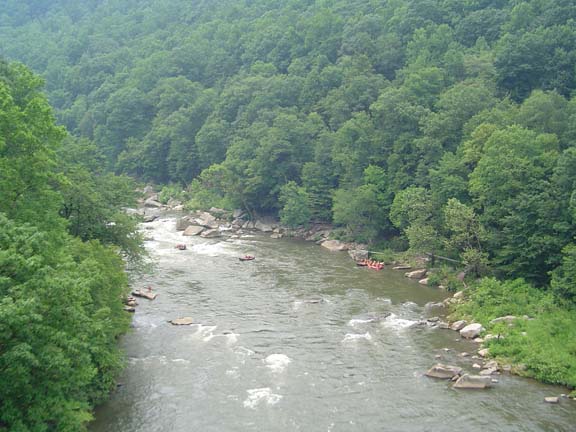 There were about 50 people on the bridge watching these

rafters go down the river. Fifty-one counting me.


Eleven miles after Ohiopyle I rolled into Confluence.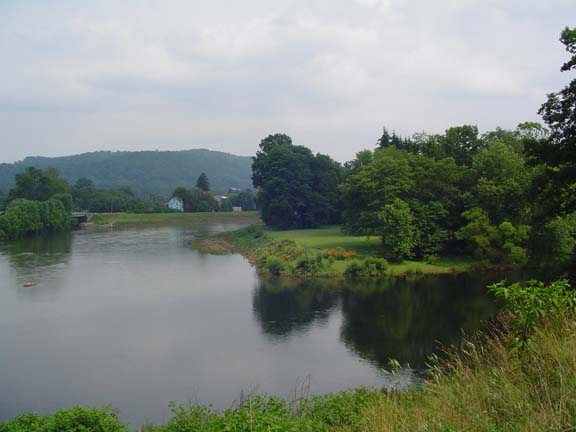 This is the actual confluence.


Linda was waiting on the front porch of the B&B. I guess it's really only a "B" since there is no breakfast here. In about 20 minutes the owner came by and we were able to get in. Later we walked down the street to the Sisters' Cafe for dinner. All of the regular restaurants in town were closed because it was Monday so we settled for home cookin'. We'll certainly eat breakfast there.

Tormorrow I ride to Cumberland. Then Linda heads home and leaves me with my bags.


---
Previous | Next

---
"Erie Canal (and more!) Tour 2006" Copyright © 2006 By Bob Clemons. All rights reserved.