Day 6
Thursday, 29 June 2006
Niagara Falls, NY to Dunkirk, NY
80.5 miles, 7h21m, 10.9 mph
Elapsed Time: 10h11m, Max speed: 24.5mph
Total Climbing: 4572ft, Max elevation: 620ft
Total mileage: 463.4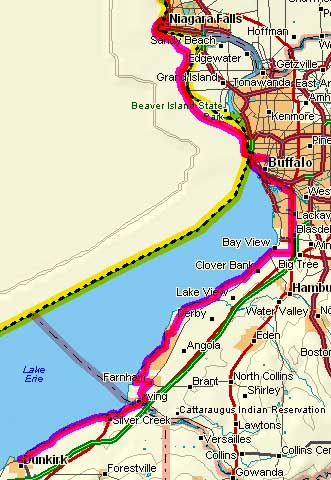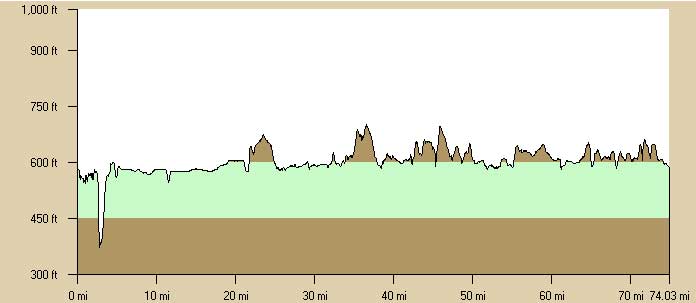 ---

This was the last day for Kevin on the tour. He had to catch a 3pm flight at Buffalo, so we figured we'd get an early start. After a hearty breakfast at Denny's, we rolled onto Goat Island at about 7:30. The park didn't open until later so we pretty much had the place to ourselves.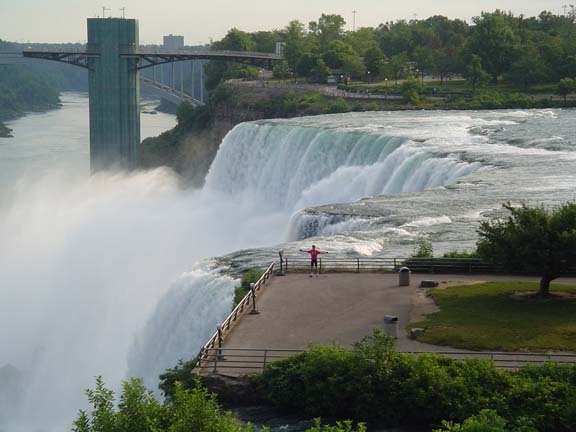 Kevin at the American Falls.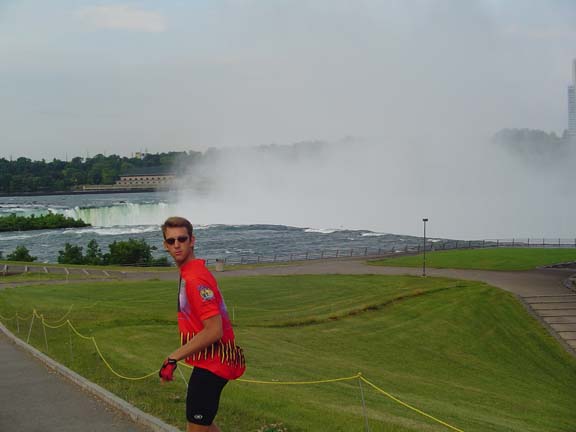 Kevin sneaking down to look at the Horseshoe Falls.


Next we went looking for the Rainbow Bridge to Canada. We saw signs for cars and buses, and signs for pedestrians. We rolled the dice and chose pedestrian. After being directed by signs all around a parking lot and across several streets we reached a sign that said, "No bikes on the walkway." So we retraced our steps and rolled up to the toll booth like a car (it cost 50 cents each). The Canadian border control was happy to see us and wished us a pleasant visit.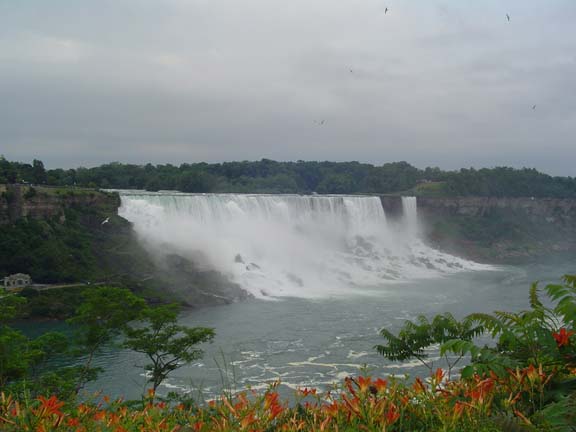 See those rocks at the bottom?
That's why nobody ever goes over the American Falls in a barrel.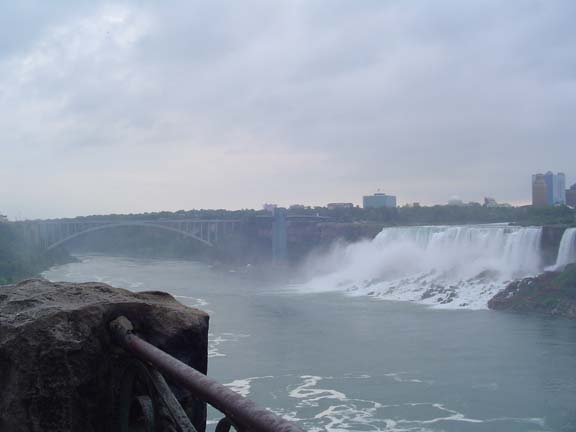 Rainbow Bridge (left), American Falls (right).


There were about 200 Japanese tourists on the Canadian side. We took a lot of pictures...just to fit in.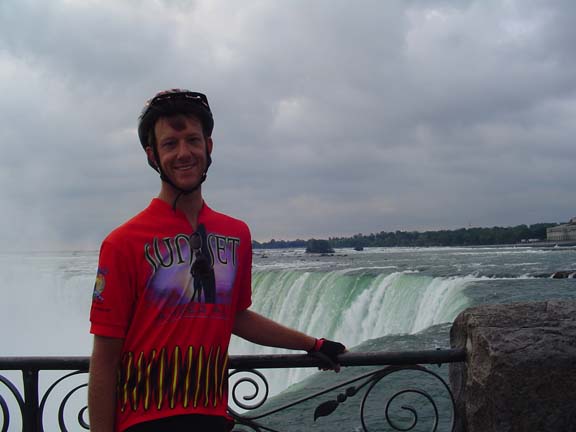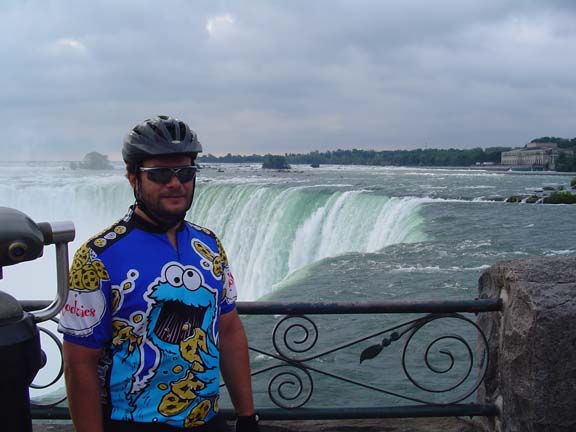 Notice how Kevin and I are never in the same picture.


Finally we tore ourselves away from the Falls and headed south down the Niagara River Recreation Trail. The trail runs along the river, but the river isn't very interesting compared to the Falls, so it was kind of dull.

After a couple of hours we reached the Peace Bridge. Then it took us a little while longer to find the pedestrian entrance. On this bridge, bicycles count as pedestrians.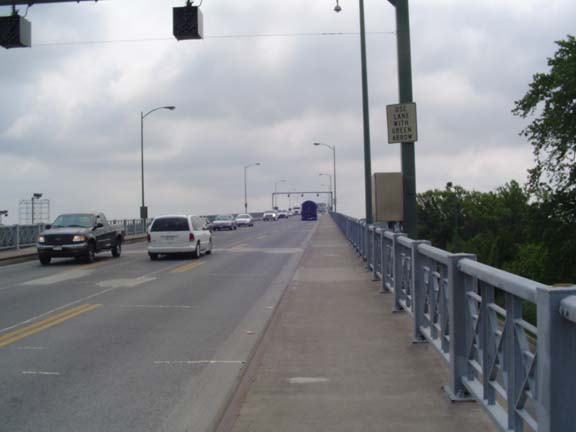 On the lovely Peace Bridge.


We parked our bikes at US Immigration and Customs and were directed by signs to a waiting room filled with people. We didn't know what to do, but then a guy came in behind us and asked us if we spoke English. Since we seemed to be Americans, he poked his head in the next room and asked them if they would take us right away. We went right in and were done in about 2 minutes. It was the most pleasant US Immigration experience I've ever had.

From there we rode to the Theodore Roosevelt Innaugural National Historic Site, where Linda was waiting with the car. She had driven to Altoona yesterday and reached Buffalo just before we did.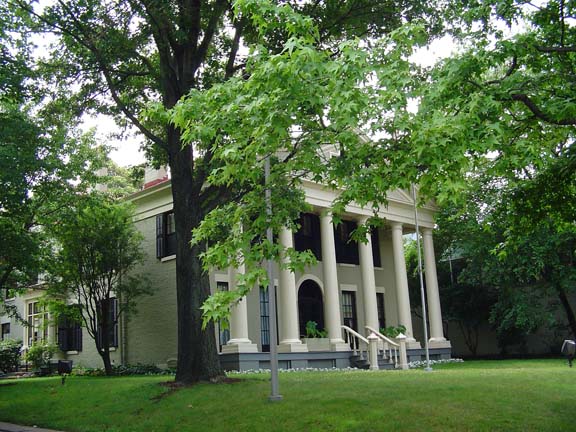 This is where TR became president.


After a quick tour of the house, we gathered in the parking lot for a final photo. I dumped all my gear in the car so I could ride light. Kevin headed for the airport. I headed for the waterfront. Linda headed for the University at Buffalo to buy college-related clothing items.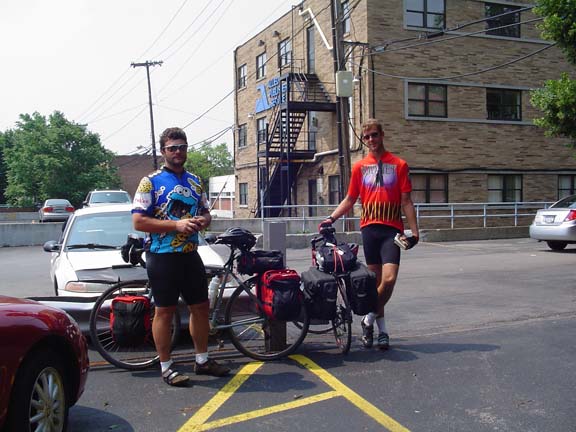 Only known photo with both of us (except for the one in Albany).


The waterfront was nice had a few ships and some historical markers. Did you know that the grain elevator was invented in Buffalo?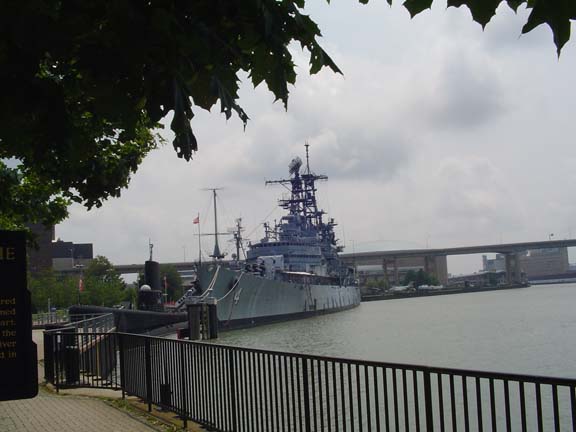 That's the USS Little Rock.


The rest of the ride was brutal. I pushed through south Buffalo and Lackawana, and eventually turned west to the Lake Erie shore. That's when I really got to experience the "prevailing westerly winds" coming off Lake Erie. Let's just say the last 50 miles were very, very slow.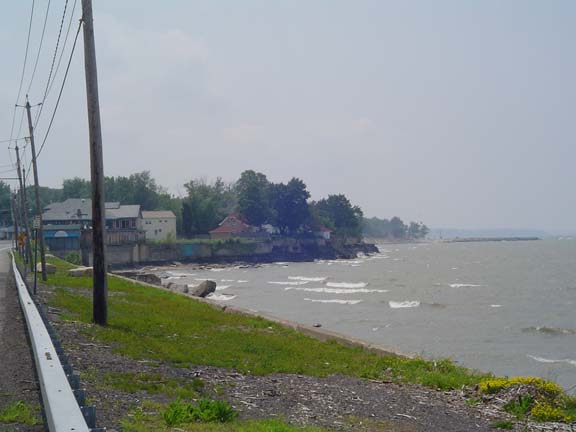 Whitecaps!
I got to the hotel in Dunkirk at about 6pm, very, very tired.

---
Previous | Next

---
"Erie Canal (and more!) Tour 2006" Copyright © 2006 By Bob Clemons. All rights reserved.